Last updated
Dog Collars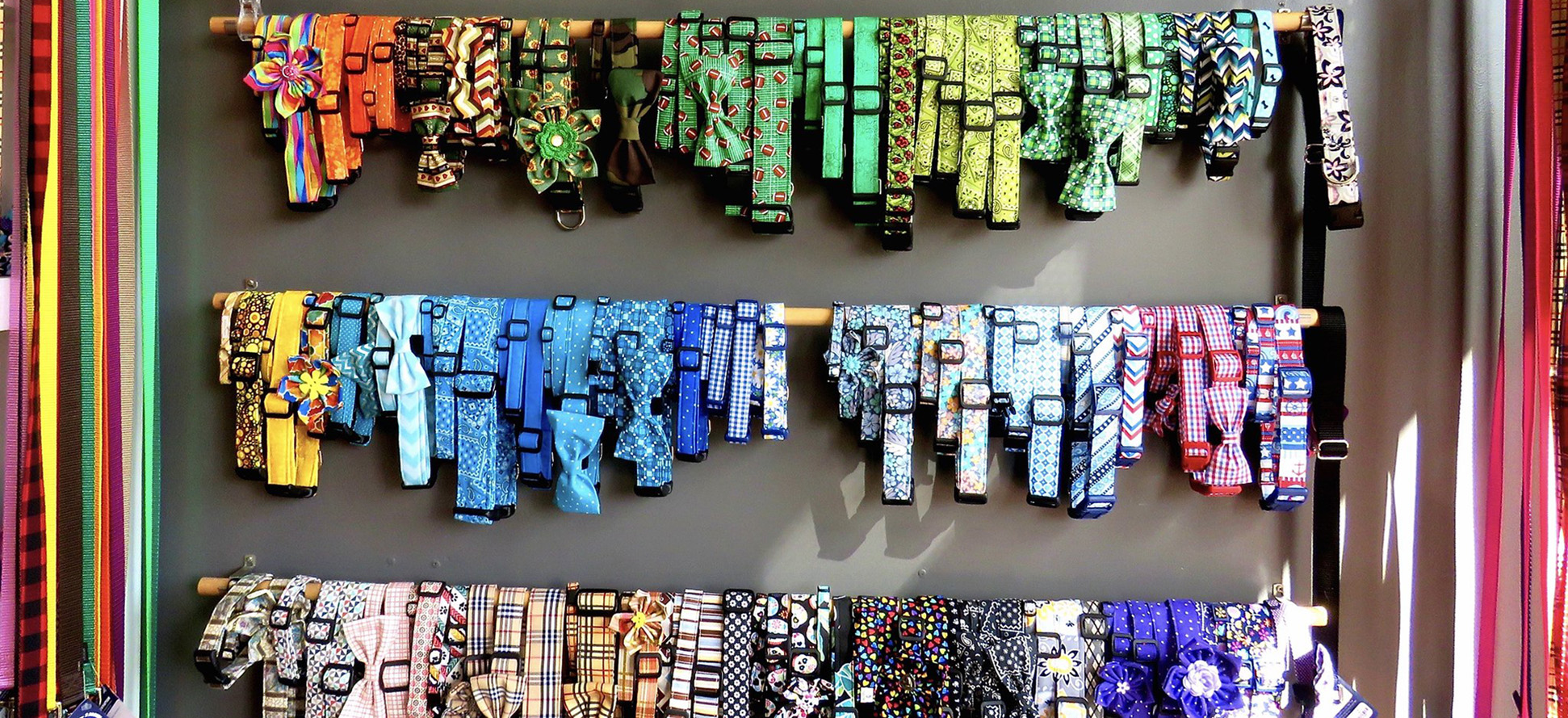 Every pet-parent is aware of the importance of purchasing the right dog collar. Not only does it show that the dog has a home (owner), but also allows pet-parents to hook on the leash so that they can go for a walk. Needless to say, you cannot just buy any collar for your pooch. You have to make sure that the collar matches the personality of your furry friend, his or her size and so on. With so many dog collar options available out there, you might feel a little overwhelmed when it comes to making a decision. We have put together a comprehensive dog collar buying guide to help you the best collar for your canine friend.
Best Dog Collars in 2023
Products
Information
Price

Breed Size:

Medium Breeds

Material:

Stainless Steel

Neck Size:

up to 14 inches

Check Price

Breed Size:

Large Breeds, All Breeds

Closure Tyoe:

Trigger Snap

Neck Size:

up to 21 inches

Check Price

Breed Size:

Medium Breeds, Large Breeds

Features:

Reflective, Long Prongs

Collar Type:

Remote Training - Static, Remote Training - Vibration, Remote Training - Noise

Check Price

Neck Size:

10 to 14 inches

Check Price

Breed Size:

Small Breeds, Medium Breeds, Large Breeds

Closure Tyoe:

Quick Release

Lifestage:

Puppy, Adult, Senior

Collar Type:

Bark Control - Static

Check Price

Breed Size:

Medium Breeds, Large Breeds

Closure Tyoe:

Quick Release

Material:

Stainless Steel

Neck Size:

up to 18 inches

Check Price

Neck Size:

15 to 30 pounds

Check Price

Features:

Training, Waterproof

Neck Size:

8 to 24 inches

Check Price

Closure Tyoe:

Quick Release

Neck Size:

13 to 20 inches

Check Price

Neck Size:

10 to 14 inches

Check Price
View all Dog Collars
What is a Dog Collar?
A dog collar is a piece of material or strap that is put around a dog's neck. Dog collars are used for various reasons including identification, restraint, protection and fashion. Medical information and identification tags are often hooked or placed on dog collars. Also, a collar for dogs is used with a leash to restrain a dog when out in public.
How to Size Collar For Your Dog?
Before you begin your hunt for the right dog collar for your furry friend, you need to be aware of your dog's neck size. The simplest and easiest way to measure the neck size of your pooch is by using a measuring tape.
Follow these steps to measure your dog's neck size:
Measure it using a measuring tape or it can be a shoestring or even a ruler;
Take the measuring tape or shoestring and wrap it around the neck of your dog between the collarbone and between the ears. Whatever measurement you get, add 2 inches to it. This is because most comfortable dog collars must always have a 2-inch space for a comfortable fit.
You must make sure that when your dog is wearing the collar, you can easily slide in two fingers underneath. This is because you want the collar too much tight enough so that it doesn't slip out of the head of your pooch, but loose enough that your canine friend can breathe and doesn't feel choked or strangled.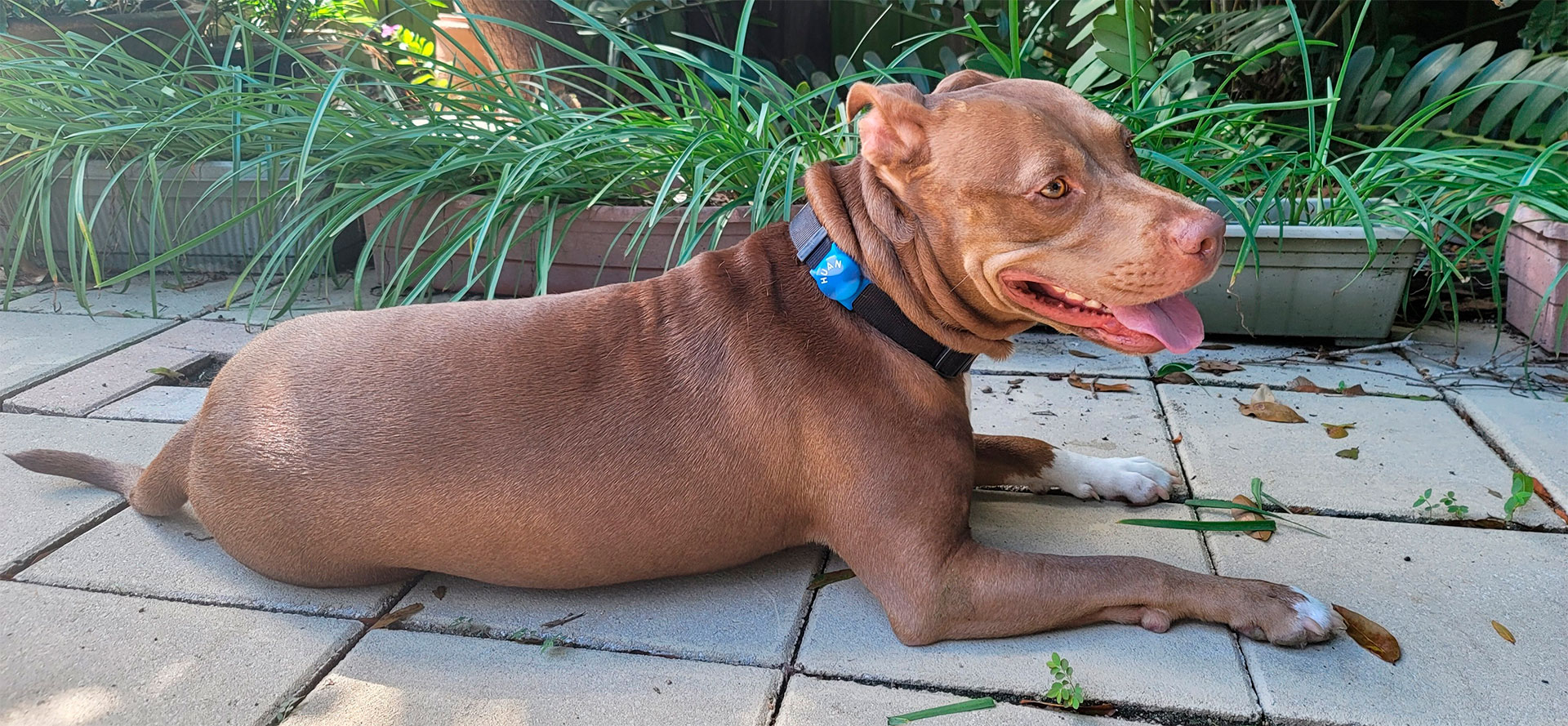 Different Types of Collars
Standard dog collars – These are simple types of dog or puppy collars, but they can also be quite fashionable. They're easy to put on and also take off. They are typically made of leather or nylon and can come with metal or plastic buckles. They are available in various sizes and you can find one that suits your dog.
Martingale dog collars –

They're training collars and quite comfortable. They're designed to tighten up when pulled, but they do not choke. These types of dog collars are usually half chain and half nylon. But, they're also available in a wide range of other materials.

Chain or choke dog collars –

These are a length of chain that comes with rings at either end. You can form the collar in a loop and slip it over your dog's head. You must be careful when using chain collars as they may accidentally tighten and constrict your dog's breathing.

Head dog collars or halters –

They are quite similar to the head halters that are used for a horse. The device will fasten around the back of your dog's neck and it gives the pet-parent more control over the direction of the dog. This type of dog collar is capable of stopping strong dogs in pulling the handler in the opposite direction.

Aversive dog collars –

Aversive dog collars are typically used to encourage a dog to modify behaviors that are unwanted. They have been around for a long time and may cause physical discomfort. Under this type of dog collars, you will find choke collars, prong collars and also electronic collars. These collars have to be used very carefully so as not to hurt the dog.

Shock dog collars – These collars are also known as electronic collars, e-collars or training dog collars. These give out low-intensity electrical signal, tone, vibration or light signal to the dog through the collar. These collars are used as a form of remote communication with the dog and they may emit sounds or some kind of vibration. You can check out our list of shock collars for your dog, along with helpful reviews.
Reflective dog collars –

These are really cool collars that can be used when taking your dog out for a walk, especially late in the evening or early in the morning. These collars either provide flashing or solid light. They are made from reflective materials for cars, as well as, other pedestrians. This ensures that everyone can clearly see your dog in low light conditions.

Waterproof dog collars –

These are easy to clean and waterproof. If your dog enjoys watersports and water-related activities, these collars will be best.

Dog tracking collars – If you are constantly worried about your dog wandering outside and wish to keep a tab on his or her whereabouts, you can consider getting a dog tracking collar. These collars have in-built GPS-enabled technology and you can easily track the movement of your pet. We have for you a list of the top 10 dog tracking collars that you can check out.
Rope dog collars –

They're durable and also quite comfortable. They do not feel tight or rough around the skin of the dog. Rope collars do not wear down easily and they're not likely to unravel. You can check out rope collars that have a leather buckle closure or a fixed width.
Other than these, you have the option of personalized dog collars. You can customize the dog collars in any color and pattern that you want. You can even get engraved dog collars to make sure that your furry friend does not get lost. It can even match your dog's personality. You can go through our dog collar reviews to make up your mind. Military dog collars are also worth checking out.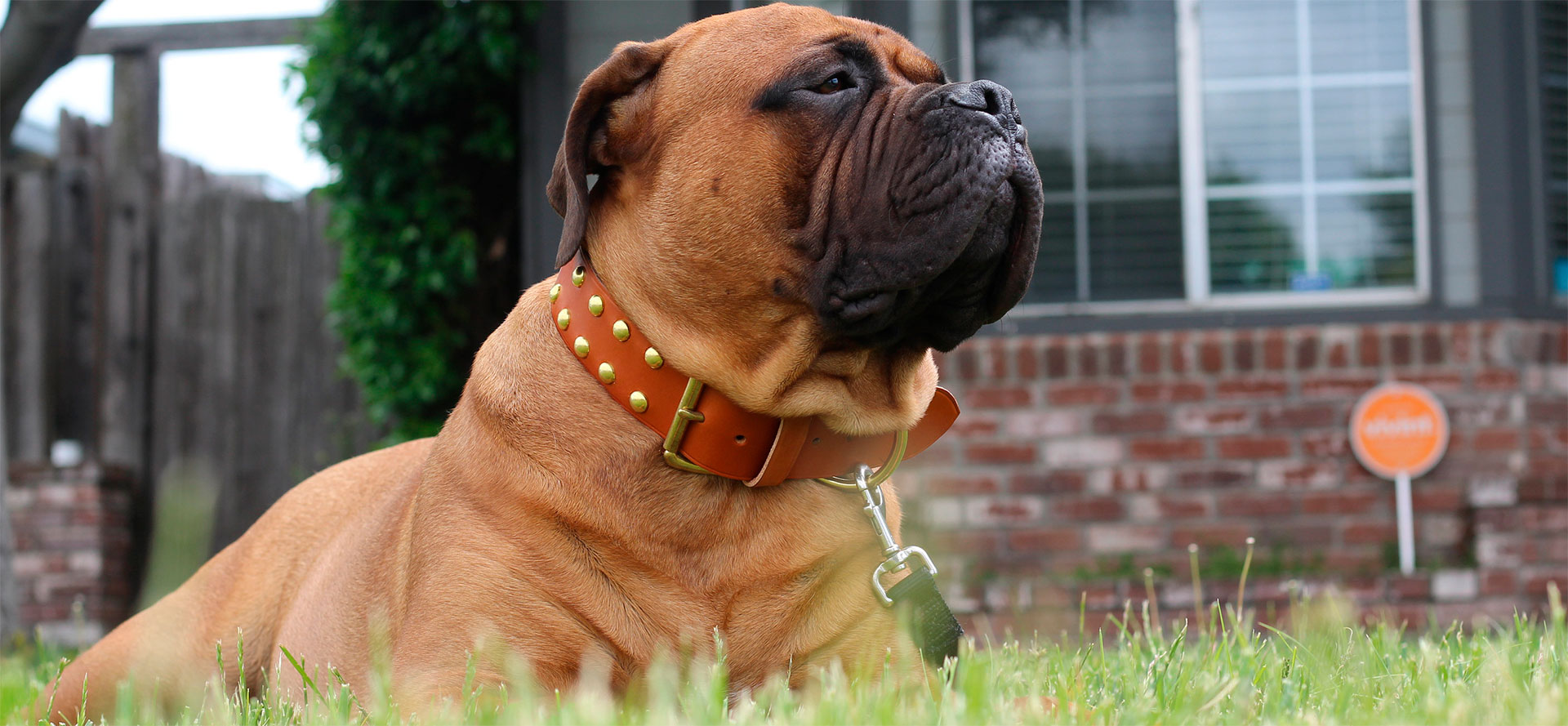 More choices available
Choosing Collars Material
High end dog collars are made from a wide range of materials. Some of them are mentioned below.
Neoprene –

This is a soft rubber material and it is used in wet suits. It is reinforced with nylon webbing for added strength, durability and stretch. They have moisture-wicking capability and ideal for dogs with skin allergies. Dog collars made of neoprene are excellent for dogs enjoying watersports, swimming and so on.

Chain (metal) –

Chain or stainless steel dog collars are extremely durable and they do not sink. They are also easy to clean and dries almost instantly. They give dogs an image of toughness. However, this material is not great for dogs living in extremely cold conditions.

Nylon –

Dog collars made of nylon are the most common. They are available in different colors, patterns and widths. They are the standard material for dog collars and you can have fun with so many varieties available.

Leather – Leather dog collars are a durable and classic style of collars. They are both practical and aesthetically appealing. They can last for many years. They are available in varied designs, colors and patterns.
Faux leather –

These are referred to as vegan leather. They're a good alternative to leather dog collars and an affordable substitute. However, they are not for everyday use. They're fashionable, but not durable.

Biothane –

They're flexible, soft and great for dogs that love water. They are tough and long-lasting.

Cotton fabric –

These can be washed easily and typically come with a nylon ribbon inside so that the collar becomes durable. These are available in so many colors, patterns and designs. You can find one that matches your dog's personality.

Hemp –

This material is extremely soothing and gentle to dogs with sensitive skin and allergies. Also, hemp is biodegradable and resistant to mildew.
How to Properly Clean a Collar?
You cannot just put the collar around your dog's neck and forget about it, neither the tactical collar nor dog bark collar. You need to keep it clean regularly so that the coat of your dog stays clean. To clean your dog's collar, you need to get the following things:
Hot or warm water;
A large bowl;
A bath towel;
A soft-bristle toothbrush (used or unused);
Shampoo, vinegar or hand soap and baking soda.
For cleaning dog collars made of polyester and nylon, you can follow these steps:
Pour the warm or hot water inside the bowl;
Mix 2 to 3 tablespoons of vinegar and baking soda or you can add shampoo to the water;
Soak the dog collar for approximately fifteen minutes;
Scrub the collar properly or until it is clean;
Rinse the collar with hot water;
Wrap the towel around the dog collar and press it so that the water gets absorbed;
Leave the collar out and let it air dry.
If you have a leather dog collar, do not follow the above steps. You can wash the leather dog collar in a bowl of soapy water and let it hang outside.
You're done! You are equipped to purchase the right collar for your dog.
Choose Dog Collar now
Tags: pet grooming supplies, plastic cat claw covers, protective dog boots, dog bowls, best grain free dog foods, dog dewormer, best outdoor cat enclosure, kitten shampoo, cat automatic feeder, dog bathtub