Last updated
Dog Treadmills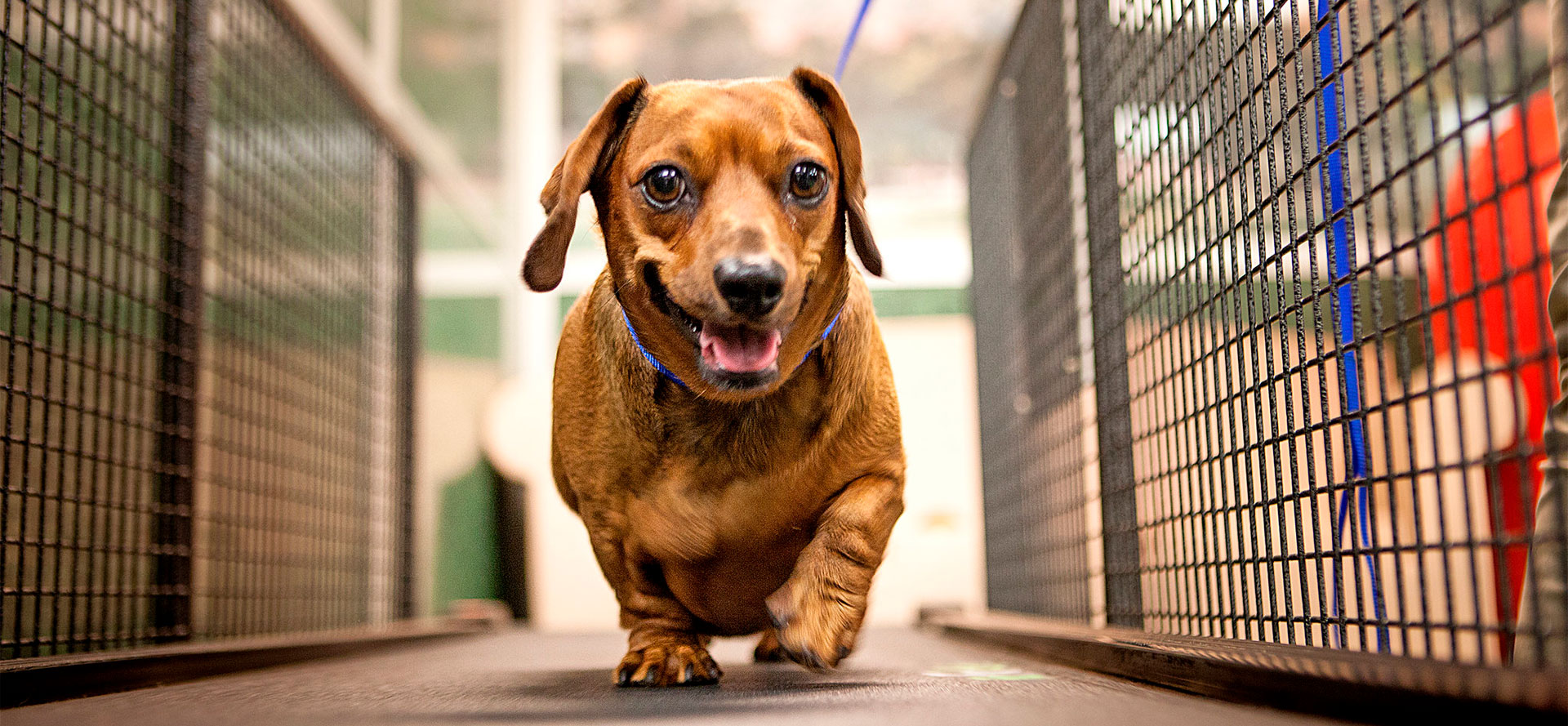 If you own a dog, you know they can have similar habits to humans, especially when it comes to eating. More than others, some breeds don't know when to stop, just like us humans. As a result, they tend to put on a few pounds. Then one pound leads to another and another and another. Then you end up having a fat dog, which is at serious risk of health problems, and no one wants that. When dogs are fat and need to lose weight, they can become lazy and a tad unmotivated.
Taking your dog on their daily walk may not be enough to lose weight. Don't worry, though; there are other ways like dog treadmills that can help your dog lose weight.
Best Dog Treadmill in 2023
Products
Information
Price

Dimensions:

76.77 X 27.16 X 46.18 Inches

Breed Size:

Small Breeds, Medium Breeds, Large Breeds

Check Price
View all Dog Treadmills
What are Dog Treadmills?
Well, just like the name suggests, a dog treadmill is used for the same purpose as a human one, except it's designed for dogs. That's right; if you want your dog to lose weight, you can't just have any treadmill; it needs to be a doggy treadmill. The reason being is that they're designed better for your dog's gait.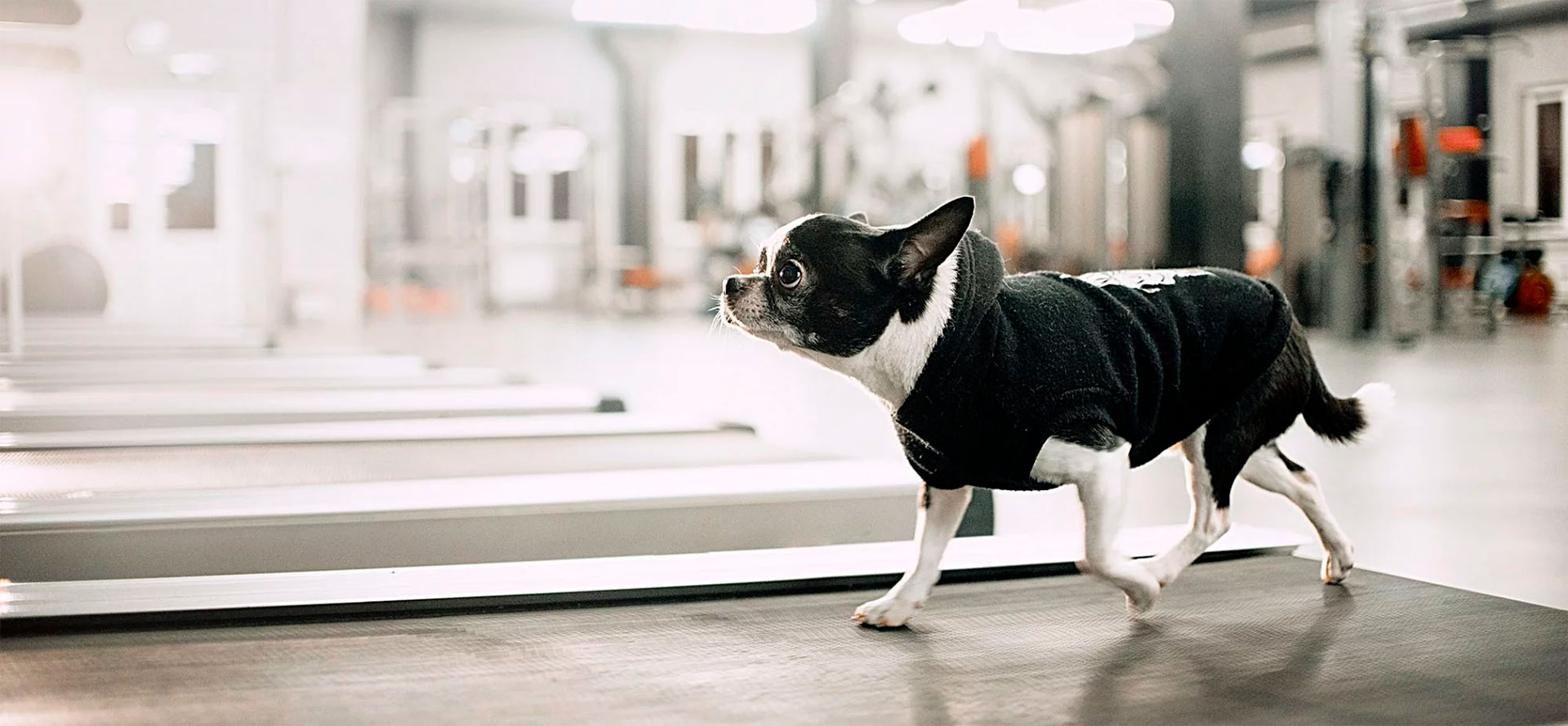 A treadmill for dogs has a more oversized belt that allows them to use their natural stride without falling off. It's essential your beloved pet can walk or run on a dog treadmill with enough room behind them, as otherwise they could shorten their stride and put themselves at serious risk of joint problems.
Similarly, the way a motor is positioned on a human treadmill can be a great risk for dogs. Their feet can get trapped underneath, and it could rip their fur.
When you're looking to buy a doggie treadmill on the market, you will be presented with two types of treadmill, which are mechanical and dog-powered.
Mechanical Treadmills
If you have a bit of money to spend, you may want to purchase a mechanical treadmill for your canine companion. This treadmill does not use a motor. Do note that this is the more expensive option and can often range between $500-$5000.
Dog-Powered Treadmills
This type of treadmill typically involves using nails, wood, and carpet to let your dog walk on. Unlike the manual dog treadmill, this one consists of a lot of DIY, but it's cheaper than the mechanical one.
More choices available
Factors to Look for Choosing a Dog Treadmill
Dog treadmills are not a one size fits all piece of equipment. Depending on your dog's breed, age, temperament, and exercise level, you will want to select the right one accordingly. To help you, we've listed some fundamental essentials down below.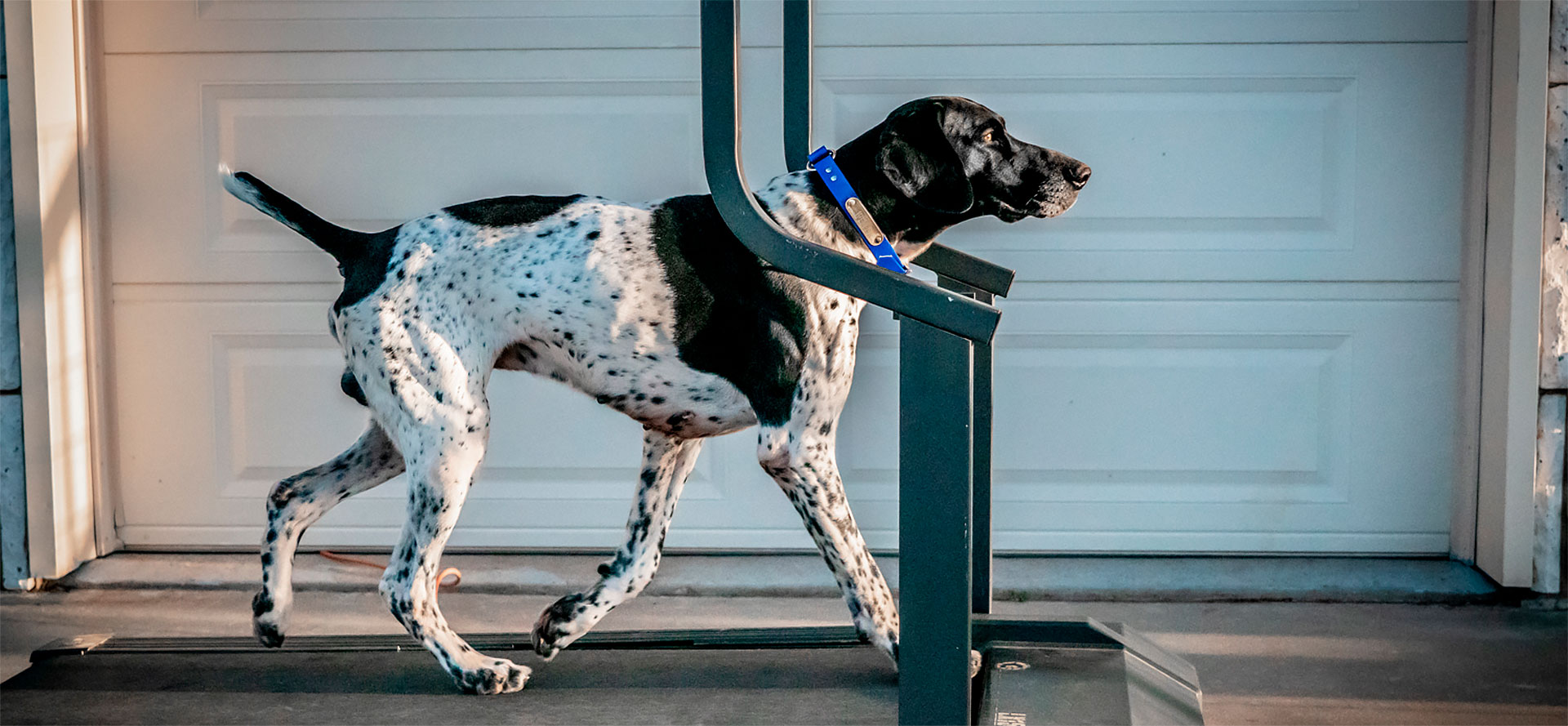 Treadmill Length
Remember earlier we were saying how a dog treadmill is different from a human treadmill? Especially when it comes to the track your dog walks on. Now, depending on your dog's size, you will want ample track room behind it when it's walking or running. Depending on your dog's size, you will want to purchase one of the following track sizes:
Small dog treadmill - 29 x14 inches.
Medium dog treadmill - 47 x 17 inches.
Large dog treadmill - 75 x 17 inches.
Don't just assume your dog is a certain size; make sure you measure it before going out and buying a treadmill.
Incline Levels
Is your dog an active one that loves a challenge? If so, you may wish to get a dog treadmill that has different levels of incline. Similarly, the higher the incline, the more calories your dog will burn while on the treadmill, which will give them a better chance of losing weight.
Similarly, if you're looking to give your dog more of a challenge, you may want to look at a treadmill that has inbuilt programs. These are settings already included in the treadmill which incorporates a range of different inclines and speeds. This is often more on the costlier side of the dog treadmill market.
However, you should seek advice from a veterinarian first before using inclines. Some big breeds can handle an incline, but certain small dogs, on the other hand, might find it challenging to keep up with, and it could strain their joints.
Safety features
We get it; you're already spending a lot on your dog each year for its food, maintenance, toys, grooming, and care. You don't want to pay any unwarranted vet bills on top of buying a new doggy treadmill!
This is why you must review the safety features of each treadmill that sparks your interest. In particular, you should look for the following:
Protective sides -

These are walls that go on the side of the treadmill and work as a barrier to stop your dog from falling off. Do note some dog breeds may find this uncomfortable and dislike the slides! Therefore look for a treadmill with removable protective slides.

Stop button -

Just like a human treadmill, it should have a red emergency stop button. You never know when the treadmill intensity could get too much for your dog, and having that button allows you to stop the track from running immediately.

A dog harness holder - If you own a dog that gets easily distracted, you might want to place it on its leash and attach it to the treadmill. It will also help it not fall off.
Treadmill Noise
So, by now, you're reading this article considering purchasing a dog treadmill. Let us ask you, have you considered where you're going to put it? The noise of a treadmill may help you decide where you're going to put it in your house.
Do you live in a residential area? If you own a noisy treadmill, you will maybe want to put it in a place that doesn't disturb your neighbors. Don't worry, though; most dog treadmills have a relatively soft sound; however, few can produce a bit of noise. This is especially the case with motor treadmills.
Not just your neighbor; your dog may be sensitive to certain sounds and may be discouraged from using a treadmill if the noises scare it. Therefore we recommend reading reviews online to find out experiences from other dog owners if their dogs found certain treadmills noisy or not.
Treadmill Portability
Portability is also vital for you as a homeowner; you will want to put the treadmill in a place that can be easily stored away. There are dog treadmills that can be easily lifted.
If you have a small home, you may want to see if the treadmill can be moved up and put out of the way. Likewise, there are treadmills with wheels on which you may want to look at that can help you move the treadmill.
Warranty
We know it can be tempting to purchase a dog treadmill that is affordable and friendly on the bank balance. But be warned that sometimes you may not be getting the best deal for your money.
Depending on who the manufacturer is, the number of times your dog uses it, and the material it's made out of, you might want to pay a bit more for your money.
We say this because dog treadmills usually tend to have an extended warranty with a higher price. You never know when the treadmill could break, and it could save you a hefty fee-paying to fix it.
Similarly, if you're uncertain whether your dog will use a treadmill, you may wish to explore one with a money-back guarantee.
Final Thoughts
If you're going to purchase a treadmill for your pupper, you should not switch their daily exercise, i.e., their walks for the treadmill. This should be a compliment to their regular exercise. Do note you should not put your dog on it all of the time, as they could easily develop a strain or put themselves at significant risk of an injury.
Most importantly, when your dog uses the treadmill, you should never let it exercise on its own. As a dog owner, you must stand over it, supervise your dog's activity, and know when it's time to call it quits.
Have you got a dog that needs to lose some weight? Let us know if you have any further questions about dog treadmills by commenting down below.
FAQs
What is the best treadmill for dogs?
The best treadmill for dogs is a multi-purpose treadmill. Whereas most treadmills are not appropriate for heavy dogs, this treadmill can manage up to 79 kgs weight.
Can dogs walk on treadmills?
Yes. You can train your pooch to walk on a treadmill when it is of. The dog remains cool in the presence of the treadmill. Therefore, it is easy to urge the pet to walk on it.
Can you put a dog on a treadmill?
Yes. One of the best dog exercises in the house is by use treadmills. You can use the treadmill for dog conditioning, warm-ups as well as normal exercises. This improves your dog's health and fitness.
How to train a dog to use a treadmill?
You start by encouraging your dog to get on the treadmill. You then exercise simple commands that are familiar to the dog, such as "sit". This is followed by facing the dog having the lowest-level setting and encourage it to move forward.
Are treadmills good for dogs?
Yes, because it offers the best option of dressing up your dog. Treadmills are useful in warming up your dog in readiness for the training and long runs. It's also used in recovering your dog after an accident.
Choose Dog Treadmill now
Tags: pet grooming supplies, can dogs have cornbread, outdoor dog bedding winter, compostable dog poop bags, cat eating hot dog, clicker training for cats, nectarine safe for dogs, manual dog treadmill, why is my cat peeing outside the litter box, dog fences