Last updated
Best Dog Hoodie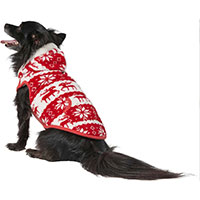 Have you ever thought about dressing your dog up? If not, you should and especially think about putting a hoodie on your dog. The reason being is that dog hoodies serve a range of benefits, in addition to making your dog look super stylish.
Dog hoodies can help keep your dog warm in winter weather and prevent the cold from getting on their joints, making them more at risk of arthritis, influenza virus (dog flu), bronchitis, and many more. Moreover, the right dog hoodie can help your canine from itching. This is beneficial if your dog has allergies that cause them to itch, lick or chew their fur. Plus, the hoodie stands as a barrier against common allergens from getting in their fur or on their skin.
Similarly, if they have a healing wound, a dog hoodie can cover up the bandage and help the wound heal quicker as your pet won't be able to touch it. Plus, dog hoodies can help keep your dog clean in all different types of weather.
The right dog hoodie can also keep your dog visible at night and allow passersby to see your dog. To know more about the best dog hoodie's check out our table of top picks here.
What is a dog hoodie?
A dog hoodie is a form of clothing that you put on top of your dog that sits around their legs and over their head; with a hood you can put on their head or hang on its back. Dog hoodies come in various colors, styles, and sizes to make your dog look cool. You can also get dog hoodies to match your own, allowing you and your canine to twin simultaneously. When buying a dog hoodie, you must be consciously aware of your dog's welfare. This means you should make sure that the hoodie your dog wears is breathable and comfortable.
Different types
There are many different types of dog hoodies you can buy on the market; the designs and styles are evolving so much that different kinds of hoodies are available. To help you narrow your search, here are some of the most common ones:
Standard dog sweatshirt:

This type of dog hoodie is a standard one that you see on humans that looks like a sweatshirt. Most of these classic dog sweatshirts are made out of cotton and polyester. Some of these dog hoodies have a kangaroo pocket or pouch, allowing you to store stuff in them, or you can leave them empty and let your dog look stylish. Often these hoodies contain a slit at the back where you can attach your dog leash. These dog hoodies are also washing machine friendly, allowing you to wash them if they get stained easily. The only downside to these dog hoodies is that they can't they can be attached to a harness.

Small dog jumpsuit:

Sometimes it can be challenging to get the correct type of clothing for your dog, especially if you own a small or toy breed. When it comes to dog hoodies, you can get small dog jumpsuits covering all legs and their back. Most of these hoodies are made from a soft velvet type of material and can be easily washed. The disadvantage of this hoodie is that it needs to be removed first if your dog needs to go to the bathroom.

Flannel dog hoodie:

These dog hoodies are best for larger dogs as they tend to be baggier and have a flannel pattern. The plaid style allows your dog to look cool and also tends to be well insulated, and it's also lightweight. Sometimes, this type of hoodie has a detachable hood, making it more comfortable for your dog and easily washed in the machine.

Vest dog hoodie:

This type of dog hoodie consists of just a vest and hood. It's the perfect dog hoodie if your pooch does not like the feeling of sleeves on their legs. Alongside this, it comes in a wide range of colors and is durable, meaning it can be placed in the washing machine.

Zip dog hoodie:

There is also a dog hoodie that has a zip down the middle. Compared to a pullover dog hoodie, this could be a lot easier for your dog to wear as all you need to do is zip up the middle of the jacket. This hoodie also has stylish features like a hood and loop pockets. The loop pockets can also be convenient as they can store poop bags also when on the go. This type of hoodie tends to be made out of a fleece material allowing great warmth for your dog, and is also machine washable.
How to choose a dog hoodie
If you're looking to get a hoodie for your dog, you should think about choosing the following before buying:
Size
Don't just go and buy a dog hoodie you see online without knowing your dog's size first. To measure the right size, you can measure your dog, but always get a size bigger. The more times you put your dog's hoodie in the washing machine, the more likely it will be prone to shrinking over time. Plus, after its initial wash, it could change shape and be totally different from how you first bought it. Another ideal way is getting your dog to try on their hoodie first before buying. This will also give you an idea if your dog feels comfortable or not wearing the hoodie.
Fabric
Choosing the right fabric is essential for getting a hoodie for your dog. You need first to make sure your dog is comfortable wearing the material, and ideally is best to have a breathable fabric such as cotton. Plus, if your dog is messy, you will want a fabric that can easily be washed and does not attract too much dirt.
What to consider when buying a hoodie?
When buying a dog hoodie, you should consider the following:
Holes for peeing:

To have an effective dog hoodie, you will ideally want one that you don't need to remove every time your dog needs to go to the bathroom. If there are no holes, check that the hoodie is easy to remove, like having zips or flaps.

Durability:

It's vital that you review the stitching, tags and how the dog hoodie has been made. If your dog is active, the last thing you will want is the seems to pop open and the hoodie to fall apart.

Walking compatibility:

Depending on your preference for using the dog hoodie, you might want to see if a harness or leash can easily be attached to the hoodie. If there is, there will often be a slit at the back for their leash. It's most likely most hoodies will be compatible with a leash and not a harness.
Conclusion
Overall, dog hoodies are great to own to keep your dog looking stylish and also comfortable. They can act as a potential barrier to allergens and help heal wounds quicker. When looking to buy a dog hoodie, you should always prioritize comfort, size, and durability. Then look for other factors like walking compatibility and holes for peeing.
Tags: pet supplies, small puppy collars, flea medication for dogs, dog grooming table reviews, best over the counter cat dewormer, tactical dog collar with pouch, enzymatic dog toothpaste, dog playpen, fancy dog houses, unique dog collars