Cat Towers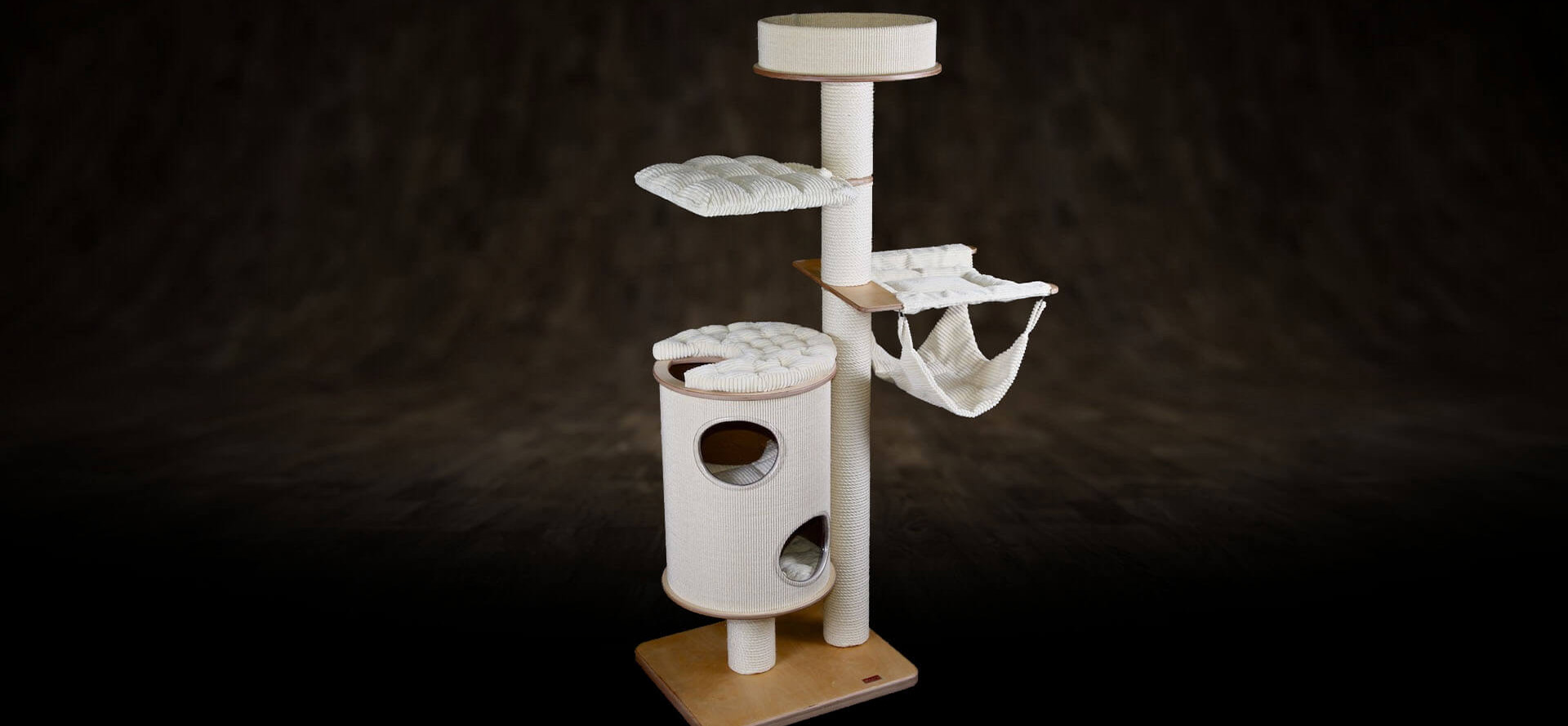 Having a pet is one of the most beautiful things that you can do for yourself. Especially when it's a cat, the energy of the house changes with your furry little friend. It becomes more positive when your pet has everything that they need, and a little extra to have some fun of their own.
The fun thing with cats is that they respect their personal space enough and need a little time for themselves. This time can be used by them for sleeping, scratching, or any other activity. This is where a cat tower proves to be a thing of great advantage. Let's be honest. You do not want your pet to use your brand-new couch as a scratching post, right?
Cat towers are a very important cat accessory and come with a range of benefits. It offers your cat a place to sleep on, a post to scratch, and so on. There are different types of cat towers and each is special in its way.
Cat Climbing Towers
Cat climbing towers are one of the most popular cat accessories among cat parents. These offer a safe and domestic way for your cat to exercise in its personal space. Cats have an instinct and desire to climb up to high platforms, and a cat climbing tower ensures that they have a safe space to do so.
When it comes to cat climbing towers, there is a wide range of options available for cat owners to choose from depending on the space they have in at their home and the place they want to install the tower. If you want to install a cat climbing tower in your garden, then you can pick up any tower that is made of wood. The wooden construction of these towers ensures a long life expectancy and provides a strong structure for your cat to climb on. The wooden material not only provides stability and safety but also blends easily in the overall look of the garden and makes becomes an integral part of the décor.
At the same time, it offers a place for cats to sharpen their paws and satisfy their natural desire for scratching. Most of these cat climbing towers come with an attached rope that serves the scratching purpose and makes it the perfect cat accessory.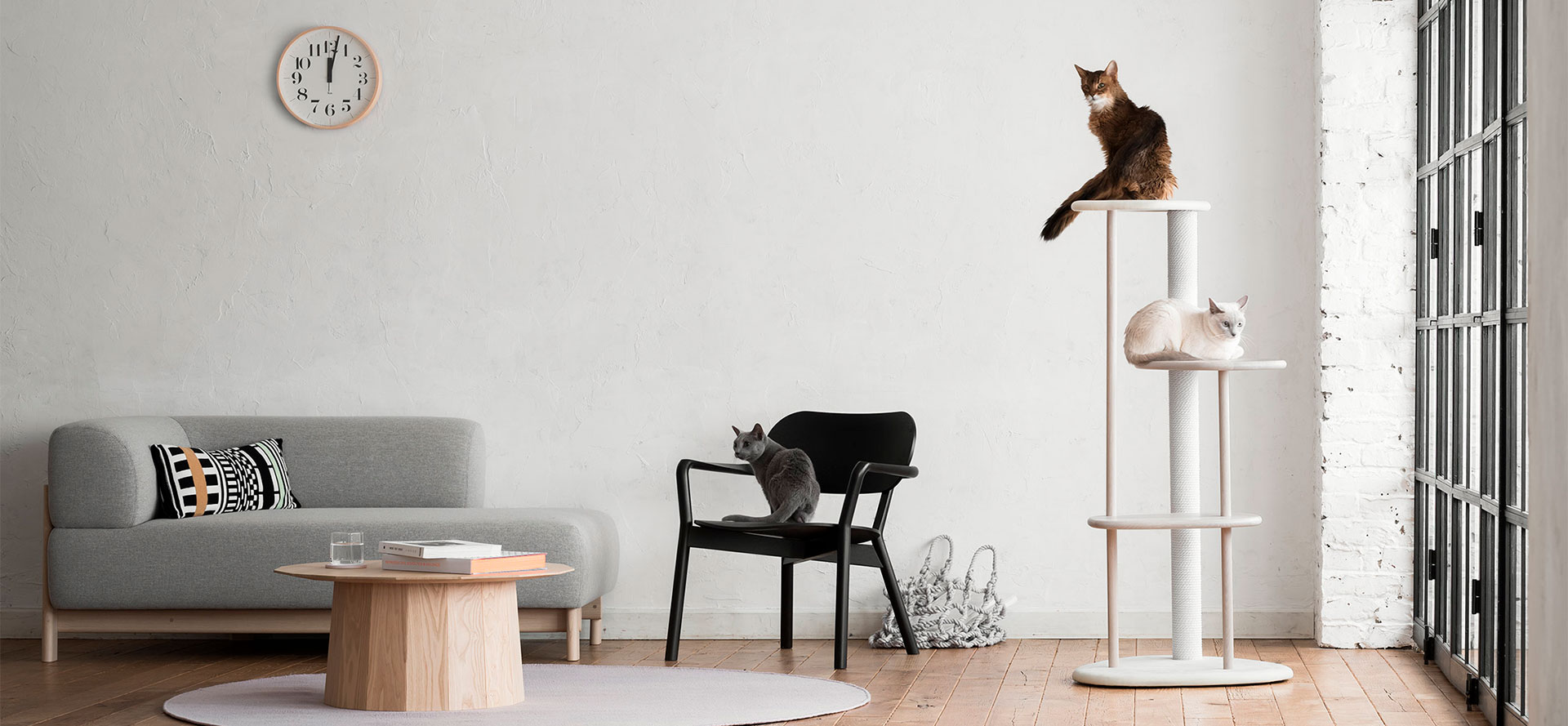 Towers for Large Cats
When it comes to large cats, it becomes important to choose just the right cat tower to ensure your pet's safety while making sure that they have the perfect tower to play, climb and spend some quality time. There are cat towers available in the market that are specially designed for large-sized cats and to give them the perfect play area.
The materials that are used in the construction of these towers are made sure to be of the highest durability and strength. The durability and strength make sure that your pet is safe and the tower is capable of taking their weight. These towers come with a wide base to safely support the structure and are constructed generally with solid pressed wood. Another thing that makes cat play tower perfect is that they come in different designs, colors, and heights. So, if you want to install this type of cat tower in your hall, then you can choose the one with a smaller height as compared to the ones that are designed for garden and outdoor installation.
Choose from the variety of cat towers that are designed for large cats and get one to make your furry little friend happy and give them the perfect and safe space to play, scratch, and sleep.
Small Towers
As the name already suggests, this type of cat tower is designed especially for small-sized cats and these are generally the ones that live indoors. Small cat towers are made with lighter material that is safe and provides the perfect space for your pet to play and climb. These towers are designed to be perfect for small apartments and rooms. It makes sure that even if your apartment is small, there is always separate and enough space for your kitten to play. Small cat towers come in a wide range of designs and materials of construction. This gives us a pool of options to choose from and get the one that suits their requirements as well as the interior décor of the house. Apart from being compact, small cat towers also have required durability to ensure that your cat is playing in a safe space and that is why it is considered as one of the best modern cat towers.
Outdoor Towers for Cat
If you have a yard or lawn area and you want to make it more cat-friendly, then an outdoor cat tower is the best way to do it. This cool cat tower is designed to be installed outdoors and it generally comes in pressed wood construction that provides it enough durability to stay intact and perfect even in an outdoor atmosphere. Outdoor cat towers provide a safe cat-friendly space and at the same time contribute to the overall look of the yard and give it a modern brush. It comes with many platforms that give your cat an easy option to climb on it and features just the perfect height to make sure that even in case your pet decides to jump from the top, it lands safely on the ground. Outdoor cat towers come in a variety of designs, colors, and materials to choose from according to the temperament of your cat. This can result in the perfect gift to present to your cat, as it will make your pet more than happy.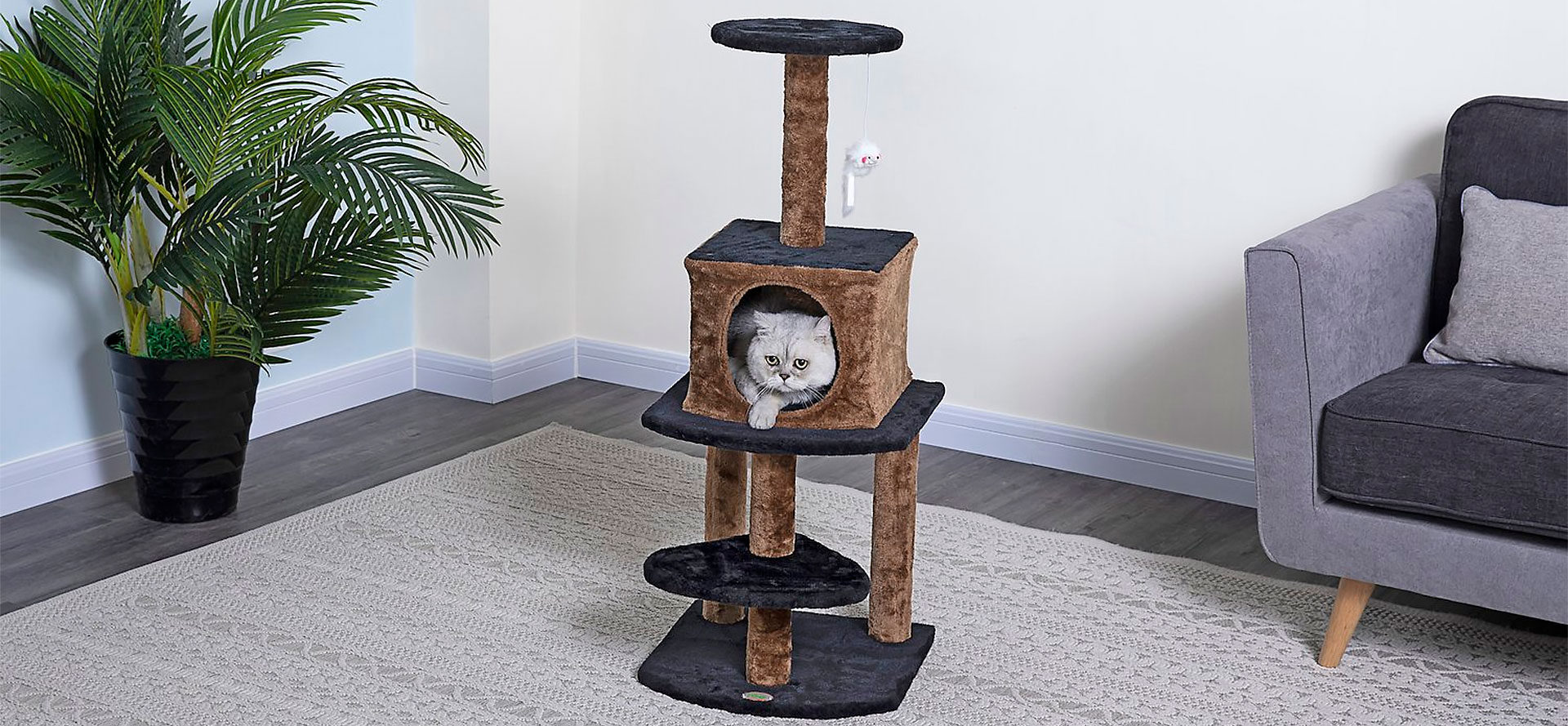 Cardboard Tower
Slightly smaller in size and cheaper in price in comparison to wooden and other types of cat towers, cardboard cat towers are perfect for cats who prefer indoors. The cardboard cat tower comes in pieces for the user to assemble and it can be easily done by following the instruction manual that comes with it. Cardboard is a versatile material, provides enough durability to ensure a safe space for your furry little pet. Although, it is advised to choose this if your pet is not big. Apart from this, it is the perfect cat tower for apartments and small condos. These can also be moved from one place to another and can be disassembled easily if you are moving from one apartment to another with your cat. Cardboard cat towers come in a variety of colors, designs, and sizes for the cat parent to choose from. An extra advantage of the cardboard cat tower is that it also serves as an item of decoration and goes perfectly with all kinds of room decors. So, if you have a small furry pet, then a cardboard cat tower can prove to be the perfect option for you.
Wooden Cat Tower
Wooden cat towers are considered to be the safest and most durable of all the types that are available in the market. These come in various designs and are suitable for both outdoor wells as indoor installation. Choosing a wooden cat tower for your furry little friend can be one of the best decisions you can make for them. Due to the durability and strong construction, wooden can towers are perfect for homes with more than one pet. These can also be installed in the yard or the garden of your house as the wooden construction is capable of going through all kinds of weather conditions. These come in different sizes for the cat parent to choose from, so if you want one to installed in your hall, then you can just simply go for a smaller one. These also come with an attached rope the proves to be the perfect place for your cat to sharpen their paws.