The Perfect Dog Ramp for Your Pet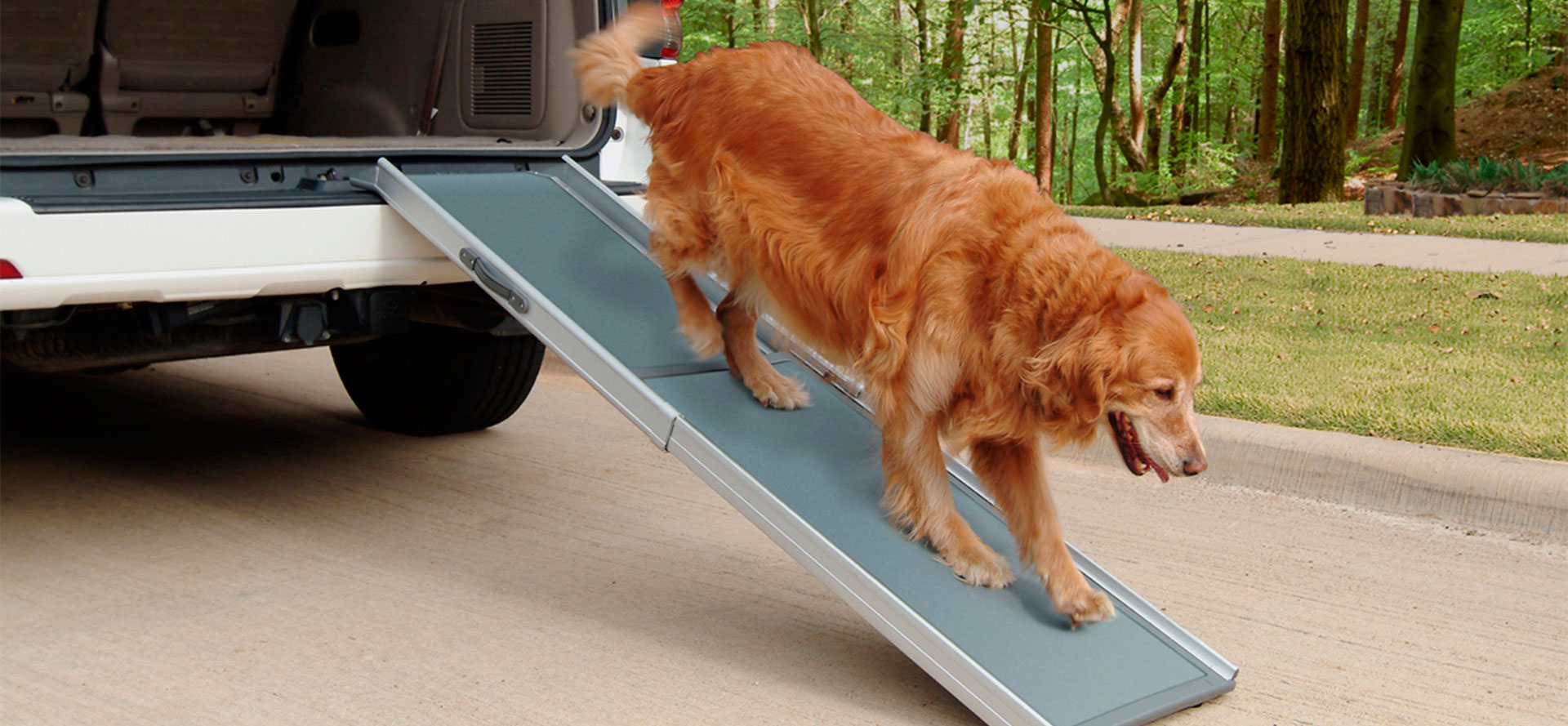 Dogs are just another member of our family, and just like any other member, they also need some extra care when sick or old. Having four feet and a different body structure, they have their limitations. Whether it is a newly born pup, a sick dog, or an older dog, they can have problems in using the stairs and even in walking. Fit and active dogs do not face such troubles but for your older friends, you can still get some way to ease their pain. Nowadays, there are many types of pet care products available to help old dogs. One such product is a dog ramp that helps weak pets walk or slide instead of climbing the stairs.
What is a Dog Ramp?
A dog ramp is a flat piece of wood, metal, or any other surface that is used as a plank to help your dog walk. Pet ramps are the aids that help your dog access higher or lower surfaces without making and jumps or leaps. You can use such ramps to help your pet get off a car, bed, couch, stairs, or any other surface which is higher than the usual. These ramps are usually used for ill and older dogs but can also be used for the healthy ones to ensure they don't stress their muscles.
How to Use?
A dog ramp is intended to help your pet cover a particular area by walking instead of jumping. Specially designed to be used on more than high surfaces, a pet ramp stays in its position till your pet reaches the destined surface. These ramps are used for various purposes some of which are mentioned below.
Helping dog get down from bed/couch;
Helping dog in climbing up and climbing downstairs;
Guiding dogs walk in or out of a car;
Assisting old and sick dogs to walk without any obstruction;
For exercise and dog training sessions.
The above-mentioned activities help the dogs in gaining better mobility, even in the older age, and help to prevent the occurrence of the following injuries:
To avoid spinal and muscle injuries;
To prevent the breakage of toenails;
To prevent any elbow trauma;
Slipping of Kneecaps;
Injury to foot pads;

Ligament tear.
The Dogs that Need a Walking Ramp
Dog ramps are a great help for getting your dog into the car, on the bed or couch, and on any other higher platform. Not every dog needs a ramp. In most cases, the following type of dogs are suggested to be provided ramps for the given reasons.
Puppies:

Climbing high surfaces and stairs can cause stress on the joints and bones. Using a ramp help to alleviate the pressure.

Smaller-sized Breeds:

Tiny dogs can leap and jump throughout the day and they also need to jump more often while climbing higher platforms. Using dog ramps for such fellows aids in minimizing the chances of joint or muscle injuries.

Overweight Dogs:

Those chubby dogs who are lazy as hell and hence grow overweight deal with extra pressure on their legs and thus need more effort in climbing stairs. Such dogs are recommended to be given extra assistance in the form of a walking ramp that is not too steep.

Older Dogs:

With a significant weakness in muscles and joints over the years, older dogs tend to become lazier in walking, climbing and hence are also prone to getting a fractured leg. Providing them with a non-steep plank surface to climb higher surface helps in preventing additional old age issues like arthritis.

Injured Dogs:

To prevent the stress on injured body parts and in-turn promote recovery, injured dogs should be provided an obstruction-free walking surface that helps avoid unnecessary pressure.
Features
If you have decided to get a dog ramp for your furry friend, do look for the following features in the product.
Temporary or Permanent Ramp:

choosing a walking ramp for your old dog is not difficult. You just need to decide whether you need a permanent ramp or a temporary one. For those with temporarily sick pets, it can be a one-time use object but for those who have older dogs, a dog ramp is a highly useful tool. Those looking for occasional use can pick a portable dog ramp that can be stored when not in use. Those looking to guide their pets use this ramp daily should go for a durable and feature-equipped ramp for their dog.

Size Matters:

If you love taking your dog to different places, your dog ramp should be long enough to serve the purpose. A ramp should be a few feet long to be used at different types of locations with ease. Whether it is a long stair or a much higher platform, the ramp should fulfill the basic needs of your dog. For instance, you can keep the portable dog ramp below your car seat to make sure you have it with you all the time.

Telescoping:

Nothing is better than a dog ramp that can be shortened and longed whenever required. A telescoping ramp that is extended is better than keeping a longer one under the seat. On one side, it allows your pet dogs to walk comfortably and on the other side, it eases your storage and transportation issues. You can simply fold the ramp and keep it under the back seat, under the bed, couch, or in the storeroom.

Weight:

If your pet is weak and old and you love carrying him around with you, then go for a lightweight ramp made of plastic or fiber. It will make transportation and storage easier but will also ensure that you have to spend less time cleaning the ramp. Since you will be taking your dog outside once every day, you might need a ramp to guide your dog in climbing down and climbing up the car seat comfortably.

Non-Slip Material:

Material is a very important factor when you are looking for a dog ramp. The risk of falling off automatically reduces when you use a ramp for your dog. However, your beloved pet can still slip off and hurt himself. Or the dog walking plank can slip off the inclined surface. To avoid such accidents, choose a non-slip dog ramp or get rubberized non-slip stickers for an existing ramp to prevent any accidents due to sliding.

Smooth Surface:

aving a dog ramp that has friction elements is always suggested but at the same time, the walking surface should be smooth and comfortable for your furry friend. Instead of getting a ramp plank with a rough surface, you can pick the one with a fabric layer or rubber surface to make sure that your dog is super comfortable in using the ramp. Carpeted dog ramps are a new trend and are popularly used by pet care facilities.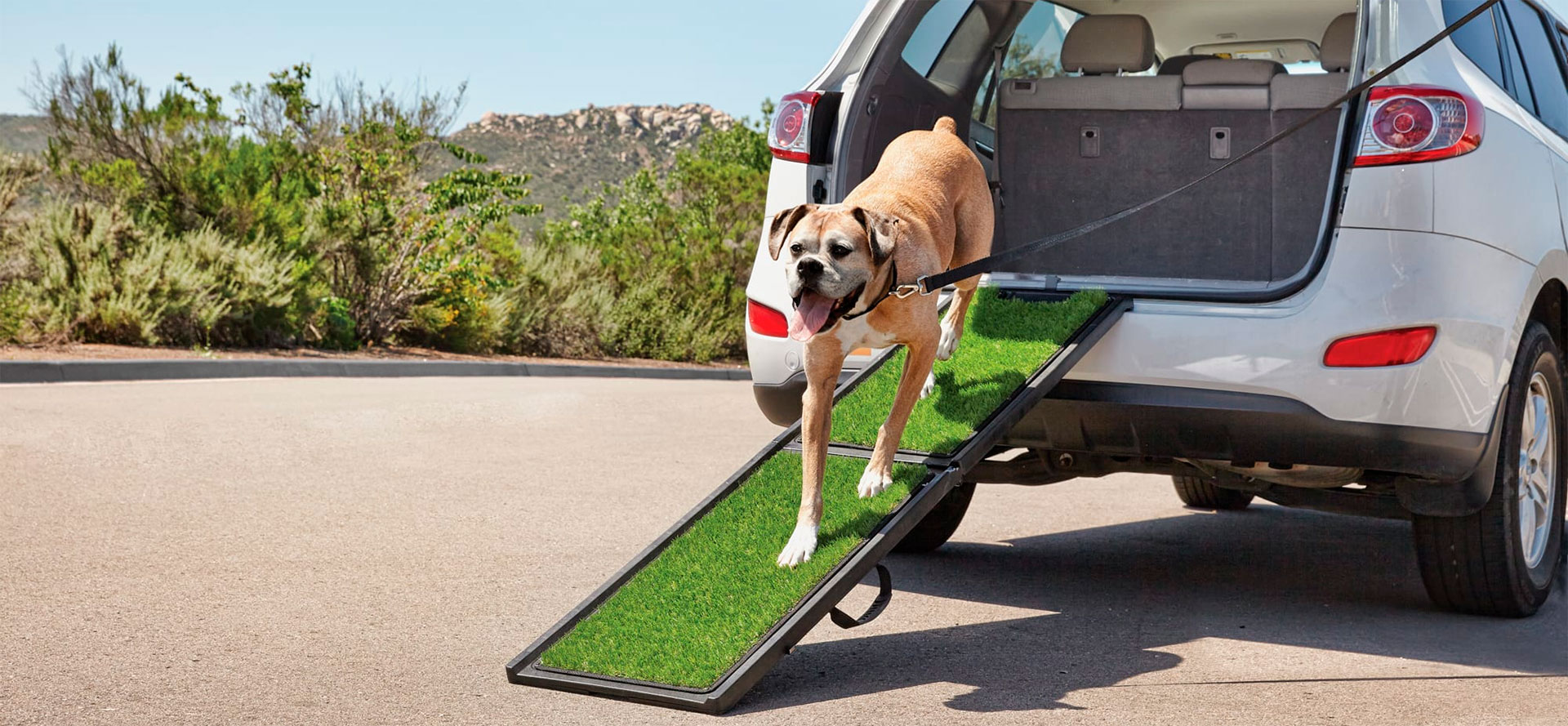 Are Dog Ramps better than Stairs?
The primary purpose of a dog ramp and dog stair is the same, but it all depends on what your dog needs. Every dog has its requirements which every pet owner wants to fulfill. If your dog has trouble jumping or leaping, you can choose a dog stair but if the dog is old and he/she starts avoiding the morning walks, you can use a ramp to make their life easy. Apart from this, a plank for dogs can also help you train the dog. Commonly available in metal, wood, plastic, and fiber frames, dog planks are ideal for short-statured dogs such as Dachshunds, and puppies.
Benefits of using
Younger pups often have trouble climbing stairs, getting on the bed or couch, and to get off the car. In the dog training period, a dog ramp can help in developing confidence and at the same time helps you to guide your pet. Not just younger ones, a dog ramp is equally important for a growing or fully-grown dog. You might think that a physically fit dog can jump without any harm but studies show that jumping off the bed, furniture or cars can be the cause of strain on their joints and spinal cord. The effects of this strain might not be visible at first but sooner or later, they accelerate the aging process making your pet weak day by day.
Regular jumping from higher surfaces can result in your dog breaking his ligament, bone, or getting hurt after losing balance. Your dog might be feeling afraid of climbing higher steps and he might not be able to tell you the same. Using a dog walking ramp minimizes the chances of any potential injury to zero and ensures the safety of your four-legged friend. Dogs with the special condition get additional help during upward or downward mobility by using a ramp. There are various types of dog ramps available for different dog needs but most can be used for every type of dog.
The lightweight and portable dog ramps allow for easy handling and suit any dog or situation. Whether your dog is suffering from arthritic, weight gain issues, or other mobility restrictive ailments, this incredibly useful pet aids helps your canines to stay comfortable and safe.
Tags: pet care supplies reviews, outdoor cat enclosures, dog nail grinder reviews, good dry cat food, what are good cat treats, what size collar for puppy, kitty grass, best house cat, dog playpens, funny dog sweater