Best Dog Stairs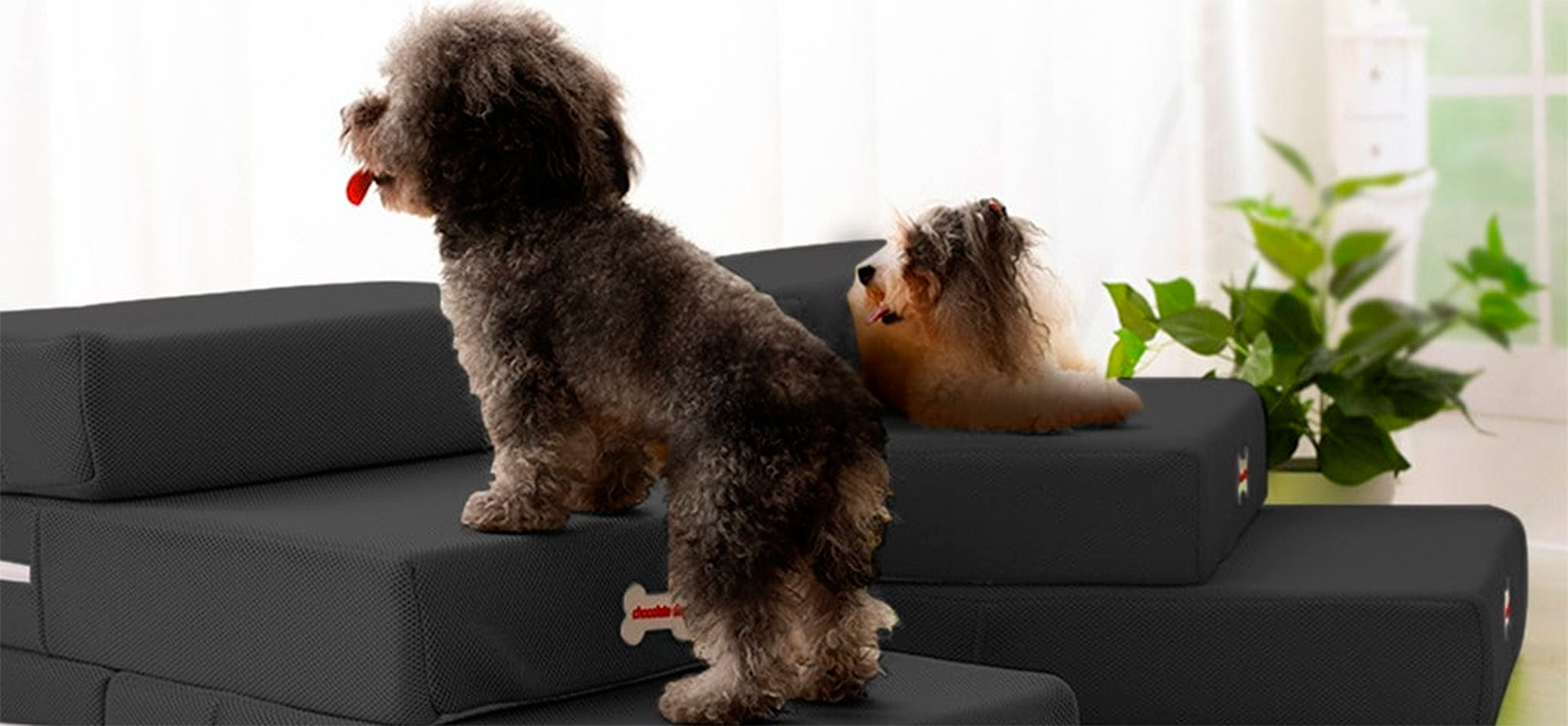 If you are a dog owner, then you must be very well aware of how much dogs love to sleep and pound on the sofa, bed, or even on one of your favorite recliners. Playful dogs keep on hopping from one piece of furniture to another and that's how they keep on reminding you of their presence and grabbing all the attention too. Though cheerful and playful dogs always keep up the energy quotient high, but sometimes simply jumping on high beds or couches can lead to some internal injury that can harm them over time. What's the best solution then? Dog Stairs. Yes, the best thing you can do for your dogs is to buy them a stair that not just helps them get into your bed but help them reach their dedicated resting couch too. Not just for the large dogs, the stairs prove extremely beneficial for the small dogs too. So, let's hop on to know what exactly Dog Stairs are and why do you need to train your dog to use it every time they want to come on the bed.
What Are Dog Stairs?
Stairs are specifically more compact than any other ladder or ramp, gives the dog optimum space to climb up comfortably without hampering their body posture. Stairs are specifically designed and manufactured keeping in mind the requirements of a dog and help the small dogs, large dogs, and even elderly dogs. The dog stairs are ideal for indoor and outdoor use and are made foldable, collapsible, using different materials to offer the utmost convenience. Not just by your bedside, you can use stairs to let your dog come out of the car easily too. A traditionally built stair for a dog has 4-5 steps that are rather short to help the dog climb easily to get on beds or couches. Over the years, it has shown that the stairs are the best option for dogs who cannot get on the couch by themselves. But certain things need to be considered when buying a dog stair. Let's have a look.
High-Density Foam Dog Stairs
An ideal option to let your dog access the bed, couch, or sofa. You can consider buying extremely high-density foam dog stairs that offer optimum cushioning and also help in relieving the pressure on your pet's joints and paws. It is lightweight, portable, and thus, very easy to carry anywhere easily. The step configuration can be selected as per your preference.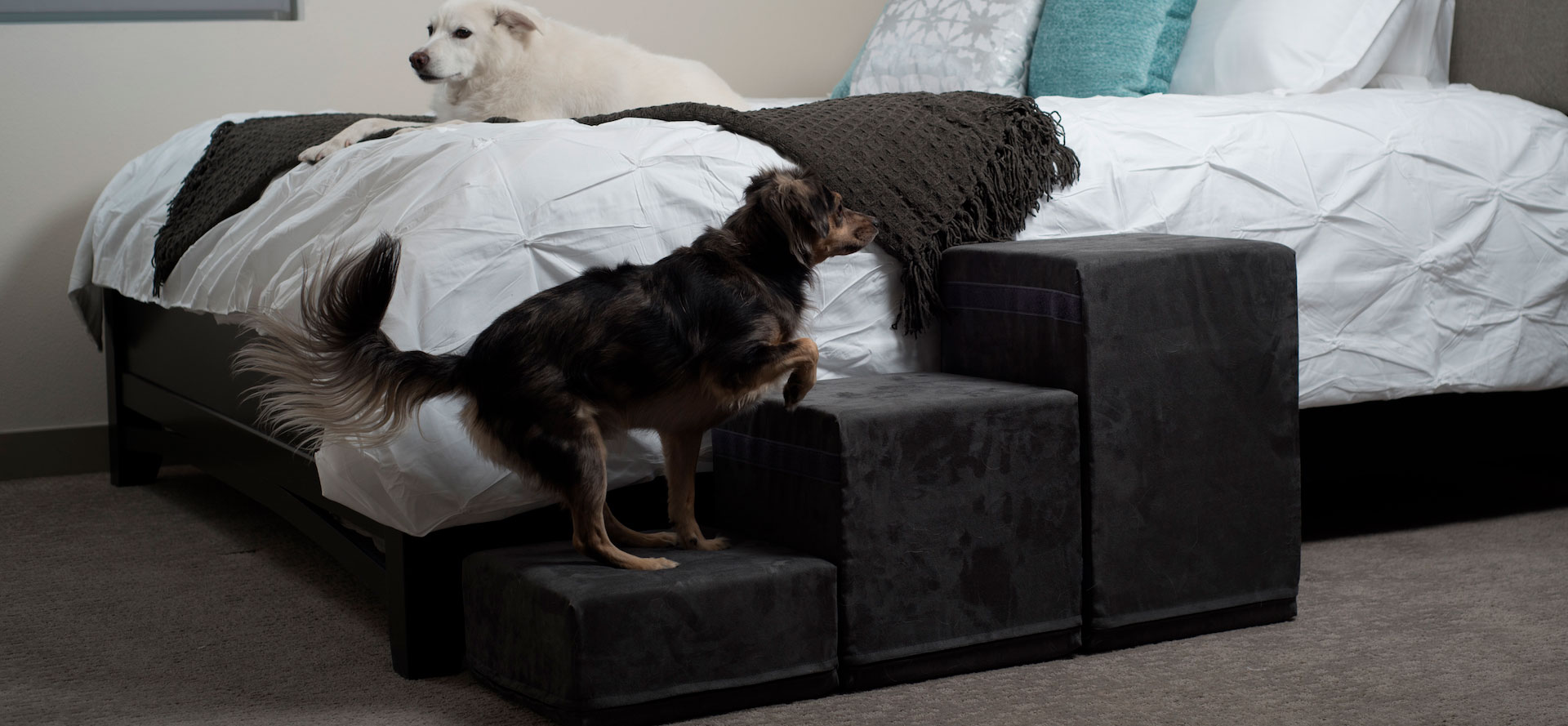 Specail for Bed
Help your furry friend climb up easily with the dog stairs for beds that are specifically designed in a way that it fits easily by your bedside. The stairs for the bed are purposely made lightweight and portable; it can be easily moved around for keeping the floor neat and tidy too. No assembly is required with these dog stairs. The provision of non-skid feet also helps to ensure that the floor is not hampered by the placement of the stairs and the stairs stay at its place when the dog is climbing up.
Height of the Stairs:

Another important aspect when buying a dog stair, don't forget to figure out the destination where you would like to place the stairs, an idea about the height from floor to the destination, like – the height from floor to the bed and that is how you can precisely check for the height of the stairs. The height of the stairs is one of the most important factors to be considered and that is how your purpose will be solved.
Dog Stairs for Car
Let your dog experience complete convenience and comfort in each step even on the go. Carry the portable dog stairs along with yourself that helps your furry friend move in and out of the vehicle. Considering the leaping ability of your dog, you can find the most suitable dog stair that fits perfectly with the height of your vehicle and provides optimum comfort.
The inclination of the Stairs:

You might have not considered this one, but makes sure it is not too steep or not too flat as well. The inclination of the stairs also depends on the height and depth of the staircase. Make sure the inclination doesn't add to the difficulty level for your dog. If the dog stair is more vertical (inclination), then it is more difficult for your dog to climb up, thus, your purpose will not be solved.
For Small Dog
Let the small dogs trot happily up and down the stairs to reach their cozy and comfortable spot on your bed with the small dog stairs. Yes, a little help and a boost to get them to their favorite place are all that we need to do by training them to use a stair. Small dogs often find it extremely difficult to access higher places and thus, making them use a dog stair which is not that hard to climb and have low step height too can prove beneficial.
Step Count and Size:

Every dog owner knows about their dog's abilities and aptitudes for climbing stairs, so this can help you decide on going for the stairs with fewer or more steps and also how high each step should be. You can either go 2 high steps or can consider buying 4 smaller step stairs too for your small dog.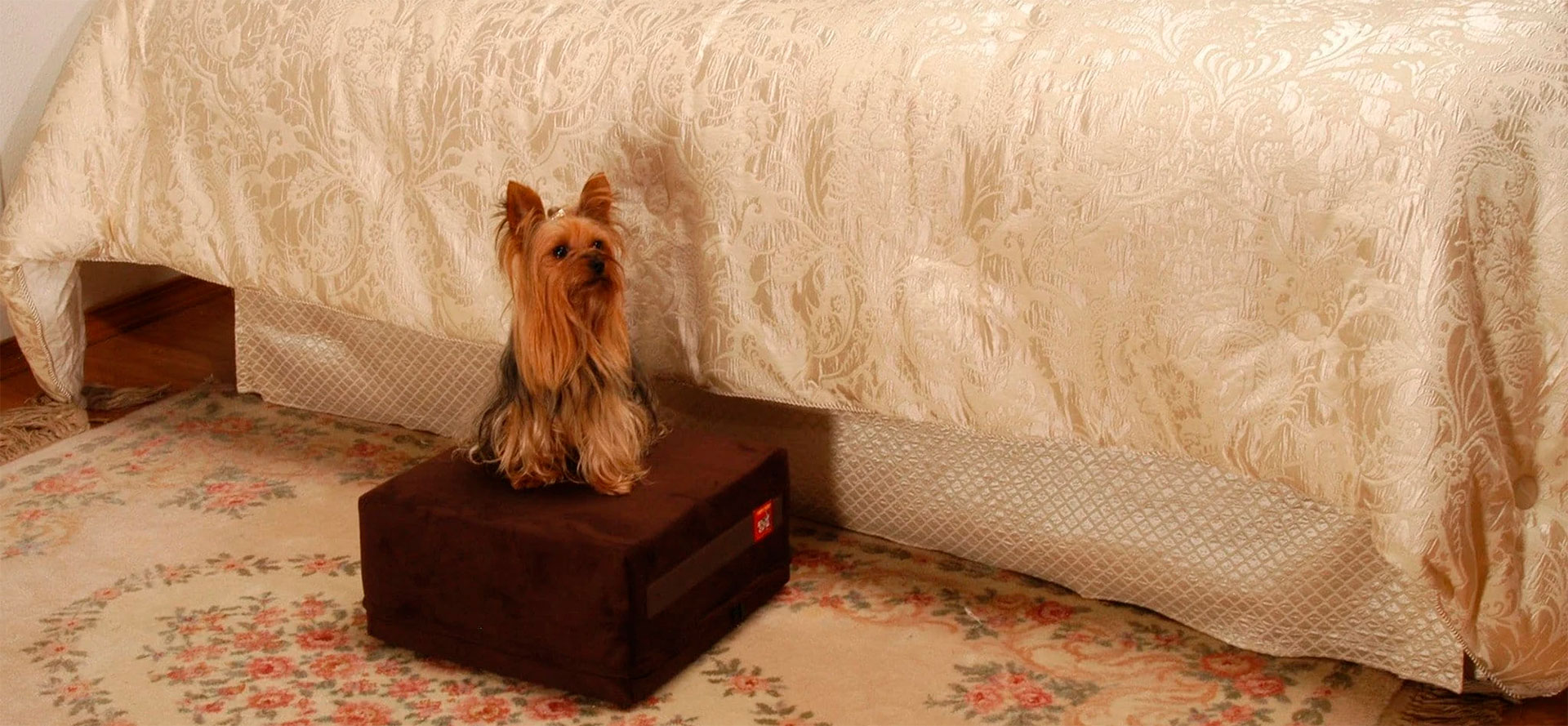 Stairs for Large Dog
If you have large dogs then finding out stairs that are sturdy yet lightweight will solve your purpose and are ideal to survive the heavy weight of your dog too. Let your dog navigate their staircase and let them find an easier way to reach higher places with ease. For large dogs, the stairs generally have non-slip grip pads and non-skid feet too, this helps to prevent abrupt slipping when, while making them confidently reach the elevated area. Multiple steps can help reduce muscle pain and excessive strain too. A sturdy and durable large dog stair offers complete stability to withstand heavily weighted dogs.
Wooden Stairs with Carpet Pads
The sturdiest of all, the wooden dog stairs are the most reliable dog stairs that make accessing higher places much easier. The use of premium grade and extremely thick quality wood adds to the durability and offers commendable performance over the years. Consider getting wide wooden dog stairs if you have a medium-sized dog or even larger; this offers complete comfort and ease of access to the desired place. Or else, you can simply go for the wooden stairs that are compact and not that wide, if you have small dogs.
Tags: pet supply, telescoping dog ramp, cute cat costume, crates for dogs, broad spectrum dewormer for cats, free standing cat hammock, pool for dogs, dog training collars, personalized puppy collars, small dog supplies