Last updated
Dog Harnesses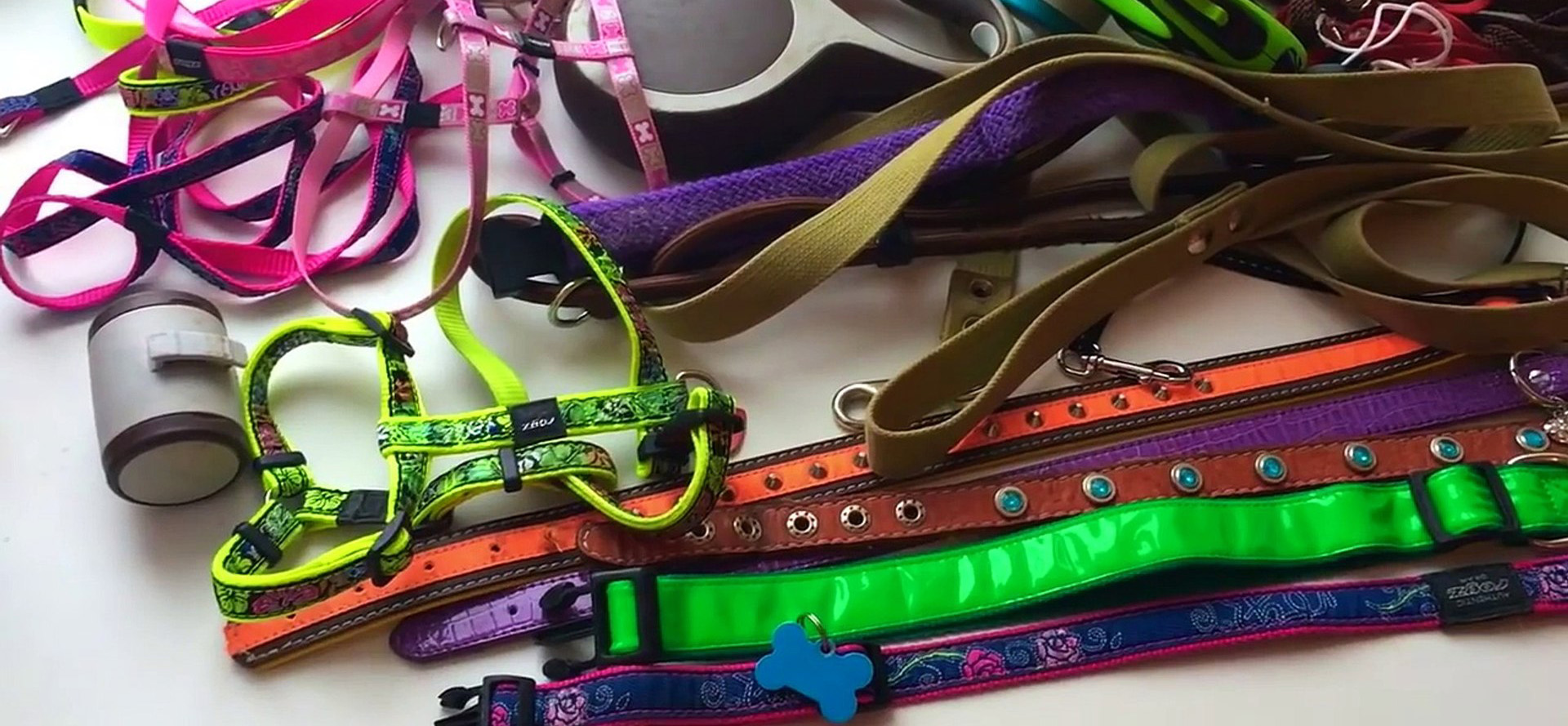 Wouldn't you want your dog to be appropriately outfitted when it's time to head out to the world? You need to buy the right dog harness so that you can safely take your pooch out in public. If you've never bought or used a harness before, we've got you covered. Here is a comprehensive guide to tell you everything you need to know to purchase your first dog harness.
10 Best Dog Harnesses in 2023
Products
Information
Price

Check Price

Neck Size:

11 to 24 inches

Check Price

Harness Type:

No Pull, Back Clip, Front Clip

Features:

Dual Clip, Reflective, Training, Waterproof

Check Price

Harness Type:

Front Clip, Back Clip, Car Safety

Material:

Polyester, Nylon

Check Price

Features:

Step In, Leash / Harness

Check Price

Material:

Plastic, Polyester

Dimensions:

12.25 x 5 x 1.5 inches

Check Price

Material:

Plastic, Polyester

Dimensions:

12.25 x 5 x 1.5 inches

Check Price

Breed Size:

Medium Breeds

Dimensions:

11.7 x 11.1 x 0.9 inches

Check Price

Harness Type:

No Pull, Back Clip, Front Clip

Material:

Nylon, Polyester

Features:

Training, Step In, Leash / Harness, Dual Clip

Check Price

Check Price
View all Dog Harnesses
What is a Dog Harness?
Dog harnesses consist of straps of webbing that nearly loop around the torso of dogs. The straps fasten together with the help of side release buckles. The straps are available in sundry colors and some even have a reflective coating.
Harness for dogs is perfect for puppies or dogs with neck issues. The harness takes the pressure off the neck and the best choice would depend on the personality and size of your furry friend.
Types of Harnesses for Dog
The vest dog harness –

These harnesses comfortably fit dogs like it's a pair of clothing. They're less likely to chafe under the armpits.

The webbed dog harness –

These webbed-style harnesses works best if your dog is not a puller. They are made available in different combinations to suit dogs of every size.

The anti-pull front-clip dog harness –

While the aforementioned harnesses clip to a lead at the back of the neck of your dog or spine, the front clip dog harness clips the lead at the dog's chest. This is the perfect option if your dog is a puller. Check out our reviews to know how these harnesses are used.

The no-pull dog harness with back and front clips –

These harness for dogs have clips on both back and front. Also, these harnesses are web-styled. You must ensure that it snugly fits your dog so that it doesn't look awkward. If you want to know more, you can refer to our dog harness with front and back clip reviews.

The head halter dog harness –

This comfortable dog harness is a good option if your dog is reactive. It is also a good option for large and strong dogs. This harness slides over the nose of the dog and fastens behind the ears. It attaches itself to the lead that is beneath the chin. However, don't confuse this harness with a muzzle as your dog will be able to open his or her mouth and carry the ball.

The mobility dog harness –

Also referred to as the dog sling harness, these are specifically designed to provide assistance to dogs suffering from mobility issues. This type of dog harness can feature a back handle, hip-lift handle, a strap or wraparound handles that pass from the front to the back. These dog harnesses are best for older dogs with limited mobility, dogs recovering from surgery and larger dogs with joint injuries. Take a look at our top 10 mobility dog harness reviews to make an informed choice.

The step-in dog harness –

These appear similar to figure 8 in design and your dog will simply need to step into the harness. These have clips at the back. They're perfect for lighter and smaller breeds of dogs and also older dogs with less manual dexterity.

The Roman dog harness –

Also known as the back-clip dog harness, they are designed to fit around the chest of the dog and also around the shoulder blades. The two straps are joined under the chest and along the back.

The escape proof dog harness –

Some dogs are supremely talented when it comes to escaping from any type of harness. For them, the best dog harness is the escape proof harness that comes with an additional belly strap. This makes it difficult for the dog to escape.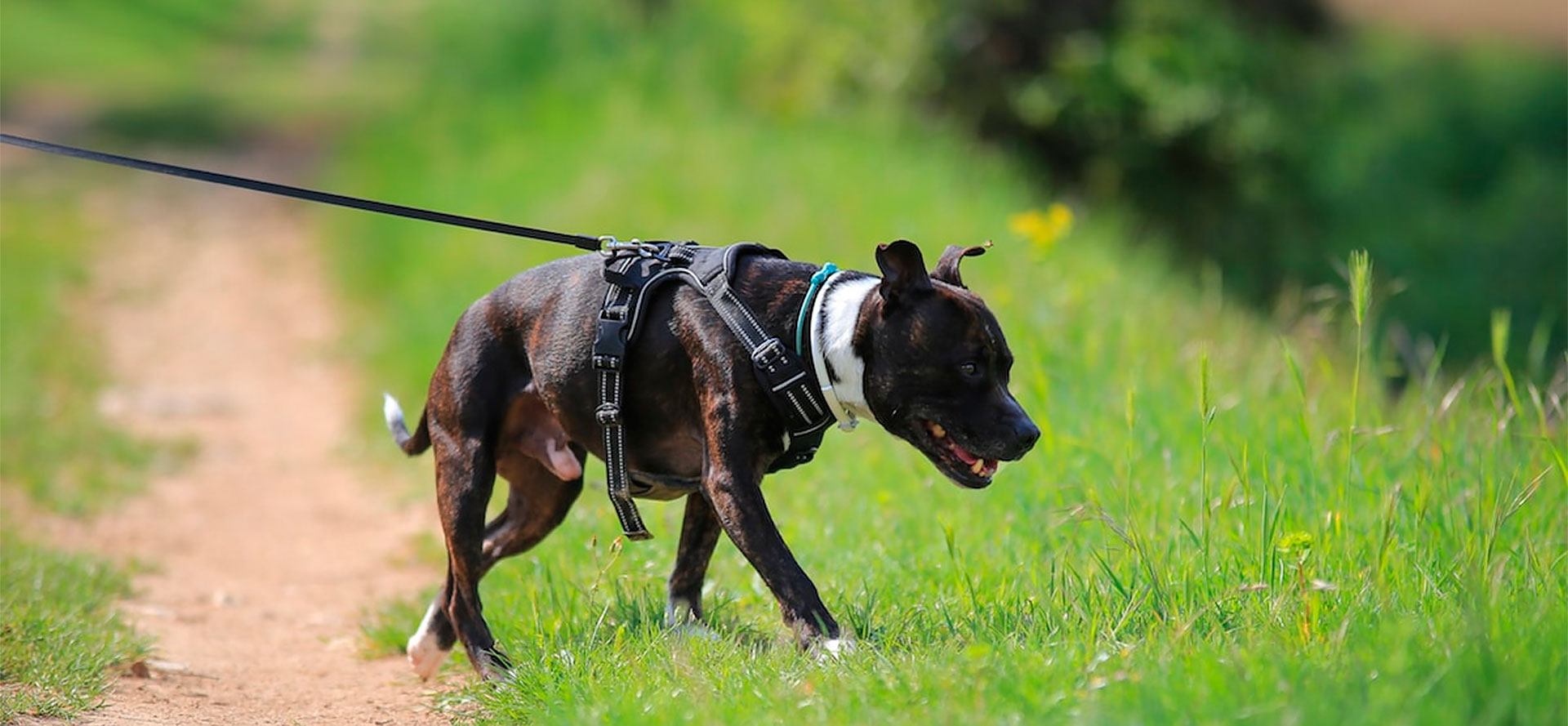 Strength and Durability of a Harness
When it comes to strength and durability, dog harnesses belong to any one of the following categories:
A single-ply dog harness –

This type of dog harness with handle is created with a single layer of material. Typically, the material is nylon webbing. It can also be leather.

A two-ply dog harness –

This type of harness is constructed using two layers of materials. Just like the single-play harness, the material can be leather or nylon.
Obviously, the two-ply harness is much stronger and tougher than a one-ply harness. They're recommended for large dogs with a great amount of pulling force. If you have a small dog, you can opt for the single-ply dog harness.
More choices available
Materials for Harness
The materials used for creating dog harnesses are nylon, polyester and Polypropylene. Nowadays, leather dog harnesses are also available. These materials are durable and capable of withstanding constant pulling. They do not absorb water and can be cleaned easily. Also, they're available in so many different colors that you can easily find one to match the style and personality of your dog.
How to Measure Your Dog for a Harness?
It is not a secret that dogs come in varied sizes and shapes. So, once you have decided to get a dog harness, the next step is to find out how you can get the right size for your pooch. Since different breeds have different body shapes, you have to take a few measurements before buying a dog harness. You cannot simply depend on the weight of your furry friend alone because a 25kg greyhound will have a different fit than a 25kg British bulldog.
Also, the different dog harness types require different measurements for a comfortable and snug fit. However, the following measurements will help you get started.
Chest of your dog –

To appropriately measure your dog's chest, you have to take a flexible tape and measure around the body of your dog. Start from the bottom of his or her rib cage at the widest part and go up over the back and then come back down to where you've started.

Neck of your dog – For measuring the neck of your dog, you need to take the tape and wrap it around the thickest part of your pooch's neck. Place the tape right on top of his or her shoulder and take the measurement. Make sure that the tape is not around the narrowest part of the neck where the collar sits.
Measure your dog's weight –

For the perfect fit dog harness, you also have to take your dog's weight under consideration. You will see that harness brands make use of weight guides. You can find out your dog's weight by using scales. But, if your furry friend is not comfortable getting on the scales, you need to weigh yourself first and then pick up your pooch to get on the scales together. The difference between your weight and the weight when you stood together is the weight of your dog.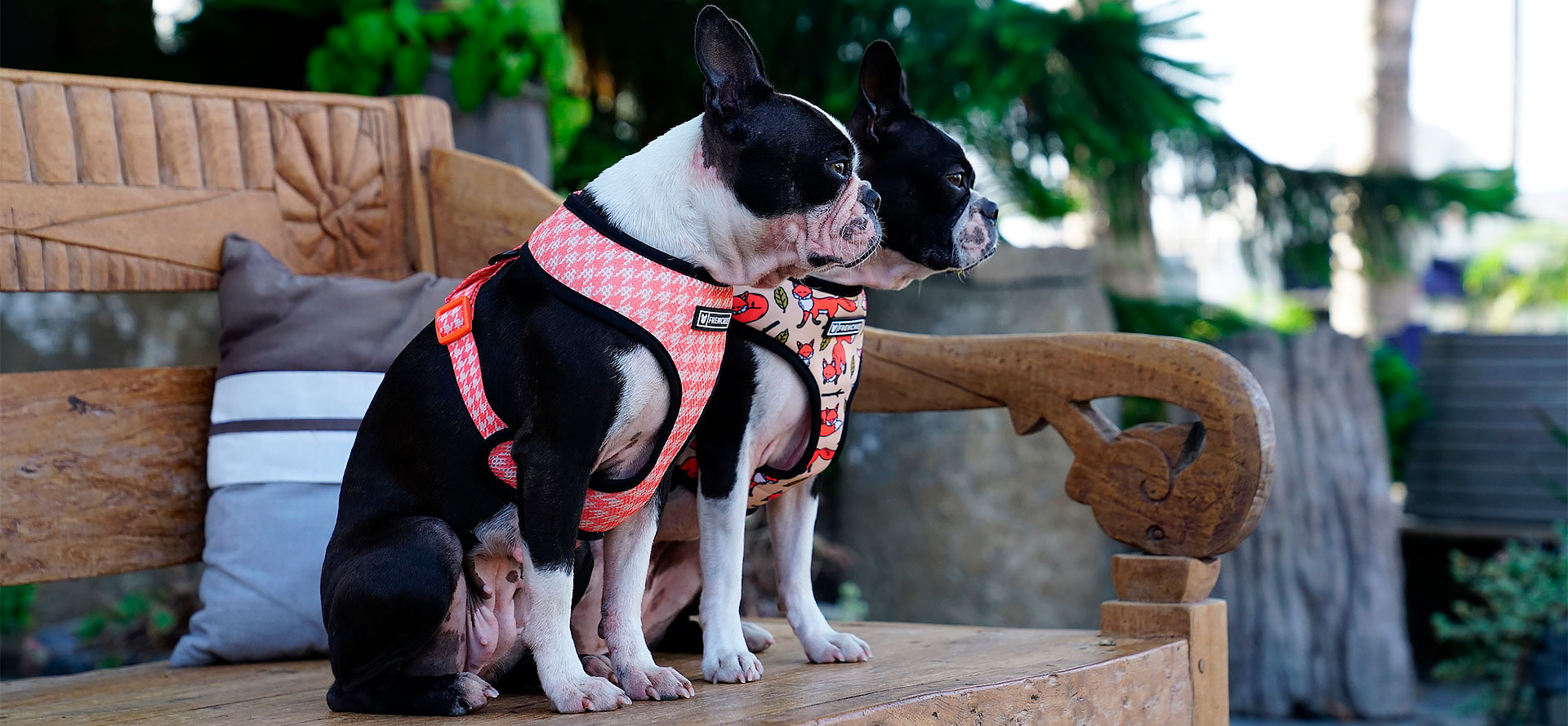 How to Correctly Put a Harness on Your Dog?
There are different types of cute dog harnesses available out there. For a comprehensive guide on how to put on various harnesses, you can check out our reviews for the types of dog harnesses. We have mentioned below a few of the common types of harnesses and how you can put it on your pooch.
Putting on a vest dog harness – For putting on a vest harness, you can follow these steps:
Slip the loop of the harness over the head of your dog so that the vest part is on your dog's chest. The D-ring is going to rest on the back of your dog.
Pull the rest of the vest harness between the front legs of your dog and clip the straps on both sides.
You can clip the lead to the D-ring.
Putting on a front-clip dog harness – Here are the steps:
The opening of the harness needs to be slipped over the neck of your dog;
Adjust so that the connector rings are sitting behind and above the shoulder of your dogs and also position the D-ring in the chest's center;
To clip shut, pull the strap that is under the belly;
Make sure to properly fasten the lead to the D-ring on your dog's chest.
To know how to correctly put on the other types of dog harnesses, you can check out the label on the packaging and go through the guide. You can also take a look at our list of top 10 dog harness brands to make your choice. Our lists and guides come with reviews that will help you on your journey of making the perfect choice for your canine best friend.
With so many dog harnesses available, buying the right one might seem intimidating and confusing. Hopefully, the above-mentioned information is going to help navigate you toward the exact type of harness that your furry friend needs. When selecting, always remember to ascertain whether you are buying it for walking, running or jogging. If you are going to use it in a car, you would need a more specific type of harness that is constructed and designed for car use. You may have to test drive a few harnesses to find the right fit.
Choose Dog Harnesses now
Tags: pet supply, best dog wheelchair, dog collar with name embroidered, why dog cough after drinking water, best dog nail grinder, raw chicken bones good for dogs, protective dog boots, funniest cat costumes, best modern cat tree, dog hammock car seat cover