A Comprehensive Guide to Buying the Right Beds for Your Dog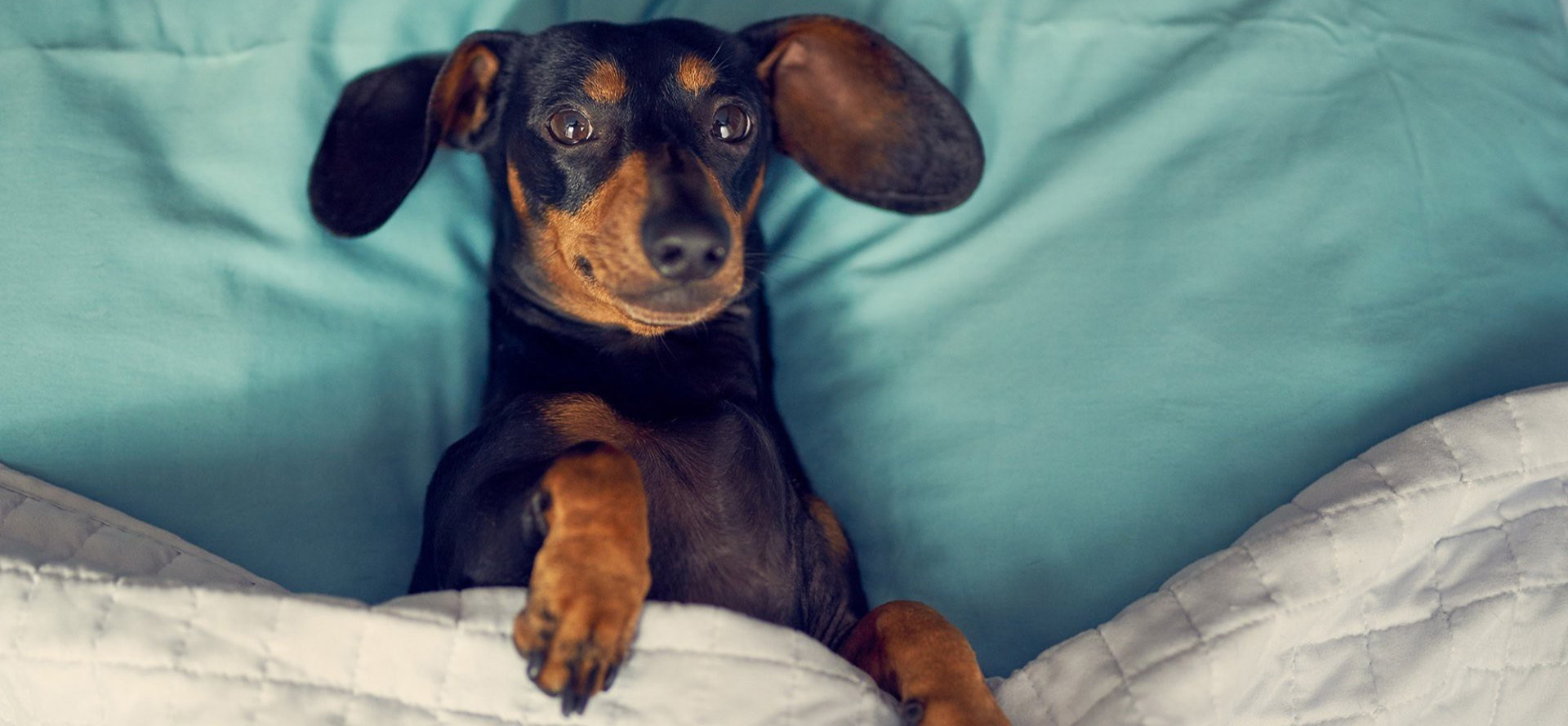 Does your dog spend a lot of time on your favorite chair or sofa? Does he or she take up most of the space on your bed when it is time to hit the sack? If so, it might be good to consider getting your crafty canine a comfy bed of their own. After all, your furry friend is most probably going to sleep for about 12 – 14 hours a day. If you have a puppy, he or she might need at least 18 hours of sleep every day. Lucky for you, dog beds come in all sizes and shapes. We agree that finding the right one might be tricky, but not impossible. Here, we have put together a comprehensive buying guide to help you find the perfect bed for your pooch.
Factors to Consider When Choosing a Dog Beds
Size – The next step to deciding that you are going to get a dog bed is measuring your dog from his head to tail. This is going to ensure that the bed is not too small or too big for your pooch. You must make sure that the dog bed is big enough so that your pooch can lie down in his natural position. To know how to measure your dog, you can go through the reviews that we have. For a general idea, this is what the size of dog beds means:
Small beds are for dogs weighing below 40lbs;
Medium beds are for dogs weighing less than 60lbs;
Large beds are for dogs weighing below 120lbs;
Extra large beds are for dogs weighing more than 120lbs.
Robustness –

Is your dog a chewer? Young dogs do it because they want to ease the pain caused by teething. Adult dogs do it because they want to keep their jaws and teeth strong. Or, your dog might just do it because he is stressed, hungry or bored. In this case, look for beds that can withstand chewing or look for materials that are not harmful like, beds built with aluminum or PVC pipe or fabric beds with foam pieces.

Easy-to-wash material –

The material of the bed cover must be easy to remove and also wash. The ideal situation would be if you can just remove the bed cover and toss it in the washing machine. This is a major consideration for puppies, as well as, dogs with skin problems or urinary issues.

Shapes –

Dog beds can be rectangular or round shaped. Depending on the sleeping style of your dog, choose the shape of the bed.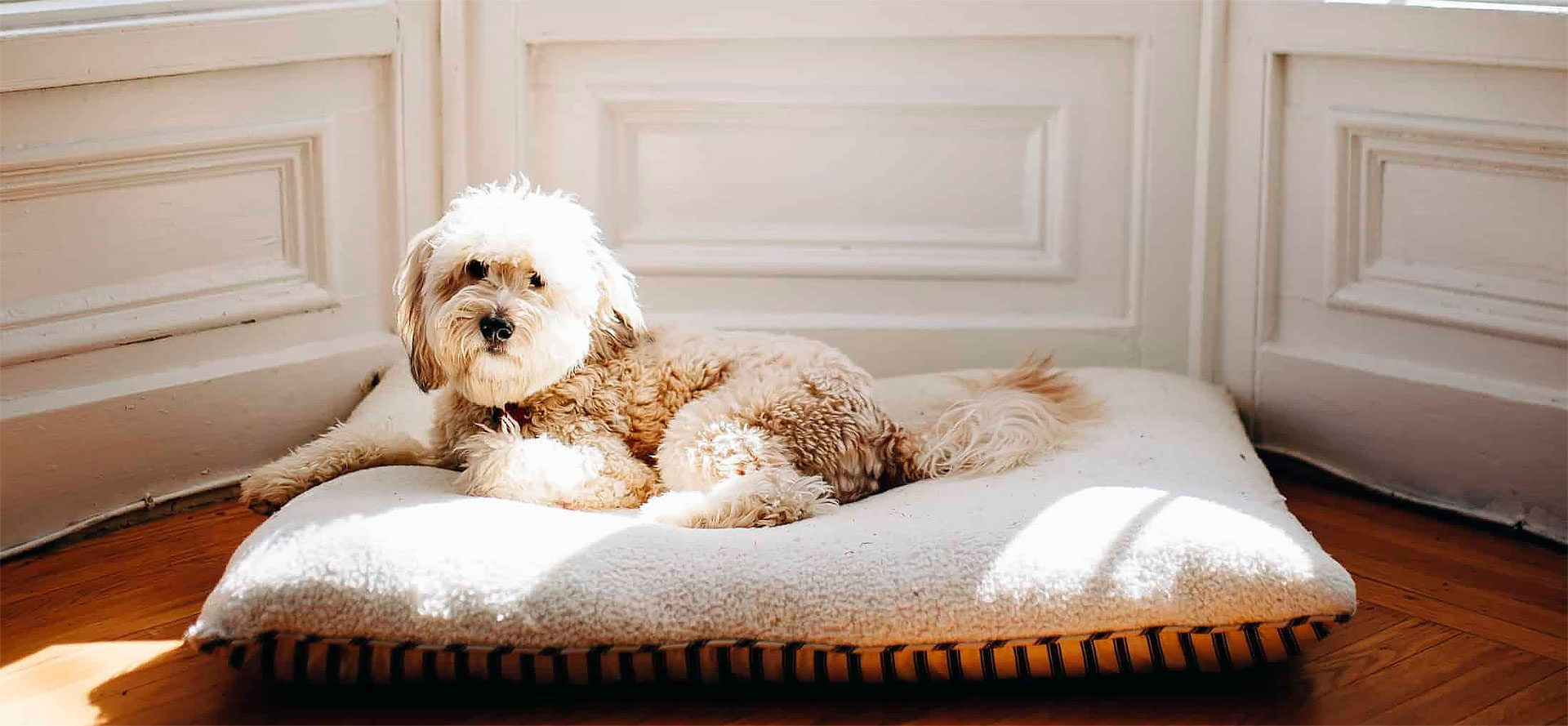 Types
Pillow-style dog beds –

These beds feature a simple design and provide easy accessibility. These cozy dog beds can be filled with polyester, cotton or foam inserts and it can range from plush to firm. These beds can be placed anywhere in the house and they can also be easily moved. These beds are perfect for daily lounging, but do not provide orthopedic support.

Donut-style and bolster dog beds –

These come with soft-walled sides on some or all sides. They provide dogs with a feeling of security and comfort. These beds are surrounded by shallow cushions that make canines feel cradled. We have reviewed the most popular donut-style and bolster dog beds for you. Go through it.

Pads and dog mats –

This dog bedding style is a low option for your dog. These are small dogs or adult dogs who have trouble climbing into something taller or fluffier. Dog pads and mats are a lot like cushy rugs. They can be cleaned easily.

Orthopedic dog beds –

These are considered one of the best dog beds for pooches who have issues with arthritis, age or hip dysplasia. These beds have orthopedic foam that readily conforms with the body of the dog. These are also ideal for dogs recovering from a medical procedure or accident. Take a look at our list of the top 10 orthopedic dog beds to make an informed decision.

Outdoor dog beds –

These are like a dog cot and offer off-the-floor comfort. They are perfect for outdoors and offer cooling comfort on days when the temperature is warm outside. They are typically made of mesh-like nylon so that it is breathable. If you're not looking for cool dog beds, you can also get outdoor heating pads that are fantastic for winters.

Heated dog peds –

These beds are designed specifically to keep your pooch warm during the winter months. They are a good option for hairless dogs as they require extra warmth. These are electrified beds.

Covered dog beds –

Covered dog beds come with an extra covering on top. Your dog can hide under it to feel secured.

Memory foam dog beds –

If your dog is very heavy or arthritic, memory foam dog bed might be the perfect fit. Memory foam beds are durable, and they can hold shape better with time. They are therapeutic dog beds and can make your pooch feel quite comfortable and snug.

Crate dog beds –

This type of dog bed can be washed easily. They can be helpful for training purposes. Size is a major factor when you are selecting a crate dog bed. Make sure that your dog is able to fit comfortably.
Apart from these, you can find dog bunk beds that are ideal for pet-parents raising more than one dog. All of your fur babies can huddle together and hit the sack. We have reviewed the different types of dog beds for you. Read it to know which type of bed is right for your pooch.
Choosing the Beds Material for Your Dog
Determining the material of the dog bed depends on factors like, care, cleaning, durability and the specific needs of your dog. The bed cover should be easy to remove and clean. If your dog trends to shed a lot of hair, cotton blend or smooth polyester material can be a blessing. Hairless dogs or pooches with less hair prefer soft fleece cover that provides warmth.
When it comes to internal padding, you have the option of a wide range of materials, such as:
Memory foam;
Egg crate foam;
Poly fill;
Foam beading.
You need to choose the right padding for your furry friend. Smaller dogs need minimal padding, but large dogs require thick padding for support.
Selecting the Right Dog Beds Design
Style is also an important consideration when it comes to choosing the right bed for your dog as it will become a part of your home décor. Aesthetic patterns, fun colors and attractive designs can make dog beds a part of your home. Also, it can show off the unique personality of your dog. You can take a look at the designer dog bed reviews that we have put together. You will find extremely cool and fashionable designs to inspire you.
Since manufacturers have also started understanding the important of stylish designs, you can easily find cool dog beds that fit your aesthetic sense. You can find dog beds in amazing designs resembling hammocks, giant shoes and so on.
How to Correctly Wash Your Dog's Bed?
Just like humans, dogs deserve a clean and comfortable place to sleep in. When it comes to cleaning your dog's bed, you cannot merely leave it at surface cleaning. You must deep clean the bed to eradicate odor, hair and so on. The main reason for this is that germs tend to pass through the cover or outer material to the interior of the bedding.
If you have a bought a bed with a removable bed cover, you can follow these steps:
Vacuum the bed cover without removing it to remove all the dander, further and other debris. If you have a lint roller, you can use that as well.
If you have a shallow basin, you can fill it up with water and mix 1/4th cup of baking soda. Mix it well and soak the cover for about 15 minutes.
If there are stains on the cover, you can use a stain remover.
Use a mild laundry detergent to wash the cover after you've removed all the stain.
Make sure to rinse the cleaning product properly or it may irritate your dog.
Do not wring the cover and just let it hang for drying.
These are some of the cleaning tips that you can consider. However, it would be best to read the manufacturer's label and follow the cleaning and washing instructions written on it. In case the cover cannot be removed, you will have to vacuum the bed, take a toothbrush, and slowly clean all the stain. The cleaning procedure might be time-consuming, and you may have to leave the bed to dry for an entire day.
Now, all you have to do is get your dog the most comfortable dog bed out there. Your pooch is going to be extremely happy and you can have your bed all to yourself. If you need more help, we have reviews and list of top dog bed brands for you to peruse.