Last updated
Best Indestructible Dog Beds
Have you ever understood the importance of a good night's sleep for a dog? Just like us humans, a dog having a good night's sleep can allow for you to have a better night's sleep. When a dog does not have a good sleep, they could be spending long hours in the day resting, moaning, and crying in the nighttime and helps with health issues. One of the main aspects of a great dog bed is that it can help with joint issues. One of the main aspects of a great dog bed is that it can help with joint issues. The right bed can serve as pain relief for arthritis, hip dysplasia, and other joint problems. Most importantly, though, a good dog bed can help your dog feel relaxed and provide them with enough motivation to sleep there.
However, to achieve these benefits, you don't want just any dog bed, but you will want one indestructible. As no doubt your dog could chew and tear it; similarly, it could degrade in the wash over time. To help you choose a durable dog bed, check out our top 10 list here.
What is an indestructible dog bed?
An indestructible dog bed is often known as a durable dog bed resistant to your dog's chewing, scratching, and digging behavior. Plus, this bed can be easily washed and often comes with a warranty. These beds can come in various sizes and materials, most of which are waterproof and can stand wear and tear.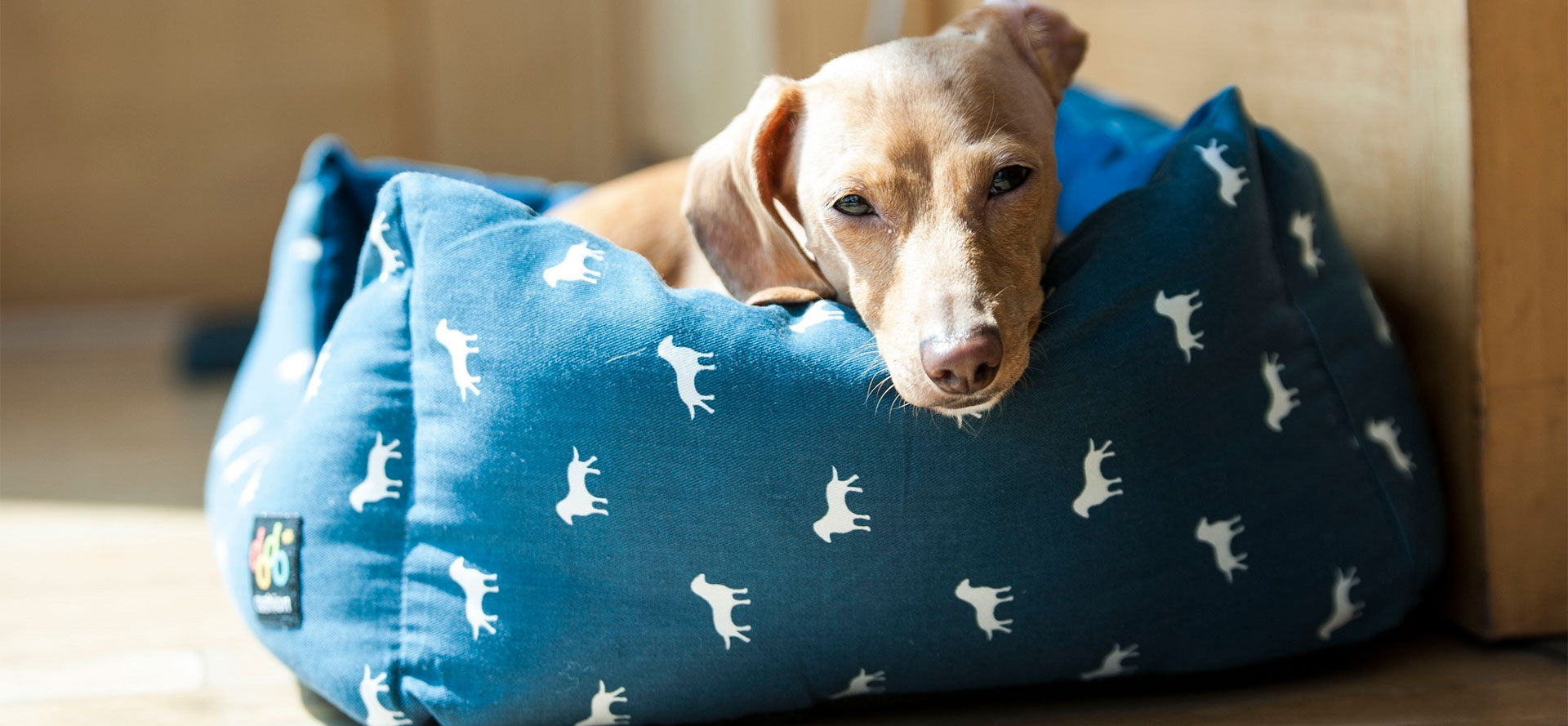 Different types
There are many different types of indestructible dog beds which are:
Memory foam dog bed: You can buy durable dog beds similar to humans, where they're made out of memory foam. Memory foam dog beds help contour your dog's body and provide them with enough support to sleep on. This is great if they have orthopedic issues and they chew a lot; it's difficult for dogs to chew through memory foam. Always check when you're buying memory foam dog beds that they come with a washable cover and ideally ok for washing machines.
Elevated dog bed:

If your dog is a chewer, you can get an elevated dog bed to stop them from aggressively ripping it apart. The elevated dog bed comes in a range of sizes and is highly robust. This type of dog bed is designed to go in dog crates. It's often made out of aluminum or steel and is lightweight, and you can drape fabric over the top. In comparison to other indestructible dog beds, this is something you will have to assemble first. On the contrary, you can get elevated dog beds that you can unfold, which are best for travel purposes. Such beds are often made out of mesh and are easy to clean with soap or detergent.

Steel framed dog bed:

This is a dog bed that's completely made out of steel and has polyester fabric at the top. A steel dog bed is slightly elevated and is solid. Most of these beds are difficult for your dog to move, and when they do move them, it's unlikely they will cause scratches or skid marks on the floor. This bed can also be placed indoors and outdoors; it can handle different types of weather. Similarly, it's waterproof and easy to assemble. The polyester fabric is also great as it stops its resistance to chewing and discourages fleas, ticks and mold.

Orthopedic dog bed:

If your dog likes to chew a lot, some orthopedic dog beds are built to discourage chewing. It's usually made out of a combination of materials such as metal and canvas with a mattress inside. The most important feature these dog beds offer is that they have zips that stop your dog from chewing and pulling the mattress away with their mouth.

Dog crate pad:

Just like an orthopedic dog bed, you can get a dog crate pad which is also indestructible. If your dog wishes to sleep in its crate more, you might want to choose this option. These types of beds are made out of nylon and are often chew-resistant. There are no zippers or velcro in them, and they are machine washable.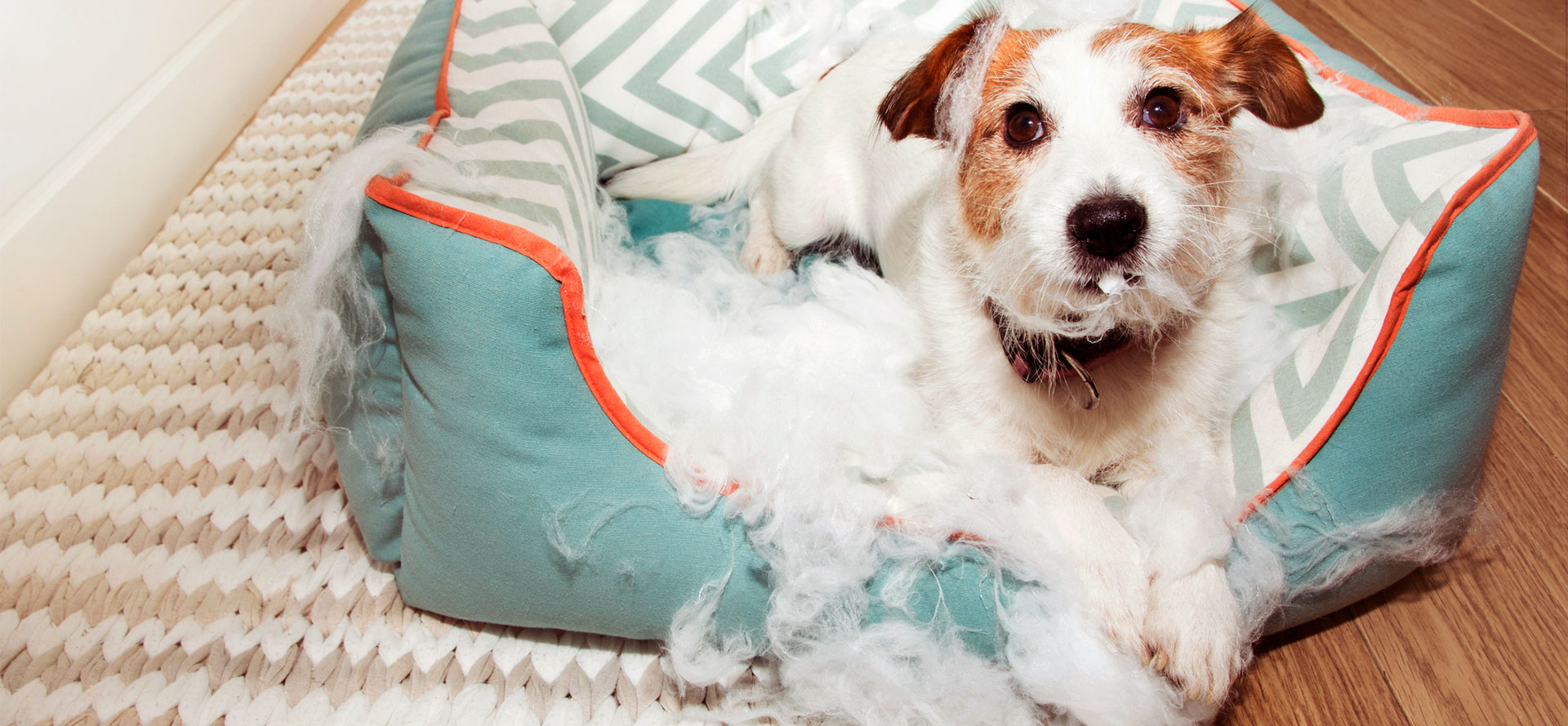 How to choose?
To look for the most durable dog bed, you should think about the following:
Size:

When you're looking to buy an indestructible dog bed, size should be one of the first things to look for. You can measure your dog's size to get an idea of the right surface area that's required for a bed. For example, you can begin at the tip of its nose when sleeping, extend to its rump, and then their head crown and pads. You will also want to choose a bed that is the right size for the room you're placing it in. For example, you might want a smaller one if you're taking it in the car. To give you an idea of sizes, here are some rough guidelines on what to choose based on your dog's weight:

Small -

Dogs up to 40 lbs.

Medium -

Dogs up to 60 lbs.

Large -

Dogs up to 120 lbs.

Extra Large -

Dogs 121 lbs.

Warranty:

We want to think most manufacturers are honest when they're making these types of dog beds. But do be safe; you might want to choose a tough dog bed that comes with a warranty over one that doesn't. Simply having a warranty period might give you some comfort and reassurance in case anything does go wrong.

Reviews: You can never know the quality of a dog bed until it's been slept in for some time. What great way to make an informed decision is by looking at the reviews from other dog owners? This will give you an insight if the durable dog bed you're interested in is worth purchasing.
What to consider when buying an indestructible dog bed?
Before buying an indestructible dog bed, always consider the following:
Type of bed -

Always think about the reason you want an indestructible dog bed. If your dog is a chewer, you will want to get a bed that has metal frames and is elevated. Whereas if you want one that can be used outdoors, you will want one that's weather-resistant and washable. Similarly, if you want one to take for traveling, you will want to have a dog bed that's portable and easy to move. Always consider the reason first and then look for durable qualities that match it.

Easy to clean -

Good indestructible dog beds are often best if they can be cleaned easily. When your dog sleeps in them, they can easily shed hair, dander, and bring dirt into there. Ideally, you will want one that's machine washable or made out of easy fabric you can wipe clean.

Thickness -

If your dog likes to chew and eat their bed a lot, you will want a dog bed that is a lot thicker. Thick beds often discourage dogs from chewing and also tend to be comfier.

Lack of edges and zippers -

If you have a dog bed that contains sharp edges or zippers, it's more likely your dog will chew on them and try to pull them apart. Look out for dog beds that don't have these on, so they're less likely to break them.
Conclusion
Overall, many types of indestructible dog beds exist in the market. The common styles are elevated, memory foam, orthopedic, steel frame, and dog crate pad. All of which are beneficial in different ways. When looking for an indestructible dog bed, always check the reviews and the size before buying. You should also consider the purpose, shape, material, thickness, and the area you're going to put the dog bed in. Finally, having the right durable dog bed could save you a lot of money from buying new ones and time as they tend to be easy to clean by hand or in the washing machine.
Tags: pet supplies, cat fountains, awesome cat beds, round memory foam dog bed, clippers for dogs, large automatic dog feeders, best harness for cats, dog toothpaste without sorbitol, good kitty litter, dog fountain