Automatic Dog Feeders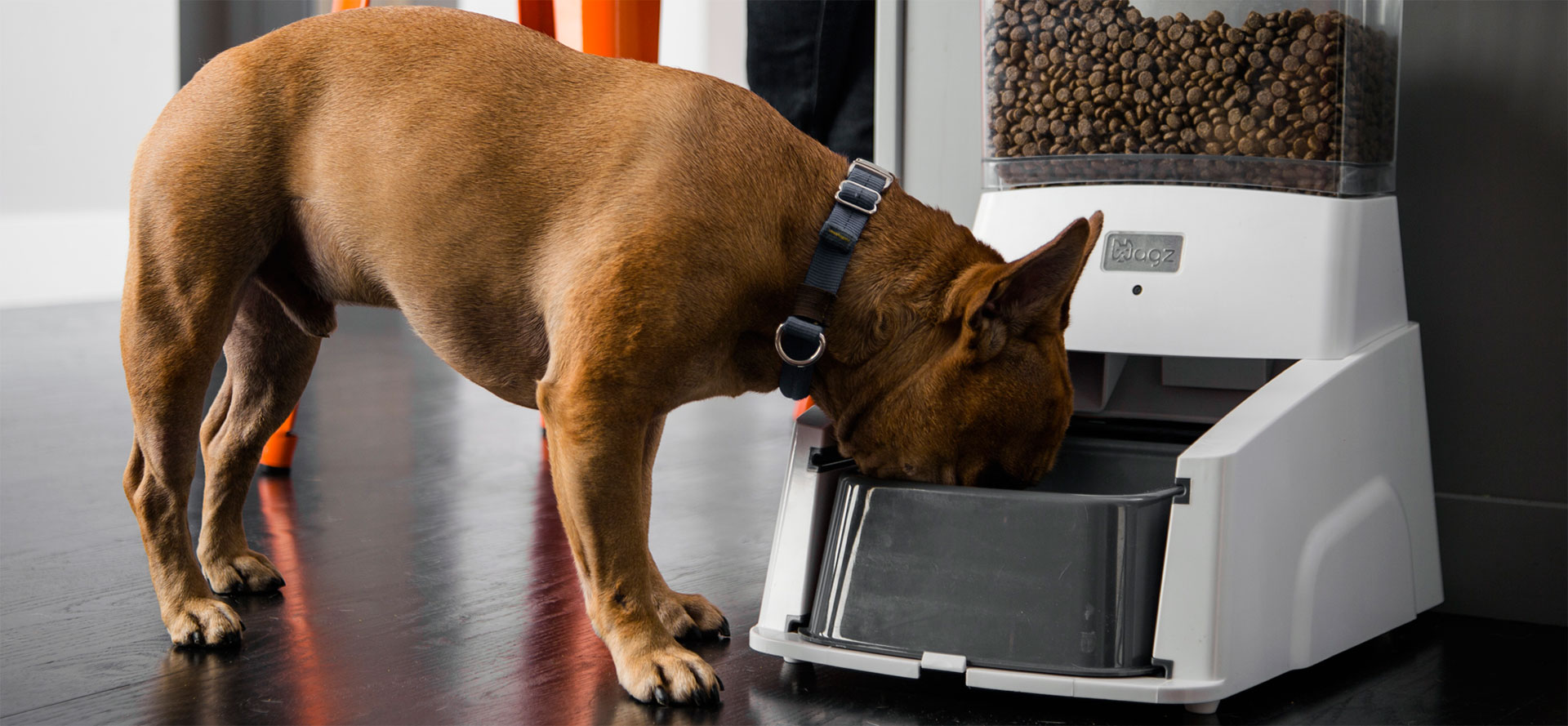 Having a pet in your life brings joy, excitement, and a sense of responsibility. When we think about living with a pet, dogs are the first that comes to mind of the majority of people. These animals belonging to Canis Familiaris are not just known for their loyalty but also popular to provide love to their owners. Dogs are independent and need regular attention to live happily. They become a part of our life as any other family member. Dogs are independent, loyal, friendly, and emotional too. If well trained, dogs can be your partner in work that is why most of the forces induct dogs and even assign ranks to them. For all these qualities, dogs come at the top whenever we think to own a pet.
Each pet has some basic needs to live healthily. Apart from the friendly environment, grooming essentials, and regular medical check-ups; a proper diet is the most important among them. For people working in a hectic schedule, it is hard to take care of their pet's food regularly. We will discuss 'Automatic Dog Feeders' that help to feed dogs at regular intervals.
What are Automatic Dog Feeders?
Feeding any pet is time-consuming for a pet owner. If they are busy with jobs or going out for a few dogs, it becomes most important to take care of their pets properly. Automatic Dog Feeders take care of the regular diet plan of your dog. It helps a person in feeding the pet on time while keeping a track of the number of meals your dog eats in a day. Using an automatic dog feeder gives you more time to do office work, household chores, and makes your lifestyle more convenient. They are the devices that dispense a dog's food automatically, by gravity, or by electronic programming. There is a wide range of dog feeders that you can easily find in any pet supplies market. Let's look into the common types of automatic dog feeders that would help your pet to stay happy and healthy.
Gravity Based Feeders
Being the most basic type of automatic pet feeders, these gravity-based devices are reliable and easy to use. It usually features a bowl and a large transparent or opaque container. In gravity pet feeders, one can store a large amount of food and water in the container. When the volume of food decreases, the bowl gets automatically filled from time to time. They do not need any specific programming to be done making them a widely used pet feeding option. Available in different designs and concepts, they help you establish a healthy feeding schedule for your pet. Some of them are also available with a waterer ensuring that your pet gets enough fresh food and water. Many gravity feeders come with an option to schedule diet timing and fix the portion of food you want to feed the pet.
With a simple and ergonomic design, the gravity pet feeders can be cleaned and refilled without any hassle. Many gravity feeders have a sturdy construction so that your pet can not thump it down. Despite having several advantages, they are not preferred by people who own multiple pets at their home. Usually made from food-grade plastic, the gravity pet feeders do not compromise the health of your pet. Explore our top picks to find the best gravity dog feeder.
Electronic
What can be better if you can program a pet feeder according to your dog's requirement? Electronic pet feeders are such devices that allow you to set multiple elements including the portion as well as the time of the food to be dispensed. Some of the electronic feeders are equipped with an LCD, making it easier to set meal times. Many electronic dog feeders come with an option to record meal call that summons your pet to the food bowl.
Operated on AC power or batteries, these dog feeding devices ensure timely food dispense. To overcome the effects of sudden power failure, many programmable dog feeders are available with battery backup options. Pet feeders with a twist-lock lid on the container prevent easy access of your pup. Since they run on a power source, cleaning these electronic devices can be fussy. They must be cleaned carefully without using direct application of water on the display and power outlets.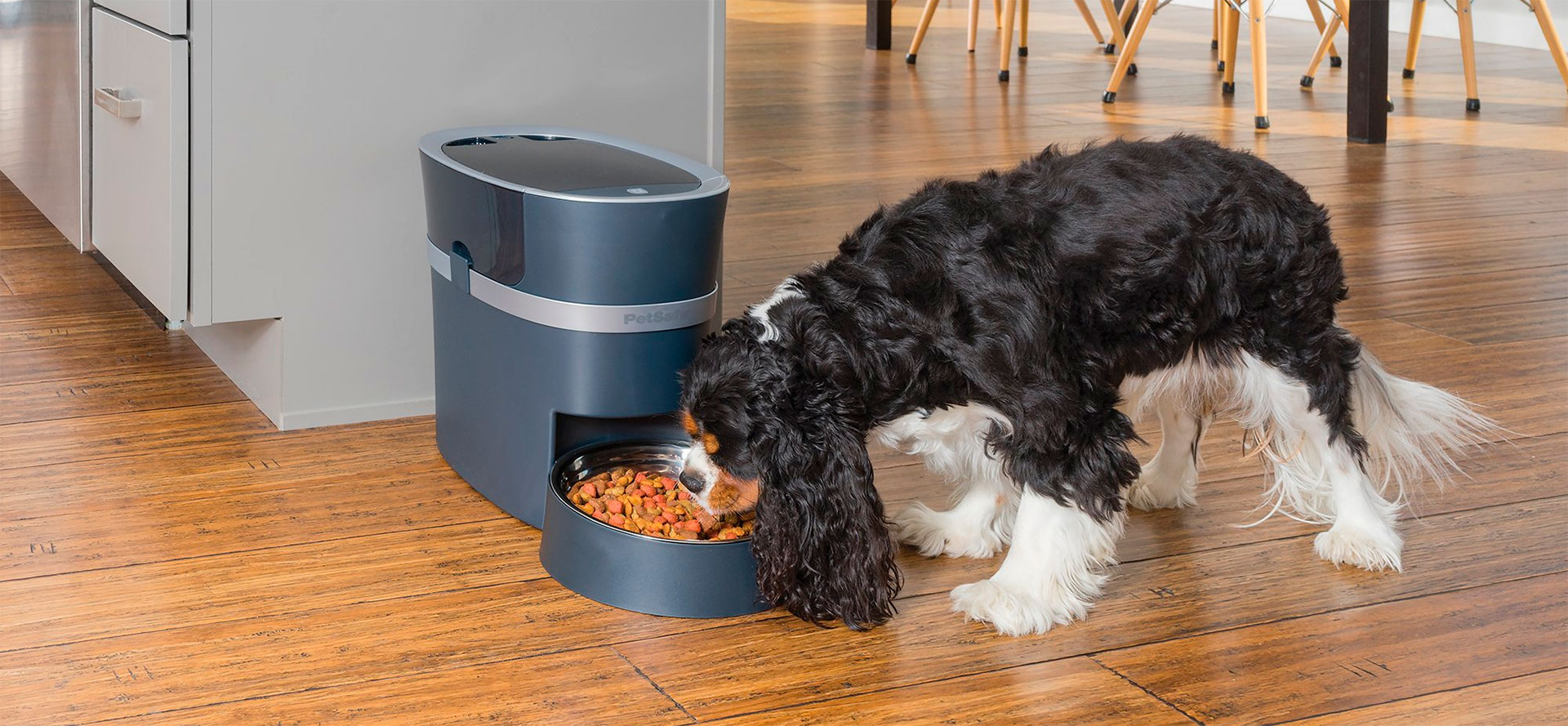 Metallic Automatic Feeders for Dog
More than fulfilling the needs of regular feeding, a pet owner looks for the durability and reliability of any device and metallic dog feeders meet these qualities. They are known to be the topmost option for pets that are active and make the devices fall on the ground. Usually made from stainless steel, these automatic pet feeders do not require much maintenance when compared to other types. Few of them are also made after the galvanizing process, making them resistant to rust and corrosion. The sturdy construction of these automatic machines gives you the freedom to place anywhere in the house. Being resistant to different weather conditions, these dog feeders can be used indoor as well as outdoor.
While exploring the automatic feeding machine, you may find the ones in which only the bowl is made of metal, commonly stainless steel. Choosing a metallic dog feeder can be a hard task as you will have to look at the construction material, weather-resistance, and many other factors. Since they are made of metal using these feeders can be somewhat unsafe if not properly made. Before purchasing any metallic dog feeders, you should look for the smoothness of the container and the bowl as well. Any scratches or cuts can harm you or your cute pup.
The stainless steel bowls of these pet feeding machines are usually removable and dishwasher safe, making your life convenient. It will not only save your time but also ensure hygiene for your pet when compared to plastic bowls and containers. Since they can conduct electricity smoothly, the automatic metallic dog feeders most commonly work on a gravity system. Some even come with the ability to schedule the meal timings.
Wooden
Made from reliable wood, the automatic wooden dog feeders work on the principle of gravity. Equipped with a square or round bowl on the lower side, these pet feeders are easy to clean. Usually, they feature a container at the top that can be used to store a large amount of dry food. As soon as the food in the bowl is finished, it dispenses another portion of the meal. With durable design and sturdy construction, these wooden pet feeders prevent the spilling of food. For people who are looking for gravity-based pet feeders, the wooden feeder can be a perfect choice. These devices stand sturdy even when your pet tries to knock it.
Some of the wooden dog feeders are electronic that can be used to program the meal size as well as time. Despite having multiple features in a single device, cleaning the wooden feeders can be a challenging task. It can be cleaned using a dry cloth or a cleaning brush. Have a look at our top recommendations and find the best wooden feeder for your lovely pup.
Elevated Dog Feeders
Equipped with multiple features, the elevated dog feeders are acknowledged by veterinarians and other dog experts for their health benefits for a pet. They are available with gravity as well as electronic operation mechanism. Just like other automatic dog feeders, it equips a food container and bowls. Ordinary pet feeders usually feature a bowl that sits on the ground. Using those pup feeders may result in the laziness of your pet, disturbed posture, and inadequate digestion. Elevated feeders have a food bowl raised off the ground that helps your pet in several ways. Let's put light on some of the health benefits that an automatic elevated dog feeder can deliver.
Correct Posture:

For dogs who have back, neck, or joint problems, an elevated feeder is an ideal option. It helps the dogs to eat and drink comfortably in a natural position. Bending all the time on the floor to eat food can cause bad posture that can result in back problems in your pet.

Helps in Swallowing:

Head and neck pointing down to eat food cause difficulty in swallowing. An elevated food bowl helps your dog to swallow the food easily.

Comfortable Eating:

Older dogs with arthritis find it difficult to bend the neck and lie down on the floor. To ease the process of feeding, the elevated automatic pet feeders can be used.

Slows Down Eating:

Some of the dogs gulp more food at a time that may result in improper digestion. The elevated automatic pet feeder lets a dog eat much less food. It slows down the eating process, helping dogs to chew food perfectly. This also helps dogs with volvulus conditions that are a painful twisting of a dog's stomach. The slow eating process with elevated feeders minimizes the risk of mega-esophagus, serious conditions when food comes to the esophagus instead of going to the stomach.

Decreases Lying Down Habit:

Food placed in a low container makes the pet lie down while eating. It may lead to a regular habit of lying down on the floor, causing many postural problems. A raised dog feeder resolves this problem by bringing the food to a higher level.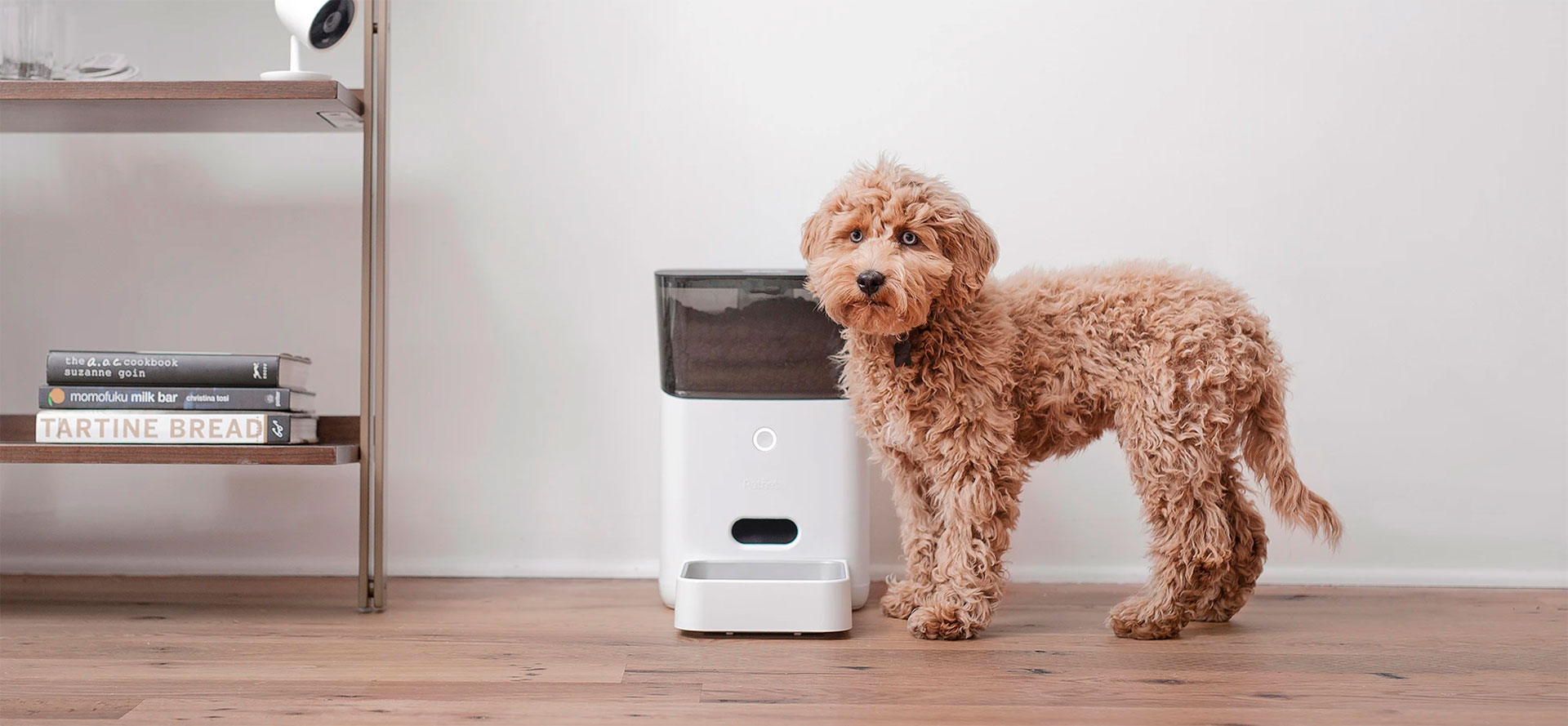 Wi-Fi Feeders
With an additional feature of remote connectivity, the Wi-Fi-enabled dog feeders are easy to use. If you are worried about the timely meals for a pet then these smart dog feeders are the ideal choice. These high-technology automatic pet feeders can connect to your smartphone via Wi-Fi or even Bluetooth. By using smart feeding machines, you can make an automatic meal plan for your furry companion. It enables you to remotely feed the pet while you are busy at work. Many Wi-Fi enabled pet feeders are available with added features of voice commands, cameras, portion controls, and more. You can record the voice to call your pup for food; this helps a pet to stay attached to you.
Some of the smart feeders can also be controlled through smart apps including Amazon Alexa. Equipped with a sensor, these pet feeders indicate when the food level in the bowl becomes low. Many different brands offer smart dog feeders that are reliable and easy to use.
Outdoor
Spending time with the pets outside where they can play and run around is one of the things they love. Many pet owners prefer to feed their pets outside due to certain reasons. When it comes to pet feeders, outdoor feeders are known to be one of the best automatic dog feeders. They usually have a large storage capacity that is enough to feed your dog for a whole day or even for many days. Due to the large capacity, you do not have to worry about refilling the food from time to time. Some of them can be connected to your mobile device and some work on the gravity mechanism.
The outdoor pet feeders are a great option if you are leaving the home for a few days. Since they are used under the sky or shed, they are constructed carefully using high-quality material. These durable dog feeders can withstand different weather conditions including rain and heat. Some of the outdoor feeders are made of galvanized steel that ensures long-lasting performance and resistance against corrosion while some are made using eco-friendly and non-toxic plastic. They are available in different sizes, colors, and technical features. You can check out our reviews to find the best outdoor dog feeder.
Timed Automatic Dog Feeders
If your pet needs four to five meals in a day then it becomes difficult for working persons to manage the meal timings. Timed dog feeders resolve this problem by dispensing a pre-set amount of food at different times of the day. They are equipped with LCD, a built-in digital clock, and voice command systems. You can easily change the timings and portion of food to be dispensed. Most commonly, they contain a food tray at the upper side that is divided into different slots. Each tray slot holds some amount of food that drops into the bowl at pre-programmed intervals. They are made of dishwasher safe material and can be cleaned easily. There are several timed dog feeders available here to choose from.
Puzzle and Interactive
Apart from feeding, the puzzle feeders increase the mental ability of your dog. There is a variety of puzzles or interactive feeders that can be mended in different ways. They are widely used to provide mental enrichment and slow down the pet's eating process. Dogs require continuous physical and mental stimulation to stay happy and these requirements are fulfilled by puzzle feeders. These pet food toys force your dog to do mental work to earn the food through foraging and problem-solving. Puzzle and interactive dog feeders are available in different sizes, types, and difficulties. You can check out our list of top dog puzzle feeders to find a perfect feeder for your furry friend.
Tags: pet foods supplies, safe dog treats, halloween costumes for puppies, folding cat window perch, dog food ingredients, best kitty litter for odor control, self feeder for dogs, floating cat shelves, dog kennels, puppy whistles