Last updated
Dog Bowls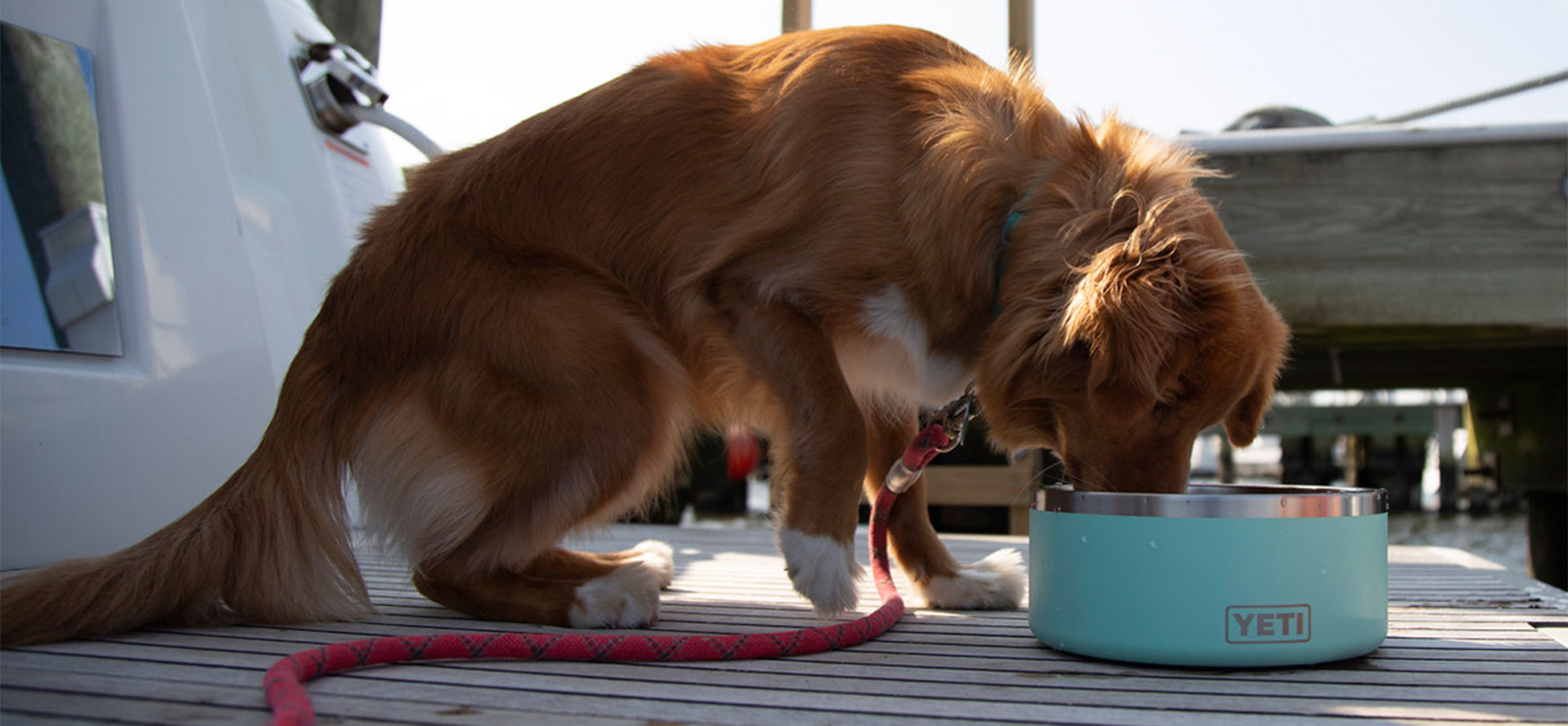 While it won't make a difference to your dog on a personal level as long as it is getting its food and snacks on time, choosing a good dog feeding bowl is an essential part of being a pet parent. Out of all kinds of house pets, dogs love their food and are always up for eating. But there is only so much food that you can give them. This is why dog bowls are a very important dog accessory to have for every pet parent. A good dog bowl, when chosen with utmost care, will offer several benefits including ideal portion control, ideal feeding ways, easier for the dog to consume food, and making mealtime more fun than work, considering all the needs of your pretty little fluffy friend. The ideal food or water bowl of your dog should be the one that can contain enough amount of food as per it's dietary requirements, is not made of toxic materials, does not change the taste of food, does not move around a lot when the dog is frantically chowing down on the food and make your dog baby feel as comfortable as possible. We have some of our favorites from the category of dog bowl which you can check out to get some ideas for your own.
Best Dog Bowls in 2023
Products
Information
Price

Dimensions:

6 x 6 x 3 inches

Bowl & storage feature:

Crate

Breed size:

Medium breeds, large breeds

Capacity (max)†:

4-cup; 32-oz

Material:

Stainless steel

Check Price

Dimensions:

7 x 7 x 2 inches

Bowl & storage feature:

Non-skid

Breed size:

Medium breeds, large breeds

Capacity (max)†:

3.5-cup; 28-oz

Material:

Stainless steel

Check Price

Dimensions:

10.25 x 10.25 x 3.25 inches

Bowl & storage feature:

Non-skid, dishwasher-safe

Breed size:

Medium breeds, large breeds, giant breeds

Capacity (max)†:

4.75-cup; 38-oz per bowl

Material:

Stainless steel

Check Price

Dimensions:

6.75 x 5.875 x 0.625 inches

Bowl & storage feature:

Travel, dishwasher-safe

Breed size:

Small breeds, medium breeds

Capacity (max)†:

2-cup; 16-oz

Check Price

Dimensions:

5.84 x 5.84 x 2.5 inches

Bowl & storage feature:

Non-skid

Lifestage:

Adult, senior, puppy

Breed size:

Small breeds, medium breeds

Capacity (max)†:

2.5 cups; 20 oz

Compatible food:

Dry food, wet food

Check Price

Dimensions:

7.5 x 7.5 x 2.75 inches

Bowl & storage feature:

Dishwasher-safe, bpa-free, lead-free

Breed size:

Medium breeds, large breeds, giant breeds

Compatible food:

Wet food, dry food

Check Price

Dimensions:

11 x 11 x 4 inches

Bowl & storage feature:

Non-skid

Breed size:

Large breeds, giant breeds

Capacity (max)†:

10-cup; 80-oz

Check Price

Dimensions:

7.5 x 7.5 x 2.8 inches

Bowl & storage feature:

Personalized

Breed size:

Medium breeds, large breeds

Capacity (max)†:

4.875-cup; 39-oz per bowl

Check Price

Dimensions:

6.25 x 6.25 x 1.5 inches

Bowl & storage feature:

Dishwasher-safe, bpa-free, microwavable, lead-free

Breed size:

Extra small & toy breeds, small breeds

Capacity (max)†:

1-cup; 8-oz

Compatible food:

Dry food, wet food

Check Price

Dimensions:

19 x 9.5 x 3 inches

Bowl & storage feature:

Non-skid, dishwasher-safe, double

Breed size:

Medium breeds, large breeds

Capacity (max)†:

3-cup 24-oz per bowl

Material:

Stainless steel

Check Price
View all Dog Bowls
Types of Dog Bowls
There are several kinds of dog bowls for food, water, or combo that you will be able to find in the market. With a huge range of material, styles, accessibility, shapes, sizes, and aesthetic features, dog bowls are no less than any other pet product or accessories preferred by pet parents. Although a thorough knowledge of all the available choices is required in order to select a good bowl for your puppy as it can directly affect its health in terms of posture as well as inner health. Let us examine the major types of dog bowls and find out their unique characteristics.
Personalized
Available in many different material choices, sizes, and shapes, personalized dog bowls are more inclined towards the aesthetic appeal of the product. Personalized dog bowls are designed or given a specific style are per the desires of the customers and the availability of the designs. Some of the most popular choices for personalized dog bowls include name bowls, dog bowls with quotations, dog bowls carved in the shape of dog face, and paw embossing or imprints. Personalized dog bowls serve as a great way to get your pet something special which is its own and serve as a way to introduce it as one of your family members. Most personalized bowls can be changed as per the requirements of the customers. The possible point of change may include fonts, writing styles, choice of the quotation, and customizable height of the elevation stand.
Popular material used for personalized dog bowls includes stainless steel, plastic, and ceramic. The outer shell of the bowls is often made using a secondary material like wood or plastic with a stainless-steel interior. The list of what one can get imprinted on the bowls is unending which can be quite overwhelming. So, you can browse through our list of top personalized bowls to get some ideas for your puppy's bowl.
Stainless Steel Dog Bowls
One of the most hypoallergenic material choices, stainless steel dog bowls are the best option to go for if you want a sturdy food bowl that is easy to maintain and falls on the list of affordable options. Very unlikely that they will break when tossed around or fallen on the ground, stainless steel bowls are the perfect product for over-enthusiastic dogs who tend to knock their food bowls around when eating up. Stainless-steel bowls are quite lightweight and hence easier to port or to carry along when traveling with your dog. Just like any other utensil, it is very easy to clean stainless steel bowls and prevent the growth of harmful bacteria that can disrupt your dog's stomach if consumed along with food.
Most stainless-steel dog food bowls are constructed with a rubber bottom which makes them non-skid and also saves it from the danger of flipping over if your dog decides to push a little too hard. The rubber bottom on many variants is detachable for easy cleaning while there are other options where it can not be separated from the bowl. Depending on your needs, you can choose either of these two options. Some stainless-steel bowls also have the option of being personalized if required. Even though it is easy to take care of stainless-steel bowls, one should make sure that they are not left out unattended for long as they can develop rust.
Ceramic
The best way to show off your personal style via the accessories and products of your doggo, ceramic bowls are the ideal choice if aesthetic beauty is your priority. Ceramic bowls come in several designs and styles and can even be found as handmade products, designer variations, and others. Another hypoallergenic option like the stainless-steel bowls, ceramic dog bowls can be it if you want the safety of stainless-steel bowls, can compromise a little bit on the durability and need your dog to have a cute designer piece.
Unlike stainless steel and other lighter material, it is rather difficult to push around ceramic bowls which means that even if your dog is an overly-active one, it probably won't be able to break the bowl by pushing it around. However, the parents themselves must handle them like any other ceramic utensil in the house as they will break if you happen to drop them.
A clear coating is given to ceramic dog bowls in order to keep them hypoallergenic and free from bacteria production. When buying a ceramic bowl for your puppy, ensure that the coating does not contain lead or other potentially harmful chemicals. In simpler terms, the glaze of a ceramic bowl for your dog should be lead-free.
More choices available
Plastic Dog Bowls
Plastic is the most popular material choice when it comes to dog bowls – even more, popular than stainless-steel and ceramic bowls. Plastic dog bowls are perfect to be an on-the-go option as they take the least amount of care and maintenance and are extremely lightweight as well. There is a huge variety of shapes and sizes when it comes to plastic bowls for the dog which means that you will have plenty of options to choose from no matter the kind of needs your dog may have.
It is important to note that most plastic bowls are extremely lightweight. So, if your dog tends to be pushy when eating food, ensure that the variant you choose is either heavy or has a non-skid base. Most plastic bowls are also easy to scratch which means that may not last as long as stainless-steel bowls or even ceramic bowls. If scratched or chewed, plastic bowls should be discarded immediately as they now become prone to bacteria collection.
Another thing about plastic bowls is that many variants may contain a salt known as "phthalates". You will find many plastic dog bowls with the "no phthalates", "BPA free" or "phthalates-free" stickers on them. Phthalates are toxic salts that are often mixed with plastic bowls to make them more flexible and stronger. Harmful when consumed, phthalates should be avoided at all costs hence choose a bowl that does not contain phthalates. You can scroll through our top picks to get a fair idea as well.
Silicon
One of the best materials to go with if you are looking for something hypoallergenic and capable of being styled as you like, silicone dog bowls are quite durable, dishwasher safe, and can be used to serve both food and water. Many silicon dog bowls come in a collapsible design which makes them perfect for traveling as well.
Elevated Dog Bowls
The new-age step to make eating easier and more convenient for dogs, elevated dog bowls are a great way to make sure that your dog does not have to bend its neck a little too much and strain it in the process of eating. Elevated dog bowls are like any other feeding bowl but they come with a compatible stand that makes them higher and easier to reach. The style of the elevated stand differs from having cut-outs to place the feeding bowls to being platforms and having attachments to keep the bowls elevated in the air and more. The type and design of sand may differ as per brands and manufacturers but all of them serve the same purpose.
Elevated bowls are ideal to be used if your dog has mobility limitations like joint pain, bone issues, or a sprained neck. Large dog breeds will not find elevated dog bowls as comfortable as the ones you place on the floor. Ensure that you conduct thorough research before deciding on an elevated bowl. An elevated bowl at the height of 2 to 6 inches is good for small breeds, 7 to 14 inches in height works best for medium-sized dogs and 15 to 20 inches is a good option for larger dogs. The style of elevation can also be selected from the available options. Following is a further classification of elevated dog bowls:
Elevated Large Dog Bowls:

Generally designed for large breed dogs with joint pain and another similar issue that affects their mobility, elevated large dog bowls often come with a stand that keeps the feeding bowls suspended in the air. It is plausible that elevated dog bowls can relieve bloats in large dogs along with making it easy and mess-free for dogs to eat their meals.

Adjustable Elevated Dog Bowls:

The adjustable dog bowls are ideal for dog parents with more than one dog and all from different breeds. It also means that you do not have to decide on the height of the elevation beforehand and can adjust according to the needs of your dogs – as they change or grow.

Elevated Ceramic Dog Bowls:

The stand for elevated ceramic bowls is often made with materials like metal, stainless steel, wood, or plastic to eliminate the risk of breaking down or chipping of the bowls.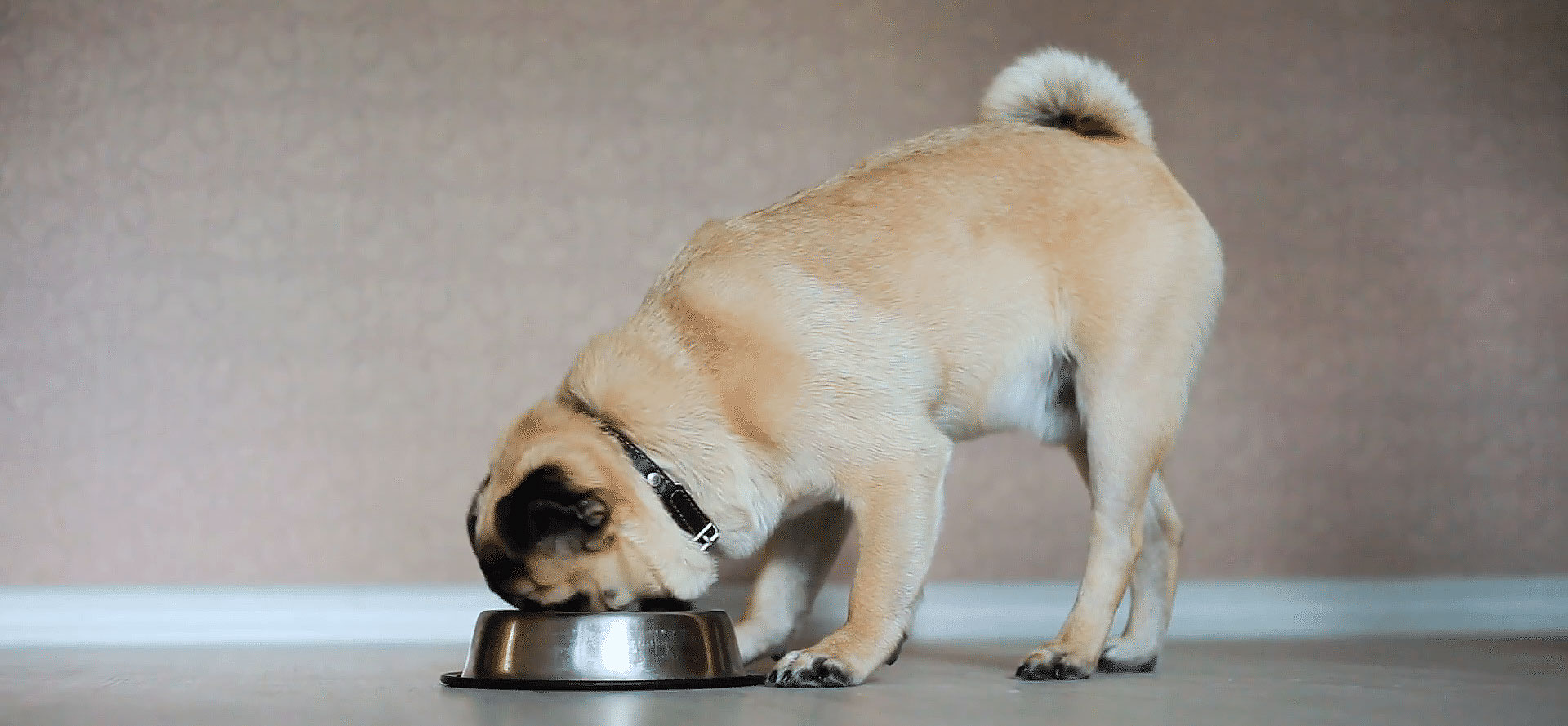 Slow Feeder
Slow feeder dog bowls are designed to ensure that fast eaters are able to chew down the food properly and can escape the danger of having indigestion, reduce bloating, reduce gas, and other gastric problems. Slow feeder bowls are automatic and can be set as per the feeding requirements of the dog. There is an electric component in the feeder which drops food in the feeder in controlled proportions. As the dog finishes its food, the feeder drops more in the bowl. Slow feeder bowls are one of the ideal ways to get your dogs to eat properly with a minimum amount of spill and in controlled portions.
Another type of slow feed bowls includes the type which features some sort of texture or hurdle in it such as a spiral design which divides the food and makes it hard to eat all of it all once. These bowls allow you to put in a certain amount of food in one go and then let your dog have its time in eating and enjoying its meal. The hurdles make it harder for them to simply gulp the entire serving in only a few bites and slows down the eating speed. These dog bowls with ridges can come in several designs which means you can easily pick what you think would work for your dog the best.
Large Dog Bowls
Designed to contain a larger serving of food, large dob bowls are ideally made for medium-sized or large dog breeds like German Shepherd, Siberian Husky, and Dalmatians. The most popular material choices for large dog bowls include stainless steel and plastic. You can also find elevated large dog bowl options in this category from several brands. Most large dog elevated bowls are designed to be adjustable which allows the user to change the height of the bowl as per the need of the dog. Finding a lot of designs when it comes to large dog bowls could be a bit challenging but you can give our top picks a try to find out if you like some of those that we did.
For Small Dog
Small dog bowls are available in all possible kinds of material including stainless steel, plastic, ceramic, and even silicon. Small dog bowls come in several designs and can be easily customized to meet your personal preferences as well. If the parents do not mind filling the bowl twice or more as required by the dog during mealtime then small bowls can be used for all small, medium, and large-sized dogs although it may become a hassle to use them for huge house pet dogs.
Choose Dog Bowl now
Tags: pet supply, best indestructible dog bed, is bread bad for cats, car seat belts for dogs, medium dog hoodies, is vegan dog food good for dogs, pajamas for dogs, dog treadmill harness, oat grass for cats, top dog food brands