Best Cat Trees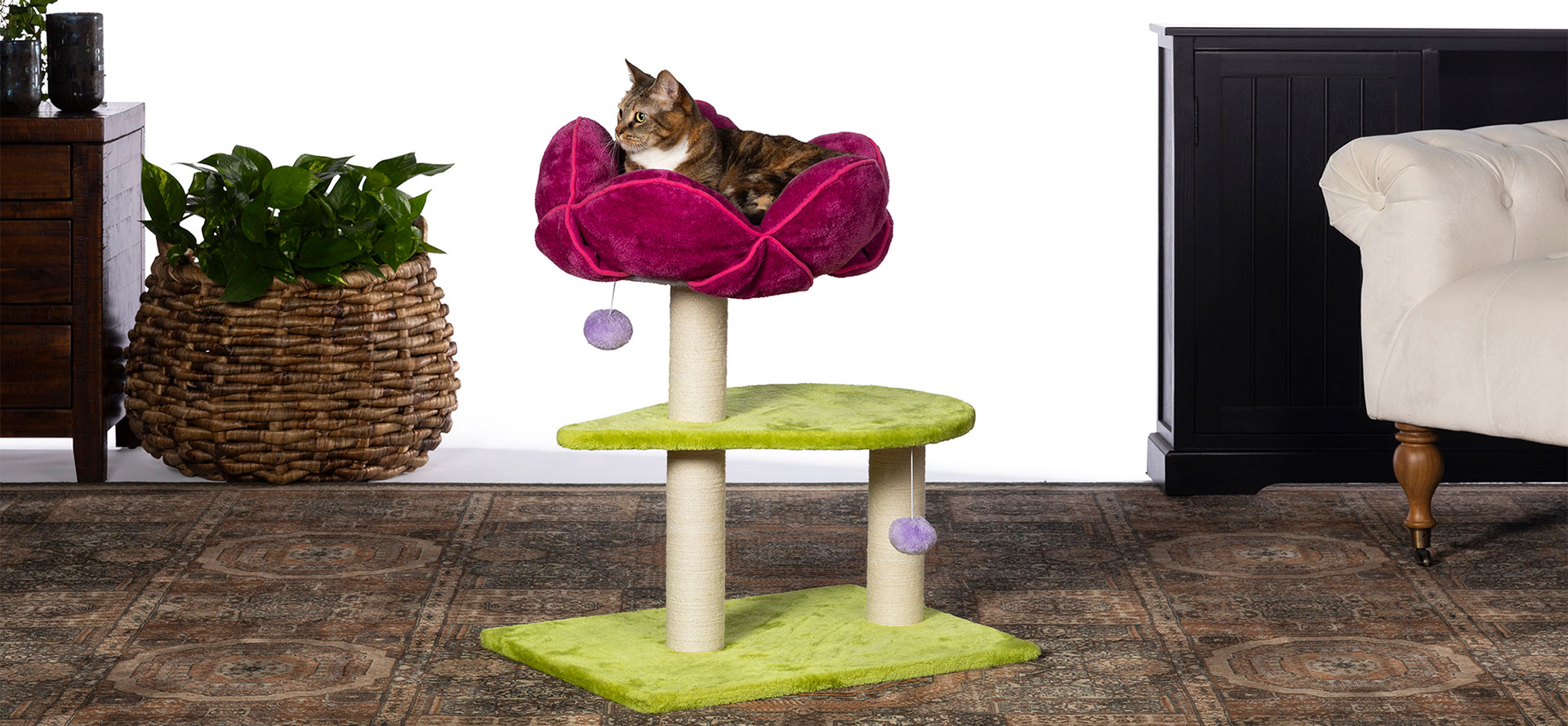 If our homes are heaven for us then it is the cat trees that serve as the ultimate form of every fun and relaxing thing for cats. From jumping to running, scratching, and even sleeping, there is probably nothing that your cat won't use her cat trees for, maybe not pooping though if she has been trained nicely. Anyway, cat tree, once you get it and your cat settles in with it, serves as the class distraction from all other things that are going around in the world for cats. Not to mention, cats are extremely active during most parts of the day and especially during their playtime. A cat tree would have all the features and facilities that a cat would ideally need to get through any day in a good, jolly mood.
Features to Lookout For
Cat trees, just like any other accessory or essential day-to-day things for cats, come in several different variants and types and can be easily traced into further differentiation on the basis of styles, features, additional playthings, material, and more. Needless to say, there are several factors one needs to concern themselves with if they want to choose nothing but the best for their pets. We have prepared a list of the potentially important factors to consider before you invest in a cat tree which is as follows:
Size: The size of the cat trees that you choose is extremely important for any operation that you may have in your mind. There are three basic sizes that you will find when it comes to cat trees and these trees are made and designed as per two basic measures – the breeds and the age or weight of the cats. The size of the cat trees will also be determined as per the space that you have available in your house. There is no point in buying a huge cat tree if it covers more than 20% area of the concerned room. But the tree should have pedestals that are high enough for the cats to enjoy climbing up, condos that are big enough for the cats to sleep, and tower posts that are big and sturdy enough for the cats to scratch and play around with them. A cat tree with several pedestal and towers and condos is ideal for homes with multiple cats as well as cats that are hyperactive and do not fall in the category of the calmest of felines. While a simpler model with lesser pedestals and condos is perfect for a single cat and cats that are generally happy with less.
Appearance: Since the trees will be put into your homes, the appearance of the cat towers really matters. There are simpler ones with just simple poles and pedestals while there are others that contain several fancy elements like hammocks, hanging toys, and condos and such combined with things like premium fabrics and beautiful designs. More elaborate designs may even include a cradle for lying around or lounging, and a house for sleeping along with platforms, posts, pedestals, and other common things. The surface area that your cat tree will cover is also going to be a factor of appearance. Cat trees with wider base are going to be a nuisance to you as an owner moreover, cats would rather prefer the cat trees that are taller as it is more fun to climb them and they also cover lesser area and hence offer a lot more space for other things.
Stability and Durability:

Your cats will be climbing up and down these trees and not to mention jumping and playing around. If the tree does not have a stable base and is not durable, it is very likely that it will injure the cat by crumbling down on it or worse would tip to the side when it is playing and jumping around. It goes without saying that the durability of the cat towers is very important. Once your cat has liked the tower that you choose, they are going to be around it for a long time and hence will grow attached to it. The durability of the trees will allow the cat trees to be there for long and hence be there for your cats to enjoy for a long time.

Material:

The most common materials used to make these trees are solid wood, cardboards, particle boards, carpets ropes made of jute, and some faux fabrics. As evident, solid wood is the most durable of these materials and hence can be used as the prime material for cats from larger breeds of cats that are overweight and need some exercising. The other materials like cardboards are not as durable or sturdy but they are very cost-efficient. Cat trees made with this material are ideal for cats from smaller breeds or underweight cats that are on par with the smaller and middle-sized cats. As far as fabrics are concerned, carpet fabric is the most popular one as cats can scratch their face on them. The roped towers are also great scratch posts. It is rather easy to decide whether your cat will love a tower made with cardboard or solid wood. If your cat loves being in and around cardboard boxes then particleboard cat trees are the best choice but if you find them nuzzling around trees then soil wood cat trees are the best choice.

Assembly Procedure:

A complicated assembly procedure of a certain cat tree is only justifiable if they are equal in terms of sturdiness and not prone to falling off. The easier the assembly process, the better it is for you to move around the tree or port it at will.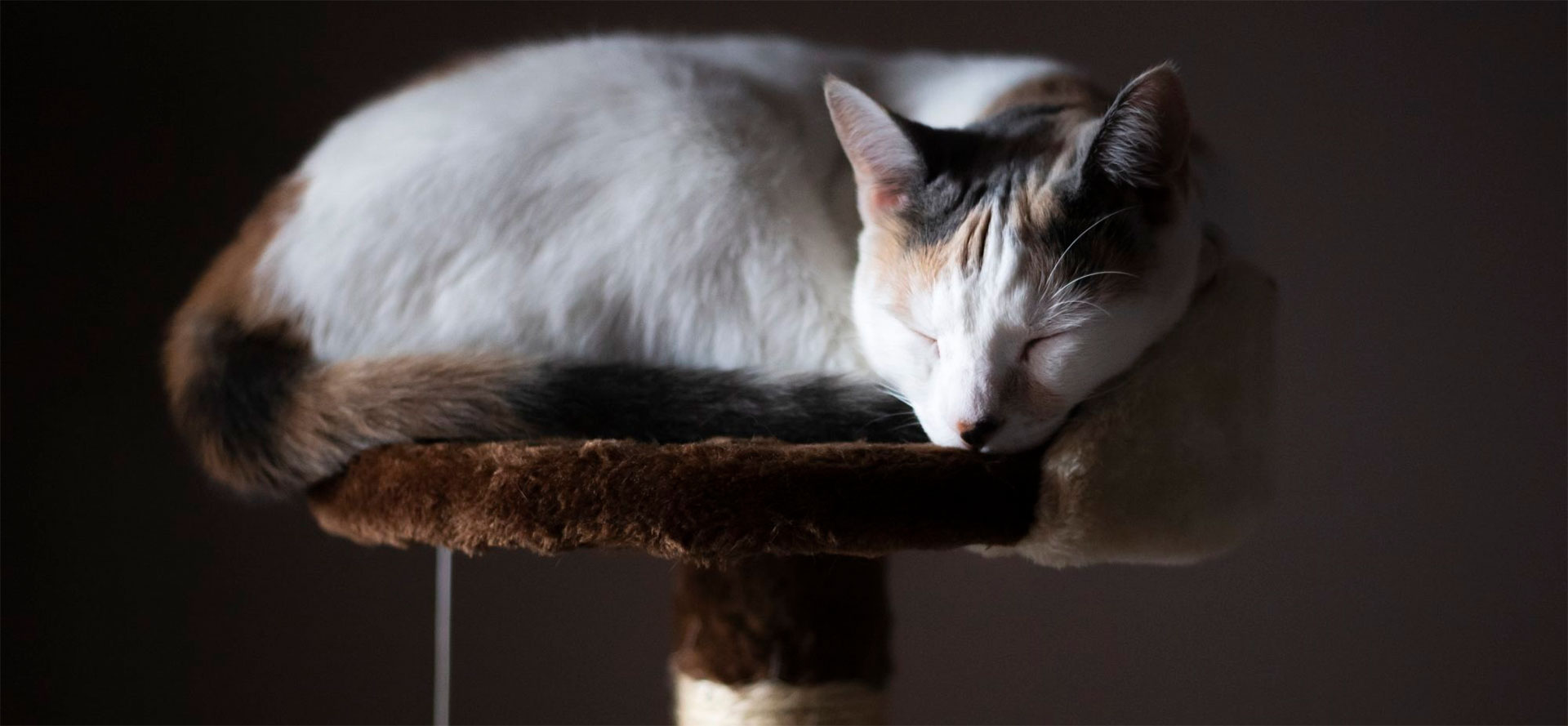 Types of Cat Trees
Once you are familiar with the kinds of things that you need to be looking out for when buying a cat tree, then comes the time when you should know all about the types of trees that are available in the market. Following is a carefully catered to suit every need that you may have in your mind. Following is the list:
Indoor
All cat trees by default can be indoor cat trees given that you have enough space in your home to place them ideally. The most out of this category will be made with solid wood and cardboard along with fabric choices like carpet, faux fabric, and jute. The categories may differ from modern cat trees, scratchers, condos, corner cat trees, and more.
Modern Cat Tree
Unlike the traditional cat trees that are made as a separate entity, the modern cat trees are made as a part of the house itself. There are variants that come with poles that are fixed in the walls. The levels and the height of the poles can be decided at your and the cat's convenience. There is complete freedom of creativity when it comes to modern cat trees and hence can be matched pretty well with the decor of the house as well. However, there are several traditional elements that remain the same even with pedestals and condos and several different designs and shapes. To be exact, these cat trees are more like a beautiful extension to the beautiful home yours.
Scratcher Trees
As evident by the name, these cat trees have scratcher posts are the highlights of the tree. These beautiful scratcher trees are generally made with either of the two most common materials – solid wood and cardboard but the posts are wrapped with jute ropes which are loved by cats during the times of scratching and even biting, In the case of scratcher cat trees, there can be a few variants that you can find in the market, for example, the trees that are completely made with wood, cardboard and jute ropes while there are variants that are partially made with jute and wood while the rest of the tree contains other elements like carpet layering and faux fabrics.
Condo
These beautiful cat trees are made keeping scratching, sleeping, and resting in mind as the primary use. This is why these cat trees are made using soft plush material like carpet layering even on the towers. The additional features include things like carpet-covered hammocks. These cat trees are made to be extremely comfortable and should only be brought in case that you want your kitty to have some relaxed times and such.
Cat Tree with Hammock
Taking things to the next level, these cat trees come equipped with literally anything and everything your cat will ever need from playtime things to the things and equipment that is made for resting. Depending on the variant that you choose, your cat tree can have just a few towers and a few hammocks, or can choose a rather fancy one that comes with a lot of levels as well as playthings like hanging feathers and such.
Corner Tree
These space-saving cat trees are made for homes that have limited space in them but still would like their cats to have a fun time in the house like other house cats. These cat trees are designed to mimic actual trees but without any branches so they look somewhat like a long stem going up with a few pedestals coming out of it. These trees are made with solid wood generally since they need to be extra strong to support a tall structure with various elements coming out from it. You can easily find variants with just some pedestals to play upon or the ones with few condos, a small hammock, and maybe a few toys hanging from them. The fabric choices remain the same as in the case of other types of cat trees.
Natural
From being made with natural trees and plants as an element in the mix to just the ones that look enough real to be seen as natural cat trees. These cat trees are highly eco-friendly and help in clearing the air inside the house as well. Needless to say, natural cat trees are exceptionally beautiful. Along with having features like pedestals, condos, and other common things, these cat trees also have leaves and such things making them a one-of-a-kind attraction for any house in concern.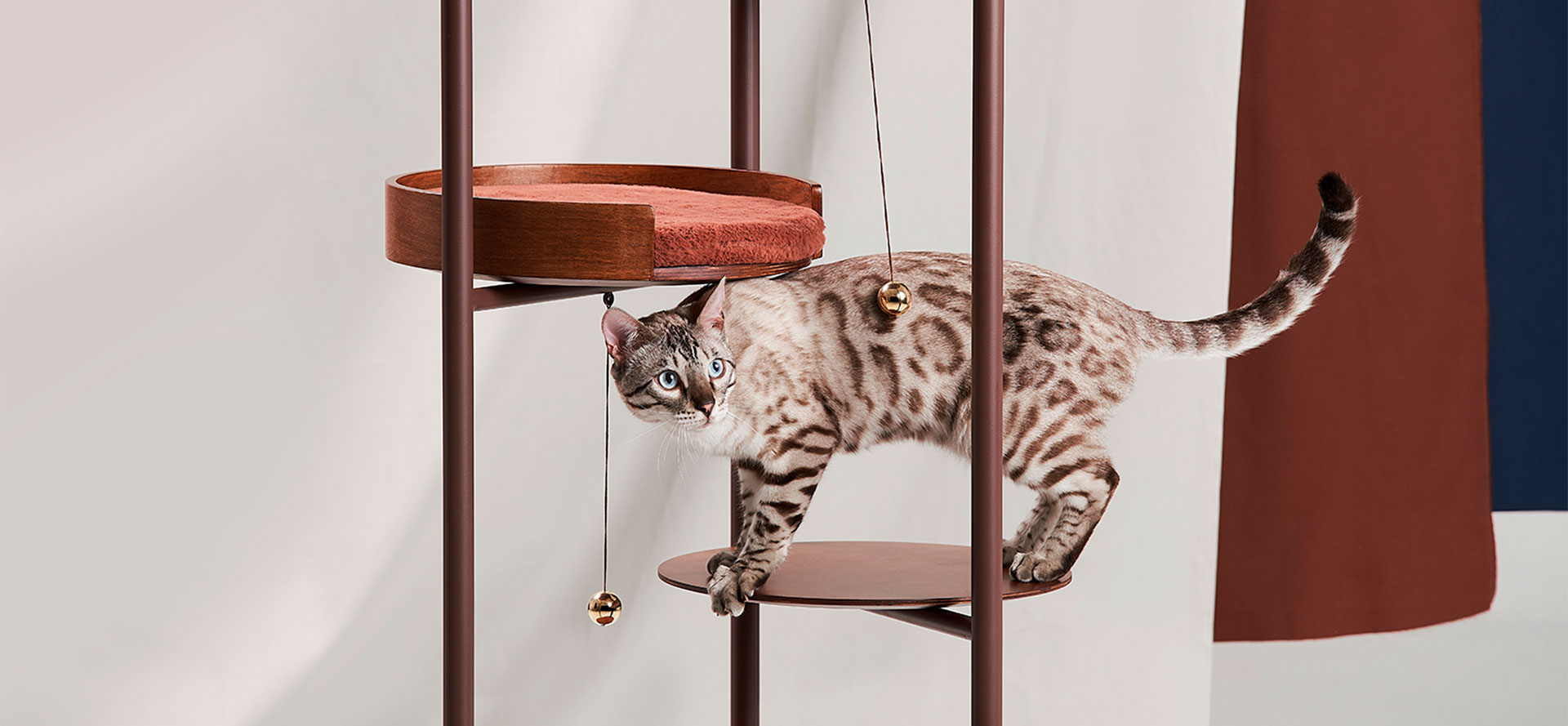 Carpeted Cat Tree
The carpeted cat trees are like any other variety of trees and the only difference is that these cat trees are completely covered in carpet fabric instead of any other. These cat trees are best suited for cats that tend to like, soft lush fabric and would rather relax on the tree than scratch it to pieces.
Hanging and Wall Mounted Cat Trees
Depending on the design and the variation, these cat trees can be hanged to the doors, from the ceilings, and basically, anywhere else you would like to hang them in the house. The best part about these cat trees is that they are not just about fun and similar things but also the fact that they completely transform your house in terms of looks. From jute to solid wood to cardboard, there are no limitations on the material used for these cat trees.
For Older Cats
These cat trees for senior cats are specially designed to meet the requirements of senior cats and suit their older bodies. Most of these cat trees are lined with soft fabric that is ideal for resting along with features like hammocks and condos with foam and other plushy materials. The purpose of these cat trees is to keep the cat comfortable and help them exercise just the right amount.
Wooden Trees
These cat trees are made with special soli wood and are some of the sturdiest cat trees in existence. The type of wood may differ from brand to brand and manufacturer to manufacturer but all these variants are made with durability as the very first step in mind.
Weatherproof or Outdoor
Made with similar material as the rest of the trees that we have discussed so far, these cat trees are made with a special weatherproof coating that keeps the wood from rotting when wet or when exposed to too much cold or hot weather directly. The only difference you will find is that there will be no fabric components on these trees since they can not survive for long in harsh weather conditions.
Cat Trees for Large Cats
These cat trees are made to complement the size of your large breed cats completely and allow them enough space to jump around, play, and laze on them. While the material choices stay the same, the stability of these trees is far better and more reinforced than any other variants that we may know of since they need to support the weight of the larger cats. The features of these cat trees are just like any other cat tree that is available in the market.
Tags: pet supply, wet food for cats, healthiest puppy food, dog stroller, ideal dog doors, mint dog toothpaste, cat food, nail grinder for large dogs, types of dog crates, cat door with sensor