Best Dog Gates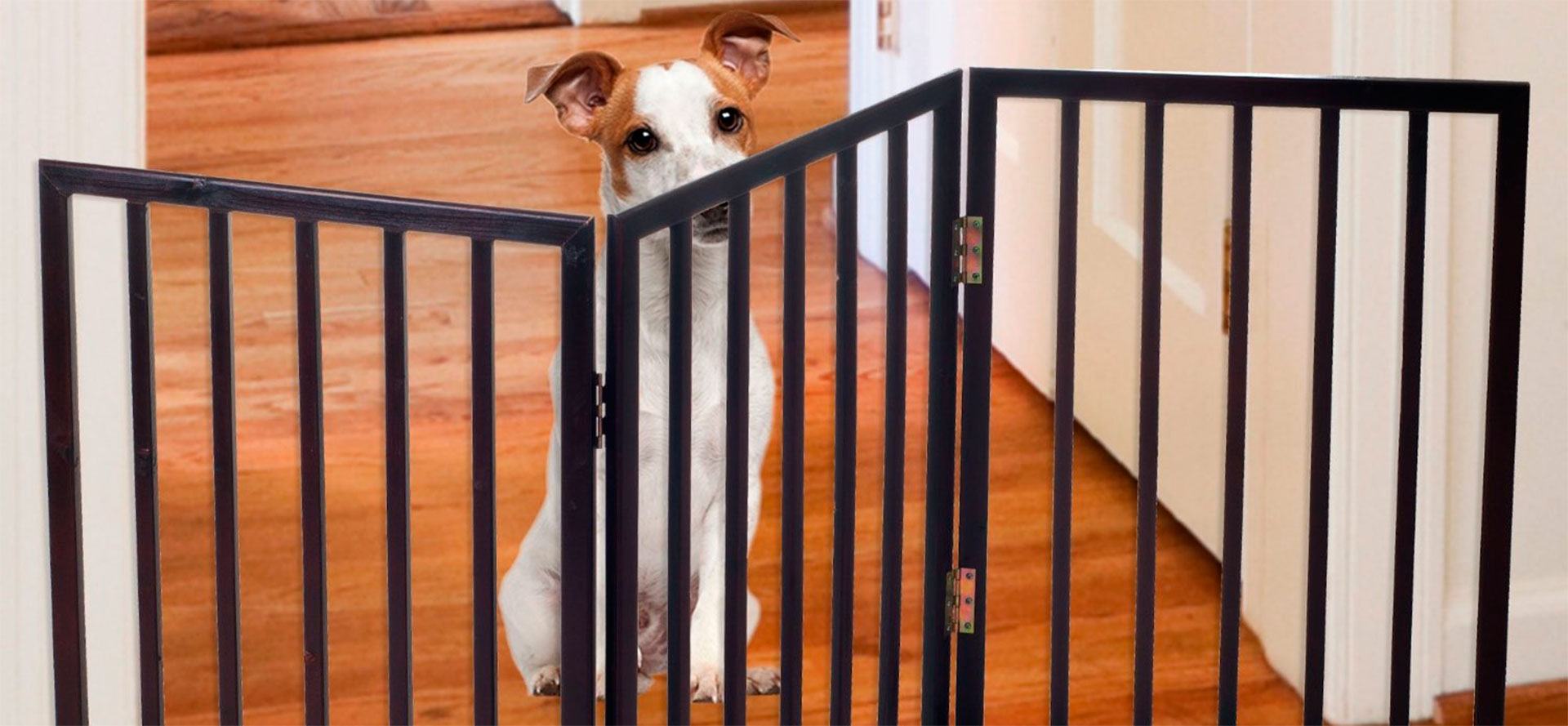 Everyone who has a pet dog knows how important to keep their canines at peace and safe. Puppies in particular are hard to be blocked off from entering a room, stairway, and other unsafe zones of the house. Even young or grown-up dogs tend to jump over and run around every time a guest rings the bell. For all such instances, a dog gate is a must-have.
What is the Dog Gate?
A pet gate acts as a barrier to block off risky areas in your home like the kitchen, staircase, baby room, garage, and electric tool room. It creates a boundary to keep your four-legged friend restricted to a particular area of the house, providing you with a dog-proof area where you can work without interruptions. On certain occasions, dogs need to be confined to a particular area for their or someone else's safety. There are the most common reasons why people buy a dog gate:
To let your pet stay peacefully in his favorite room on the days you have festive celebrations or kids' parties at home. At the same time, your visitors or guests can enjoy the ultimate freedom at your house party without fearing your busty canine.
To separate multiple pets in different sections of the house, especially the ones who don't get along very well or when one of them is much older than the other.
To protect the new puppy during his training time to minimize the chances of him hurting himself out of curiosity.
To keep your dog restricted from messing in the kitchen, mudroom, laundry, or baby room. This can be required when your dog is over-active, injured, or dirty.
To get your house repair or maintenance jobs are done without any interruptions from your pet.
While one can have many or no reasons to get a dog gate, these are proven to be of great help in everyday dog care.
Main Types
Various types of dog gates are available for keeping an overly energetic pup, sturdy dog, or a new shy dog restricted to a particular space. For that you need to be sure of the locations where you will use your pet gate - around the stairs, room entrance, fireplace, toolbox, lawn, newly painted walls, backyard mudroom, or in the corridor. You can find dog gates made from different materials – wood, metal, plastic, or mesh to meet your decor as well as functional requirements. Here are a few popular ones to help you decide.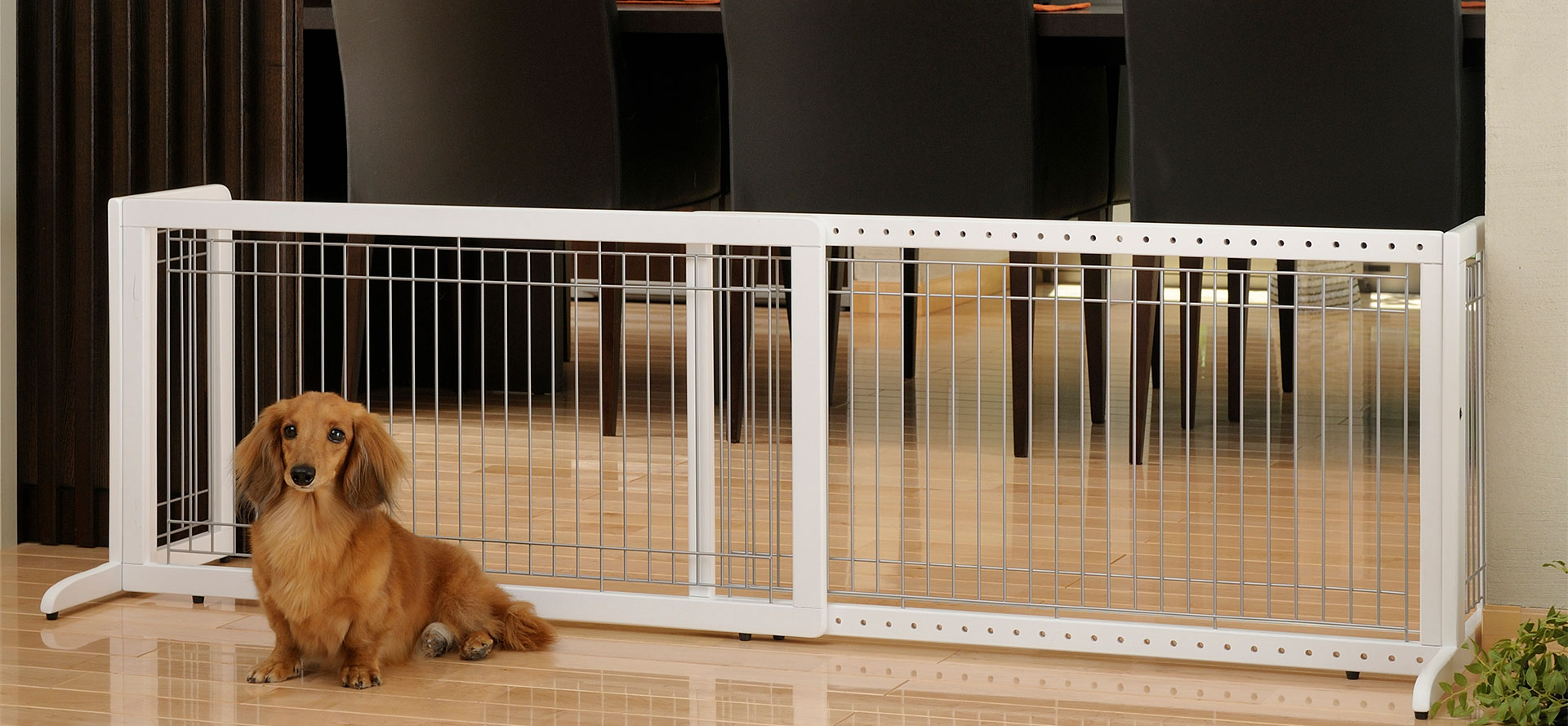 Indoor Dog Gates
Most of the dog gates are made for indoor use to protect your lovely dog from potential indoor threats. These gates are mostly made from sturdy wood or plastic frame that blends well with the indoor decor scheme. You can either have them permanently hinged with the doors of the kitchen, bath, study, dressing, baby room, and corridor wall or can get mobile ones that can be moved around accordingly.
Outdoor Dog Gate
The safety of your young pooch is not only required inside the house but also when you take your dog out on the porch, deck, or patio. Dog gates for outdoor use are mostly made using weatherproof metals and plastics to ensure longevity.
Freestanding Gates
Unlike common pet gates, freestanding gates are self-supporting and do not need to be anchored to any wall. Perfect for spacious as well as compact houses, these types of gates are available in all sizes to choose from. These gates leave no marks on the walls or floor, don't damage or alter the home interiors, and can be moved around according to convenience. For mobility purposes, freestanding dog gates are made lightweight to be shifted easily as and when needed.
Dog Gate for Stairs
Mischievous dogs will go everywhere and anywhere they find a way to. While checking on them every few minutes might not be possible, you can put a barrier to restrict their movement around the house. If you are looking for a staircase safety barrier, go for a wall mount dog gate and get it fixed at the top and bottom of the staircase. Not only it is a sturdy option, it won't let your dog climb up and down the stairs all day long.
Retractable Dog Gate
With a convenient opening mechanism, retractable gates are sturdy and easy to operate. Wide enough to fit any space, these retractable pet gates have a low-profile design and can be opened using a single hand only. As the name suggests, these retractable, sturdy, and preassembled swinging dog gates can be installed in no time and swung open when used.
Dog Gates with a Door
Chosen mostly for newly born pups, the walk-through dog gates are a semi-permanent addition to any space. The walk-through dog gates are wall-mounted and are equipped with an easy-open door. This door opening is for family members to pass through the gate and at the same time prevent the dogs from getting into the restricted area of the house.
Folding Dog Gates
One can select a narrow dog gate for corridors, stairways, and doors of the kitchen or laundry room. But different sections of the house cannot accommodate the same dog gate. A foldable freestanding gate solves your problem. Such gates can stand independently and can be widened or narrowed according to space. These gates can even be carried to a new house during the shift with the utmost ease. When not in use, one can fold this type of gate and store it away in no time.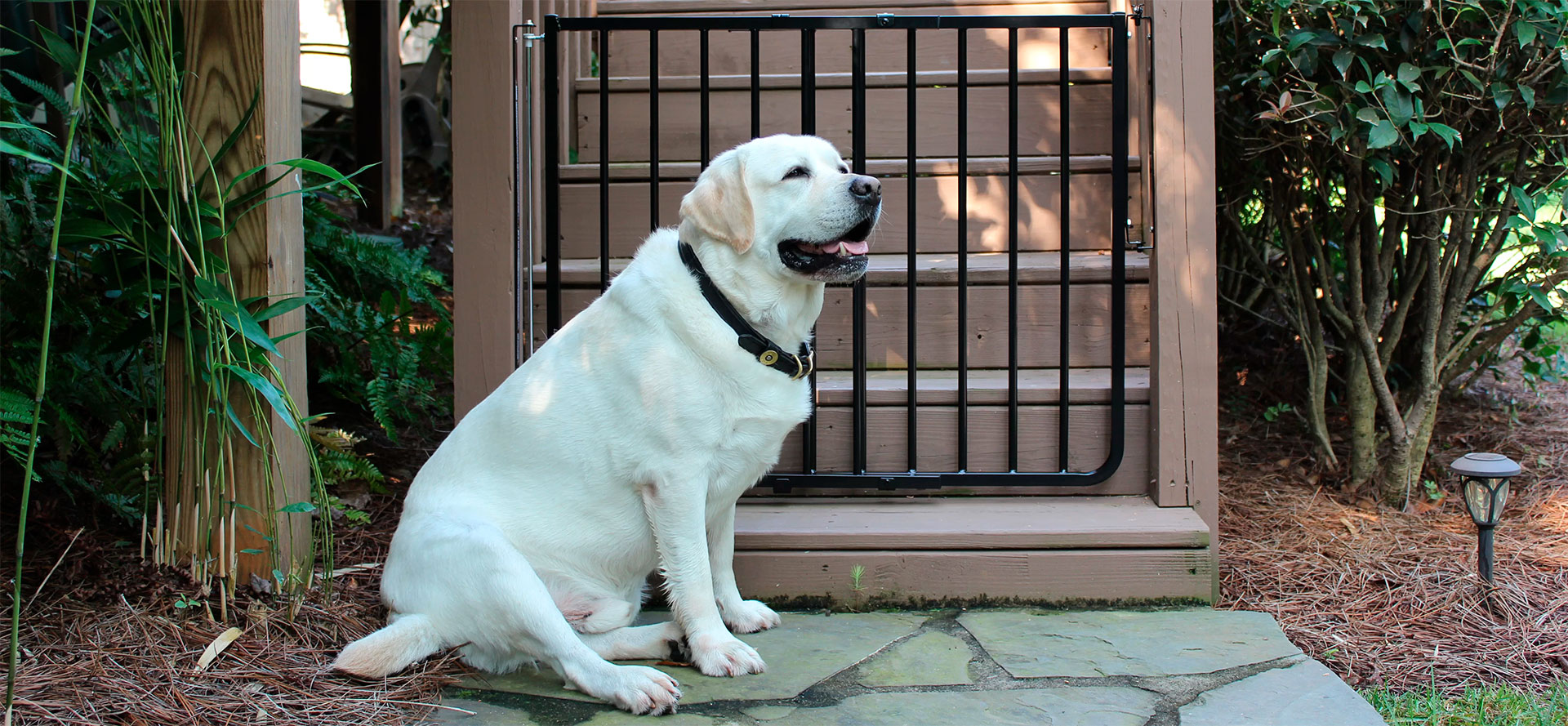 Choosing the Right Dog Gate
Some dog gates are pressure-mounted, some need tools and hardware, while some are freestanding and don't need anything. But you need to ensure that your purchase is worth it, so you need to pick the one that fulfills your requirements. One can consider the following points while picking a Dog gate:
Size of Dog:

A smaller gate can work for puppies and small-sized dog breeds but for bustier and fully-grown dogs, the barrier gate needs to be of the right height to serve the purpose. Similar is the case with the sturdiness of the gate material.

Type of Gate:

if your dog is bustier or has a tendency to push around things at home, you should pick a sturdy wall mount dog gate or a walkthrough dog barrier. On the other hand, if your pup loves jumping or escaping, you should get a high gate to save your day.

Ease of Use:

Having many members at home can cause troubles with a permanent or free-standing gate. With more people in the house using the same corridor, it is difficult to keep the dog gate closed. Hence, a walk through gate is the right choice. At the same time, those who stay on rent and need to relocate regularly can choose a foldable freestanding gate that can be moved around with ease.

Spatial Dimensions:

For a permanent, walk-through, or freestanding gate it is important to be sure of the measurements of space where you want to install the barrier. Measuring the door width of your kitchen, laundry, or storeroom will ultimately help you get the right dag gate. If the gate is meant to be installed on stairs, go for a permanent mountable gate that is sturdy and needs lesser maintenance.

Number of Gates:

If you want a wall mount dog gate, you might as well have multiple for different rooms. For example, one for the kitchen, one for the laundry area, and another for the garage or mudroom. There can be two gates for stairs, one at the top and the other at the bottom. You can either get one or more installed for maximum functionality.

Number of Pets:

It is of great importance to be sure of what type and how many dog gates you require. You might have both a cat and a dog as pets, you can look for more than one feature to keep all types of pets restricted as you want to.

Material:

The pet barrier should be made of durable material in accordance with the size of your dog and your indoor/outdoor requirements. For outdoor use, the material should be rust-proof, water-proof, and sturdy enough to bear daily wear and tear. On the other hand, an indoor pet gate for a small puppy can be made of lightweight plastic fiber. The material selection is also important for the fact that dogs tend to chew things that can be dangerous. A metal or wood gate is hard to chew and is the perfect pick for dogs who love to bite everything around them.

Finish:

Although it seems less important to most people, still if you are adding a piece of furniture to your space, you can go for the one that also achieves the aesthetic standards. Wooden and metallic dog gates can blend well with most interiors and thus are mostly chosen. At the same time, pet owners choose mesh frames to keep an eye on their pets and are easy to port.
Dogs and all other pets don't like the idea of movement restriction by using barriers, but it is important for their safety. But this is still better than having your dog injuring himself/herself during play. Having a dog safety gate not only relieves some pressure off your head but also create a dog-free zone when needed.
Tags: pet grooming supplies, healthiest kitten food, safe cat collars, invisible dog fence, best dog food, what is the best dry cat food, foam dog ramp, cat tree modern design, indestructible dog toy, cat enclosures for outdoors