Last updated
Dog Cones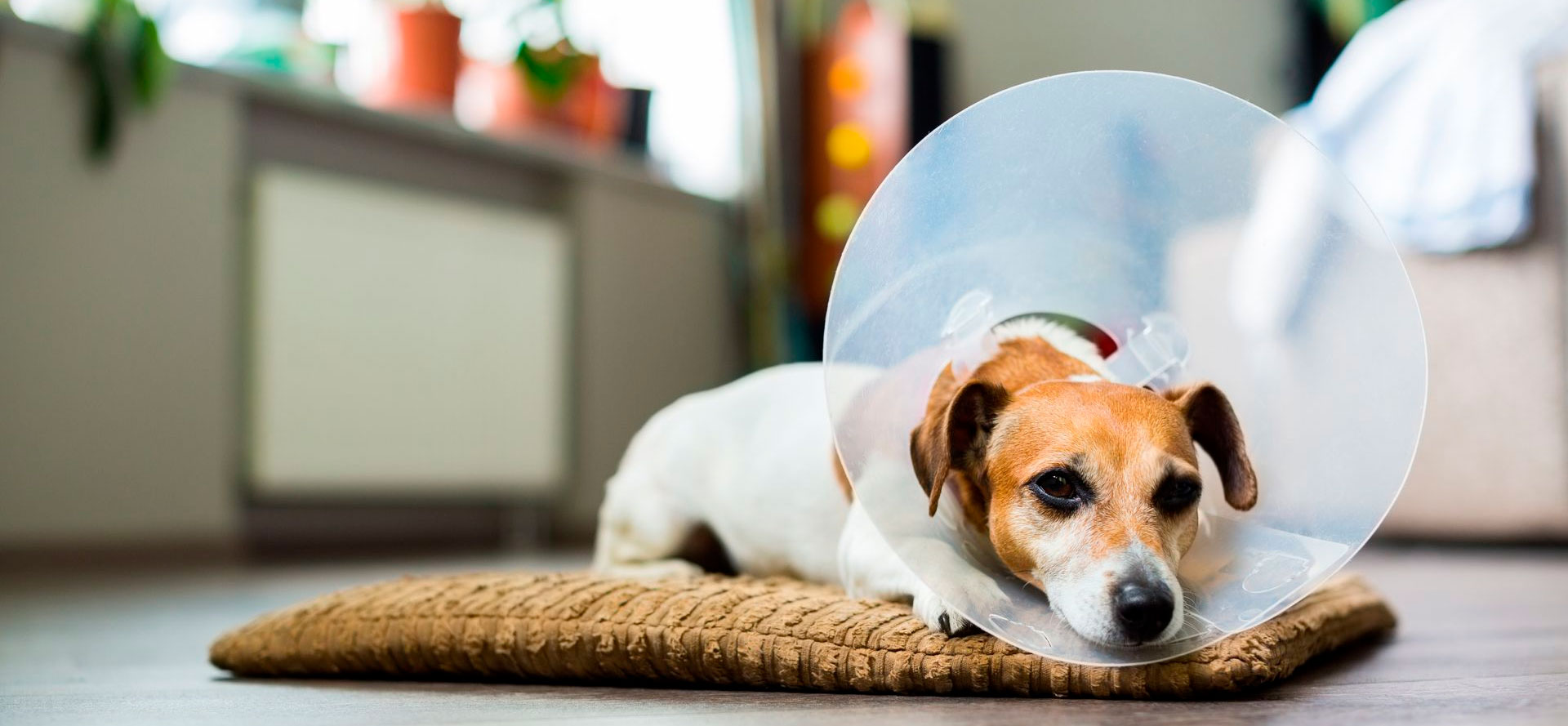 Using dog cones is very necessary for your dog if your pet has a wound that was gotten from an accident, indoor injuries, or a surgical operation carried out on the dog. Dog cones are known as "Elizabethan collar," which prevents the dog from licking its wounds. If the dog is allowed to lick its wound or surgical incision, it can bring about more severe wounds on its body.
Best Dog Cones in 2023
Products
Information
Price

Breed size:

Large breeds, giant breeds

Check Price

Breed size:

Extra small & toy breeds

Check Price

Breed size:

Extra small & toy breeds

Check Price

Breed size:

Extra small & toy breeds

Check Price

Check Price

Breed size:

Medium breeds, large breeds, giant breeds

Check Price

Breed size:

Medium breeds, large breeds

Check Price

Dimensions:

7 x 6.5 x 3 inches

Breed size:

Medium breeds, large breeds

Check Price

Dimensions:

4 x 12 x 10 inches

Breed size:

Extra small & toy breeds

Check Price

Dimensions:

9 x 8 x 0.7 inches

Breed size:

Extra small & toy breeds, small breeds

Check Price
View all Dog Cones
If the dog cone is not used, it may prolong the recovery time of either the surgery carried out on the dog or heal the wound that the dog has. Though most dog doesn't love having the dog cones on but for their health, it is necessary to make them use them to heal up from injuries, or surgical spots. The type suitable for use on your dog depends on the age and the size of the dog. This ultimate guide will look at the four different types of dog cones, otherwise known as 'E-collars' or 'collars-of-shame.'
Soft Dog Cone
This type of dog cone is not suitable for all types of dogs. If used on some dogs, they will still reach the wounds and scratch them with their teeth which may slow down the healing process. Restless dogs can't use this type because they can still maneuver through the cone due to its softness to reach the affected part of their body. Less active dogs are the ones that are more likely to get the soft dog cone on. They will not struggle or tamper with the cone.
Type of cone:

There are different types of Elizabethan collar which are regarded as a soft cone. The soft, flexible material made from made it be regarded as a soft dog cone. These types don't cause irritation for dogs that has skin issues.

Features: The soft dog cone is mostly water-resistant and durable. Most of the soft dog cone is easy to clean as it does not absorb dirt into it. If you observe that it's slacking on the dog, it can be adjusted easily without seeking a veterinarian's assistance to get it done. It always has Velcro, which makes it easy to tighten the closure of the cone. It is comfortable for the dog's use as it doesn't hinder their eating, sleeping, or playing.
Structure and material:

The Soft Elizabethan collar has a structure with a typical look of the shape of a cone. A wide and broad head and a narrow bottom that stays on the body of the dog. Soft dog cone is made from soft padded nylon with a foam-backed. This makes the dog feel at ease while wearing it without causing any form of discomfort. The soft dog cone material is not transparent, which means the dog cannot see through them except the frontal view.

Size:

The soft dog cone comes in different sizes. There are sizes for puppies, small and large dogs. And they all have their measurement in small, medium, large and extra-large. Before going for the soft E-collar, it is best to measure the dog from the back to the head to get the right cone.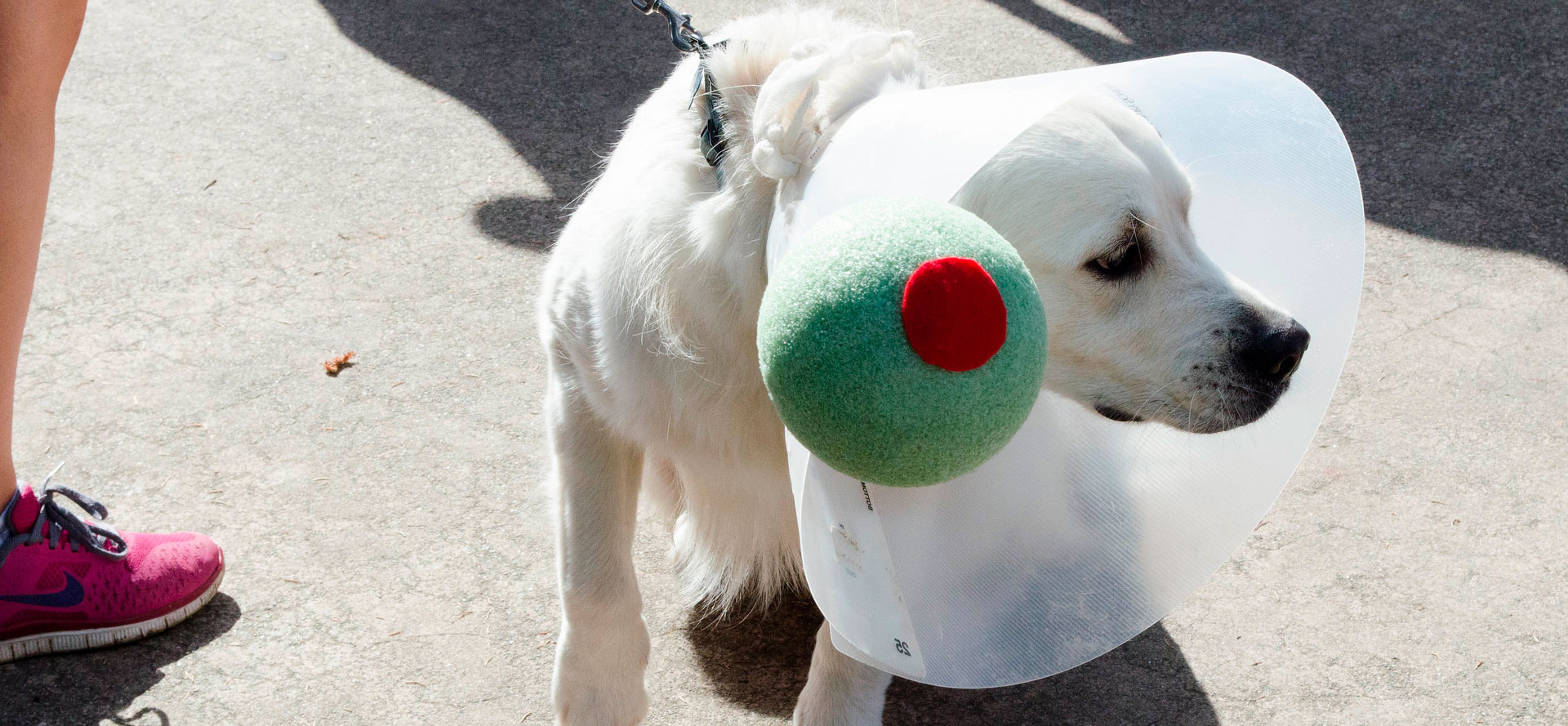 More choices available
Inflatable
If you want your dog to take a break from the use of plastic cones, it is the type to consider. But, it is not advisable to let your dog wear this E-collar frequently. The inflatable dog collar is very fantastic, ensuring a quick recovery for the dog or puppy. The dog is protected from tampering with the stitches, injury, rashes, or getting irritated while they recover from it.
With this inflatable, the dog can move about easily. It fits in for dogs with upper-body injuries and not with lower-body injuries.
If you are making use of this dog cone, you will have to keep your eye on the dog for the first use. This is to see how suitable it will prevent the dog from tampering with the injuries or wounds.
Features:

The inflatable dog collar is a durable cone that can be used for the dog while undergoing recovery stages. The inflatable dog cone allows the dog to freely move its body part and access any part of its body except the upper part. It is easy to maintain; it doesn't cause or make marks or scratch on furniture or the wall. It can be easily adjusted for tightness and to fit well on the dog. It gives comfort to the dog and doesn't irritate the body.

Structure and material:

This type looks just like a neck pillow and circular in structure a bit. It has a soft plush design that gives free movement to the dog without interfering with the sight. It is made from an inflatable PVC material for the inner part with a soft outer part. The fabric for its making is thick, which makes it rugged in use. It has a Velcro strap which can be used in adjusting the tightness. It can be deflated and keep for future use once the dog has fully recovered.

Size:

The inflatable dog cone has different sizes ranging from extra-small to extra-large size. Before sourcing for your dog, ensure you measure your dog's neck to know which will fit in.

Note:

Inflatable dog cone won't be suitable for dogs with long snouts, long legs, long tails, and long body.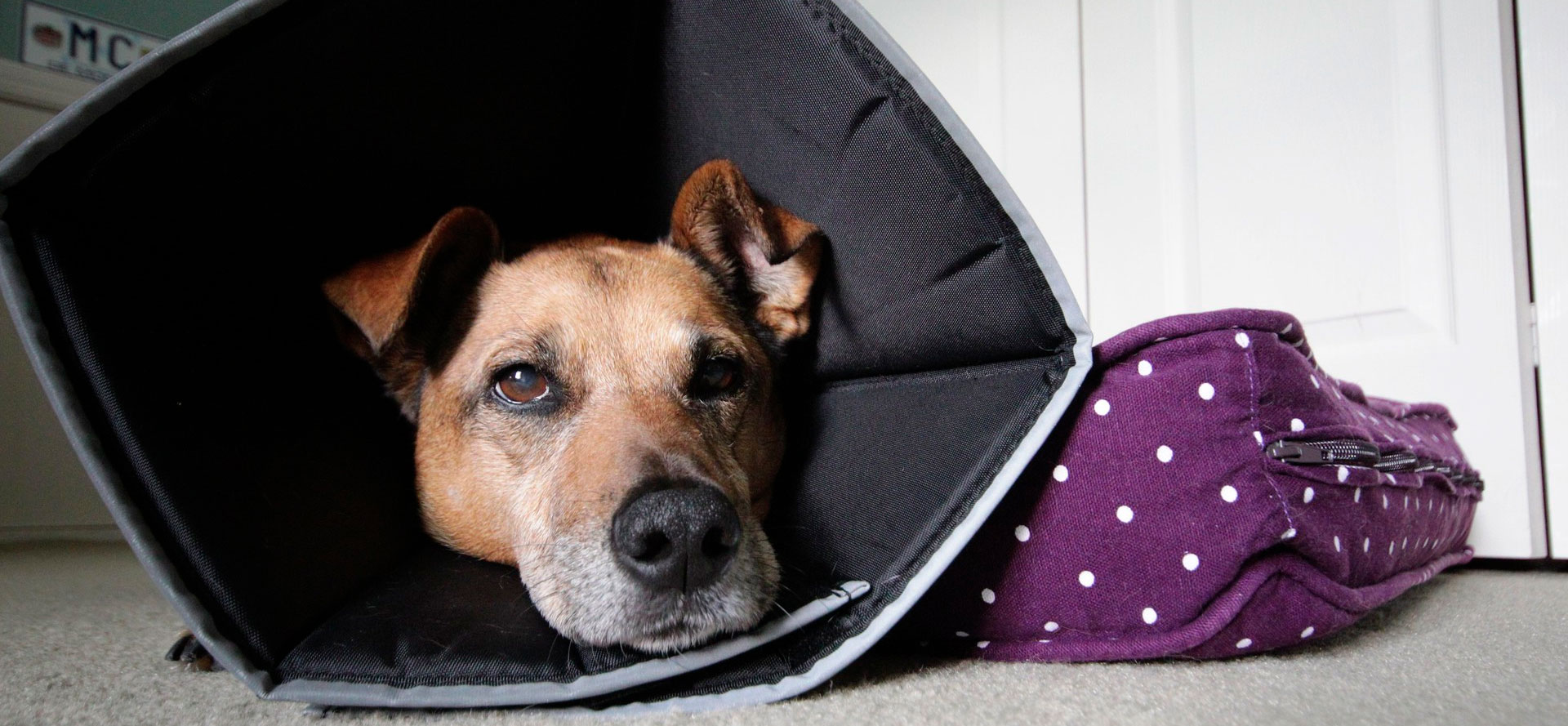 Small Dog Cone
These dog cones are suitable for small dogs and puppies and fit well, and nice to them. With it, they can recover on time from various injuries or wounds without access or tamper with the affected area. A small dog cone fits well for a small breed of dogs and puppies and gives them comfort while on it. With it, they can carry on their normal activities such as playing, eating, and drinking.
Features:

As it is, the small dog cone combines both features of the soft cone and the inflatable. Small dogs and puppies can use either of the two that are designed and fit for small dogs. It is convenient to use, and it is durable. It fits perfectly well on dogs and makes them look cute and comfortable with it. Small dog cones are light weighted and don't make small dogs feel nervous about them.

Structure and material:

Just like the soft cone, it looks much the same but in small size and light. It doesn't hamper the vision of small dogs. Some are like the inflatable but smaller and flatter than the regular inflatable cone. The small dog cone is made of good quality PVC material, having an extra soft edge. It is water-resistant and may be cleaned easily and smoothly. It has a hook and loop, which makes it easy to fasten and lose on the pet.

Size:

The small dog cone's size is small, which makes it convenient for the dog to carry and move about with. Though they are small, while going for it, the dog's head circumference should be measured to get an accurate one as they vary in measurement.
For Large Dog
This is a suitable cone that perfectly fits with large dogs and prevents them from traumatizing with the wounds and injuries to get recovered. This cone is used to curtail dogs with long snouts, long legs, long tails, and long bodies. Asides, it prevents big/large dogs from reaching their surgical incision or wounds; this Elizabethan collar can also be used to prevent your dog from biting while bathing.
Features:

This type of cone is meant for dogs like Afghan hound, Dachshunds, Dalmatian, Dobermann, Great Danes, Greyhound, Ibizan hound, Silken Windhound, etc. Using this for them will make it difficult for them to pull or over-beat the cone to their affected area of injuries or wounds.

Structure and material:

This is exactly like a cone with a wide upper part and a narrow lower side. It is extremely large and capable of preventing the dogs from licking or itching their wounds with their teeth. It is made from thick leather and top-quality PVC. It has a nice closure that can be adjusted, waterproof and light-weighted on the dog and does not make them nervous or unease in it.

Size:

The large dog cone is relatively large in design compared to other cones because it is specifically made for big and large dogs. The size of your dog will be the deciding factor for knowing which is appropriate for your dog. A measurement of your dog will be taken to get a suitable one.
Conclusion
Choosing dog cones for your dogs to prevent them from aggravating the injuries, wounds, or various surgical operations carried out on them. Look for that which will suit your pet well that will make them feel at ease despite any inconvenience they might face from the treatment or wounds. Such E-collar must not be a hindrance to their regular lifestyle. While having it on, ensure you keep an eye on your pets. Note if they are uncomfortable or reacting to the material. If they do, then you might need to consider some other option.
Choose Dog Cone now
Tags: best pet supplies, hard sided cat carrier, top cat litter box, crates for dogs, why do cats get jealous, cute dog bandanas, calming donut dog bed, cute dog collars, best dog food, house training a cat