Last updated
Best Dog Hammock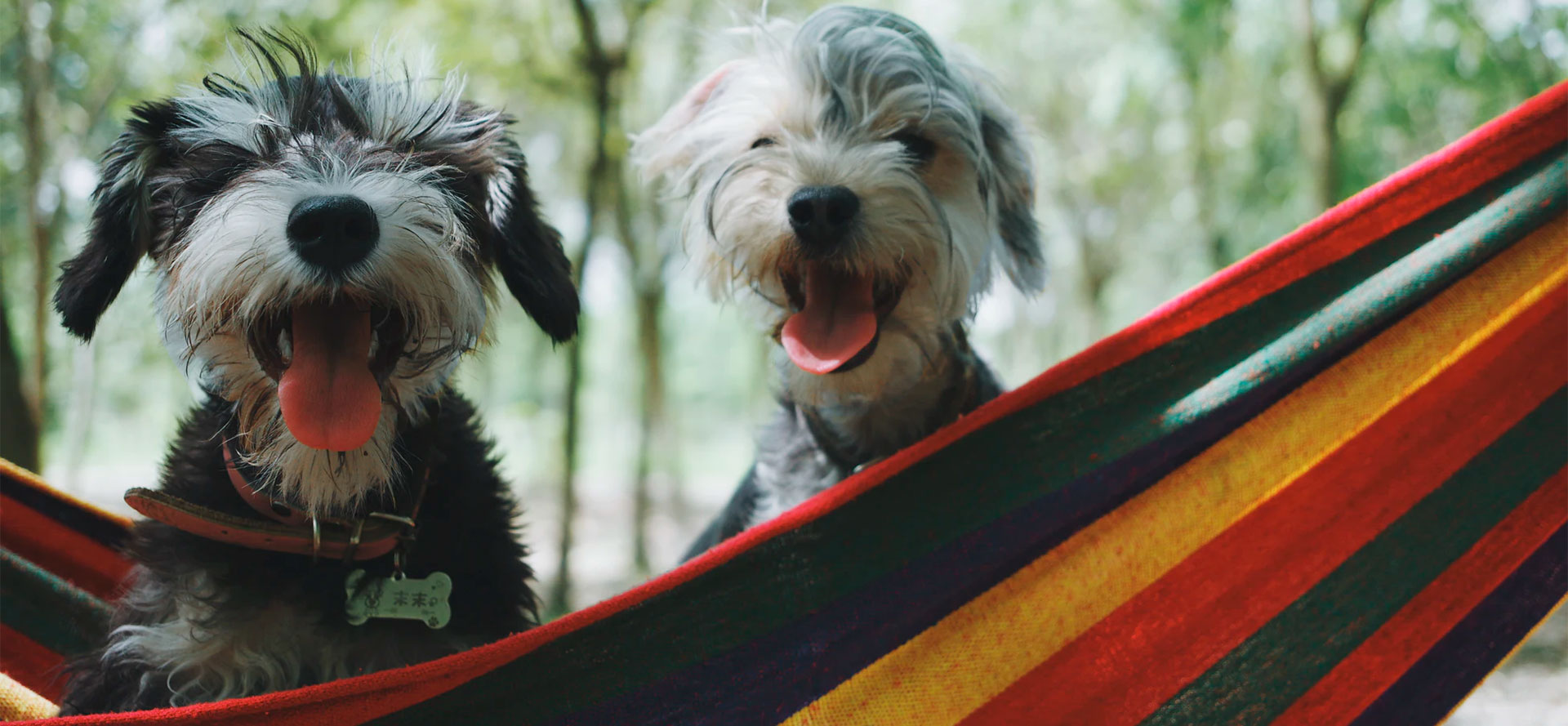 Have you ever thought about how you could make your dog more comfortable? One way of optimizing their comfort is by providing them a dog hammock. Dog hammocks are pieces of furniture that are fantastic for all ages. They allow dogs to relax and have great comfort indoors, outdoors, and even while traveling. One of the main benefits of dog hammocks is that they allow your dog to cool off in hot months as there tends to be a lot more air circulation below them. Moreover, when your dog is resting, it can take a lot of pressure off their joints, making them great for elderly dogs. Dog hammocks can also act as a form of pain relief if your dog suffers from joint conditions like arthritis, hip, or knee dysplasia. Dog hammocks can be used in the car, allowing your pet to have a comfortable journey increasing their chances of sleeping more sound fully. You can even use them for grooming! The benefits of dog hammocks are endless. To know more about the best dog hammocks, check out our table of top picks here.
What is a Dog Hammock?
A dog hammock is raised bed on a platform that can be placed indoors and outdoors to allow your dog to lounge, lie or sleep in different weather conditions. Dog hammocks can also be for your car, where they can curl up and feel safe while you're driving. Most importantly, dog hammocks are made to make your dog feel comfortable and relaxed in any environment.
Different Types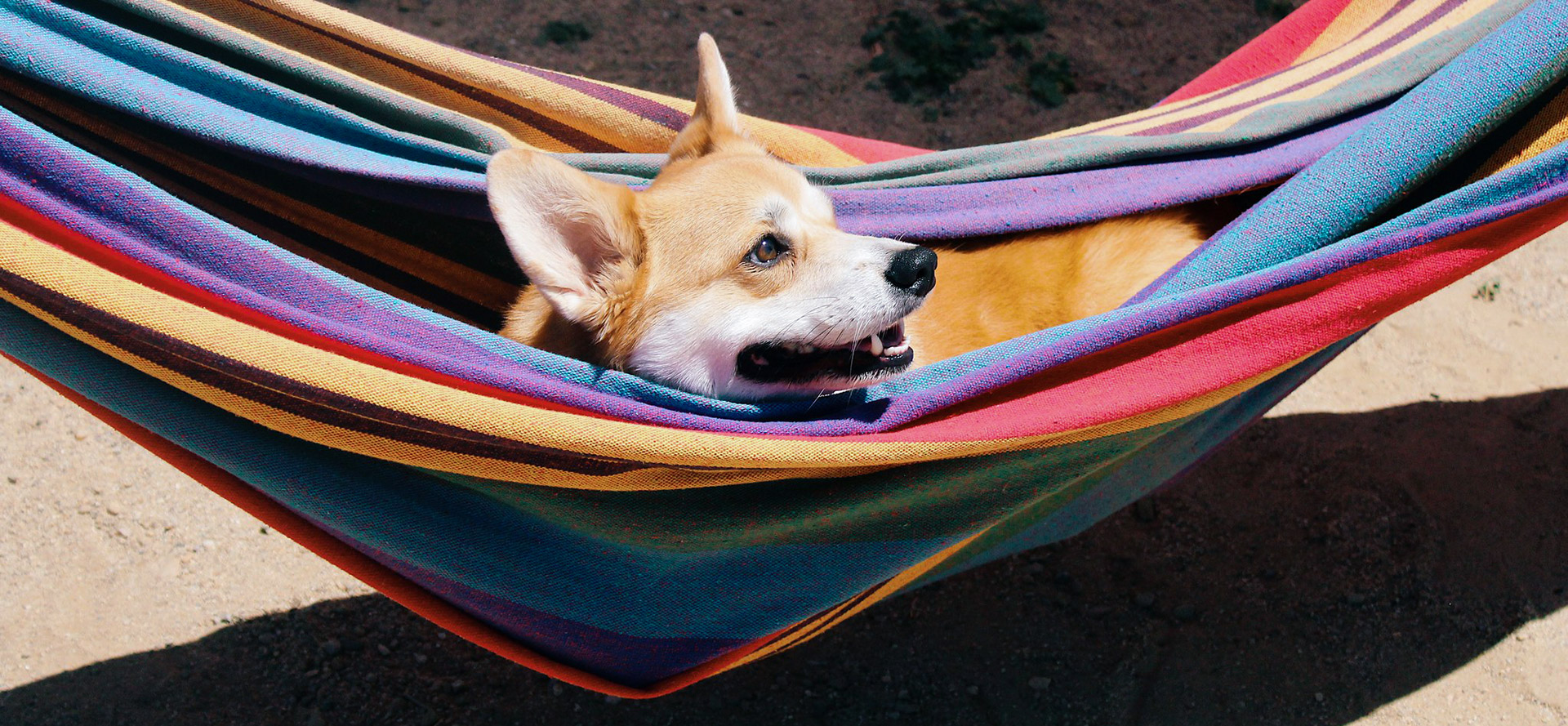 If you're looking for a dog hammock, there are a few on the market to choose from. The most common ones are:
Raised dog hammock:

A raised dog hammock is created to provide orthopedic support for dog's whole body. This can help release the pressure off its joints and help keep them lubricated for a long time. One of the brilliant features of a raised dog hammock is that it's lightweight and also portable. They have a steel frame at the bottom most of the time with mesh material on top for air circulation during hot weather. Some raised dog hammocks also come with an attached dog canopy, allowing shelter from the sun. This dog hammock is great for large dogs, but many versions are designed specifically for smaller breeds. On the contrary, these dog hammocks cannot be folded either, so they're not the best for travel purposes.

Portable raised dog hammock: This type of dog hammock can be used for traveling. In addition to the features of a raised dog hammock, they also have legs that can be folded away and allowed for easier packing when traveling. Unlike the mesh fabric on a standard raised hammock, these tend to have to cushion at the top to allow for more comfort for your dog to lie on. It's perfect for when your dog is tired, as you can just unfold it and let your dog sleep. However, this dog hammock is not that good for hot weather as it does not have much circulation for airflow.
Hanging dog hammock:

This type of dog hammock resembles more of a human hammock. It is a piece of nylon fabric that can be clipped from suspended straps to places that allows your dog to sleep and hang inside. The material is waterproof also, so it's great for the outdoors as well as indoors. These types of hammocks tend to have two fabrics designed for the winter and summer months. The only downside to this hammock is that it does not accommodate larger dogs; it only fits small dogs who weigh up to 28lbs.

Car dog hammock:

The car dog hammock is a great way to keep your car pristine if you've been out adventuring with your dog all day. It's like a seat cover for your back seat that protects your car from dirt, mud, and scratch marks. It works by being attached to your headrests at the front and back of your car. The surface is also nonslip, allowing your dog to stay in the place when driving. A good thing about this hammock is that it can be folded up and zipped away to minimize the risk of dirt entering your car. Also, it has quick buckle releases to allow you to unclip and clean it as soon as you arrive home.

Grooming dog hammock: This dog hammock allows you to keep your dog secure during the grooming process. It works by allowing you to put your dog's legs in the holes, close the handles, and use hooks from the hammock to hang your dog up. This dog grooming hammock is made out of a breathable material as grooming tables that enables your dog to feel safe, and it's quick-drying too. The grooming dog hammock comes in a range of sizes but is mainly only available for small dogs.
How to Choose a Dog Hammock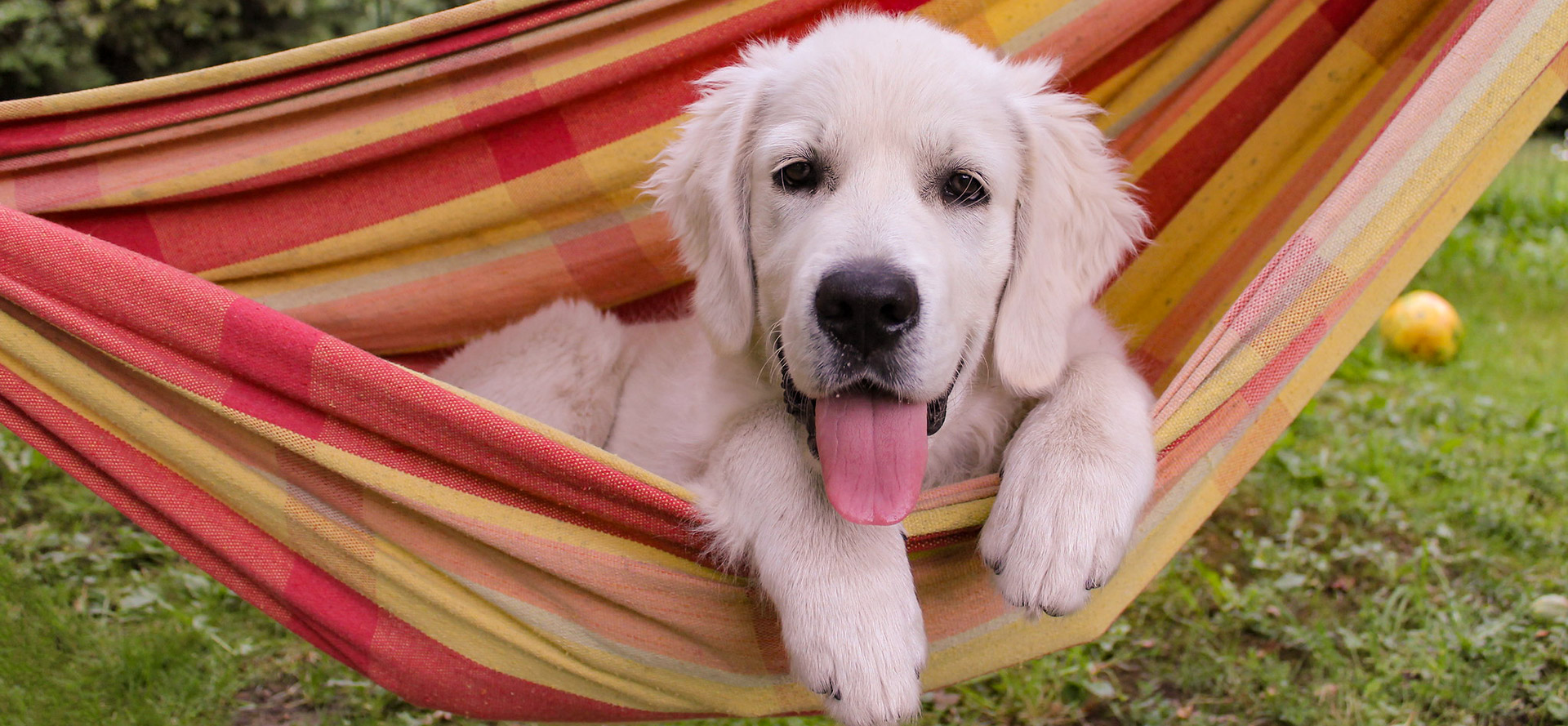 There are many dog hammocks on the market; if you're thinking about getting one, you will want to choose based on the following:
Purpose: What is the reason you need the dog hammock? Think about why you want it; whether it's for your home, garden, travel, or car, this will help you make more decisions before buying.
Material:

When looking to get a hammock for your dog, the material is another important aspect. If you live in a hot country, you will want a breathable material for your dog, like mesh. If your dog is messy, you will want a material that's easy to wash and durable, like nylon. Similarly, if you're looking for one that provides your dog comfort, you will want a quilted material.

Size:

Don't just buy any dog hammock you see online or in the store without knowing your dog's size first. You must pick a hammock that fits your dog comfortably, even if it's in the car. It's always good to take your dog's measurements first before buying.
What to Consider When Purchasing a Hammock
When looking to get a dog hammock, you should consider the following:
Weight:

Alongside your dog's size, it's also important that you know their weight. Certain dog beds have a threshold where they can hold a dog for so long. Always make sure you know your dog's weight and it's not at the maximum capacity when lying on the hammock.

Reviews:

There are many different types of dog hammocks you can buy online or in the store, but you never know exactly how they are until you buy them. To help you make an informed decision, read reviews of other brands and look for photos too. Look out for breed-specific information in the reviews to help you make a better decision.
Final Thoughts
Dog hammocks are a great bed for your dog to have outdoors, indoors, and on the road. There's a variety of options out there that can suit many different types of dogs. For example, you can get raised dog hammocks, quilted dog hammocks, grooming dog hammocks, waterproof dog hammocks, and many more. Before you buy a hammock for your dog, measure its size and weigh it, to know the hammock will fit them. Similarly, decide on the purpose you need the hammock first and read reviews before buying it.
Tags: pet care supplies, dog training crates, liquid dewormer for cats, safe dog toys, clippers for dogs, can dogs eat ice, puppy potty training pads, cute dog hoodies, fat cat backpack, dog food ingredients to avoid