Last updated
Dog Cameras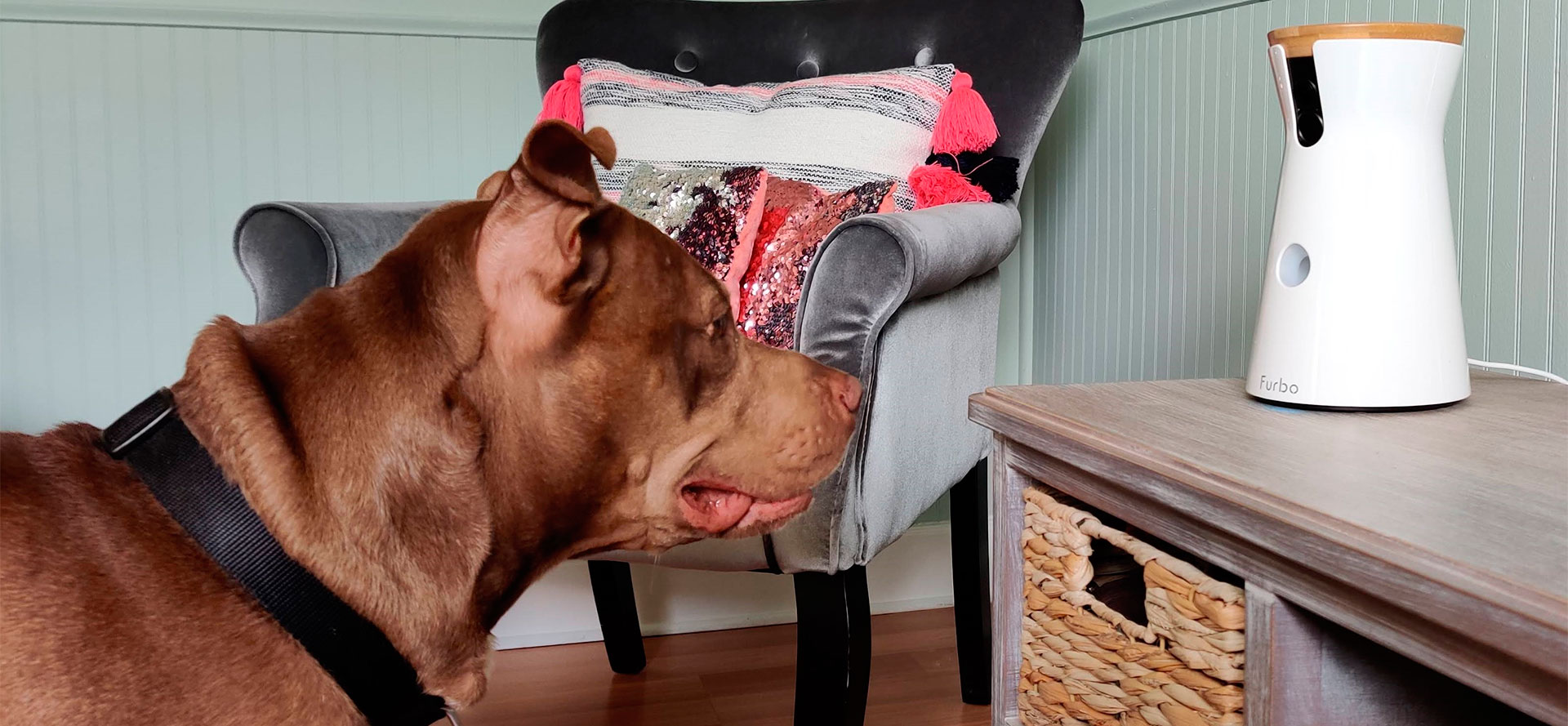 Dogs are a bundle of cuteness, love, and mischief. While they are lovable, they can also be quite restless, running around from place to place. In this case, leaving your furry friends alone can be a difficult task. Leaving the dogs without any company can pose danger and give you serious separation anxiety. Technology has paved the way for many useful things, dog cameras are one of these. Dog cameras are a feasible solution to provide pet owners with peace while they are separated from their dogs. The creativity that can be seen with these dog cameras knows no bounds, making them multi-utility products. There are motion detectors, monitors for activity, dog feeder cameras, pet collar cameras, and even toys that you can control through smartphones. There is an abundance of options for you to choose from and select the best monitor camera for your pooch.
10 Best Dog Cameras in 2023
Products
Information
Price

Dimensions:

5 x 5 x 10 inches

Breed size:

Small breeds, medium breeds, large breeds

Check Price

Dimensions:

1.97 x 1.97 x 2.17 inches

Technology feature:

Two-way audio

Check Price

Dimensions:

4.7 x 5.9 x 8.9 inches

Technology feature:

Two-way audio, treat dispensing

Bowl & storage feature:

Automatic

Compatibility:

Apple ios, android

Check Price

Dimensions:

4 x 2.5 x 2.5 inches

Technology feature:

Two-way audio

Small pet type:

Rabbit, guinea pig, chinchilla, gerbil, hamster, ferret, mouse, rat, degu, hedgehog, sugar glider

Check Price

Dimensions:

2.25 x 2.25 x 2.8 inches

Technology feature:

Two-way audio

Check Price

Dimensions:

6.5 x 6.5 x 6.5 inches

Technology feature:

Treat dispensing

Compatible food:

Dry food

Check Price

Dimensions:

10.5 x 5.7 x 2.8 inches

Technology feature:

Programmable, two-way audio

Breed size:

Small breeds, medium breeds, large breeds

Check Price

Dimensions:

10.62 x 4.92 x 4.92 inches

Technology feature:

Treat dispensing, two-way audio, laser toy

Breed size:

Small breeds, medium breeds, large breeds

Compatibility:

Android, apple ios, wi-fi, plug-in power

Check Price

Dimensions:

7.28 x 6.5 x 4.92 inches

Breed size:

Small breeds, medium breeds, large breeds

Check Price

Dimensions:

2.95 x 2.95 x 4.25 inches

Technology feature:

Two-way audio

Check Price
View all Dog Cameras
With ample options available, it might be confusing figuring out which camera to buy for your furball. Here is a guide for you to explore some best dog cameras so that you can stay stress-free whenever you leave your buddy alone. Let us find out more.
Dog Treat Camera
A Dog Treat Camera is attached with a treat dispenser which you can control from miles apart. Being away from your pets can be nightmarish. In this case, a dog treat camera works the best as you can release a sweet smell from just a tap. This camera performs multiple functions. Firstly, treat-release technology induces a dog to obey you and form better training habits. Secondly, this dog camera allows you to interact with your furry friend during breaks at the workplace, saving you from all the boredom. Everything can be managed by just an app on your smartphone.
The device is fitted with a two-way camera which allows full interaction with your pup. Pets too get anxious when left alone just like humans. The two-way camera feature gives the pet access to the parents, reducing its anxiety and making it more playful. Every time you notice your pet is stressed, you can release a calming fragrance through the app. A microphone is also attached to the device so that you can interact with your pet and give verbal commands. There are dog treat cameras available with unique features such as paid subscriptions to the DOGTV stream so that your canine is never short on entertainment.
Dog Cameras With Bark Sensors
Dog Cameras which are fitted with bark sensors notify the pet parents every time their loved one barks. Some canines are excessively vocal getting themselves into trouble quite often. It may get difficult to keep a tab on your canine if you are a working pet parent. This camera extends its support inside the house too, making it ideal for large houses. You and your canine might be in different corners of the house but a bark sensor will let you know that your pet needs help.
These cameras offer 1080p quality for a clear display. A two-way audio system makes it convenient for your canine to hear and react to commands. There are a few upgraded devices that are fitted with night vision and treat dispensers so that you can put your anxiety at rest even if your pet is home alone at night. Night vision can be bliss for the pet parents who work the night shift as they can regularly keep a check on their pet during their shift. Treat dispensers allow the pet parents to release calming fragrances for their four-legged buddies. All this can be handled through an app.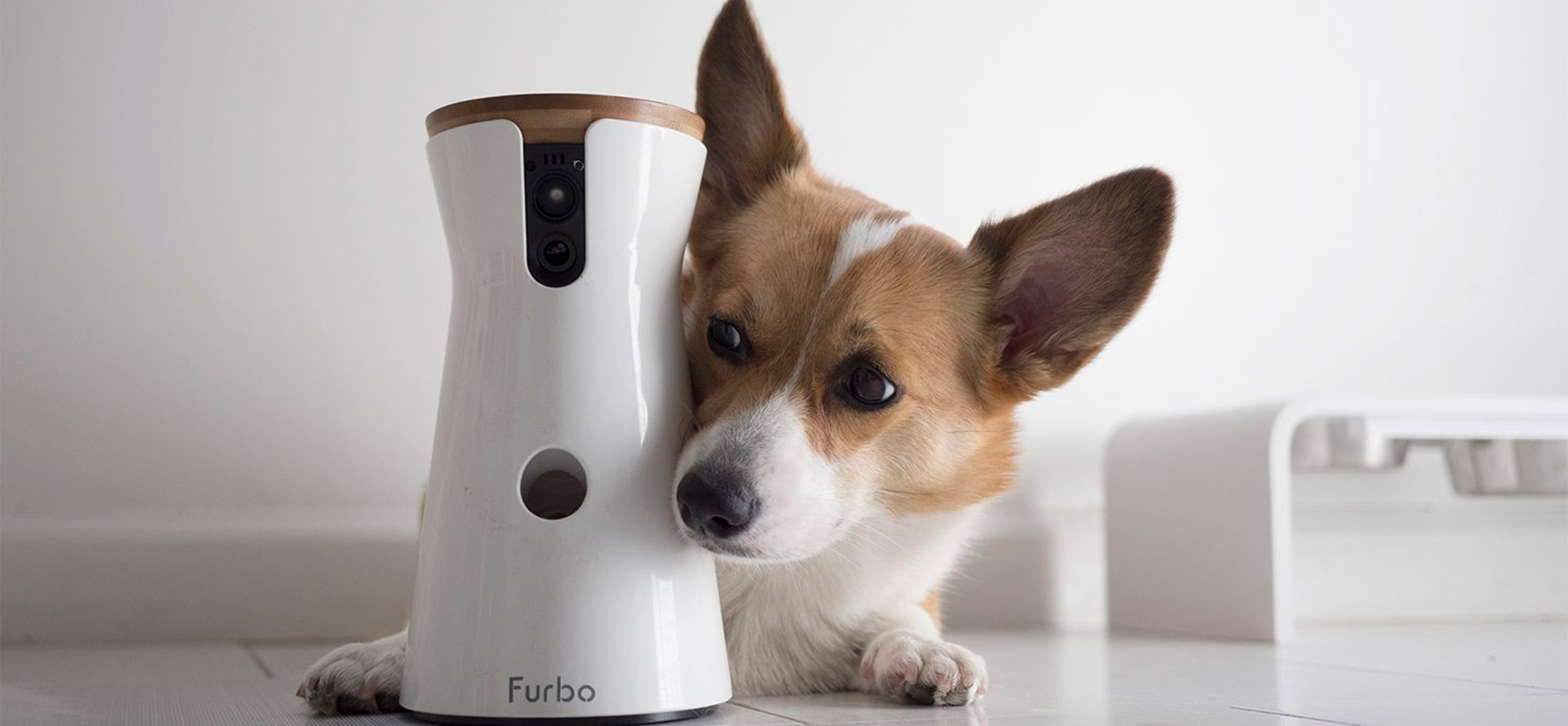 Dog Camera Ball
Another brilliant technological piece, dog camera balls are a recent development in the field of pet surveillance. Pet lovers are well-acquainted with the fact that dogs love to play around with a ball but what if the ball also allows you to see your pet from miles away? This is why camera balls are getting quite popular. There is a camera fitted in the app-controlled ball which allows you to simultaneously see and play with your furry friend. The surveillance balls are designed using chew-resistant polycarbonate shells ensuring that even the most misbehaving pets are not able to break the camera ball.
There is a wireless charging dock available with the camera ball. Whenever the battery is low, pet parents can remotely drive it back to the dock. The device can be connected with wifi for easy access from anywhere. To ensure that things stay interactive between the pets and their owners, there is a microphone and speaker fitted inside the device. Through this interactive system, you can ensure your pet's training stays uninterrupted. A wide-angle high definition camera gives a peek into a furball's life in a crystal clear way. The camera ball is easy to set up and compatible with any device.
More choices available
Adjustable Dog Camera
Adjustable dog cameras offer pan and tilt functions allowing better visibility to the pet parents while they are away from their pooch. All the pet owners would agree that our four-legged friends are capable of getting into trouble when unsupervised. Now the technology has resolved it. These dog video cameras come with functions such as high-definition recording, video compression, and 320-degree x 120-degree pan visibility. Compatible with wifi, this dog camera also offers zoom-in options to closely monitor the activities of your pooch.
Some brands offer unique features such as enhancing the camera for dogs with infrared LEDs. These lights are for clear night vision to supervise the pet at all times of the day. 32GB SD card capacity allows you to capture and treasure the priceless moments of your furry friends whether they are with you or not. Adjustable dog cameras are fitted with a 3dbi antenna to ensure that the connectivity is not lost. Proper two-way communication can be maintained with the pet through the built-in microphone and speaker. The cameras can be accessed through multiple devices and come with an easy installation which is like plug-and-play. A rubber base is fixated at the bottom to provide strength and stability to the camera. It is a full-fledged, feature-packed camera, a suitable option to keep a tab on pets. Here you can look through and compare our recommendations for the adjustable camera to select the best one for your cuties.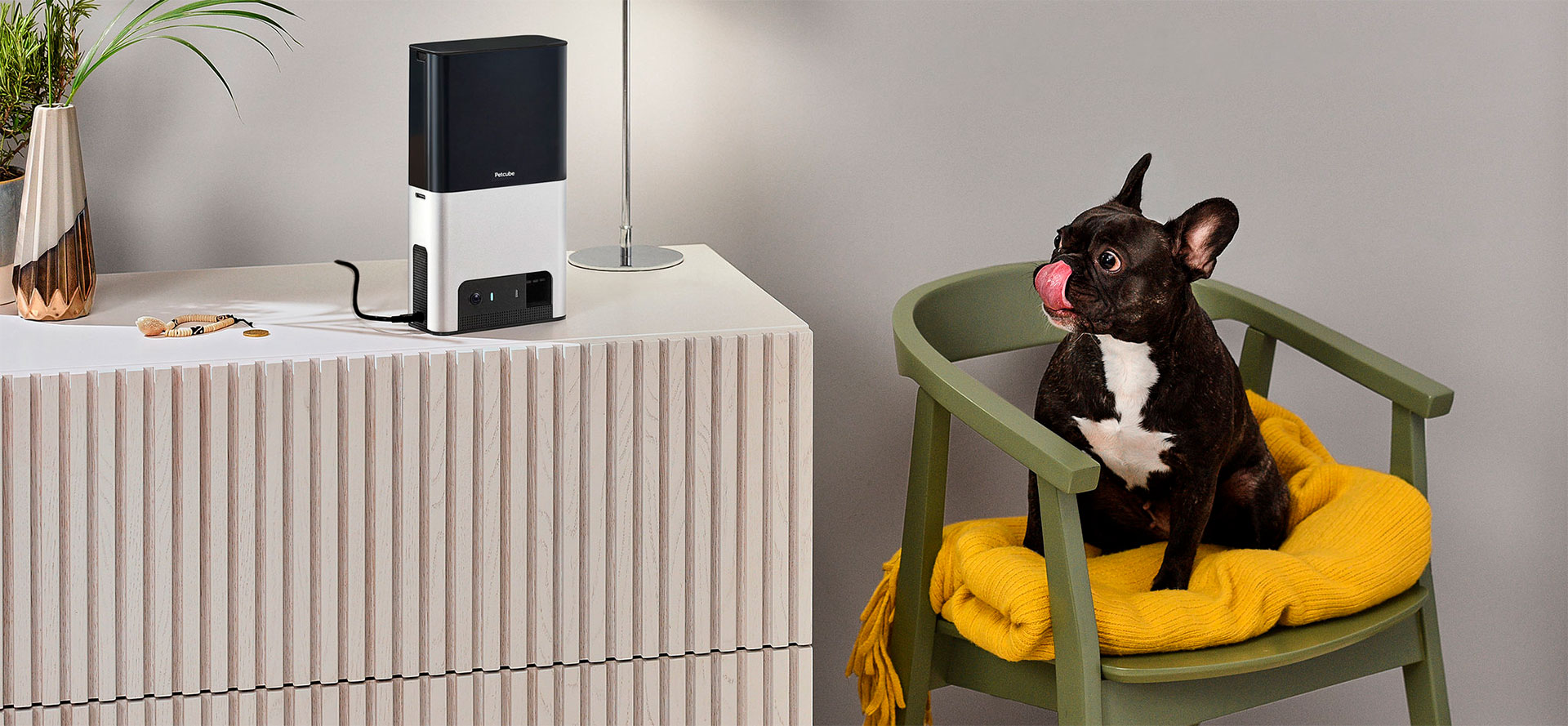 Dog Camera with Motion Sensors
Dog cameras fitted with motion sensors immediately send an alert to your smartphone whenever they detect motion. This way the dog owners can have the knowledge of their pets' whereabouts in real-time. This dog camera is best-suited for anxious or frightened dogs who can get on their paws even with the slightest noise. Brands also offer customization features such as alarms when the motion sensor is set off. Motion sensor cameras work perfectly for young pets who are quite agile and cannot sit at a particular place for long.
Choosing a perfect location to fix a dog camera is necessary. For an open floor plan, choose a location that will allow you to scan from one corner of your house to the other. For smart visibility and timely control, pre-programing of the angles is advised, based on the areas where your dog strolls or stays the most. This is specifically important for the dog camera with motion sensors to assess the movements of your pet in a better way. Also, this allows you to find your four-legged friend faster and keep a better check on its activities. Here is our list of top 10 dog cameras with motion sensors.
Feeder Camera
Dog Feeder Cameras allow multiple functions to pet parents. You schedule and manage feeding times for your canine while also ensuring its safety. Dog Feeder Cameras can be conveniently controlled through apps. Pet parents can customize the quantity of the food as per their buddy's preferences. They can also decide on the number of meals to be consumed per day. All this can be done while keeping a close eye on the activities of your pooch.
Ensure that you place the feeder camera at a place where your pet can easily access it, at the same time, you can track the dog's movements.
Outdoor
Setting up an outdoor camera is an ideal option to monitor the activities of your pooch in the garden or porch. Dogs have the habit of biting random things and digging the grass. Through outdoor cameras, pet owners can control these bad habits by giving them commands via the two-way audio system. These cameras are starkly different from your regular security cameras. Outdoor Dog Cameras come with various perks to improve your relationship with your pooch while security cameras just provide a visual peek into your canine's life. Outdoor cameras are a feasible option for multiple pets and large-sized dogs because confining a large canine into a closed space is quite difficult. Outdoor dog cameras enable you to monitor your dogs within a certain outdoor boundary, ensuring the safety of your pet even if it likes to wander outside.
Along with a dog camera, you can also get a GPS tracking monitor if your pooch is a restless one and keeps running here and there. GPS tracking keeps the anxiety of pet owners at bay by giving them access to the real-time location of their four-legged buddies.
Choose Dog Camera now
Tags: pet care supplies, warmest dog coat, stairs for dogs, is pool water bad for dogs, best dog grooming clippers, flea prevention for cats, stroller for dog, puppy food brands, best collar for puppy, is sushi safe for dogs