Last updated
Dog Socks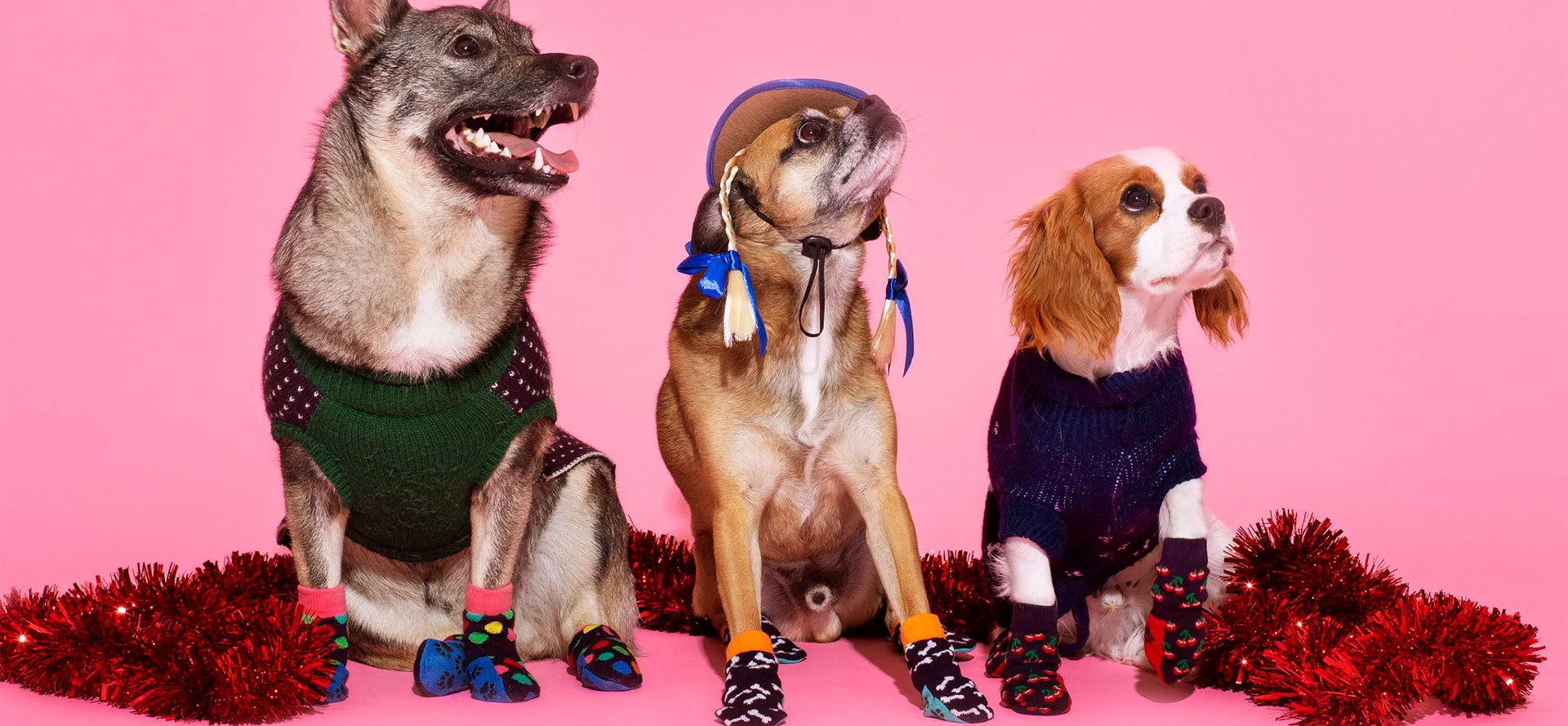 Have you ever wondered how you could improve your dog's health? Well, if so, one great way is by getting them dog socks. Unlike us, dogs are walking all the time on different terrains and surfaces with their paws exposed. Its paws are at significant risk of being injured, infected, and worn out. After all, could you imagine how horrible your feet might be if you walked everywhere without any socks on?
It would be pretty gruesome.
Best Dog Socks in 2023
Products
Information
Price

Breed Size:

Extra Small & Toy Breeds

Check Price

Check Price

Check Price
View all Dog Socks
But more than just dog shoes, dog socks are highly beneficial for older dogs. Dog socks provide a lot of grip and traction on the bottom, stopping dogs from slipping on the floor. Because of this, they're great for elderly dogs who have a lot of mobility issues such as arthritis or hip dysplasia. Similarly, if you have hardwood, tile, or any smooth surface dog socks, stop your dog at any age from falling over. Dog socks can also help if your dog is sensitive to the cold or heat. They also help any cold or allergens from entering the grooves of their paws. Plus, if your dog has an injured paw, dog socks serve as excellent wound protection. Depending on the material that they're made out of, they can have complete protection. Socks are also a stylish accessory to put on your dog and often easier to apply than dog shoes. To help you know more about the best dog socks, check out our top table here.
What are Dog Socks?
Dog socks are similar to human socks, except they're for dogs! Various dog socks exist, which come in different sizes, styles, and fabrics. Their primary purpose is to provide your canine with traction on the floor from slipping and injuring themself. Dog socks are different from dog shoes as they slip on and are meant for the indoors. At the same time, dog shoes are meant for the outdoors. Dog socks tend to be highly affordable and less expensive than dog shoes.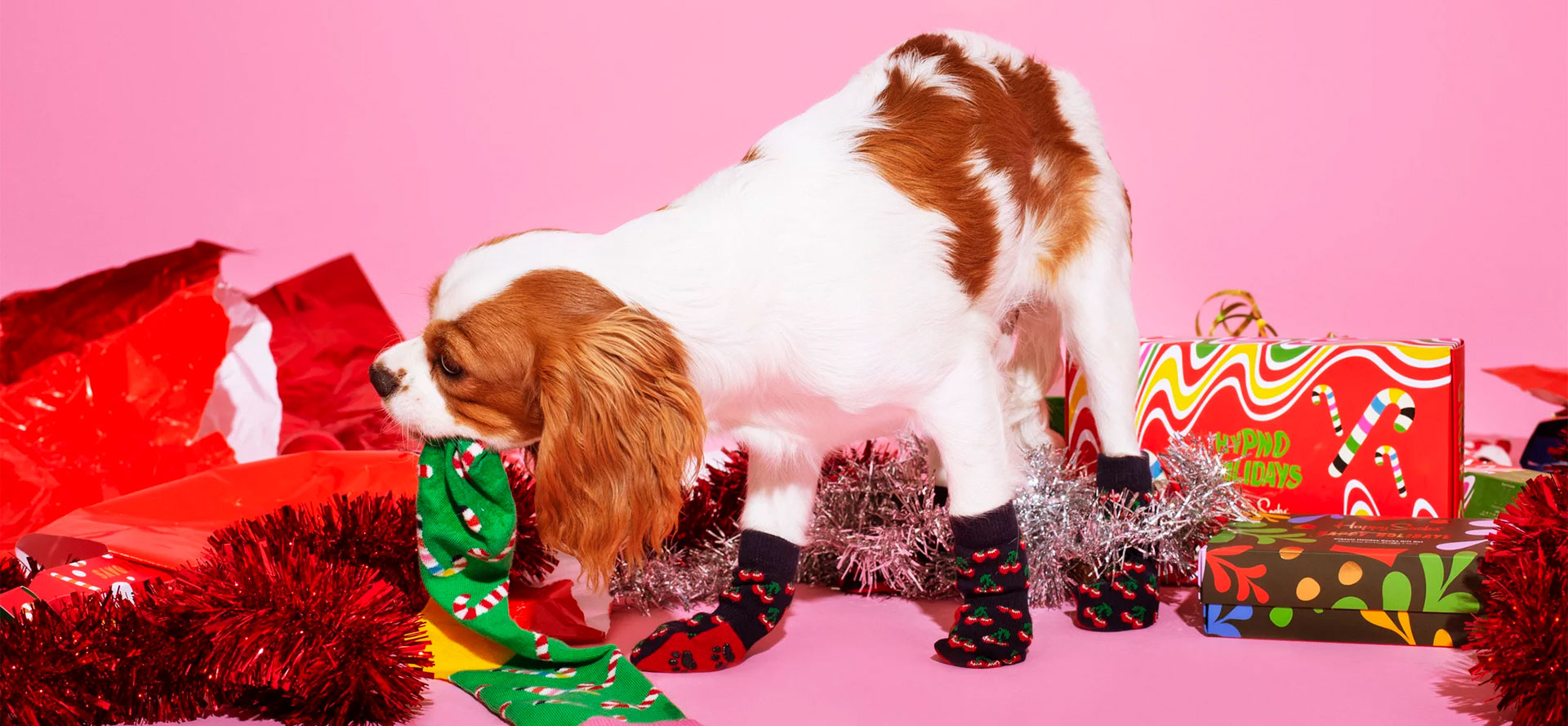 Different Types
If you're looking for some doggie socks, then you're going to be spoilt for choice. There's a lot of different brands and styles that exist in the marketplace. The main types of dog socks are:
Anti-slip:

These types of dog socks are designed to stop your dog from slipping on the floor. Anti-slip socks often have rubber or silicone grips on the bottom of the sock to give your dog more stability on smooth surfaces.

Anti-slip strap:

Anti-slip strap is similar to anti-slip socks; the only difference is that these socks have elastic around the top of the sock. The purpose of your dog having elastic at the top is to stop your dog's socks from falling at the ankle.

Knitted socks:

If you're looking for an additional way to keep your dog insulated, then knitted socks might be the best type. These socks tend to be a lot thicker than others to keep the cold from getting to their joints.

Sock suspenders:

If your dog doesn't like wearing socks, then you may have to give them suspender clips. These helps keep dog socks upright as they clip onto the top of your dog's socks. It allows them to stay on your dog.

Themed socks:

These are dog socks that have a variety of different patterns on them. Themed socks are dog socks strictly for style purposes.

Plaid socks:

Plaid socks have the same purpose as theme socks; they're often seen as stylish accessories to have and can have many anti-slip properties.

Puppy socks:

Dog socks for small dogs can often have drawstrings instead of velcro to help them stay on their feet and not fall off easily. These dog socks often require the exact measurements to be supplied for their paws.

Breathable paw protectors:

Breathable paw protectors are great for your dog to wear in the warmer months. These have lightweight, breathable mesh material that stops your dog's feet from overheating. They often have a Velcro ankle strap that wraps around their ankle to keep them upright.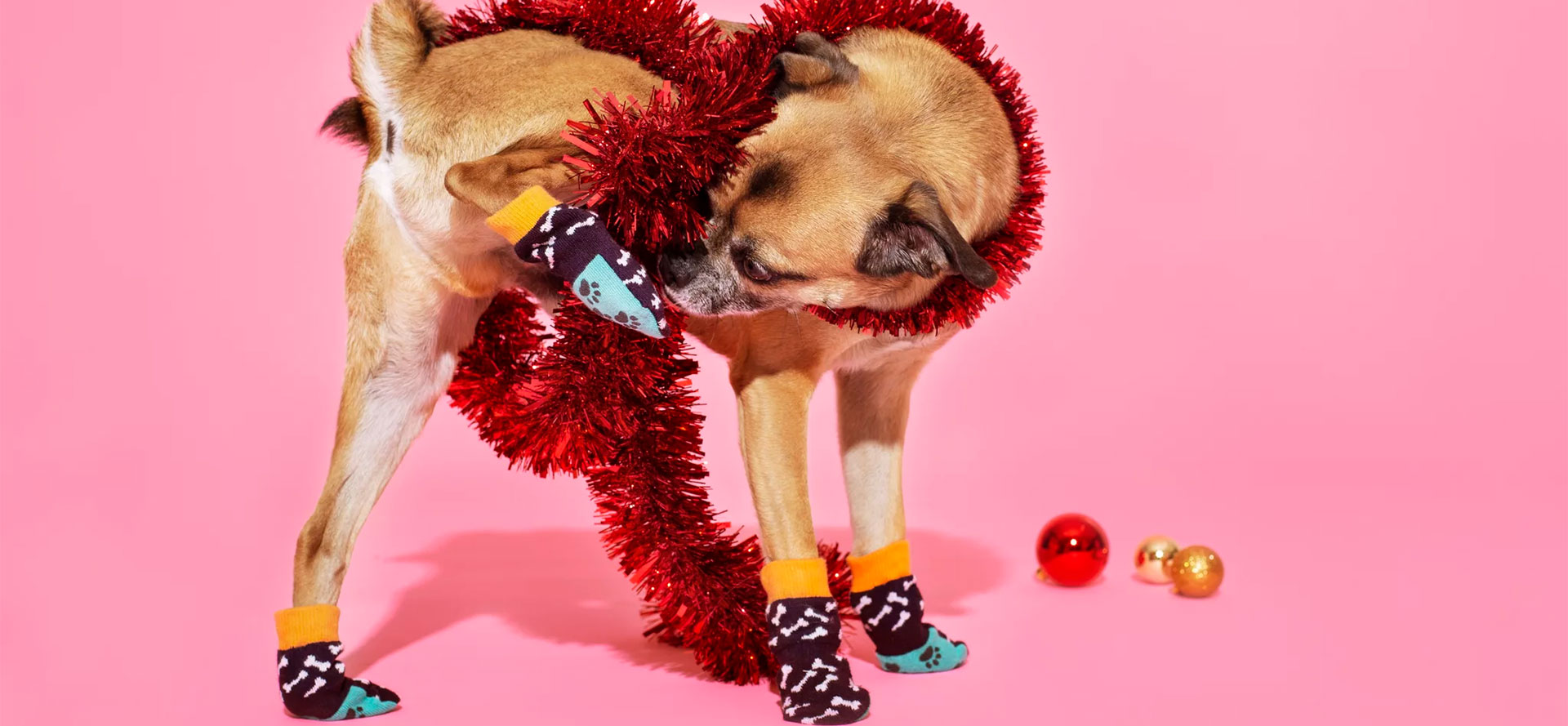 How to Choose Socks for Dog?
When you're looking to purchase dog socks for your canine, you will need to consider the following:
Size
There's no point in buying dog socks without them being the right size for your dog. If you're looking to purchase dog socks online, you can get an idea about size by measuring your dog's front paw and the back, calculating the length, and then doing the same for the width. Similarly, some brands have a downloadable chart of paw prints that allows you to see if your dog fits in there to give you an idea of the size. On the contrary, if you're looking to try them on in a store, place the dog socks on your dog and see how they stay up. You will find if they're too big, they will fall off and not serve their purpose. Whereas if they're small, they will be tough to slip on or not cover their whole food or be uncomfortable. In the worst case, they could cut off the blood supply from their paws.
Material
Most dog socks come in various materials, the most common ones being polar fleece, suede, and nylon. To pick the right material, you will want to know why your dog needs them; for example, if you want dog socks to stop them from getting cold, you will want a more insulated sock with fleece material. Similarly, the material has to be comfortable for your dog to wear, so you should try them on your dog and see how they respond when choosing them.
Design
Just like giving your dog a haircut, you will want it to look stylish and trendy. Therefore, you will want to choose a design that complements their personality and appearance. Don't just buy any random dog sock; you should buy one that serves as an addon to their image.
More choices available
What to Consider When Buying Dog Socks?
When buying dog socks for your canine, you will want to think about the following:
Purpose:

Dog socks are manufactured for a range of different reasons. As a dog owner, you must see why your dog needs dog socks. Has the vet advised you to get them to help speed up the healing of a wound? Do you live in a cold climate, and your dog's paws are sensitive to the cold? Maybe you also want your dog to look stylish in the house. Similarly, there are some which help elderly dogs with hip dysplasia or arthritis with their movement. Whatever the reason is, you need to identify it before looking into specific brands and types of dog socks, as they all serve a range of different purposes.

Price:

As mentioned earlier, dog socks are not that expensive on average; they cost around $35. However, you don't want to pay something too expensive for such socks and should also look to see if they come in a multipack. After all, it would help if you washed socks more regularly than other dog items, and you will want to have spare pairs to place on your dog at any time.
Conclusion
Dog socks are highly beneficial for dogs. They serve a range of purposes from helping grip, fighting the cold weather, helping wounds heal faster, stopping them from scratching, preventing bacteria from entering their paws, and more.
Dog socks are often meant more for the indoors on smooth floors like hardwood and tile. Most of the time, they're made out of suede, nylon, or fleece. In comparison to dog shoes, they're not as expensive and tend to come in multipacks. When looking to buy dog socks for your dog, you should review the purpose, price, size, and material before buying them.
Choose Dog Socks now
Tags: pet care supplies reviews, interactive dog games, cat dry shampoo, small dog pajamas, dog clippers review, cat brush, cat sleeping in litter box, doggy poop bags, best calming dog bed, is pizza good for cats