Last updated
Best Dog Treats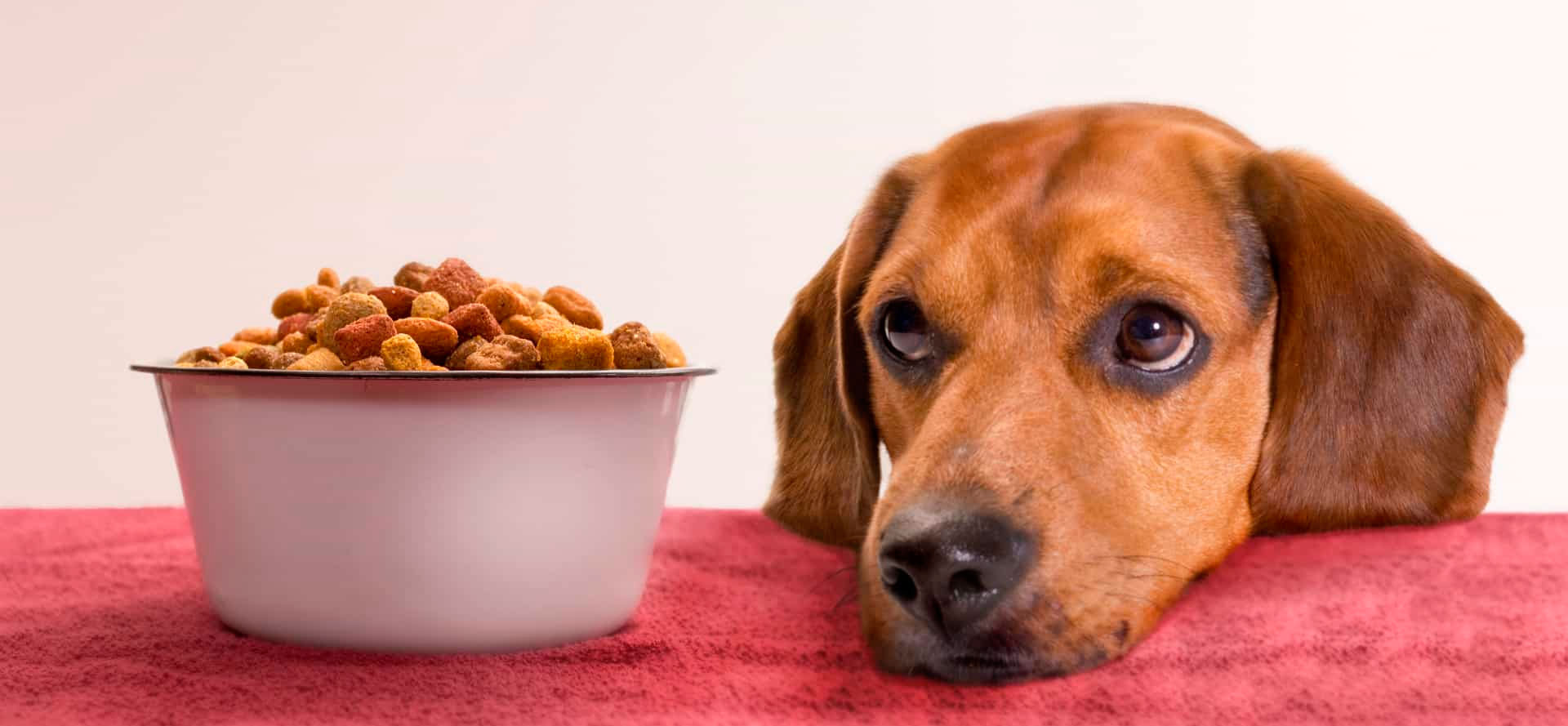 Dog treats are an inevitable part of everything that your dog would need or want on a daily basis. Whether it is about teaching your dogs a few new tricks, training them for good behavior, or simply just a reward for being the very boy that it has been. Treats are a great way of rewarding good behavior and initiating further positive responses from your pooch in the future. Moreover, they are a great way to introduce new people to your baby and make it feel more comfortable and friendly with them. Long story short, dog treats are essential that you have got to have in your canine's cupboard as they can make a huge impact on their behavior as well as mood and dental health.
Best Dog Treats in 2023
Products
Information
Price

Breed size:

Small Breeds, Medium Breeds, Large Breeds, All Breeds

Check Price

Dimensions:

2.25 x 8 x 8.75 inches

Breed size:

Small breeds, Medium breeds, Large breeds, All breeds

Check Price

Breed size:

Small Breeds, Medium Breeds, Large Breeds, All Breeds

Special diet:

Rawhide-free, Pea-free

Check Price

Breed size:

Large breeds, Giant breeds

Check Price

Breed size:

Medium breeds

Special diet:

Rawhide-free

Check Price

Breed size:

Small breeds, Extra small & Toy breeds

Check Price

Breed size:

Small Breeds, Medium Breeds, Large Breeds, All Breeds

Special diet:

No Corn No Wheat No Soy, Grain-Free

Check Price

Breed size:

Small Breeds, Medium Breeds, Large Breeds, All Breeds

Special diet:

No Corn No Wheat No Soy

Check Price

Breed size:

Small Breeds, Medium Breeds, Large Breeds, All Breeds

Special diet:

Veterinary diet, Sensitive digestion

Check Price

Breed size:

Small Breeds, Medium Breeds, Large Breeds, All Breeds

Special diet:

No Corn No Wheat No Soy

Check Price
View all Dog Treats
Just like any other accessory available for the pet dog, dog treats also come in several shapes, sizes, types, and more. The reason for that is quite simple. The treats that you give your dogs should match their preferences and tastes. While it may come off as dogs would eat anything, they are pretty selective when it comes to treats and chewable items. The only way to make that decision is by trial and tests. While you are at it, ensure that treats make no more than 10% of the diet of your dog. Too many treats may mess up his healthy diet. From style to taste, size, and ingredients, there are many things that you, as a pet parent, need to be mindful of when deciding on a dog treat.
Types of Dog Treats
Choosing the ideal treat for your dog can only be accomplished when you have the complete knowledge of the treats and everything else that they contain. Lets us have a look at the main types of dog treats available so that you can make an informed decision. Also, take some time out to scroll through our top picks for the best dog treats for your pooch.
Soft Treats
Ideally used for puppies who have not started teething yet or are in the initial phase of getting their baby teeth, soft treats are easy to chew and offer pleasant flavors for the young puppies. The soft treats are relatively higher in moisture content and can easily be broken into small pieces to control portion sizing. Soft treats for dogs also tend to be more stinky than other variants of treats for dogs which is why dogs are drawn to them a lot more than other treats since dogs recognize flavors using their sense of smell instead of the taste itself. But this can also mean that you may try to eat more than a healthy amount so ensure that you keep your hand tight at all times. We have a few great recommendations from our experts for soft treats for your dogs.
Crunchy
Including treats like biscuits, bars, cookies, kibbles, etc., crunchy treats are something that any dog can eat. The best thing about crunchy treats is that they are already sized into small pieces which means that portion control is easier without worrying about splitting the treats into parts. Crunchy dog treats are also good for keeping the jaws of your pooch at work. Crunchy treats are generally made using grains but there are grain-free variants in the market available as well. You can find a few great options in our list of top crunchy dog treats.
Peanut Butter Dog Treats
Dogs love peanut butter as is and combine it with the thing they wag their tails the most for and, you will have yourself a pretty sweet setup. Peanut butter is an excellent source of protein, vitamins, minerals, healthy fats, and niacin. Even though most puppies love peanut butter and would simply lick from a spoon or the jar itself, there are others who would not take in on it. This where the treats can help you out. When administered in moderation, peanut butter treats make a very healthy snack for your little doggie. Ensure that the peanut butter treats that you choose for your dogs do not have xvlitol (chocolate) as it is toxic for dogs. There are several variations that you will find in peanut butter dog treats such as peanut butter and bananas. Depending on the previous preferences of your dog, you can choose any mix of flavors that you like. Of course, the trick is to start small and get a smaller pack to try the treats first.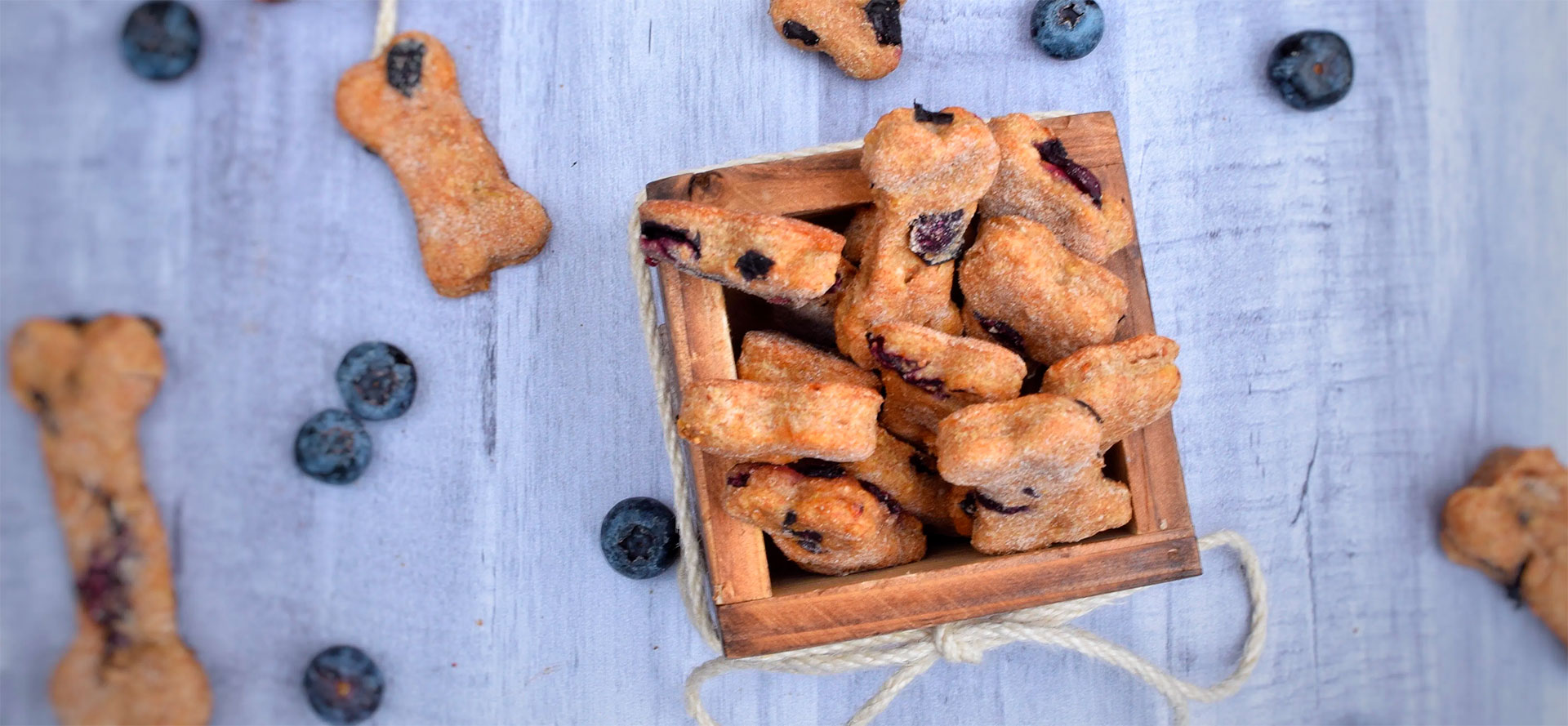 Fruit-Flavored Treats
For owners who would prefer to keep their homes vegan and completely milk or meat-free, fruit-flavored dog treats are the best way to keep things interested for the little guy. Apart from the generally flavored treats which are given the flavor of different fruits artificially, there are several fruits and vegetables which are dehydrated and preserved as treats. Since there is a lesser chance of any additives and artificial flavors being present in the treats, dried fruit treats turn out to be healthier than other variants. Dried fruit treats are quite similar to jerky treats.
You can also the drying up method at home but it is smarter to get the ones which are made by professional and not risk it. Ensure that you get fruit-flavored treats that do not contain any harmful preservatives. We have a list of some top recommendations from this category to start you off. Check it out.
Vegan Dog Treats
Free of all dairy items and meat by-products, vegan dog treats are made using plant-based ingredients and are flavored by the same. Instead of dairy, you can find soy as a replacement while the flavors can be anything from fruits like berries and such to vegetables that your dog will like. Again, you can try the hit and trial method to choose the one. We have a few recommendations for the same which you can scout through to find the best match.
Real Meat
One of the most popular kinds of dog treats, real meat dog treats are the ones preferred by not only most owners but also most dogs. Dogs are omnivores by nature which means that they can survive and grow on a vegetarian diet but they would get much more nutrition as well as enjoyment out of non-vegetarian treats. Real meat treats include several different flavors and types which are as follows:
Dried Meat or Jerky Treats:

Made by dehydrating meat by removing the water content using a dehumidifier, jerky dog treats are quite popularly used as freshly made treats. When choosing a dried meat treats for a dog, it is important that you choose a variant that is free of preservatives. The most common variants in this category include poultry, seafood, liver, different kinds of animal meats like beef, mutton, and chicken. Jerky treats are very useful for training as such purposes.

Meat Flavored Treats:

Dog treats made induced with animal flavor are probably the second most popular product from the category. Meat flavored dog treats often contain several ingredients including grain and different kinds of meat. The kind of meat decides the flavor of the treatment is decided by the kind of meat that they have in the ingredients.

Rawhide:

Promoting healthy gum and teeth, rawhides are pretty popular among dogs – almost every dog simply loves the flavor of the dog. Rawhides are made with animal hide and are generally treated with preservatives and other chemicals. These chemicals may cause some gastronomical problems so, always ensure that you have checked for the treats to be preservatives and chemical-free when you pick them out.
More choices available
Dental Treats
These treats are flavored artificially or naturally, at times, and are made to last longer – long enough to clean the teeth of dogs. These treats are made using plant-based material and are tough enough to clean the plaque out of the teeth of your baby dog. However, dental treats have a little higher calory count than the general kinds of treats. So, ensure that you do not let your dog have a lot of dental treats always keeping the count under control. Mind that dog teeth cleaning treats are only as good as they come since they cannot reach the gums. So, keep making an appointment to get them checked out.
For Sensitive Stomachs
There are several treats that may give little pooch an upset stomach which, no surprise, is not a pleasant story. But since treats are an inevitable part of the life of a dog, there are specially manufactured treats that are made for sensitive stomachs. These treats can include rawhides, animal parts, dental chews, and meat treats even. A sensitive stomach can be caused by a number of things such as a wheat allergy, additive flavors, or general things like nausea and gas. The idea here is to find dog treats that are free of ingredients causing allergies. Most treats for sensitive tummies are made grain-free and glycerin-free. Check out our top recommendations to find a few top results for your doggo.
Dog Calming Treats
Infused with CBD, dog calming treats are infused with one or several mind-calming ingredients like CBD (hemp), chamomile, or valerian root. There are several other nutritious ingredients and health-boosting things in these treats that make them a great addition to your collection. The calming treats for the dog can be the perfect way to soothe dogs with anxiety or hyperactive dogs which can often cause problems for the owners as well as the dogs themselves. The treats are often flavored artificially to make sure that dogs eat them happily.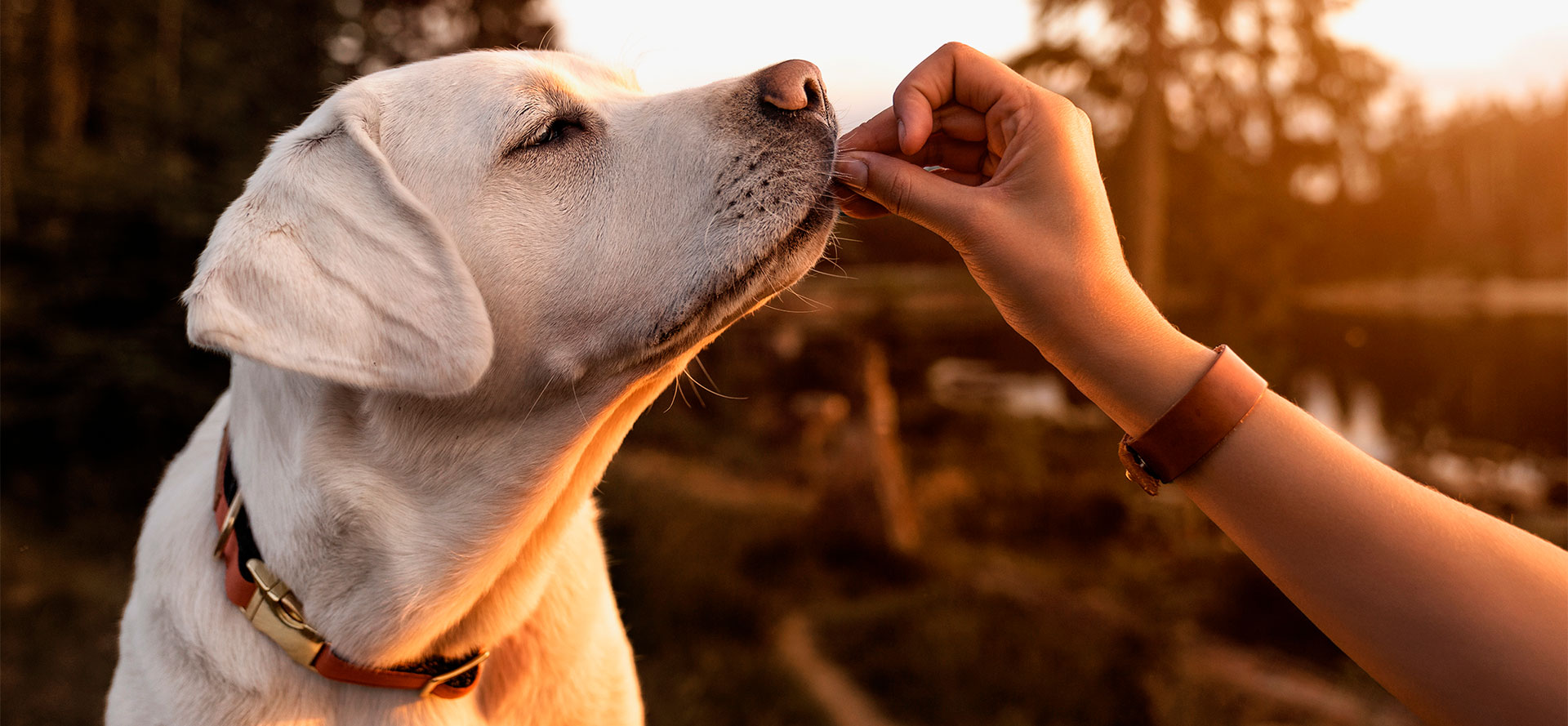 Training Treats
Any dog treat can be a dog training treat if your dog responds to them. From soft, chewy treats to crunchy ones, there are several ways you can use these dog treats to train them. The ideal dog training treats are sized small so that you do not have to break them into small ones. Apart from the initial stage soft treats, the treats that work the best for any dog include jerky, meat flavored treats, peanut butter cookies, or bite-sized treats.
Grain-Free
Many dogs are allergic to wheat and other grain. They tend to develop a certain kind of skin allergy which leads to ionization of the skin. To prevent these, grain-free dog treats exist. There are some treats that are completely grain-free while others are partially free of them. Depending on the kind of allergy that your dog has, you can easily choose from the 100% gain free dog treats and the ones which are only free of a certain kind of grain such as wheat. Also, have a word with your vet before choosing grain-free treats for your dog as they can cause heart conditions in a few dogs.
Spent Grain
Spent grain is about 20% protein and 70% fiber which makes it a great food item for all pets, including dogs. Spent grain treats are made by combining the star material with a few other things like peanut butter and flour, as required by the recipe. Spent grain dog treats are a great way to complete the deficiency of minerals, vitamins, and other nutrients that can be caused by grain withdrawal due to allergies. You can find some great recommendations on our list of the top picks.
Low-Calorie Dog Treats
Perfect for dogs who are prone to obesity, low-calorie dog treats are free of ingredients that are delicious indeed but may cause a serious calorie boost for your dog baby. Most low-calorie dog treats are made with real meat which makes them high in protein and low in other elements like fat and carbohydrates which are the real reason for obesity. Low calorie treats for dogs are a great way of keeping the weight in check and still have your baby enjoy a little bit.
Low Fat Treats
Much like low-calorie dog treats, low-fat dog treats are ideally used for dogs with high cholesterol. These treats can be found in several types and styles including soft chews, dental chews, crunchy treats, biscuits, bite-sized treats, and cookies. You can easily get these treats at any store but it is wise to get a recommendation or prescription from your vet beforehand.
Diabetic
Low sugar or diabetic dog treats are the best way to give your pooch a little something from heaven and still have his sugar levels under control. You can find several flavors and styles in diabetic dog treats and choose something that your canine will like the best.
Hypoallergenic Dog Treats
Wheat, beef, and dairy are generally what dogs are allergic to and hypoallergenic dogs are made while keeping that in mind. Flavored with meat like chicken and mutton, vegetable and fruit flavors, or seafood flavor. There are some variants that do not contain soy, coloring agents, and preservatives as well, as these can cause allergic reactions too. There are several dogs that are allergic to other food material including different kinds of meats and seafood. Depending on the allergies of your pet pooch, you can easily pick a variant that is free of the allergy-inducing ingredient and let your pet have the time of its life.
Choose Dog Treat now
FAQ
What are the best dog treats?
The best dog treats are those that fit your dog's habits, size, and special needs, so consider the numerous options before making a selection. In addition, dogs with allergies and intolerances may benefit from chews that last longer than the average treat.
What treats are best for training dogs?
It is common for high-value treats to be extra stinky and moist or freeze-dried. They are also uncommonly given to your dog outside of training sessions. A spoon smeared with peanut butter and peanut butter pieces would be an example.
What are the best dental treats for dogs?
The best dental treats for dogs are the chew that the VOHC approves. Also, one can use dental treats that are safer for dogs that tear apart and eat their toys.
Tags: best pet supplies, dog gates for house, cat cages enclosures, puppy collar, limited ingredient diet dog food, types of dog crates, cat suddenly peeing outside litter box, best large dog nail clippers, top dog food brands, best ingredients for raw dog food