Best Cat Hammocks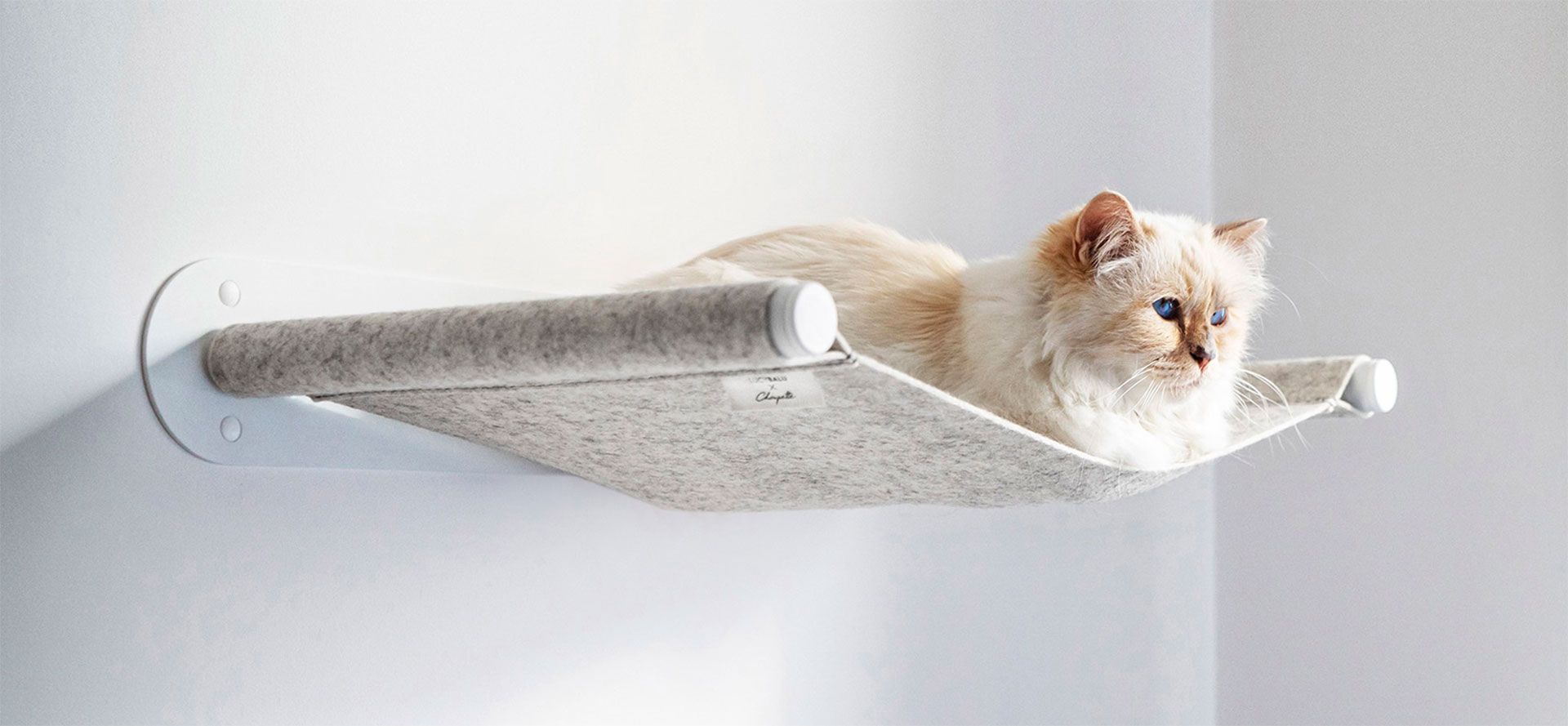 When people say that cats are much like humans, they are not very wrong. Just like us human beings, cats love their leisure time and would hop on to everything that may provide them with that level of luxury and comfort. From trees to their special beds there are several things that you can get to keep your cat indulged into relaxing, sleeping, or just lazing around. Adding another one to this list, hammocks for cats is the perfect thing to have in your home if your cat is a fan of sleeping around or if you have multiple pets in your home and want to organize the place. Not to mention, a cute little cat hammock in your living room or the study or even the bedroom would glam up your place quite a lot while providing a safe and comfortable environment for your kitty to relax since cats feel more relaxed and secure in elevated spaces instead of lower ones which automatically makes hammocks a great fit for cats.
Types of Cat Hammocks
Just all other accessories and toys that are available for cats, there are several different categories and types of hammocks that you can explore before settling on one kind. Along with the type, you will need to check out the size of the hammock, the fabric, and the material that it uses for the construction along with the mounting options depending on the place that you have available. So, examining all options in front of you becomes necessary. Following are the different categories that hammocks for cats come in. You can also take a look at our top recommended list of cat hammocks which include a little bit from every category.
With a Stand
The most versatile of all the different categories of cat hammocks, a hammock for cats with a stand gives you the freedom of setting up the hammock anywhere you desire without worrying about the mounting options and other similar things. Cat hammocks with a stand are quite small in size but big enough to fit your cat so if you are worried whether your cat will fit on the hammock comfortably or not. Stand cat hammock can also be ported very easily because of its small size and lightweight body. The best part is that they can be folded into a smaller size which makes them space saving too. This makes cat hammocks an ideal choice for smaller houses where lesser space won't allow the owners to have a permanently attached hammock. Since the hammock doesn't need a chair, window, or a wall to get attached to, you won't find it problematic to add it to your place if you happen to move around a lot and do not keep a lot of furniture. All in all, cat hammocks with a stand are a good choice to have for your kitty to relax in. The stand is often made with material like wood which makes them quite durable. The hammock part is made with a softer material like felt, faux wool, or foam to make it extra soft and bouncy. Sturdy, elevated, and soft – a perfect place for your cat to sleep in.
Tree Hammock
Cat trees are something that you would find in almost every home that has pet cats. It is no secret that cats love climbing on high places and reaching to corners that are humanly impossible to reach. But that is what kitties like. Now imagine your cat tree with a hammock – sounds crazy fun, right? Cat tree hammocks are a blessing in disguise. They serve as both a playing and a resting place and saves you a fortune both in terms of money, space and time. Active cats would enjoy this particular kind of hammocks a lot. They are great for jumping around, scratching, climbing, and even sleeping. Most cat tree hammocks have multiple hammocks on them which makes them great for people who have multiple cats instead of just one. The hammocks are made with the same soft materials like foam, felt, and faux wool. The design will always differ when it comes to cat tree hammocks depending on the brand that you choose or the activity level of your cat. It is best to buy the one that has multiple levels, stairs, towers, and poles along with hammocks if your cat is the one who likes to jump on counters and top of doors and everywhere else in the house. For cats who are active on an average level, it is best to get something with a lot fewer levels and stairs and other things. There are variants that contain only a few poles and hammocks which are ideal for cats who just want to laze around and do a few jumps. We have a list of our own favorites that you can explore to find out some ideas.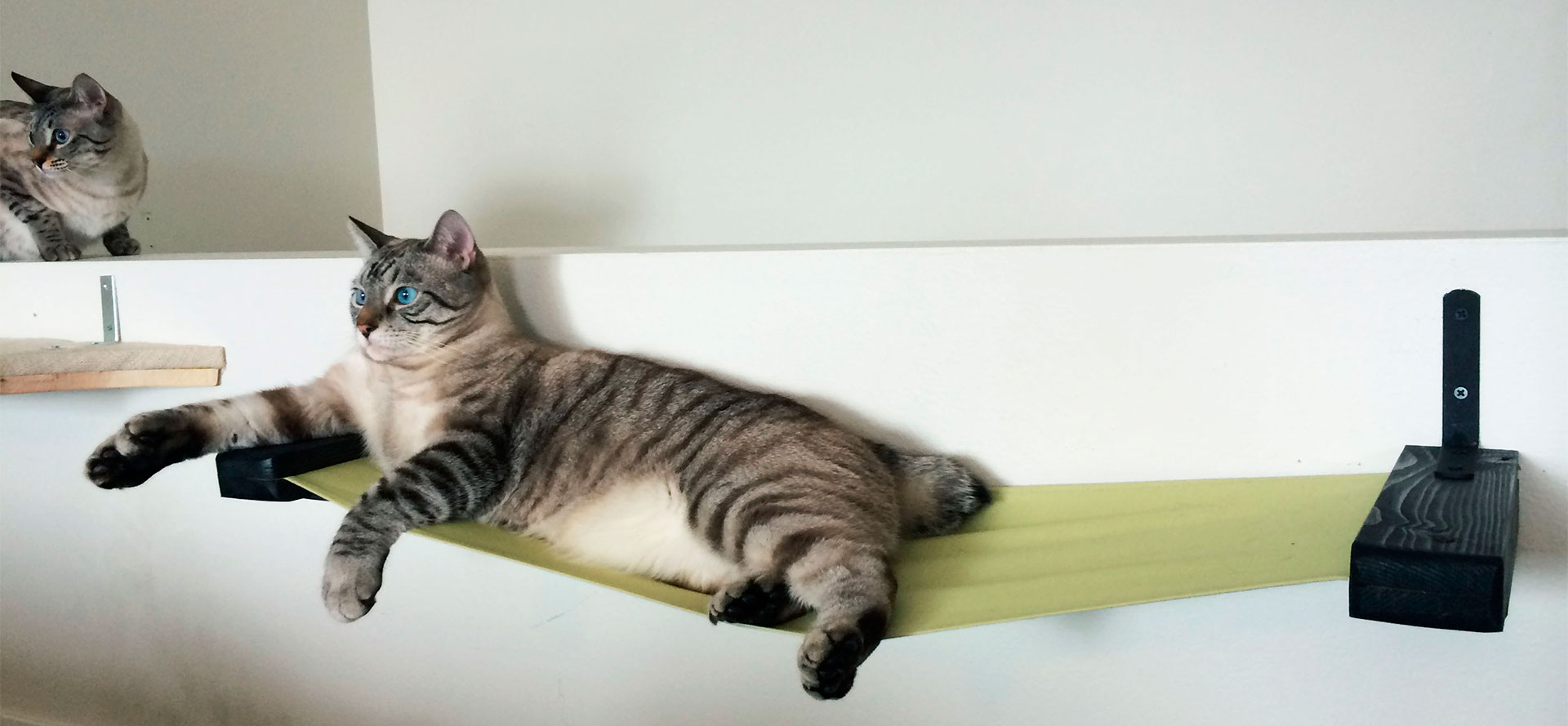 Hanging Cat Hammock
As evident by the name, a hanging cat hammock can be hung literally any place in the house that has the capacity to have something hooked on it. These hammocks come with clips on them that can be hung on chairs, the ceiling, the window, the crate, and literally anything else with the potential. A great solution to space-saving problems, the hanging hammocks can be an interesting addition to cat accessories in your home since most of them are a fan of elevated places. There are few things that you should be taking into consideration when buying a hanging cat hammock though. The material should be both comfortable and strong – strong enough to support the weight of your cat. Most hammocks are ideal for cats weighing 20-30 lbs. Another thing you need to take care of about hanging hammocks is the straps. The straps need to strong along with good, reinforced clips so that there is no danger of it falling off. Try to take some inspiration from our top recommended products to find the ideal one for your cat.
For Windows
Notice your cat hanging out around the windows a little too much? That may be the sign for you to get your kitty a window hammock now. The outside world is very fascinating and almost every single cat can be seen sitting in front of the window, observing the happenings of the outside world. Adding a hammock to that category will do nothing but make everything a whole lot better. The hammocks can be hung using the strings or the straps that the hammocks come with. Window hammocks generally come with two straps instead of for which are attached to the top of the window frame. There is another variant that you will find in the window hammock category is the hammocks that stick to the windows using a vacuum cup. This is well-suited for kitten and lightweight cats.
Cat Hammock for Cars
Cat hammocks made for cars are generally made with vacuum cups. These hammocks can be attached to the widows directly using the vacuum cups attached to the sides. The car hammocks are good a choice for cats who do not like to travel a lot and would behave very poorly every time you put them in crates, cages, or the vehicle itself. The hammocks can be a very relaxing place for them to enjoy the outside world without getting antsy or annoyed and will let you travel in peace. Size is a huge thing to consider when buying car hammocks since you won't be able to fit a really big one inside. Also, check the quality of the vacuums before you invest in something as that is the only thing that will keep the hammocks on the window. Another option that you can explore is the string attachment cat hammocks for cats. They can be hung on the car ceiling or the handles on the top of the doors depending on your choice and availability of space.
Wall Mounted
A little bit tricker to install than other options, wall hammocks for cats are the ideal choice for you if you won't mind a more permanent solution for the cause. The wall-mounted cat hammocks are installed using horizontal poles that are fitted in the walls permanently or until you remove them using the mounting tools. Along the permanence of the hammocks comes the durability and sturdiness. Wall hammocks are quite fun to have in your house as well. There are several kinds of wall hammocks that you can explore from the simplest of designs where it is just a normal hammock to the complex ones which come with several accessories like stairs and additional poles on which the cats can hop to finally reach the hammock. It may sound like a drag to you but your cat will most probably love it as they like hopping on things. You can also do a little DIY project and design a little plaything for your cats. Ensure that you examine the quality of the material since these are a more permanent solution for the house. Wood is the ideal choice for stands and additional stairs or poles. The hammock can be made of anything from foam to felt.
Double Cat Hammock
If you have two kitties and they are inseparable them this is the right thing to go with for you. The design of a double hammock depends on the stand. You can find designs that have two different levels with one on the top hanging on the top of the stand and the other one at the bottom, a little way down the poles. The other designs include two hammocks hanging by the same point with the top one having a slightly larger slope than the top one to that it hangs low. From window to wall, chair, and any other category of hammocks, you can find a double hammock in any style, design, and type.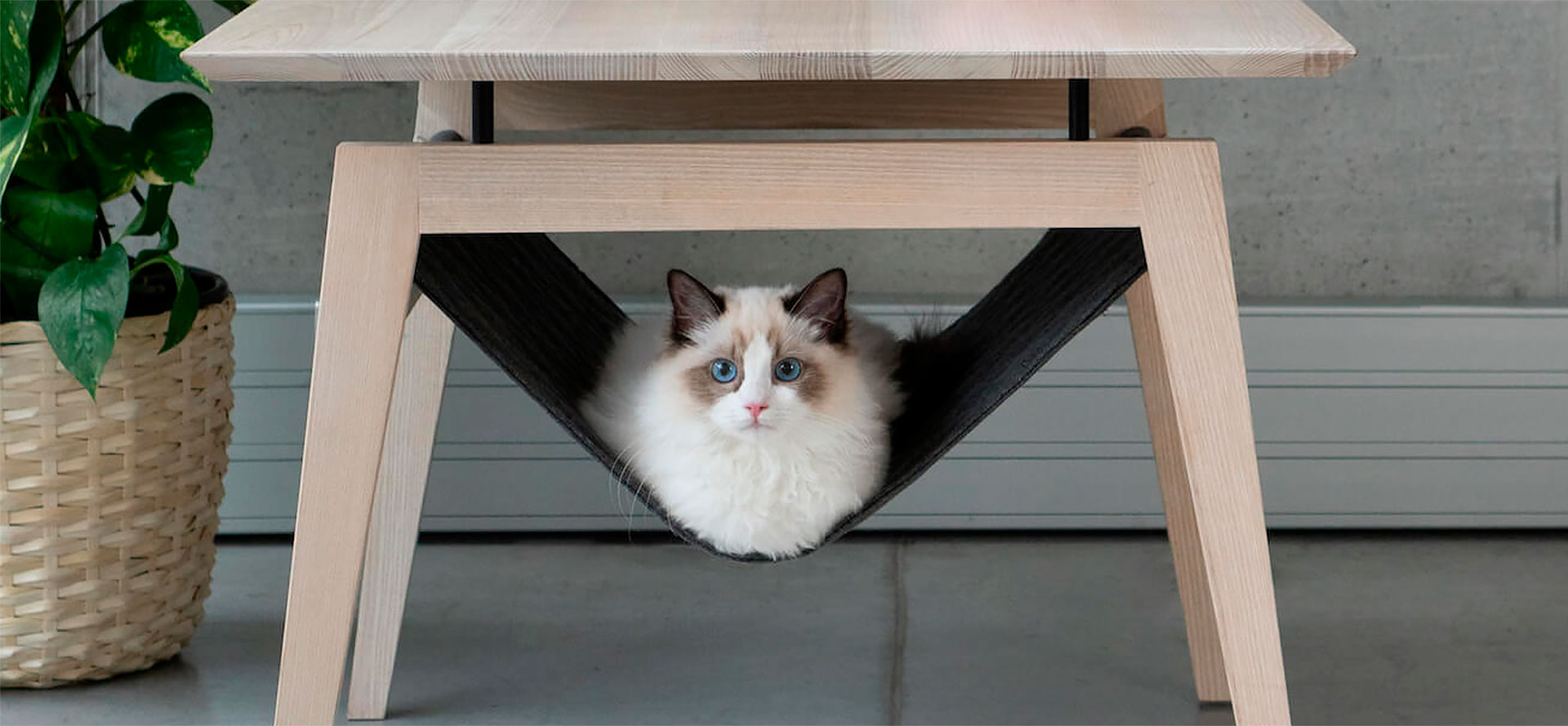 Under Chair
With four or three straps on the corner of the hammock, the under-chair cat hammocks can be installed under any chair depending on the type and number of legs on your chair. The straps simply get attached to the legs using the clippers and the cat can just slip under the chair and climb on top without much effort. The best thing is that these hammocks are not limited to just chairs. You can install them literally under anything that has four or three legs for example stools, chairs, tables, nightstands, and more.
Hammock for Cat Cage
It is not very common but there comes a time when you will have to put your cat in a cage so that you can safely travel with it. But most cats do not like cages and that is no surprise. Confinement can be difficult. Cage hammocks for cats make these cage travel times a lot easier by giving your cats a place to relax and be comfortable even when confined. The design is quite simple with the hammock itself made of comfortable fabric and the straps that attached to the wires of the cage using the clippers.
Burlap Shelves
A little different from the soft and comfy fabric of the hammocks, a burlap shelf is made with material like jute that is a great material for cats to scratch and rub their faces on. The design is somewhat similar to a hammock-like slope and hang. the shelf can be installed on the wall. Using some poles like the wall-mounted cat hammocks.
Top Features to Look Out For
Fabric and Blend:

Ensure that the fabric you choose is up to the liking of your kitty. While will like the soft feel of foam and faux wool, others may prefer something like jute that is fun to scratch and play with. The last thing is that your cat must love the fabric or else the whole point of a cat hammock will be void.

Levels:

With double and even triple-level hammocks, there are several options you can go for. If your cat goes along with each other, you can explore getting a double hammock or the triple one. Another thing that you should pay attention to is the additional playful level of the hammock for example the towers and poles – similar to the ones we see in cat trees. Ensure that you know the activity level of your cat before you choose a variant.

Durability and Strength:

The type of your cat hammock will differ in the durability level. The more permanent options like wall hammocks need to be a lot sturdier and durable while temporary solutions like car hammocks may be a lot less sturdy. The durability of the hammock would also be depended on the weight of your cat.

Maintenance of Your Cat Hammock:

Choose an option that you can easily maintain and clean. If you do not have the time to keep up the hammock hygiene and do not have any additional help them go for fabric that does not get dirty very easily. Wool will gather a lot of dust so going with a faux wool hammock is a fine option. Most hammocks are machine washable so there should be no problem when it comes to cleaning them. Although other accessories like clips can get damaged in a washer so ensure that they are either removable or you hand wash the hammock.
Tags: pet supply, top rated puppy food, automatic cat feeders with timers, calming cat bed, best cat costumes, what is a dog kennels, automatic cat litter box review, amazing cat toys, dog playpens, puppy bandanas