Best Modern Cat Trees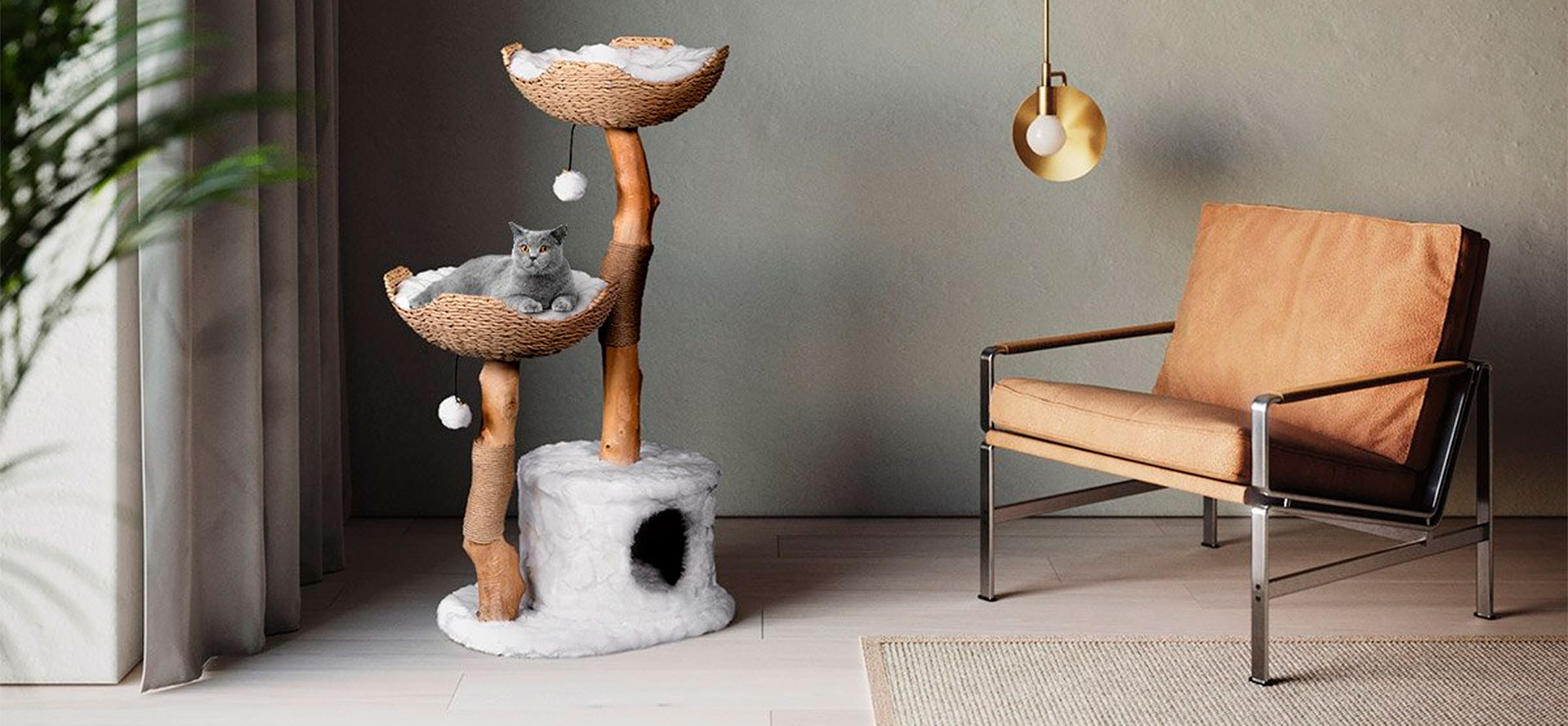 Are you searching for perfect cat trees that are stylish and hardy? We know searching cat trees can be overwhelming and often confusing. Cat trees are almost a necessity to keep your feline occupied and entertained. Cats are curious creatures and unlike dogs, they hardly follow any rules even though you have instructed them a thousand times. Keeping them engaged is quite challenging. Fortunately, the modern cat condos provide a way to keep them engaged (also saves your furniture from their claw-marks!).
Why cats need condos?
Unlike us, cats live in a vertical world. If you have ever taken a jungle safari in Africa, you might have come across big cats like tigers and lions. The small felines living with us are relatives of those big cats. As they like to rest and stay on elevated areas and trees, these small cats also like to live in elevated areas for safety, comfort, and fun. These modern trees help your favorite cats to find refuge and satisfy their natural urges to climb.
Best Types
Let us explore some of the most common types of modern cat tree houses that are available in the market. While you are at it, find some reliable suggestions for cat tree houses in our list of the top contenders.
Small Cat Tree House:

For your young feline friends, a small cat house less than 50 inches tall with fewer levels and one or two perches, is a great choice. With these features, it can be a perfect cat house for small cats. Some modern houses can also feature a bowling lounge, plush fleece pillow, and paper rope. These small modern condos will provide a comfortable place for your cat to jump, rest, and play with.

Large Cat Tree House:

Some treehouses are made especially for young cats who love to live in a vertical world. A large cat house should be at least 70 inches tall and made up of premium materials. Treehouses featuring three or more perches and four or five scratching posts will make the house truly a cat mansion. A large cat tree house is more suitable for a household with multiple cats.

Tall Cat Tree House:

For those who constantly leaps around and don't like to live in the horizontal world, a tall cat tree is all they need. Some floor to ceiling houses can measure up to 10 feet. These tall apartments can be a perfect paradise for your busy kittens. Most of them are easily customizable. Choose a tree that comes with adjustable shelves and a hammock along with multiple vertical levels. Your cats will just love to explore. Overall, these interactive cat tree homes are designed to provide what cats usually love to do – climb and leap around on vertical spaces. Choose a house that is made with cabinet-grade birch plywood, known for its durability and hardiness.

Cat Trees with Ladders:

Older cats are not as athletic as younger ones. They prefer to climb, and usually avoid jumping around. The cat houses with ladders and ramps are perfectly suited for your old feline friends. It provides them a secure way to climb.

Designer Cat Trees:

There are plenty of uniquely designer cat trees that can fit perfectly into the aesthetics of your home décor. Wooden cat trees with walnut laminate finishes can be a perfect choice for pet owners who are looking for not just a cat tree but a piece of art. If money is not a concern you can go for an expensive cat villa. Some of them feature a lounge, independent cat toilet, soft ladder, multiple scratch column, LED lamp, and dimension that can go as high as 70 x 21 x 80 inches. A true paradise for cats. Designer cat trees are for those who place a high value on aesthetics and design in their homes. There are plenty of sizes and designs, choose a style that matches your home décor.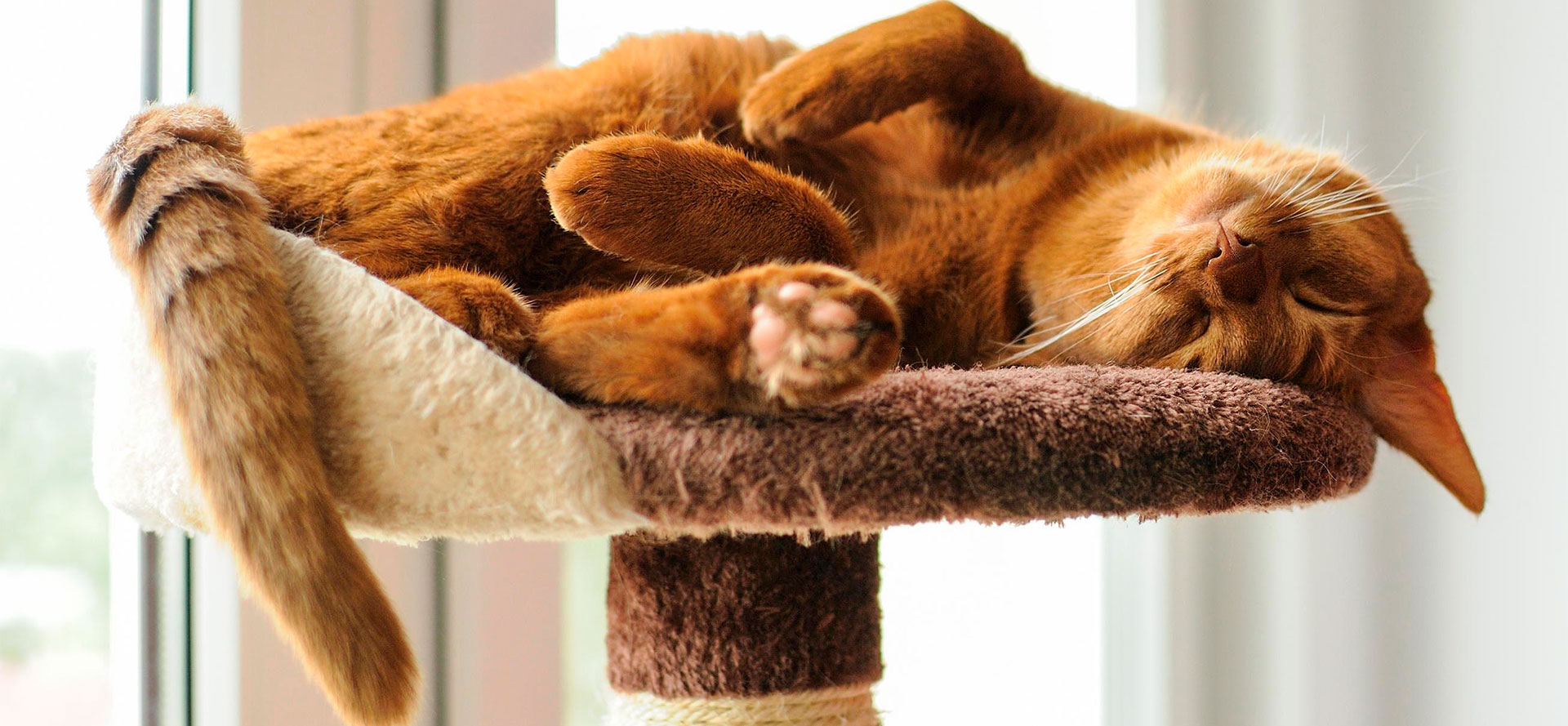 Try Considering These
When buying a modern cat tree, keep a few things in mind: the hardiness of the tree and the cat's size. A cat tree should be stable and strong enough to hold the weight of a cat. Avoid cheap and unstable cat houses. Young cats are energetic and love to keep jumping from here to there. However, old cats usually don't leap around, thus a small elevation cat house will work fine for them. Consider these points before making a decision, it will help you to figure out what kind of cat tree is suited for your kittens as well as for your home.
Know your cat's style:

There are many different types of cat condos you can consider. For example, a small cat tree house with real branches, or a hammock cat tree, and a pillar cat tree. Given that each type of treehouse is suited to the particular needs of the cats, what is best for one, may not be the best for another cat. Worry not! Consider these points, it will help narrow down your options.

Number of cats: If you have ever watched a live telecast of a parliament-session, then you must have seen how our politicians put forward different opinions on the same subject. Although they solve their differences by talking and voting in the house, our little cat friends may not. Pets protect their territories fiercely. So, if you are having a number of cats and dogs, get ready to see the spat between them.
Scratching style:

Cats love to scratch. But some cats like to scratch on horizontal surfaces while some vertical. Before investing in cat houses, know what they like. A vertical scratcher or horizontal. You can test their style by buying a regular cat scratcher.

Vertical or horizontal:

Leaping around is an instinct. Most cats live in a vertical world but not all cats are alike. While some like to hide under the bed, some cats, on the other hand, love to perch up high. So a small cat house that's low to the ground is more fun for cats who like to spend their time under your bed or sofas. And a vertical treehouse for those who love to leap and perch around.

Age and athleticism:

Older cats are less likely to leap around than younger ones. A vertical house can be a little intimidating for your older cats, while it would be more exciting for small kittens and younger adults. You need to consider three main factors for a smart cat house purchase: age, health, and athleticism.

Socialness:

Do your cats love to spend time with you? Or, do they enjoy their "me time"? Some cat breeds prefer to engage with people, but some like independence. For those independence-loving cats, a treehouse with toys in it can be a good option.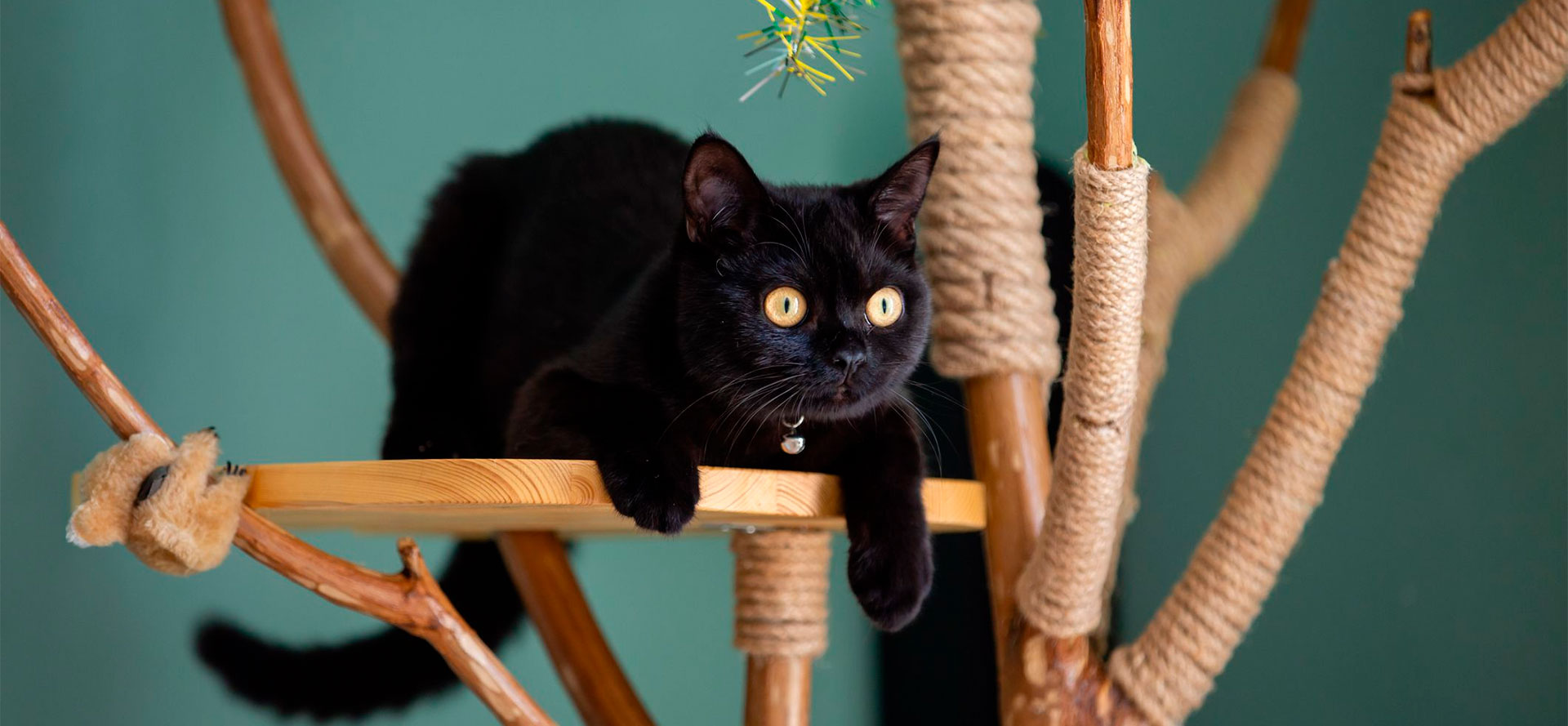 Choosing the Ideal Material
First, the cat house should be made with claw-friendly surfaces and materials such as sisal, faux, fur, and carpet. It is true for any accessory that you buy for your pets, if the material doesn't agree with them, they may end up not using the accessories (tree houses, in this case) or worse, end up with skin rashes and other allergies. If the materials are of low quality or slippery for their claws, cats could fall or slip. Although cats are great at protecting themselves, they might get injured by falls. This experience would make them unlikely to use the treehouse, again.
A good treehouse is surely an investment, so make sure that it is made of materials that will stand the test of time. A cat condo frame made of solid wood with durable materials inside can be a good choice. A heavier, sturdier, and durable cat house. Avoid cat houses made with cardboard or low-quality materials. They usually couldn't sustain the constant scratching or provide a safe feeling among cats.
Get the Right Size
If you are living in a small apartment, buying a bug cat house is perhaps not a good idea. Consider the size constraints of your house while making a purchase. But if you have a spacious home, go for the best and bigger tree houses that money can buy.
So, there you have it. Some of the best cat house types for your consideration along with a detailed guide for material and size to choose the best modern cat tree for your feline. Before making your purchase, read online reviews, and make an informed decision. The decision should also include other considerations such as the space area in your house and the dimension of the intended purchase.
Tags: pet supplies, cat costume for pets, indestructible dog ball, puppy pad, topical dewormer for cats, dog marrow bones, electric dog nail grinder, dog collars for puppy, dog water fountain stainless steel, metal automatic dog feeder