Last updated
Strollers for Dogs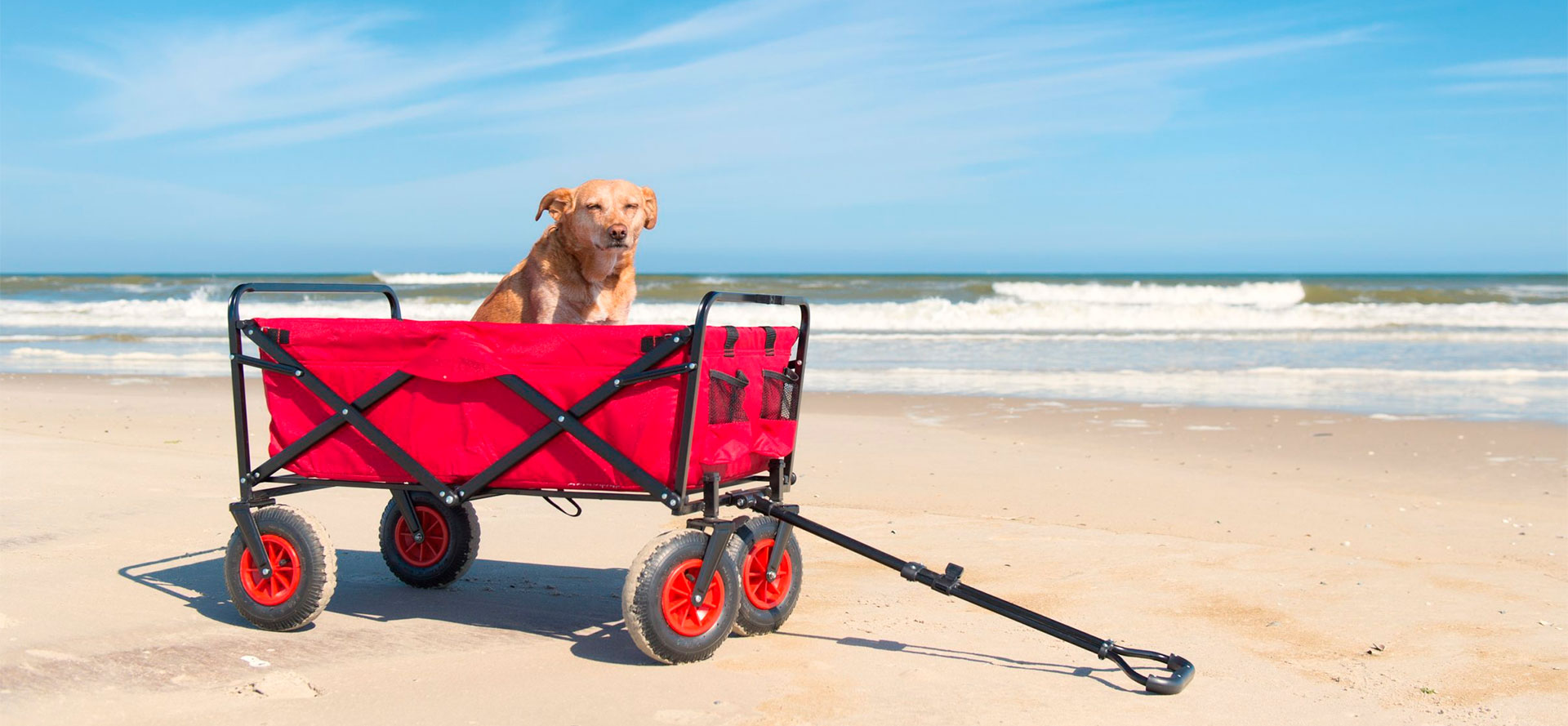 Although we tend to think of strollers as a tool for parents and their small children, they can also be a great tool for pet parents and their furry friends! Our dogs love to be outdoors, and we love to spend time with them outdoors, but sometimes a normal walk isn't an option.
Best Strollers for Dogs in 2023
Products
Information
Price

Dimensions:

30.12 x 14.87 x 7.5 inches

Breed size:

Extra small & toy breeds, small breeds, medium breeds

Features:

Top load, rolling, interior tether

Material:

Aluminum, plastic, rubber, mesh

Check Price

Dimensions:

20.5 x 6.3 x 24.5 inches

Breed size:

Extra small & toy breeds, small breeds

Features:

Top load, rolling

Material:

Aluminum, plastic, rubber, mesh, vinyl

Check Price

Dimensions:

36 x 17 x 39 inches

Breed size:

Extra small & toy breeds, small breeds, medium breeds

Features:

Top load, rolling, interior tether

Material:

Rubber, aluminum, mesh, polyester

Check Price

Dimensions:

33 x 16 x 35 inches

Breed size:

Extra small & toy breeds, small breeds

Check Price

Dimensions:

26 x 15 x 20 inches

Features:

Top load, rolling, interior tether

Material:

Nylon, aluminum, plastic, rubber, mesh

Check Price

Dimensions:

30 x 20 x 35 inches

Check Price

Dimensions:

35 x 21 x 39 inches

Breed size:

Extra small & toy breeds, small breeds, medium breeds

Features:

Top load, rolling, interior tether

Material:

Rubber, aluminum, mesh, polyester

Check Price

Dimensions:

33 x 26 x 42 inches

Breed size:

Small breeds, medium breeds, large breeds, all breeds

Check Price

Dimensions:

35.5 x 31 x 19.6 inches

Check Price

Dimensions:

36 x 24.5 x 37.5 inches

Breed size:

Small breeds, medium breeds

Check Price
View all Strollers for Dogs
Dogs may not always be able to walk. An injured or elderly dog can have a difficult time trying to walk as far as they could prior to their injury or when they were younger. In other cases, a dog may want to walk even when you are advised by the vet to keep them inactive - such as immediately after surgery or while being treated for heartworms. A stroller allows you to take your dog out on the walk you would normally enjoy together, in the fresh air and sunshine, without having to worry about their health.
Strollers can also be useful in situations where you aren't able to manage your dog on a leash. If you yourself are injured, you may find that pushing a stroller is easier to manage than walking your dog as normal. It can also come in handy if you are travelling with your pets and have a lot of luggage that makes it difficult to handle a leash, or even if you'd like your dog to accompany you on a run but know they can't keep up with you on foot.
Whatever the reason, if you need a dog stroller, you've come to the right place to learn about them!
What to Consider When Buying a Dog Stroller
Although there are many options for dog strollers, whatever your needs are, there are a few important factors to consider in your search:
Dog's size -

Dog strollers are made with different dimensions, and you want to be sure that they fit your dog's height and length. Consider what position they will be in and how much space they will need; if you expect them to be lying down, they will need a larger surface than if they were sitting up.

Dog's weight -

Most dog strollers have a weight limit. Even if your dog is small enough to fit in the dimensions of the stroller, they may be too heavy for it, especially if they are a small breed but overweight. Check the weight limit of strollers you are considering to be sure they will support your dog.

Activity -

Strollers are available for every activity, but a single stroller is rarely suited for everything. If you plan to take your dog jogging at the beach, a stroller intended for indoor use probably won't hold up, so think about when and where you'll be using it most before buying!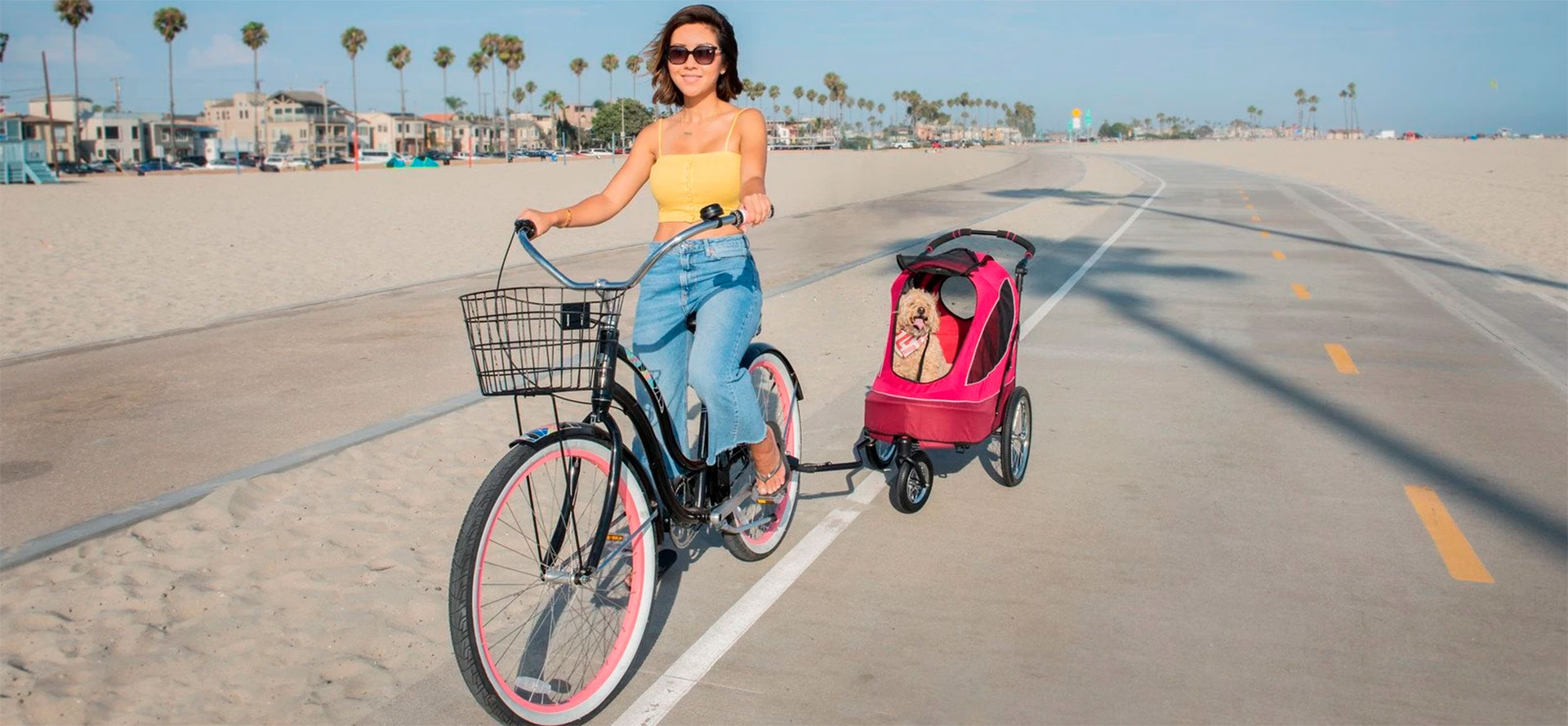 Lightweight Stroller
Because many dog owners need a stroller for travelling, there are plenty of lightweight options available. Lightweight dog strollers are usually made with a minimal frame and lightweight fabric or mesh. They often fold up to a compact size and weigh under ten pounds, to make them easy to carry when not in use. Some even have straps so that, when folded, they can be carried on your shoulder or back.
This type of stroller keeps your pup safe without giving you an extra heavy item to lug around. They are perfect for travelling with, or for situations where you will not need to push your dog the entire time. However, lightweight strollers are typically intended for smaller dogs, with a relatively low weight limit, so be sure to get a stroller that is rated for your pup's weight to avoid making them uncomfortable or even breaking the stroller!
For Large Dog
On the opposite end of the spectrum is the large dog stroller. These may also be made with lightweight materials, but they are intended to be sturdier and have much larger dimensions. Due to their size, they are unlikely to fold up or be very portable, but they can accommodate much larger dogs, or even multiple dogs! They also may be more suited to walking on uneven ground, as they tend to have larger, sturdier wheels that will be able to absorb the impact of rough surfaces better.
Whereas small dog strollers tend to resemble strollers for human children, large dog strollers tend to look very different. They are often simply large, flat, covered platforms on wheels, and look a bit like kids' bike trailers, only they are meant to be pushed. Many dog owners with this type of stroller put large dog beds inside for their pup(s) to lounge on. The stroller covering may have a mesh panel or a flap on the top, the front, or both, to allow sitting or lying dogs to poke their heads out and enjoy the walk.
More choices available
Dog Bike Stroller
Some dog strollers are intended for you to use while riding your bike. The design is often similar to that of the typical large dog stroller, but they may be made for any size of dog. They also tend to be built even sturdier, as biking is likely to give pups a bumpier ride than walking. Sturdier wheels and suspension may be added to ease bumps and offer a smoother ride.
Bike strollers typically only need two wheels, as they attach to the back of your bike and are pulled along like a trailer. Many may come with a detachable third wheel in front, to give you the option of converting it from a regular stroller into a biking stroller as needed. These convertible strollers also sometimes have handlebars that can be removed or folded in, as they only get in the way while biking. They may have panels that open on the top or front, like many large dog strollers do, but they also have mesh windows, so that your dog can see out even when the flaps are closed. This can give some peace of mind to dog owners who aren't confident in their pup's ability to stay put and worry about not being able to see the dog easily while riding the bike.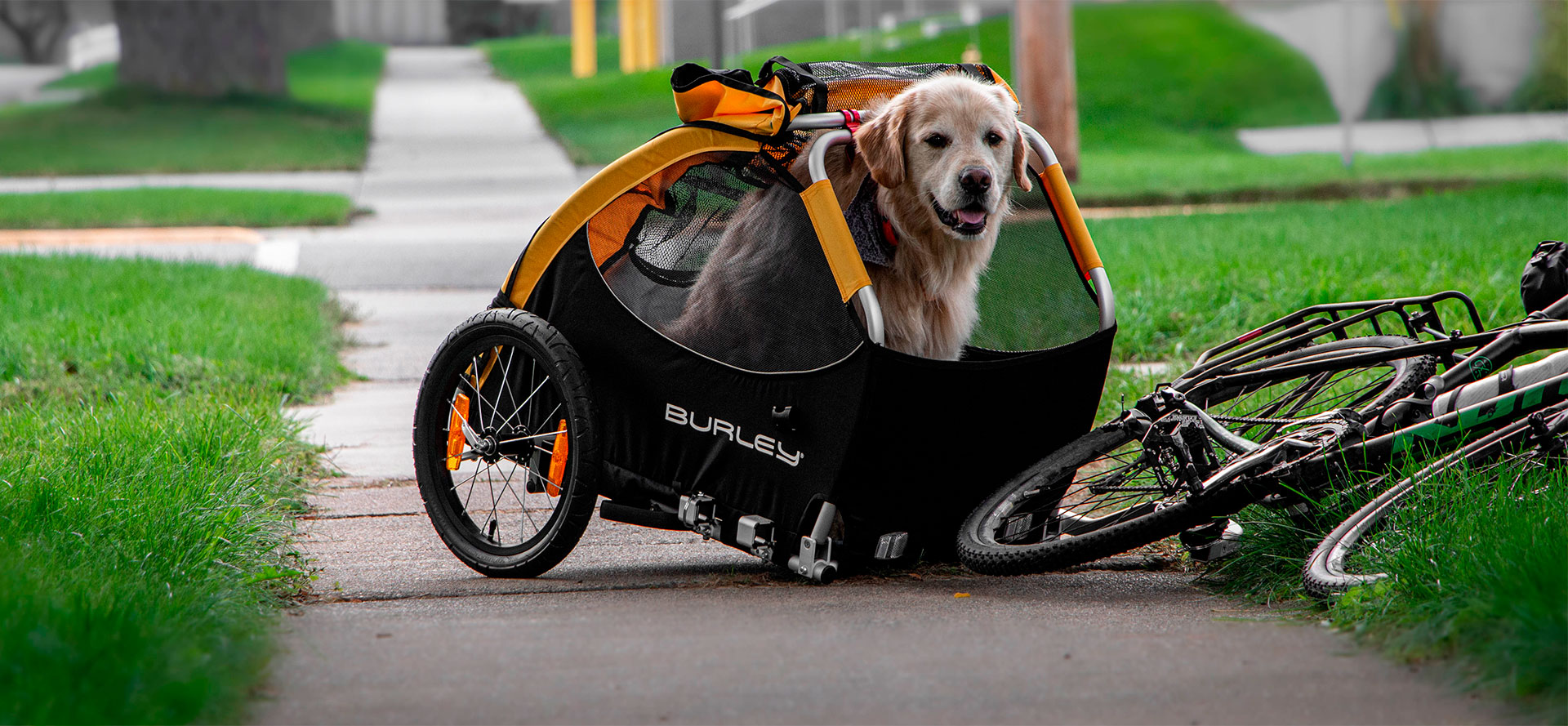 For Jogging
Jogging strollers for dogs are available in the large, trailer-like design as well as the small, normal stroller design. Although they are also made to be sturdy and absorb shocks well, there is a wide variety in the size and weight of the stroller, as well as in the size and weight of the dogs that can ride in them, so be sure to find the right one for your pup.
Many dog jogging strollers are balanced differently from strollers intended for walking, to prevent the tipping of the wheels that can happen when changing directions while moving quickly. They also may come with adjustable handles, since the bouncing movement of running or jogging makes it extra important to have your hands at the right height, lest you end up bouncing the stroller as you move. The front wheel may be adjustable, too, between swiveling and locked, to allow for use in different situations.
Jogging strollers of the smaller design tend to be fully covered, with a large mesh window along the front, so that your dog can see everything while remaining fully secure inside the stroller.
Double Dog Stroller
While it may be possible to fit two dogs into a stroller of a large size, there are dog strollers specifically made for two dogs to ride in at once. These strollers also come in both trailer designs and conventional designs, so if you like the conventional type, you can push both of your dogs without sacrificing the stroller design you prefer.
Conventional stroller -

The smaller, conventional stroller designs are made wider and sturdier to accommodate multiple dogs. Of course, they are typically intended for two dogs of small breeds, so be sure that your pets' combined weight is still appropriate for the stroller you choose.

Multi-level -

Some of these strollers have two levels, allowing a very small dog or even a cat to sit in the top level seat while a medium-sized dog sits in the bottom level seat. Multi-level strollers like this will typically have different weight ratings for the two levels. In the event that both pets do not need to accompany you, you can use one level as a basket to carry your personal items, leaving you free to manage only the stroller.

Conventional double -

Other double strollers have two compartments side-by-side, like conventional double strollers. This allows your two pets to sit next to each other on a walk without being confined to the same space, which can come in handy if they always want to wrestle and play when they are together.
Final Thoughts
If you aren't able to walk your dog on a leash, a stroller is a great way to make sure they still get to enjoy the outdoors and spend some quality time with you. Dog strollers are available to suit any activity, any lifestyle, and any dog! When looking for the right one for your needs, be sure to take into consideration your pet's size and weight, since these will determine what type and size of stroller you can use.
Choose Stroller for Dogs now
Tags: pet care supplies, customized dog tags, cat grooming brush, good smelling dog shampoo, advantage flea treatment for cats, best dog pools, carriers for dog, martingale dog collars, cat house, personalized leather dog collars