Last updated
Dog Houses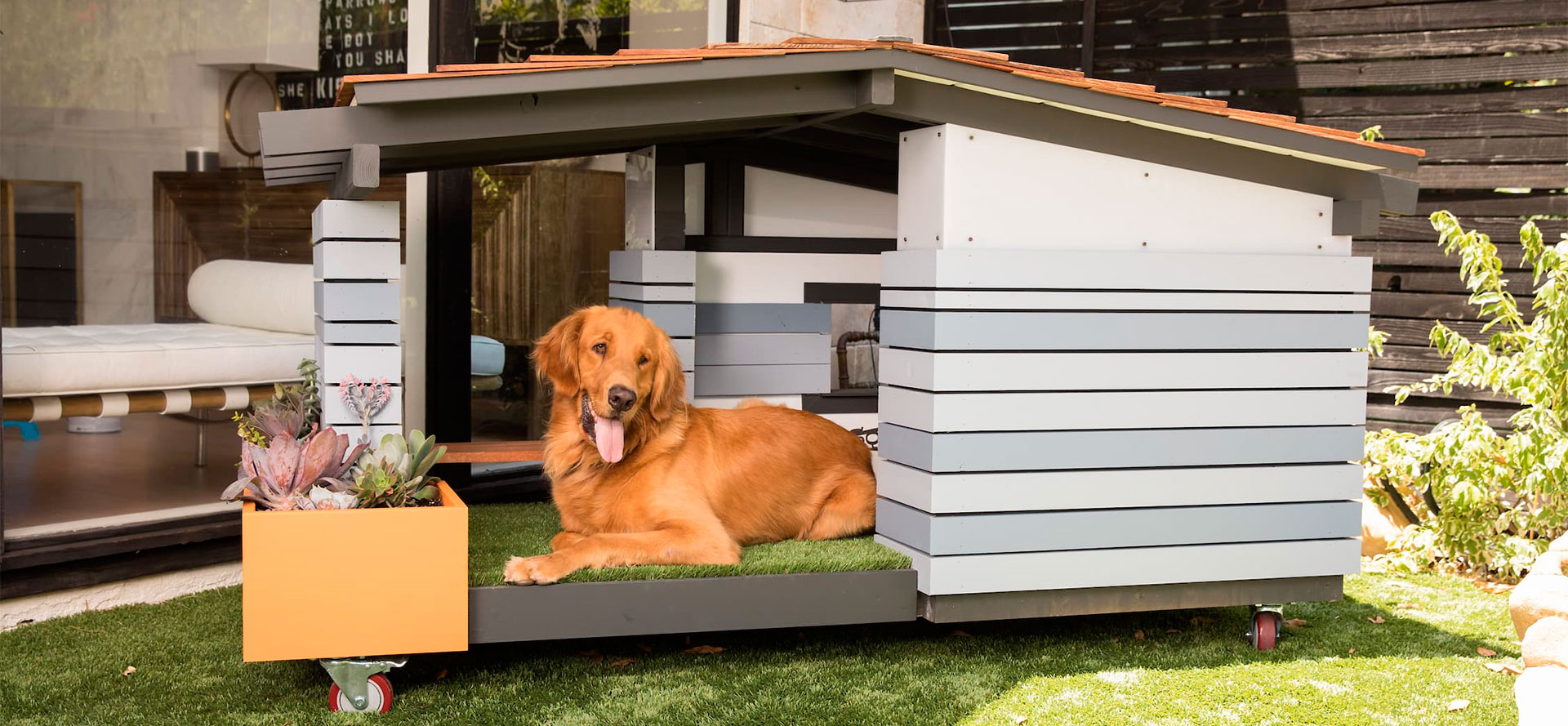 There is hardly ever a time when your pretty little dog would let go of a chance to jump on you and cuddle. While dogs love their cuddle, they also appreciate having a space of their own. This is where dog houses come into the picture. Dog houses are the perfect thing to add to your collection of dog accessories which will not only allow your dog to have its personal space but also keep it protected if staying outside the house is more preferable to it instead of staying inside. The ideal house for your dog must have enough space for it to move easily, stand up, and go in or come out swiftly without bumping. The main thing is to find your furry best friend space which is not only cozy, comfortable, and snug but also keeps them safe and secure from the potential harms of the outside world.
10 Best Dog Houses in 2023
Products
Information
Price

Dimensions:

39.4 x 35.4 x 32.3 inches

Breed size:

Small breeds, medium breeds

Check Price

Dimensions:

33.5 x 33.2 x 26 inches

Breed size:

Medium breeds

Material:

Recycled materials

Check Price

Dimensions:

40.75 x 26.75 x 28.25 inches

Breed size:

Medium breeds, large breeds

Check Price

Dimensions:

28.54 x 21.73 x 25.67 inches

Check Price

Dimensions:

35.24 x 25.4 x 5.12 inches

Breed size:

Medium breeds

Check Price

Dimensions:

26.5 x 18 x 16.5 inches

Breed size:

Extra small & toy breeds

Check Price

Dimensions:

43 x 40 x 31.5 inches

Breed size:

Medium breeds, large breeds

Check Price

Dimensions:

33 x 38.5 x 32 inches

Check Price

Dimensions:

29.13 x 22.44 x 25.98 inches

Breed size:

Small breeds, medium breeds, large breeds

Check Price

Dimensions:

25.24 x 40.6 x 29.1 inches

Breed size:

Medium breeds

Material:

Stainless steel, wood

Check Price
View all Dog Houses
Categories of Dog Houses
From the choices of size to different materials, specialized houses for different environments, and houses with some unique attributes, there are several options one needs to know about before deciding on a house that will not only fit the size of your dog perfectly but also complements its needs. From finding houses that preserve the body heat in the colder season to the ones that maintain cooler insides, buying a dog house requires an understanding of all the major attributes and available types in the market. Let's discuss the different kinds of dog houses that are available for you to ponder upon. Meanwhile, also have a look at our top picks of all-time-favorite dog houses to find a suitable house for your puppy.
Plastic
Made using sturdy, heavy-duty plastic material. Plastic dog houses are one of the most commonly used dog houses across the globe. The best thing about plastic houses is that they are designed to provide ease and comfort to only the pets but also the owners. Plastic houses are one of the most lightweight options among all the available dog houses in the market which means that it is very easy to port them when on a move. The ventilation is quite impressive in plastic houses as they are often endowed with doors, small windows with plastic grills, flaps, or a roof with an open-air functionality. Plastic houses are waterproof since most dog houses are made to be used outdoors. They are also free from the potential danger of getting pests and other insects which keeps the bedding inside protected. Easy to clean, easy to assemble, and safe from developing strange odors, plastic dog houses are a good choice if you are looking for an easy-to-handle dog house. However, plastic houses are most suitable for places with mild weather as the insulation quality of the houses themselves is not very high.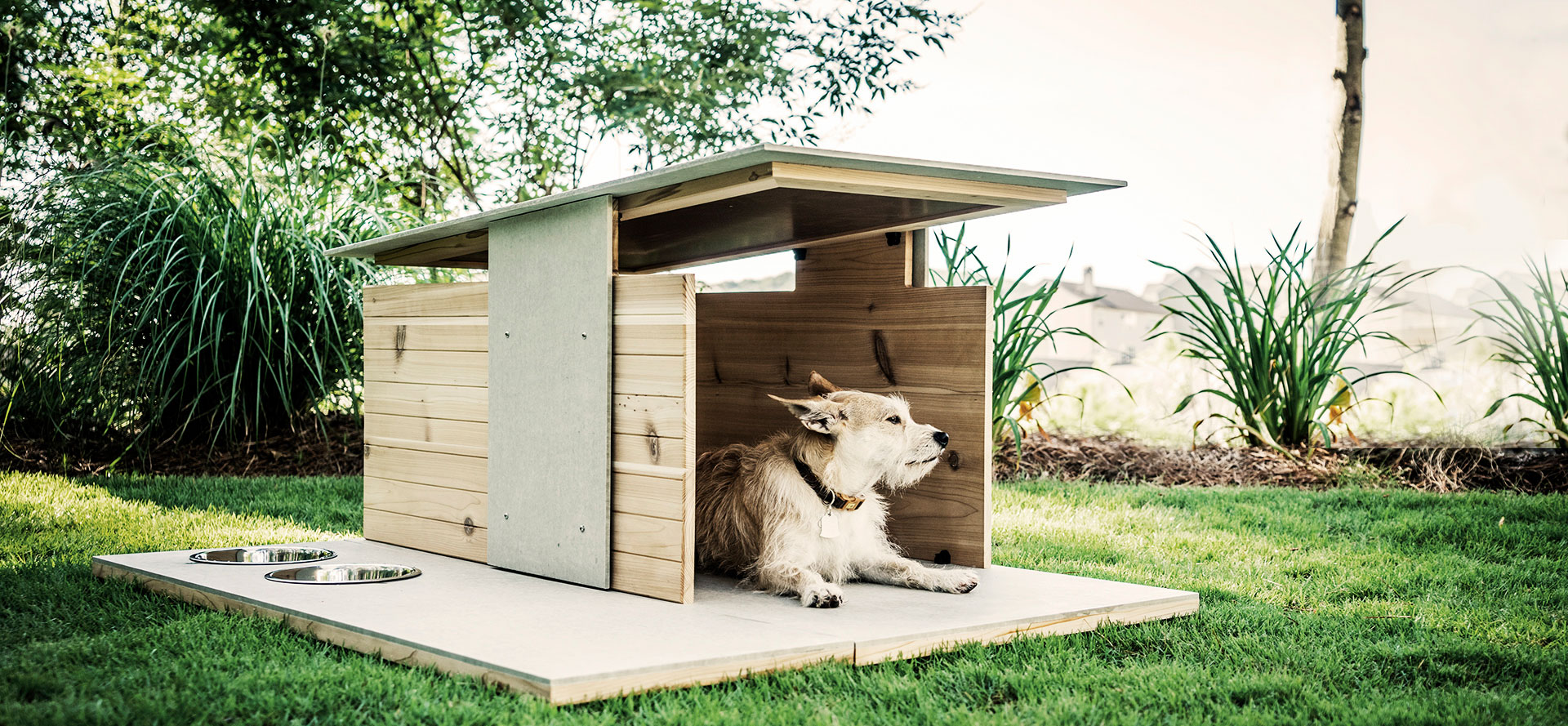 Wooden Dog Houses
Wooden houses for dogs are one of the most versatile ones that you will find in the market. Along with being durable, sturdy, and exceptionally strong, wooden dog houses could be your top option if you are planning to get a fancy dog house for your puppy. The aesthetic quality of wooden houses when combined with the array of different styles results in many different customizable options that are perfect for those pet parents who would like their pets to have a snazzy unique abode.
The best thing about wooden dog houses is that wood is the ideal material for insulation as it has small holes in it. This makes them perfect for both cold and hot seasons so, if you live in an area with a four-season transformation, a wooden house is a good choice. The wood used to make god houses is durable, resistant to decay, and is open for customization. When treated with non-toxic, repellents, wooden houses stay completely safe from pests and such insects. Even though the maintenance of a wooden dog house is considerably higher than that of other materials like plastic, they offer a rather calming scent and environment for dogs to stay in. Find out some great options in the list of our top choices for fancy wooden houses to get some ideas for your doggo.
Special for Large Dog
One cannot simply get a house meant for adult pugs and expect a one-year-old German Shepherd to live in it comfortably. Made especially for dog breeds like Siberian Husky, Doberman, Scottish Deerhound, Bernese Mountain Dog, etc, large dog houses are dedicated to providing your larger than life dog baby a comfortable home. Depending on the size of dogs from different breeds, a large dog house can range up to anywhere between 30 inches to 55 inches of height and can be chosen as per the height of the puppy/adult dog. Large dog houses are available in a variety of material choices, designs, features, and customization functions as well. Most large dog houses are made for being outdoor houses as many of the variations are big enough to be playhouses for kids. That being said, large dog houses, regardless of the material they are made, are waterproof, insect-proof, and ideally ventilated to keep the dogs fresh. Large dog houses made with plastic are ideally suitable to be used as indoor dog houses while material like wood is more suitable to be outdoor dog houses that can be kept in gardens or backyards.
More choices available
Houses for Small Dog
The smaller-sized dog houses bring a lot more variety as compared to the larger variants, even when made from the same material. Small dog houses do not need to be as sturdy as houses for larger dogs, they are more open to the existence of many unorthodox choices of material for construction such as fabric. One of the most popular choices of fabric for the construction of small dog houses is polyester combined with mesh. Another choice of material for small dog houses includes stainless plastic, wood, and stainless steel as well. Regardless of the material used in the construction of the houses, small dog houses are made with ventilation as a top priority in the mind since the size is small. Another feature to look out for is portability. Most small dog houses can be ported easily due to their convenient size. They can also be doubled as travel crates for your little jumpy friend.
Small dog houses are often endowed with a lot of different aesthetic features like stairs, rooftops, decorative accents, colour-combination customizations, etc. Some variants are just the outer shell with the inner part left to be customized by the owners while others come with plush interiors made with a soft material like foam for the pet to have a good rest. It is wise to go with a material that is more on the sturdy side like plastic, wood, and steel if your dog is a huge fan of chewing everything that comes it's way. Igloo styles dog houses are one good example of a small dog house that you can try for your puppy or you can also check out our top picks for small dog houses.
Medium Size
A comfortable mix of small and large dog houses, medium-sized dog houses can benefit both small and large puppies depending on their growth and the individual size of the dogs. A medium-sized dog house is perfect for dog breeds like Basset Hounds, English Bull Dog, Collie, Australian Shepherd, Bulldog, Golden Retriever, etc. Much like the small dog houses, medium-sized dog houses also come with a huge potential of customization options and aesthetic qualities like decorative windows, rooftops, stairs, and porches. The most popular and commonly used styles when it comes to medium dog houses are lofted roof houses, igloo houses, single panel flat roof houses, elevated box houses, and side-porch dog houses.
Depending on the seasonal qualities of the area one lives in, there are several material options to choose from when deciding on a house for your medium-sized dog. For places which see transitions among four different seasons around the year, it is best to find well ventilated and insulated houses that keep cool in summers and warm in winters. People living in places that exist with mostly one kind of season with minimal fluctuations should go for specialized houses made according to seasons, for example, heated houses for colder regions and cool houses for tropical regions.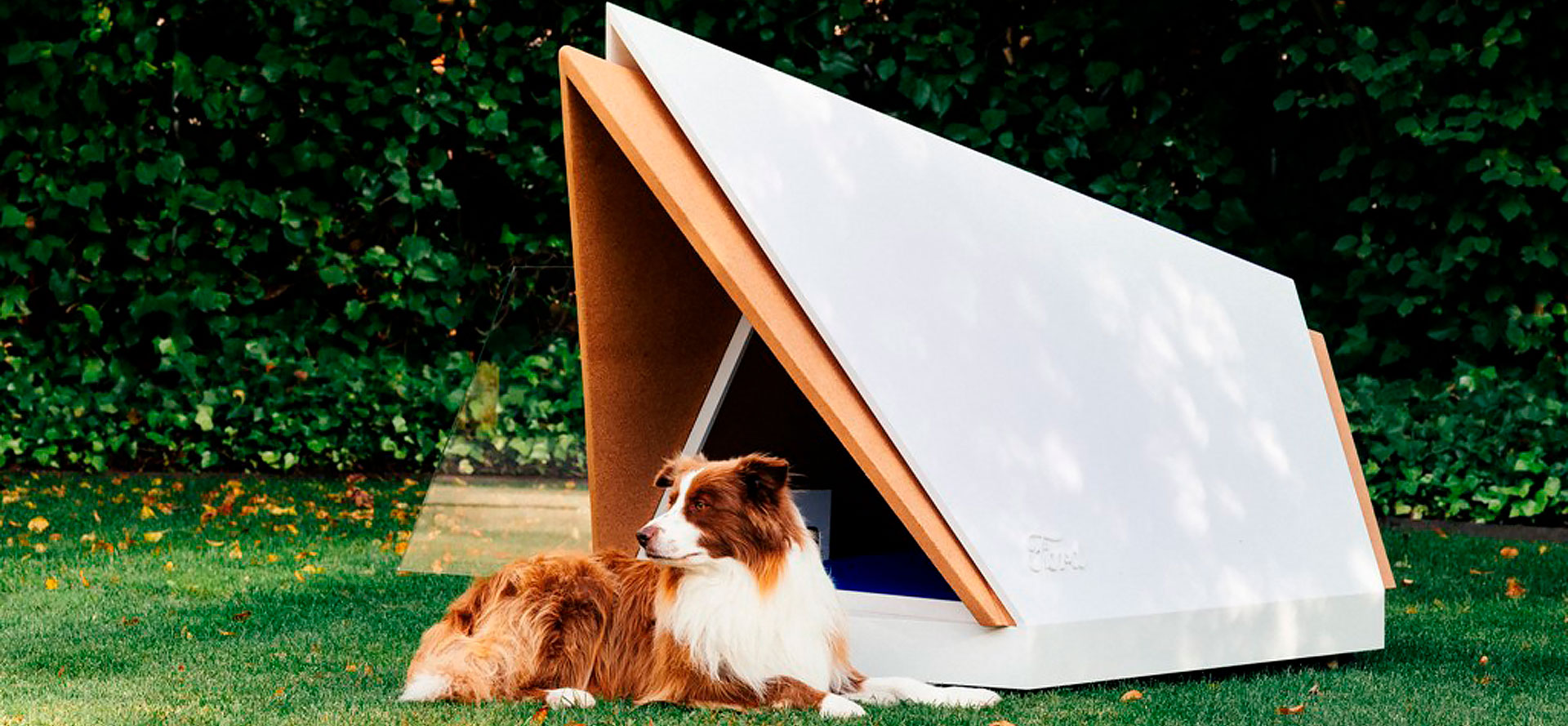 Puppy Dog Houses
Intended to keep the young newborn puppies extra safe and comfortable, puppy houses take the four horsemen of a good dog house to another level – comfort, protection, size, and construction. Puppies need an extra dose of care, protection, and attention which makes it necessary to put a little extra something in the houses meant for them. Puppy houses are mostly meant to be kept indoors since young ones need extra protection especially when climatic conditions of the concerned place are unpredictable. But there are several variants made with qualities to counter severe weather conditions like rain and snow and are ideal to be placed outdoors as well.
Puppy houses meant for outdoors are made with sturdier material like wood, plastic, and steel. Some variants are made by the synthetic resin which also stands all tests put forth by time and weather. Puppy dog houses that are meant to be kept indoors come in some revolutionary material choices such as felt, mesh, polyester mix, and other fabrics. Puppy houses made with any kind of fabric are generally soft-sided keeping the puppies who tend to bump into things safe. Puppy dog houses also come with pre-installed heating or cooling equipment which are meant to provide extra comfort in regions with extreme climatic conditions. Check out our top picks from the list to find a suitable puppy dog house for your new family member which meets all the required conditions.
For Winter
Winter dog houses are ideally insulated to keep the inside heat trapped inside in the winter season keeping your dog warm throughout the harsh winters. Some variants also come installed with special heating elements which makes them perfect for extremely cold environments.
Raised Dog Houses
Dog houses that are given some sort of support to keep them elevating above the ground are known as raised dog houses. Ideally made for outdoor use, raised dog houses are constructed to keep water and dirt out in case of rain and storms.
Outside
Made to survive all kinds of weather and roughened to keep up with the energy of the enthusiastic dogs, outside dog houses are the embodiment of sturdiness. Generally made with wood, plastic and synthetic resin, outside dog houses are made to be both comfortable and durable. Outdoor dog houses are either made with some sort of pedestals or have an elevation set-up with stands. This is to ensure that water lodging does not happen when it rains. The indoor floor of the outdoor dog houses is also slightly elevated to keep the water and other outside agents from entering the indoors.
Outdoor dog houses come in all sizes and are available for all large, medium, and small-sized dog breeds. From fancy ones with rooftops, strains, front or side porches, and playpens, simpler options like barrel dog houses, A-line rooftops, and Aspen-style dog houses are also available in the range of outdoor houses. Two more variations are found for outdoor dog houses – portable ones and fixed ones. You can take a little bit of assistance from our list of top outdoor dog houses to find the best fit for your puppy.
Indoor Dog Houses
Focusing more on the design and comfort of the dogs, indoor dog houses are generally made with material like foam, mesh, felt, polyester, and fabric along with plastic, stainless steel, and wood. Most indoor dog houses are either pre-assembled or offer an easier assembly operation as compared to outdoor dog houses. The design of the houses can differ from simple loft roof, flat roof, or igloo roof dog houses to unique ones like an ottoman dog house, crate style dog house, fabric tent dog houses, and dog houses with side porches. The best way to choose one of the many available designs is by determining the purpose of an indoor dog house. Choose something more secure like a crate-style dog house, wooden loft houses, or aspen dog houses if you want to keep your hyper-energetic dog sitting in one place for some time and make it a bit more docile or if you want a permanent kennel for the furry little guy. Something like tent house, ottoman dog house, or igloo dog house if it needs to be just an escape of play space or the dog.
Soft
Soft dog houses are made with fabric and foam much like mattresses. They feel like one big bed and can be seen as one of the most comfortable housing options for dogs. Soft dog houses can only be used indoor due to their lack of weather protection and other safety attributes that are necessary for outdoor dog houses. However, soft dog houses are an excellent choice for young puppies that require all the extra comfort that they can get and for areas with significantly cold weather as the foam and fabric prove to be warmer than wood and other materials.
Chew Proof Dog Houses
Abrasion-resistant material like PVC, Cordura, and Canvas, chew proof dog houses are kept safe from the so very sharp teeth and biting instincts of your dog. The tear-proof technology of these houses gives the outer shell and the insides of the house tear-safe and also allows your dog to have as much fun as it likes.
Collapsible
Easiest to port, the collapsible houses are the ideal choices for those pet parents who estimate a lot of movement for the dog house. The collapsible or foldable houses for dogs are available in both soft and hard materials like foam, fabric, plastic, wood, and cardboard.
Choose Dog House now
Tags: pet supply, dog stairs, flea pills for dogs without a vet prescription, dog poop bags, unicorn cat costume, freeze dried meat for dogs, long retractable dog leash, cat cage for balcony, automatic cat feeders reviews, cute cat litter boxes