Cat Water Fountains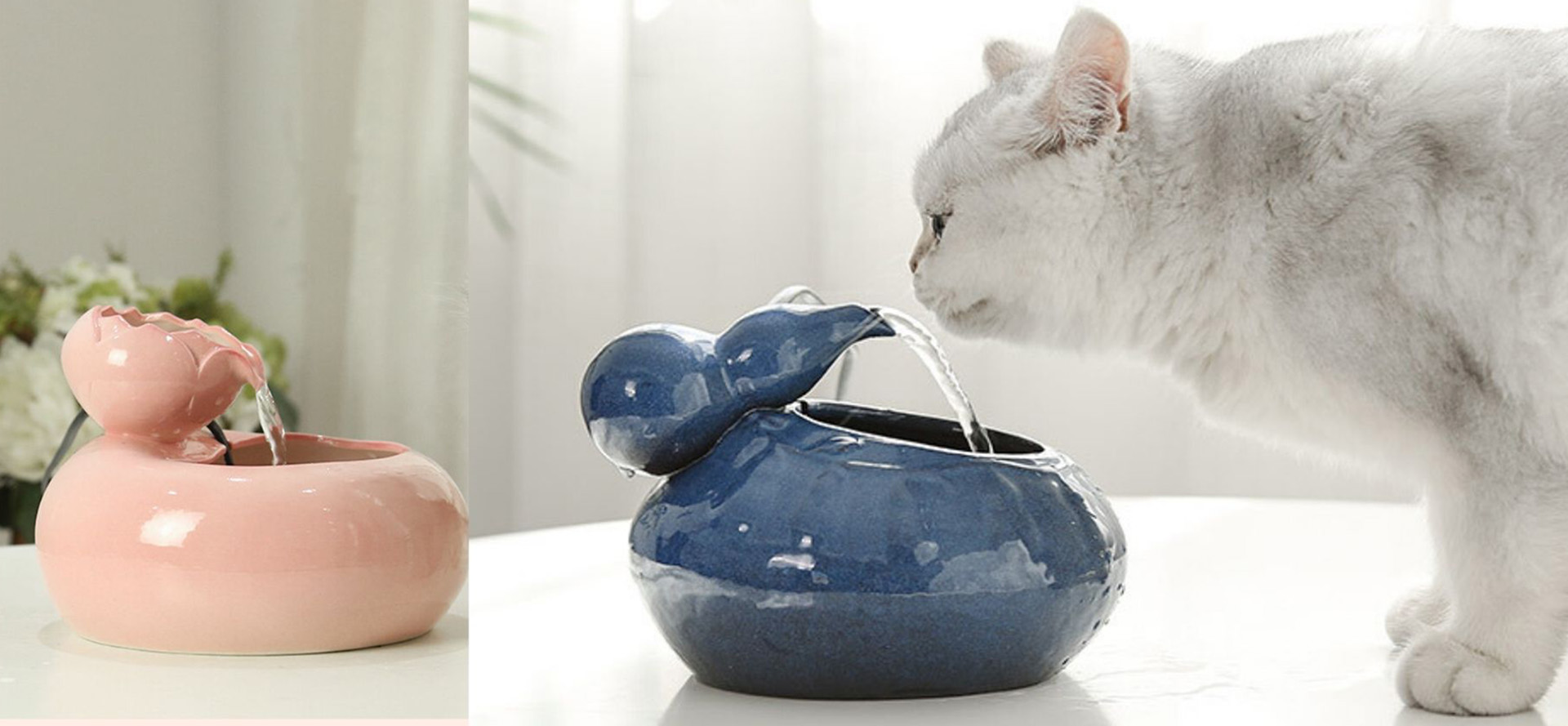 Welcoming a pet in our home is not even an iota less than welcoming a new family member. If you have welcomed a cat in your home recently or planning to do so, there are some arrangements that you need to make beforehand. Despite the once in a while bend-the-knee nature, cats are still one of the sweetest friends humans are blessed to have. But when it comes to bearing the responsibility of becoming a cat parent, it becomes really important to focus on every little requirement of our cats.
One of the most common problems that cat parents face is that their pet refuses to drink water. It is common in cats all over the world. The reason behind this can be many, but as a cat parent, we need to make sure that our furry little friend is always hydrated and healthy. This is where cat water fountains come in. A blessing to cat parents, cat water fountains introduce an interesting way to make sure that your cat is hydrated enough round the clock.
A cat water fountain is a device that provides running fresh drinking water to your cat. Cat fountain takes the water through an inbuilt filtration system and then pumps it out through a spout to ensure that your cat has proper access to fresh running water. Some water fountains work with gravity while others as we have already mentioned come with an attached pump that gives out fresh water every time your cat goes to drink from it.
Gravity Operated Cat Drinking Fountains
As the name already suggests, this type of cat water fountain is designed to be operated using the gravitational force. In this type, a water tank is connected to the fountain and as the bowl gets empty, the water comes out from the tank and fills the bowl. It is the basic type of water fountain and very popular among those cat parents who leave their cat at home during the day.
Pump Operated Water Fountains
This category of cat water fountain features an inbuilt pump that is generally powered by electricity or a rechargeable battery. The advantage of this water fountain is that it comes with different designs that make it suitable for households with more than pets. It can be used is houses with cats, kittens, dogs, and puppies. Pump cat water fountain is a result of innovation and proves to be very durable and long-lasting.
There are different types of cat fountains available in the market, and each one is special in its way. To make it easier for you to understand, we have curated a list of different cat water fountains that are very popular and prove to be very beneficial and helpful for cat parents.
Stainless Steel Cat Water Dispensers
As the name already suggests, stainless steel cat water fountain comes with the water bowl that features stainless steel construction. These types of water fountains come with both varieties, the ones that are operated by gravity, as well as the ones that come with an inbuilt electrical pump. It is often seen that cats avoid drinking sitting water, so to make it more natural for them, stainless steel cat water fountain can prove to be very beneficial. The clean and shallow stainless steel top allows the cat to drink water without messing up with their whiskers. This encourages the cat to drink more water, which results in the prevention of all kinds of urinary tract diseases and infections. The stylish design of the stainless steel cat water dispenser matches all kinds of home décor. At the same time, a shallow stainless steel cat water fountain maximizes the oxygenation with a larger air to the water surface. If you are someone who goes to the office and leaves their cat at home, then stainless steel cat water fountain should be the right choice due to its durability and capability of minimizing the water spillage. This ensures that when you come back home, there isn't too much cleaning work to do.
Ceramic Cat Drinking Fountains
This type of cat water fountain features ceramic construction that is considered as very appealing to the cats. It continuously filters the water stream and ensures fresh water available for your pet. The ceramic water fountain is easier to clean in comparison to other materials which proves to be a factor of great advantage for a cat parent. Another major advantage of a ceramic cat water fountain is that its heavyweight makes it more stable in comparison to other fountains, so no matter how mischievous your little furry friend is, a ceramic fountain will remain at its place and minimize the spillage of water. This is one of the most popular and preferred types of cat water fountain due to its easy use and durability. If your cat is not drinking the water from a metallic bowl, then the taste of metal can also be a reason behind that. With a ceramic water fountain, the chances are high that your cat will start drinking water again.
Flower Water Fountains
This type of cat water fountain features a special design that allows your cat to drink water from all sides. Cat flower water fountain is quite popular in households with multiple pets as more than one cat can drink from it at the same time. Mostly, this comes with plastic construction that promises it's durability and long life expectancy. The constant supply of clean water and the unique design of this water fountain makes it one of the best cat water fountain available in the market. This type of cat water dispenser comes in different sizes and capacity ranging from 3 liters to 7 more liters. The large capacity of this fountain ensures that you do not have to fill it in short intervals. The unique design of this type of water fountain makes it an integral part of your home décor and also promotes your cat to drink water more often. More water intake means that your cat will have less chance of getting urinary tract infections and diseases. Cat flower water fountain is considered to be one of the best in terms of design, as it encourages the cat to drink water from it. Make sure that the fountain you are choosing has good customer reviews and is made by a manufacturer with good brand value in the market. When it comes to the cat water fountain, it is advised to go for the best quality to make sure that you don't have to but it frequently.
Battery Operated Drinking Fountains for Cats
This type of water fountain, as the name already suggests, is operated by batteries that can be recharged when it goes down. These water fountains are perfect for cat parents who go to their office while their cat stays in the house. This type comes with an inbuilt pump that fills the drinking bowl every time your pet drinks water from it. One of the most popular types of cat water fountains, battery-operated ones are portable and can be carried on a trip during family holidays to make sure that your furry little friend always has access to clean and fresh drinking water. When it comes to buying this type of cat water fountain, it is advised to focus on the brand value and also to read customer reviews before choosing the right one for your furry little friend. It is often seen that many models of this type do not possess the promised battery life, so make sure that you are choosing good research. A good quality battery operated water fountain not only ensures proper hydration of your pet but also ensures the safety. Quality ensures that there is no chance of electric shock or anything like that and that your cat stays safe and sound during your absence. This type of water fountain comes with bowls made of different materials, but plastic ones are the most popular. At the same time, you also get many capacity choices which makes it perfect for a household with more than one animal.