Last updated
Best Dog Bath Tub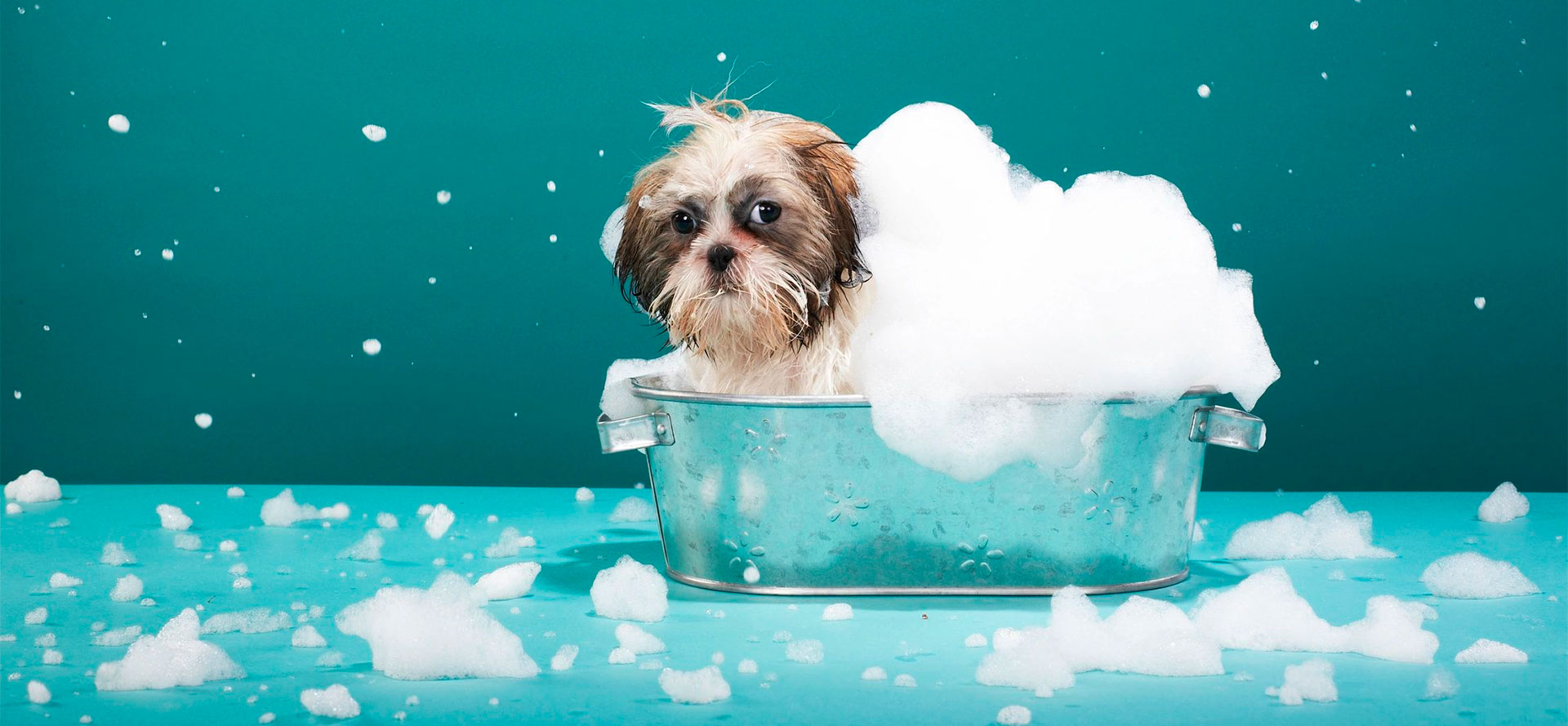 We all know how to take care of our own personal hygiene, but sometimes it's less clear how to take care of our pets'. People often think that, since dogs are animals, they don't need to be bathed regularly as we do; after all, wild animals don't get shampooed or blow-dried. In fact, most dogs need baths more often than you'd guess, and since frequent trips to the groomer can get to be quite expensive, a dog bathtub is a must-have item for dog owners. How often your dog needs a bath depends on the breed, activity level, and overall health. Dogs that have high-maintenance coats, spend lots of time outside, or experience allergies and skin problems need baths pretty frequently, while dogs that mostly stay indoors and have healthy skin may only need a handful of baths every year.
There are a lot of expenses involved in caring for a pet, but bathing doesn't have to be a big one! By getting your own dog bathtub, you can save your pup from the anxiety of being groomed by a stranger and save yourself from a huge bill from the groomer. Check out our list of the best dog bathtubs below to pick out a tub that will help keep your furry friend clean and help you stay on budget.
Best Dog Bath Tub in 2023
Products
Information
Price

Check Price

Dimensions:

45 X 21.25 X 34 Inches

Check Price

Dimensions:

48.5 X 17 X 4 Inches

Material:

Stainless Steel

Check Price
View all Dog Bath Tub
What is a Dog Bathtub?
A dog bathtub is exactly what it sounds like: a tub for bathing your dog. We know you're wondering why you can't just use your own human bathtub; isn't it the same thing? Well, not really. Like most pet products that have analogues for humans, dog bathtubs are specialized tools. To put it simply, a dog bathtub is designed to make bathing a dog easier, and human bathtubs are not. You could certainly wrangle your pet into your normal bath and try to make it work, but it's not the same as having a bath that was made for it. You could also try using your own shampoo on your dog's hair, but it's not recommended, and there are different products for a reason.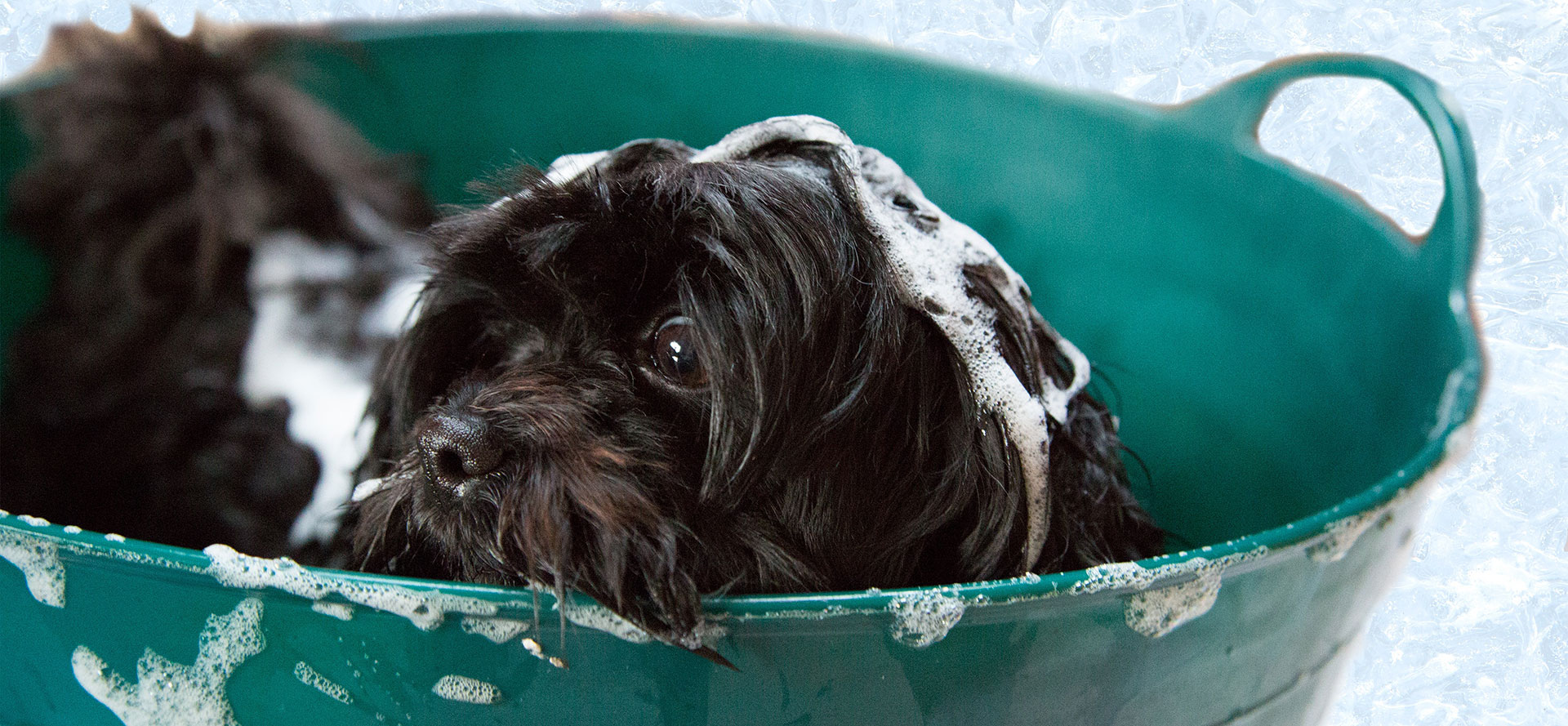 Using an appropriately-sized dog bathtub at home makes it easy to reach your pet to wash and scrub them, without bending yourself into any awkward positions or wrestling them back into the tub as they hop out every five minutes. By having fewer things to keep track of, you'll also find the opportunity to get your dog comfortable with bathing and grooming. You can use treats, praise, and other reward systems to show your dog that baths are a good thing and that, even if they don't like the water, they can like some parts of the process.
Different Types
Dog bathtubs come in all different styles, sizes, and materials, but there are a few types that are especially popular:
Dog bathtub for sink - Some small dogs, like infants, are easiest to bathe in the kitchen sink. Of course, you don't want to put them straight into the sink with no inserts; that's a good way to get food waste on your dog and dog hair in your dishes. Instead, you can use one of these small plastic tubs that fit easily in the sink. Your dog will be at a convenient height, and you'll have all the counter space you need for shampoo, conditioner, and other items.
Elevated dog bathtub -

These tubs are similar to the sink insert tubs, but they can be made larger and sturdier for medium-sized dogs. They are normally plastic, with plastic or metal legs that attach to put the dog at the right height for you to bathe them while standing. Typically, they are meant to be used outside.

Dog pool bathtub - Pool-style bathtubs are sort of like kiddie pools made from sturdy plastic. They have to sit on the ground outside, which isn't as convenient as elevated tubs, but they are great for large or giant breeds and can double as a pool to play in on hot days.
Professional dog bathtub -

A tub intended for use by a groomer or vet will be more expensive than the other options, but in exchange, you get professional-grade equipment. These bathtubs are normally like large stainless-steel sinks, at the perfect height, with multiple sprayer nozzles and grooming product racks.
More choices available
How to Choose a Dog Bathtub
Not every type of bathtub is appropriate for every dog, so it's important to choose the right tub for your pup. Size is one of the important things to look at before choosing a dog bathtub. Your dog's size will determine not only the dimensions of the tub but also the type of tub that would be best. Sink tubs are best for very small dogs, elevated tubs for small to medium dogs, and pool tubs for large to very large dogs. Professional dog bathtubs are made to support dogs of any size.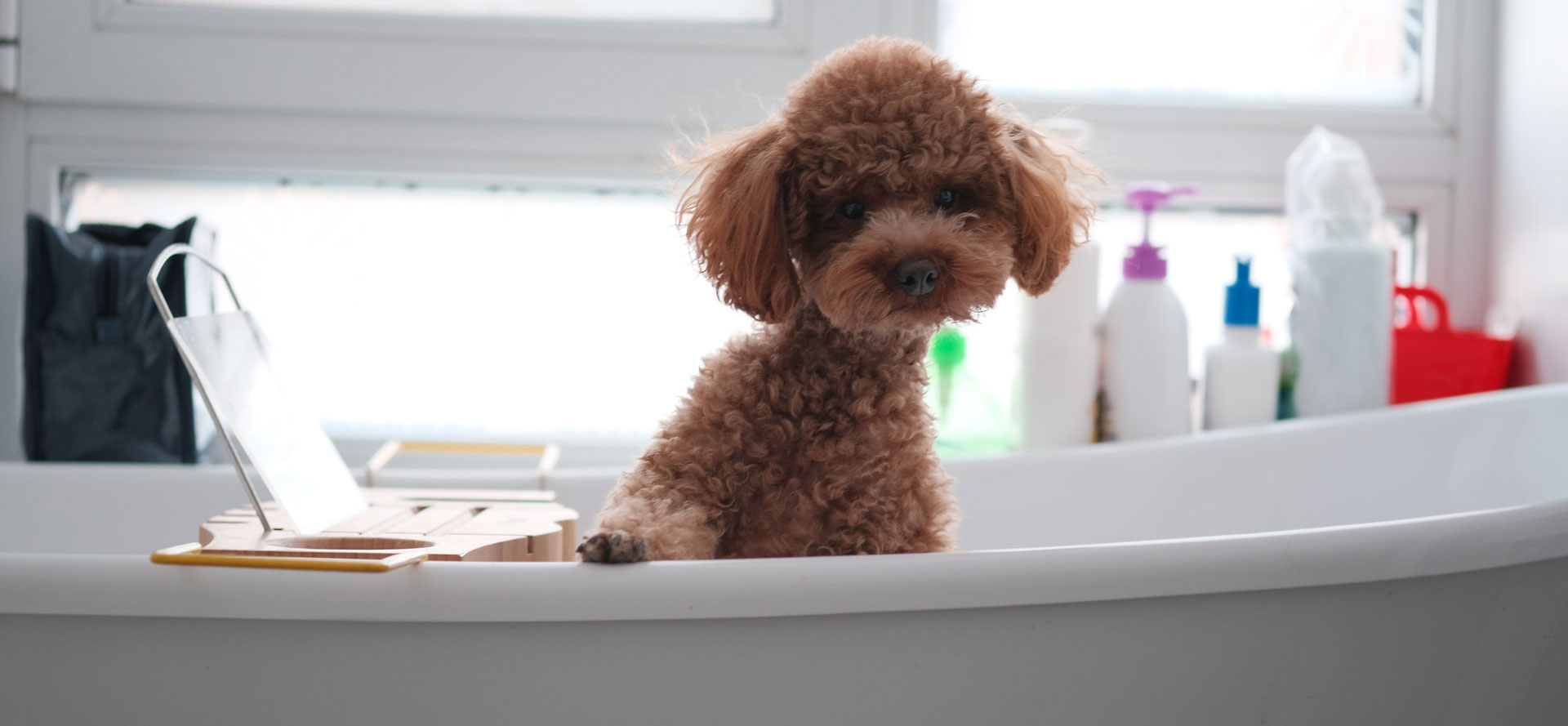 This is just a guideline, of course, and it's important to check the product specifications before buying a dog bathtub. Your dog's dimensions and weight should not exceed the maximum recommended size and weight for the tub. When you know what kind of tub might work, you can also narrow down your selection based on your own preferences. As the person who will be purchasing and using the tub, you should be comfortable with the cost, the setup, and the design.
Things to Consider When Buying a Bathtub
Aside from size and your own general preferences, there are a few major factors to consider before you buy a dog bathtub:
Location -

Different types and sizes of bathtubs are appropriate for different locations. If you expect your dog to make a mess and would prefer to bathe them in the yard, you should be sure to get a tub that can go outside and doesn't require plumbing or electricity. You should also make sure it's sturdy and not likely to get damaged in your yard.

Bath frequency -

Any dog bathtub is likely to save you in grooming expenses over the course of your dog's lifetime, but you may have a different budget for the bathtub depending on how often you will be using it. If you have a poodle who requires regular, intense grooming, then a professional tub is probably worth the investment. If you have a dog with an easy coat who doesn't tend to get dirty outside, then you can probably get away with a cheap tub to wash them in a few times each year.

Space and storage -

In a large house with lots of bathroom or kitchen space, large tubs like professional-grade ones may fit just fine. However, if you're pressed for space in a small home or apartment, then you probably need a tub that can be put away and moved around easily; look for a tub that has foldable legs or is portable.
Conclusion
Keeping your pets clean is an important part of keeping them healthy, so it's critical that you bathe them as frequently as their coats and lifestyles demand. A dog bathtub for your home instead of using a professional groomer every time can save time, money, and anxiety for both you and your dog. Make sure to research which tubs would be appropriate for your dog's size, your home, and your budget. When you know what you are looking for, you can use our top ten list of the best dog bathtubs to find a great option that fits your needs.
Choose Dog Bath Tub now
Tags: pet supply, cats ears pink and warm, puppy dog tags, grass for cats, enzymatic dog toothpaste, is hot dogs safe for cats, kitty door, cat litter, modern wood cat tree, puppy whistles