Last updated
Dog Crates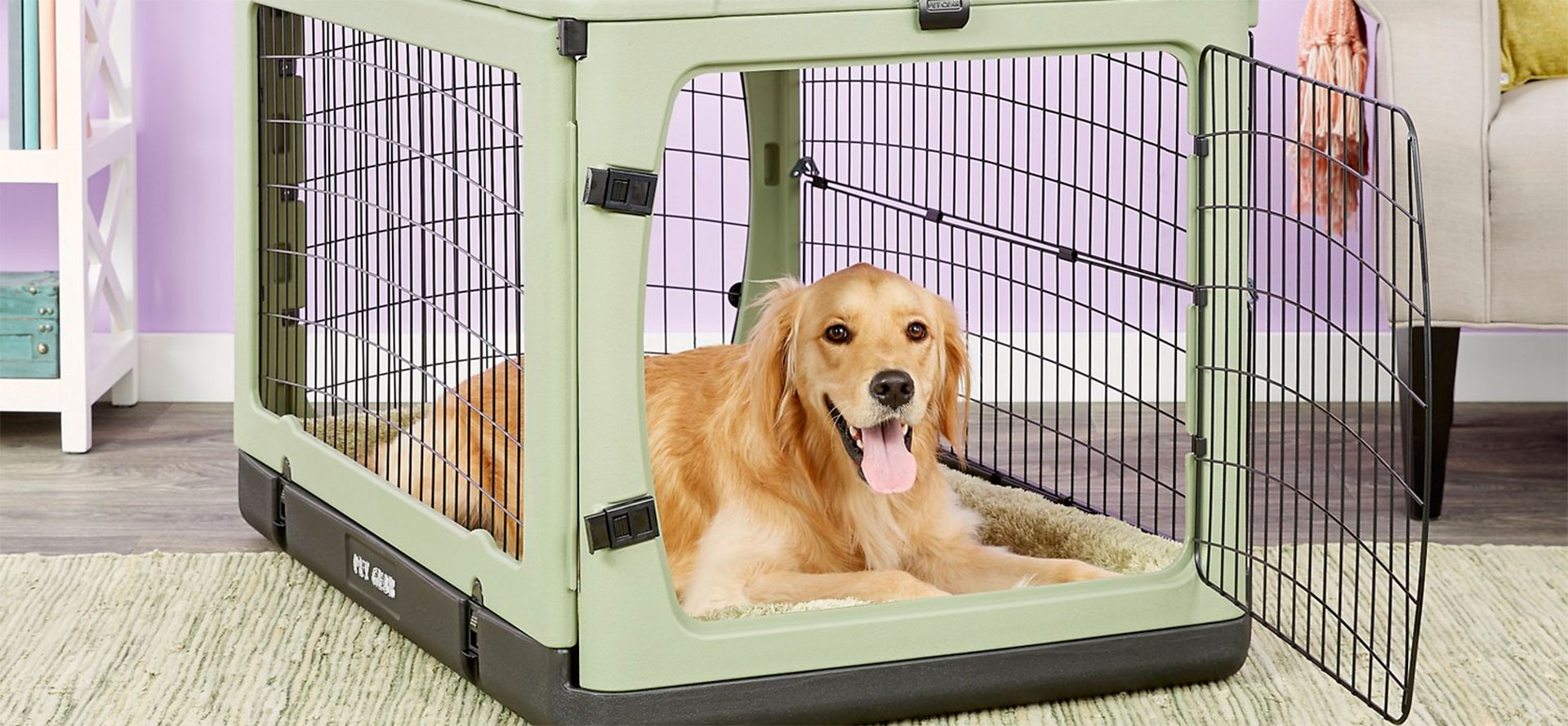 When you own a dog, the first thing that strikes your mind is their safety! Many of the dog owners aren't hesitant about using a dog strap, wireless collars, or playpens as much as they are scared to use a dog crate. But, when used humanely and with correct training, a Dog crate proves to be the most beneficial of all! Proper crate training proves to be extremely beneficial for both, the dog and the dog owner.
Best Dog Crates in 2023
Products
Information
Price

Dimensions:

42 x 28 x 30 inches

Features:

Collapsible, divider included, double door, removable pan, carry handle

Check Price

Dimensions:

36 x 23 x 25 inches

Breed size:

Medium breeds, large breeds

Features:

Collapsible, divider included, removable pan, carry handle

Check Price

Dimensions:

54 x 36.5 x 44.75 inches

Features:

Double door, removable pan, heavy duty

Check Price

Dimensions:

30 x 20 x 25 inches

Breed size:

Medium breeds

Features:

Removable pan, double door

Material:

Wood, coated metal

Recommended pet weight:

26-40lbs

Check Price

Dimensions:

54 x 37 x 45 inches

Features:

Double door, removable pan, water-resistant, heavy duty

Material:

Coated metal, plastic

Tools included:

No tools required

Check Price

Dimensions:

42 x 27 x 30 inches

Features:

Collapsible, divider included, double door, removable pan, carry handle

Check Price

Dimensions:

24.05 x 16.76 x 14.5 inches

Features:

Top load, carry handle

Material:

Plastic, stainless steel

Tools included:

No tools required

Recommended pet weight:

Up to 15 pounds

Check Price

Dimensions:

24 x 18 x 19 inches

Features:

Collapsible, divider included, removable pan, carry handle, water-resistant

Material:

Coated metal, plastic

Tools included:

No tools required

Recommended pet weight:

Up to 25 pounds

Check Price

Dimensions:

39.8 x 27.91 x 31.5 inches

Tools included:

No tools required

Check Price

Dimensions:

36 x 24 x 28 inches

Breed size:

Medium breeds, large breeds

Features:

Top load, collapsible, carry handle, carry bag, water-resistant

Tools included:

No tools required

Recommended pet weight:

Up to 70 pounds

Check Price
View all Dog Crates
What are Dog Crates?
A dog crate is a specifically designed enclosure with a functional door and is used widely for the safety of the dogs or also for their transportation purposes. A dog crate can be considered as a well-designed replica of a natural den that offers convenience and comfort to the dog. Not just to the dog, but having a dog crate offers complete convenience to the dog owner as well. It is a safe place for a dog that gives the much-required warmth and comfort, even when traveling to a new surrounding or while at home too. The main purpose of a crate is to provide a safe space with complete security to the dog. With proper training, a crate also helps to keep the energy quotient and destructive behavior of the dog under control. Often it is made using plastic but it is also available in wire, wooden, metal, or even fabric material.
Benefits
To many people, a crate seems to be cruel, but it has loads of benefits that need to come under the spotlight to eliminate the scary vibes most pet parents and dogs feel.
Create a Safe Space for Dogs:

A crate keeps your dog safe from unwanted hazards, dangerous situations, and scenarios. If you own a puppy, you understand how difficult it becomes to keep the little pup at once place, without disturbing, and simultaneously wrapping up household work. Small dogs are at a higher-risks of being tripped over or stepped on. When everything is chaotic around, keep your dog safe in a crate.

Prevent from Excessive Chewing:

Dogs tend to chew everything that comes their way. From the chair legs, shoes, struts, or even children's toys to their own beds, nothing is left untouched; they chew everything and shred it to the core. Leaving this habit might take up to several months. In that case, a dog crate would be your rescuer. Protect your possessions and valuables from getting shredded by the sharp teeth and jaws, during your absence when you can not supervise your dog. It is not only the above-mentioned things that dogs chew, what proves to be extremely dangerous is if they chew cables and wires. Thus, a crate can be helpful, preventing them from choking or being electrocuted.

Housetraining for Dog:

Dogs are full of energy and they tend to utilize all of their energy by playing all day long, hopping from here and there, or even stepping out of the house in excitement, while also destroying things around them. This excessive energy needs to be redirected and must be used to develop skills and manners, like not chewing the furniture, or behavioral training. A crate helps to create a safe barrier for them while making them learn and accept rules they have to abide by. This takes us to the next section, now when you own a dog crate, what's next? Crate training, yes, as important as it is to take care of your dog, it is extremely important to train him to use the crate and make him feel secure and comfortable inside.

Crate Train Your Dog: Many people are extremely cautious and uncertain to use a crate and crate train their dog, but as mentioned, humanely and proper training helps to make the dog familiar with the crate as their safe place and accept it as their new resting area, sleeping area, or a place where they can enjoy their treats too. To develop a sense of security and comfort, crate training becomes vital. There are several ways by which you can start training your dog. Initially, you can give simple commands and use hand gestures and point towards the crate to make him understand. Or you can reward your dog with a treat once your dog obeys you and moves inside the crate. Praise your dog to obey every time and make them feel comfortable in their new space. Putting a comfortable bed along with chew toys can make your dog feel good and relaxed.
No Misuse of a Dog Crate:

It should be noted that a crate should never be used for any sort of punishment as this can create a bad impression on the dog and make them develop a fear of the dog. There is no doubt that crate training tests the psychology of dogs, but a crate should always be associated with only good things. Things can turn up if a crate is used as a punishment and the dog can become more aggressive.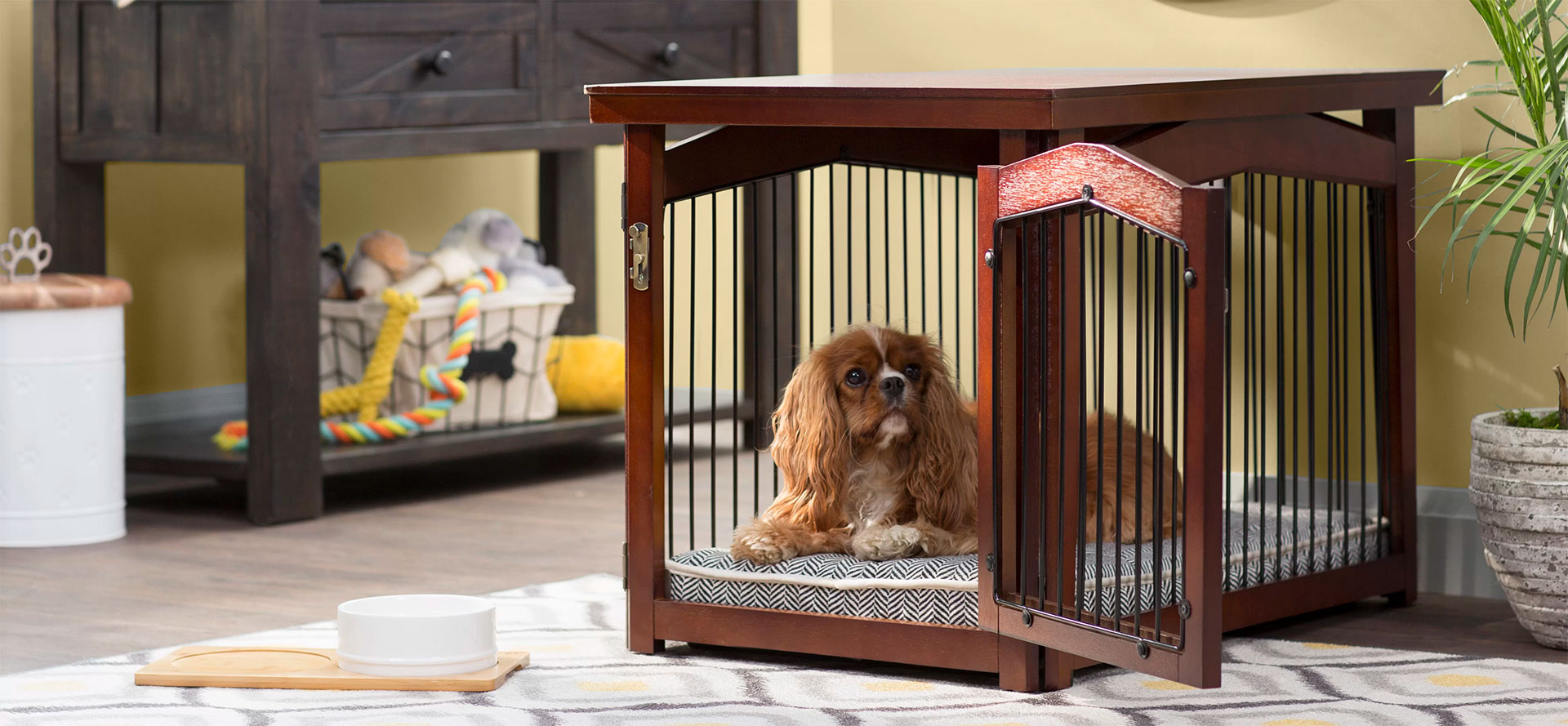 Types of Dog Crates
Heavy Duty Dog Crates
If you own a large dog, then it becomes evident that you would need a heavy-duty dog crate. It should be comfortable, spacious, and simultaneously strong enough to give utmost protection to your dog when you are away from home. You can select from heavy-duty metal crates, wooden crates, with interlocking systems, extra-strong steel wires for extra heavy-duty protection. The heavy-duty crates are ideal for Labrador, golden retriever, or boxer dog breeds. The durable construction keeps the crate free from corrosion, rust, scuffs, or scratches. Heavy-duty cages are ideal to keep the most aggressive dogs under control.
Lightweight Dog Crates
Lightweight dog crates portable and easy to handle. If you are someone who travels a lot, then try considering lightweight dog crates. These crates are available in plastic or metal, but in a much lighter version, which offers the convenience of carrying and installing a safe place for your dog on the go. The material used is durable and simultaneously, lightweight, and easy to maintain, perfect for small-sized dogs. Many of the lightweight dog crates are provided with a zipper, removable trays, and are also collapsible, perfect for indoors and outdoors.
Solid Plastic Crates
These solid plastic crates are extremely strong and sturdy and are highly suitable for travel purposes. It is often provided with a sturdy steel door that withstands being handled by playful or aggressive dogs. Many of the crates have a removable tray that adds to the convenience and makes it much easier to clean and move. You can opt for a solid plastic crate for your medium-sized or large-sized dog.
Custom Dog Crates
Say goodbye to those traditionally designed dog crates that have dull colors or are made using old-styled designs and techniques. Get your hands on the handcrafted dog crates with the latest designs and premium material that is made to cater to your requirements. Add more design, colors, and use innovative ideas to create visually appealing crates for your dogs. You can also select the headspace and the size as per your requirements. You can even select the color to match your interiors to create a functional, space-saving, and beautiful crate.
More choices available
Puppy Crates
If you own a small puppy who is going to be a small dog, then comfort along with safety becomes your highest priority. When buying a crate for your little pup, do consider the size and the material. Unlike the crate for large dogs, for puppies, the crates are much lighter and are extremely easy to carry too. The crate for small dogs should not be too small, the dog should be able to stand up, stretch, or even sleep properly in the crate. The puppy crates are well-ventilated and have enough space to peep out of the windows. It should not feel like a small and dark den. You can even make use of plastic carriers, or the ones with zippers, which makes it portable. Keep it in the home or carry it along when traveling.
Dog Crates Pads: Dogs often sit or sleep directly on the bare floor, but make it more comfortable for them by keeping a cozy and comfortable pad underneath. It is sure to make the flooring more comfortable for your dog. The dog crates are often not provided with a crate pad, so don't let your dog sleep on the plastic, metal, or wooden floor. These are easy to install and clean.
Aluminum Dog Crates
Having an aggressive dog to deal with seems like an extremely difficult and tiring task. It drains out your energy and makes you feel lethargic too. In this case, a highly impactful dog crate can be your total rescuer; it is designed using the finest grade and premium aluminum, which is rust-resistant, and powder-coated. The crush-proof corners, superior ventilation, stainless steel latches with optimum headroom, makes aluminum dog crates a much-preferred option for energetic, and aggressive dogs.
Double Dog Crate
Don't worry if you have two dogs, there are differently sized crates available that are specifically designed to keep two dogs simultaneously. No need to buy separate crates, simply opt for a compact yet spacious dog crate that can easily accommodate two dogs at once. This can be a stylish addition to your home. You can select from the premium-wood or the sturdy metal crates that are designed with removable dividers, either made of wood, plastic, metal, or any aluminum. The divider helps to keep two dogs separate while giving them ample space to roam around.
Soft-Sided Crates for Dogs
Though every dog owner seems to be very conscious of their dog's security, if the anxiety level is a bit higher on your side, do consider buying a dog crate with soft sides. The soft-sided crates with the mesh windows, the optimally-sized door for ventilation, eliminate the potential risks of injury, and keeps your pet safe and comfortable inside. It is a perfect option if you have a highly energetic and playful dog. The padded-sides are easy-to-maintain, and are made using extremely lightweight material, making it travel-friendly too. Many of the softly padded crates are provided with floor pads too, which makes it completely suitable for small pups too.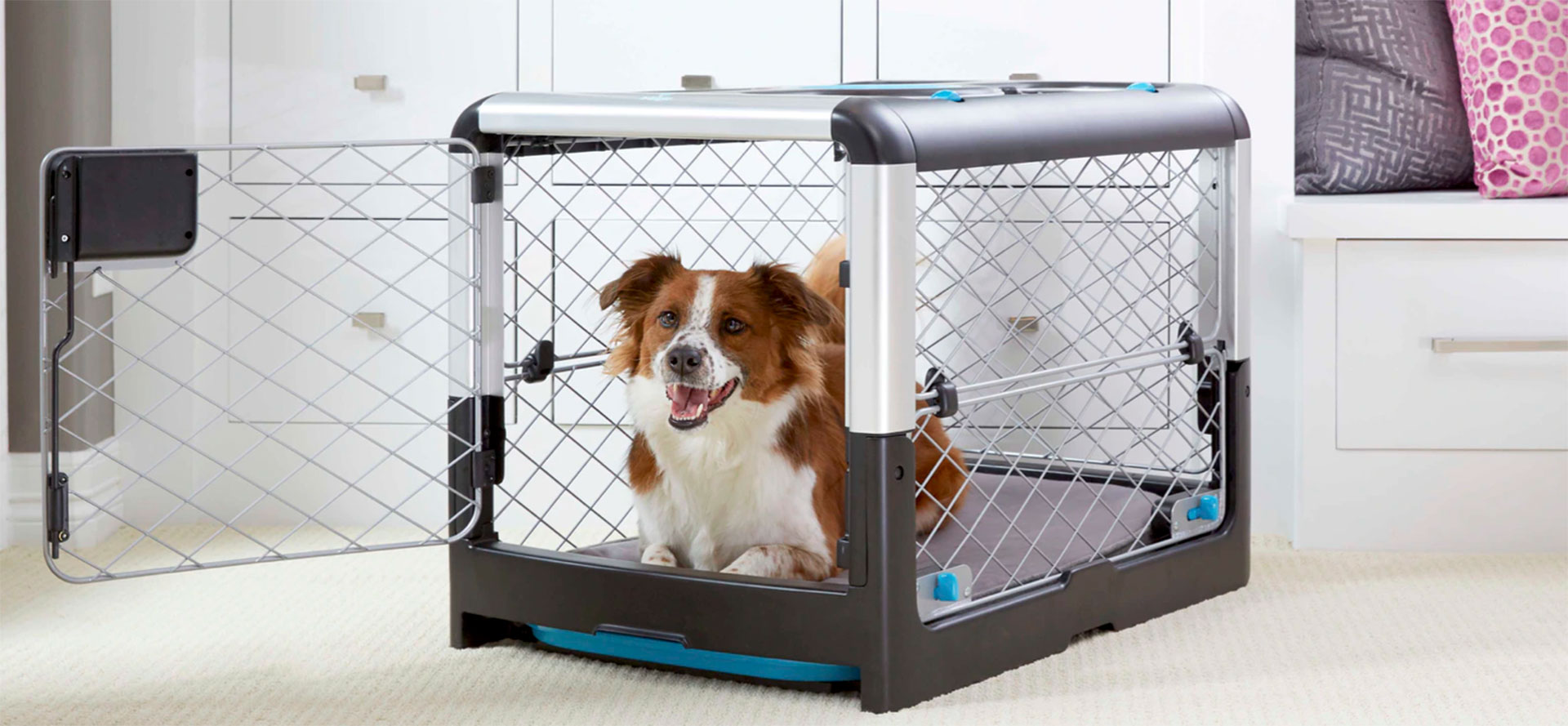 Dog Crate Furniture
Add a style quotient to your house and make it look tasteful and trendy yet, so comfortable for your dog with designer crate furniture. You can customize as per your requirements, either around a crate, rectangular, triangular, or a square crate. Use premium quality wood that lends a classic and a vintage touch. It doubles up as a stylish end table as well. A dog crate furniture is built to provide optimum ventilation and also a 360-degree view, without letting it feel like a cage for your dog. The wooden dog crates are a perfect combination of style and functionality.
Soundproof Dog Crates
It is often seen that many dogs bark continuously to seek attention or sometimes even without any reason. But to stop the uncontrolled barking and develop skills and manners to correct the behavior, a soundproof dog crate proves to be extremely beneficial. A soundproof dog crate is specifically designed using sound-absorbing material that tends to absorb, reduces, and block the sound to some extent. It simply eliminates the reverberations and echoes produced too. Not just barking, selecting a soundproof crate would also help you make your dog feel more relaxed when it is chaotic and scary outside, for example during fireworks and during thunderstorms. The intensity of the sound is reduced that helps keep your dog relaxed and also a peaceful environment.
Indoor Dog Crates
There is lightweight plastic to heavy-duty wooden dog crates available to keep in your house. Not just like a dog crate, stylish, heavy-duty crates with a premium finish and material, are available that can also be used as a table. You can select from the heavy-duty metal crates that have locking caster wheels, perfect for moving from one place to another in the house itself. Opt for lightweight plastic crates to save space in the house.
Side Table Dog Crates
Consider buying a sleek, compact, well-ventilated crate that doubles up as a side-table, if you are looking for an upgrade for your room. Side-table dog crates not just adds to the style quotient, but simultaneously allows you to provide a dedicated space for your dog, even in the confined spaces at home. The top can be used as a space to keep your everyday things and essentials, while your dog can relax and sleep in the crate underneath.
Chew Proof Dog Crates
Chewing everything that comes on the way is what dogs are habitual of. Though this isn't a great thing and sometimes can prove to be extremely harmful and can also be life-threatening. If you own a dog with an excessive chewing habit, then you need to consider buying a chew-resistant wooden crate that boasts solid and durable construction. To control that sudden burst of energy, and correct the behavior a chew-proof material proves extremely beneficial.
Collapsible Dog Crates
Keep your furry friend safe and comfortable in the collapsible crate that gives you the convenience of carrying it along on the go. As the name suggests, collapsible dog crates tend to collapse within a few minutes and make it easier for the dog owner to carry it anywhere easily. You can install the collapsible crate anywhere easily and let your dog feel safe and protected in his own space. Perfect for indoors, and outdoors, folding dog crates are highly functional, lightweight, easy to carry, and secure enough to keep the energetic puppies, and adult dogs safe.
Choose Dog Crate now
Tags: pet foods supplies, best dog backpack, puppy potty training pads, clicker training for cats, big dog halloween costumes, cat behavior changes, retractable leash for large dog, professional dog grooming table, best outdoor cat enclosure, interactive toys for cats