Last updated
Dog Pools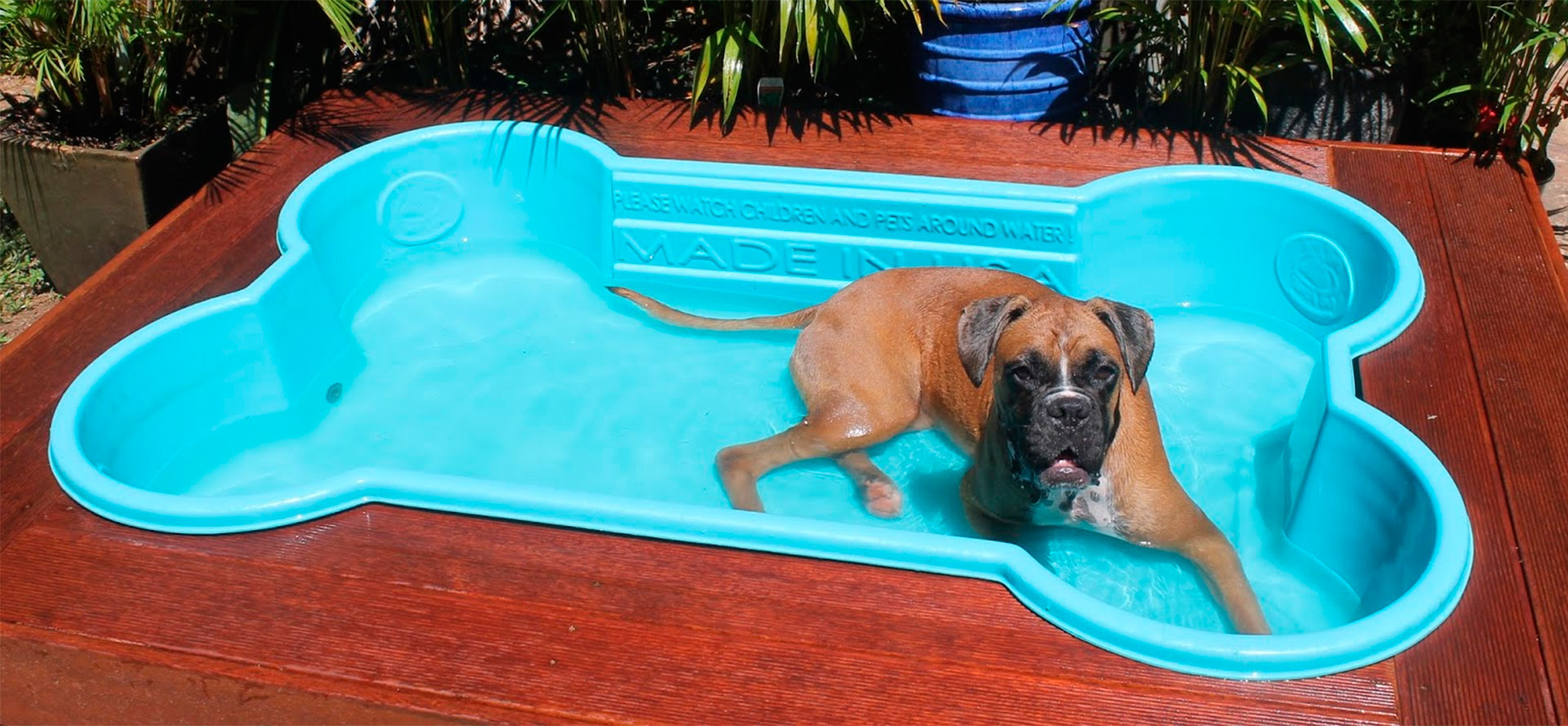 If you are a proud dog parent and your dog loves to play around in the water, then you might want to consider getting a pool for it. For all dog owners who live in areas with hot climatic conditions, a dog pool is a must-have. Dog pools are not just fun the cute videos that you come across on the web, swimming can be real fun for many dogs. Swimming is also considered a low-impact body workout for dogs. It is an easy exercise routine for the dog's limbs and joints. It is beneficial for both puppies and big dogs. Also, dog pools can be a total retreat to have fun with your dog in the water, spending time with them. It can also be used as a rehabilitation method for post-surgical recoveries as well.
Veterinary surgeons have stated that swimming can be a great workout for your dog's cardiovascular system maintaining the body's balance. It has been recorded that 1 minute of swimming in the pool is equal to 4 minutes of jogging for the pets. Therefore, getting a pool might be a great way to familiarize your dog with the swimming workout routine. Read this Ultimate Guide to learn more.
10 Best Dog Pools in 2023
Products
Information
Price

Dimensions:

63 x 63 x 11.8 inches

Breed size:

Large Breeds, Giant Breeds

Check Price

Dimensions:

63 x 63 x 11.8 inches

Breed size:

Small Breeds, Medium Breeds, Large Breeds

Check Price

Dimensions:

63 x 63 x 11.8 inches

Breed size:

Small Breeds, Medium Breeds, Large Breeds

Check Price

Dimensions:

47.2 x 47.2 x 11.8 inches

Breed size:

Medium Breeds

Check Price

Dimensions:

12.1 x 11 x 6 inches

Check Price

Dimensions:

62.99 x 62.99 x 11.81 inches

Check Price

Dimensions:

43 x 27 x 12 inches

Check Price

Dimensions:

63 x 63 x 11.8 inches

Check Price

Dimensions:

30.5 x 30.5 x 12 inches

Breed size:

Medium Breeds

Check Price

Dimensions:

48 x 48 x 48 inches

Breed size:

Small Breeds, Medium Breeds, Large Breeds, All Breeds

Check Price
View all Dog Pools
Why Should You Buy a Dog Pool?
There are a couple of mixed reviews of why one should invest in buying a pool for dogs. It is important to know that not all dog breeds are the same. There are so many breeds that instinctively know how to swim. They are better equipped to swim because of their physical build. Dog breeds like English Setters, Chesapeake Bay Retrievers, Irish Setters, Irish Water Spaniels, Golden Retrievers, Newfoundlands, Nova Scotia Retrievers, and Spanish Water Dogs can swim like a pro. So, if you happen to have any of these breeds, then you can train your dogs to swim easily. Here are a few reasons that explain why you should buy a dog pool.
Exercise:

Apart from fun sessions of splashing and paddling, a dog swimming pool can be a great way to make your dog work out. You just need to find a pool that has the perfect size to allow your dogs to comfortably swim. Here are some recommendations for buying the best dog swimming pools.

Therapy for Dogs:

Many veterinarians suggest that swimming is good for older dogs and the ones with injuries and ailments. The doctors believe that swimming is an exercise that does not put pressure on the joints or legs. It is a non-weight-bearing exercise that makes it a perfect workout for your overweight pups and dogs who are suffering from joint pains. Exercises like walking or running can make the problems worse for such dogs but, swimming can be a high-intensity exercise that your dogs are sure to enjoy without feeling a lot of pressure on their joints.

Relief in Hot Climates:

If sweating is something that you and your little furry paw are worried about all summer, then getting a swimming pool for them becomes all the more important. The hot temperature can cause some discomfort for dogs, especially during walking. They can suffer from a heart attack and other health problems if they do not get the opportunity to cool it off. Thus, a swimming session in their pool can solve this issue and keep them cool even when exercising.

Mental Stimulation:

When you are working all day long, your dogs do not have much to do all by themselves and they get bored. This is when some behavioral problems arise. Getting them their pool can provide them with new stimuli that will keep them active and their brains busy.

Exciting Bath Time: If you are someone who thinks that bathing your dog is draining and tiring, then a dog pool can be a perfect addition to your living space. There are so many dogs who are paranoid about getting into the bathroom or bathtub, making it difficult for you to bathe them. Using a pet pool can make this cleaning up session easier and also protects your carpets and rugs from getting wet. You can also take them to public dog pools for a fun bathing session. Here's a list of the best public dog pools that you might want to consider.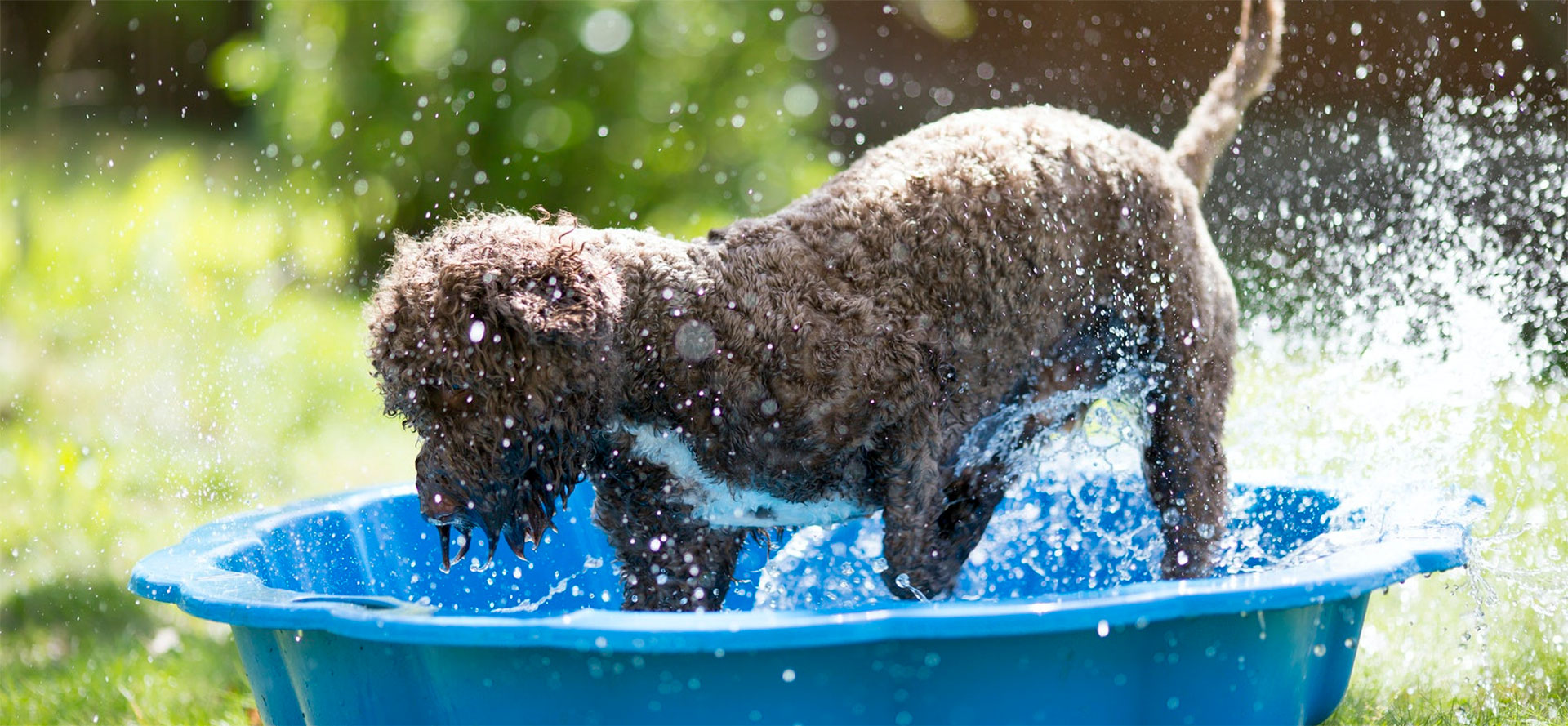 Main Types
There are a lot of swimming pools available for dogs. Most of them are plastic or metal pools, but many pet owners install an actual in-ground swimming pool for their pawed friends. You must be cautious while picking up the ultimate pool for your dog. Facts like your dog's activity level, the breed of your dog, and the climatic conditions around your area play an important part in selecting the ideal dog pool. These are some factors that you should consider when buying a dog pool.
Durability:

This is the most important aspect that you have to take into account when buying a pool for your dog. The durability of the pool depends on material construction. If you have a dog with a huge build then you might want to buy a pool made from polyurethane that provides excellent resistance against heavy and giant paws. You can also get a pool made from PVC that offers great flexibility and makes an excellent foldable pool that you can carry anywhere along with you. Metal swimming pools have also become a preferred choice for their water-resistant and rust-resistant properties.

Size:

The size of the pool is important to ensure that your dog comfortably fits in that pool and can thoroughly enjoy it. Also, it is important to think about the fact that the pool should be large enough to accommodate a few toys too. If your dog loves to paddle, then a large pool size should be picked rather than buying a one that will allow the dog to just sit or lie down.

Ease of Entry:

The dog owners must ensure that their dog pools should provide ease of entry when getting in and out of the pool. Dogs with a heavy and large built can easily hop in and out but for smaller dogs, you might need an additional step or a ramp to step in or out of the pool.
More choices available
Bone Shaped Dog Pool
A heavy-duty bone-shaped dog pool was the very first swimming pool designed for the dogs, keeping their love for bones in mind. Generally, these bone-shaped pools are made from high-quality polyethylene making them durable enough to withstand the test of time. It is preferable to make sure that the pool is chew-proof to maintain its original shape. These bone-shaped pools are generally available in light colors that make them cooler in the summertime. These pools look very attractive and are a treat for dogs.
For Large Dog
If your dog loves splashing and paddling in the water, then you must pick a large-sized pool. Most of the large-sized dog pools are made from high-quality PVC that provides it with the strength for impact resistance. The PVC pools can easily withstand the pawing and panting of your active dog. The large pools are generally preferred by dog owners with breeds like Labradors, Golden Retrievers, Dalmatians, hounds, and mastiffs.
Inflatable Dog Pool
If you are someone who does not want to spend a lot on the dog pools for just one season, then an inflatable pool can be a great pick for you. As compared to the other plastic and metal pools these inflatable pools are cheap and can be easily stored without a fuss. The inflatable pools are indestructible and strong enough to resist normal wear and tear. Quality PVC construction ensures maximum durability, ensuring no damage even if the dog bites it with tooth and nail.
Indoor Dog Pool
Many people have started a business of providing pet training with their indoor-heated pools. These pools are perfect for busy pet owners, keeping their dogs excited for a great adventure. These daycare centers provide a warm and cozy environment for your dogs to enjoy throughout. These heated indoor pools provide your dogs with a chance to splash and paddle their ways to a fun bathing and playing experience no matter whatever weather it is.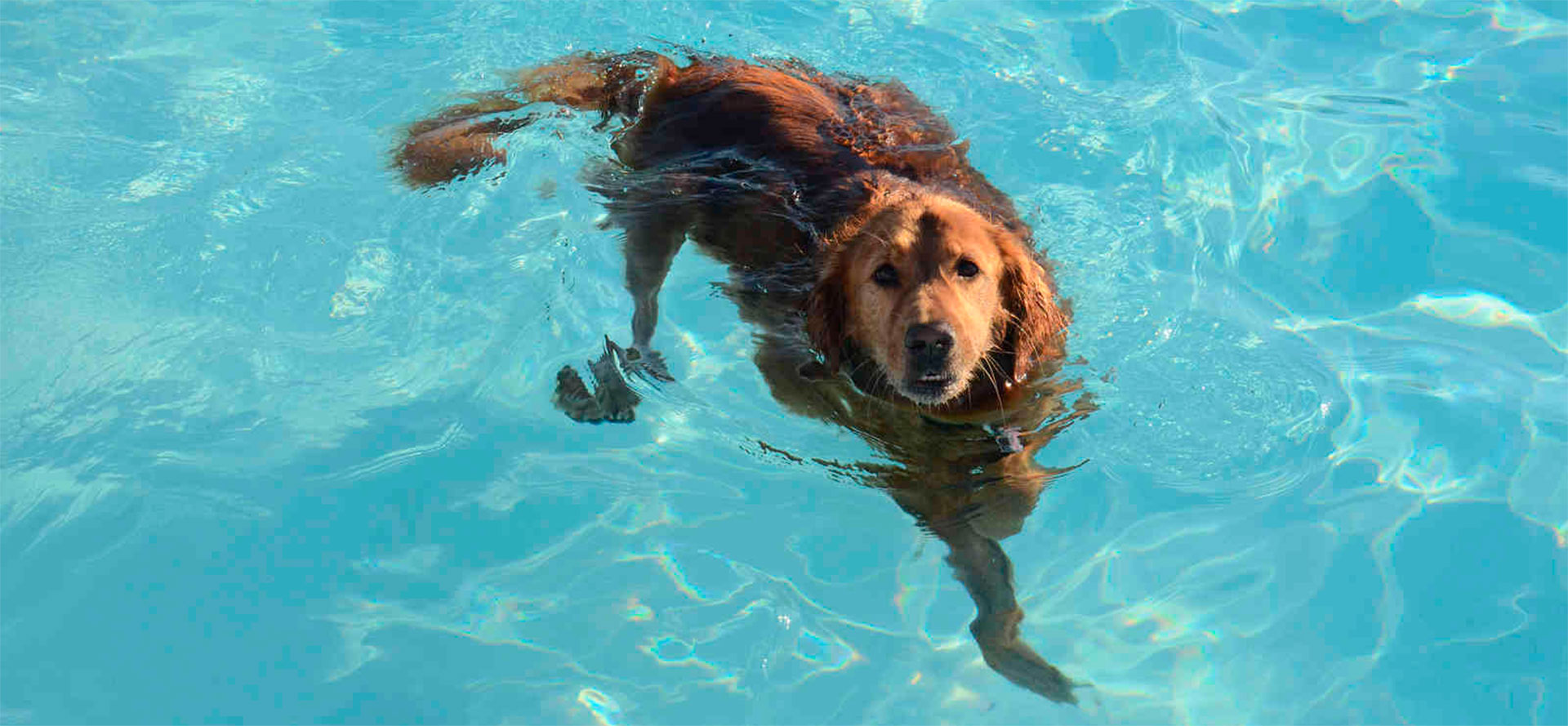 Pools for Small Breed Dogs and Puppies
If you have a small dog or a pup who loves to have fun in the water, then you don't necessarily need to buy a large pool. You can go for a smaller and compact pool, allowing your pooch to take a dig for as long as it wants to. The collapsible pools can be an apt choice for small pups. The collapsible small pools are easy to set up as compared to the large inflatable ones.
Portable
The best part about buying an outdoor portable pool is that – it can be easily folded and wrapped up like a sheet and stored away. You can carry it along with you on a vacation. It is usually crafted with durable material like industrial-grade PVC that withstands the rough use by the dogs. It can be easily set up anywhere. It has a twist-cap that allows you to drain the pool within minutes, making it easier.
Public Pools for Dogs
From puppies to old dogs, you can take your pets to these public pet pools for a new adventure. A swim session with many other dogs would rejuvenate your dog's mind. These public pools often have pet coaches who train them to swim easily and make them have fun with other furry friends. Even if you happen to leave your dog in the public pool for a session, it won't be alone. The swim coaches will be in the pool to make the experience fun and safe for them.
Dog Pool Toys
Spending fun time in the pool can be your dog's favorite pass time in the day. Taking your pup for a dip in the water becomes all the more fun with quirky toys. The dog water toys can be a great pick for your dog's workout. Also, the fact about these water toys is – they can be used on the land too for the days when you don't want them to get wet. Toys like pool float are a great option to buy. It will keep your furry friend comfortable in the pool, on the deck, or even in the house. A few toys like go fetch throw toys, floating skipping toys, bone toys, and slimy squishy balls can bring excitement to your dog's fun time. Also, instead of tossing the toys around, you can pick up chew toys that become safer to swallow. Soft toys are also preferred because of their trendy colors, shapes, and sizes. Always pick the toys that are safe for your dogs and are made from chewable non-toxic material.
Safety
There are certain factors that you need to keep in mind before getting a pool or getting your dog into it. Following are the safety measures that you need to know about.
If your dog is new at swimming, then you must take care of the fact that they do not get injured while splashing or paddling. Just make sure that someone is always around them when they are in the pool.
When using the public dog pools, keep an eye on the other dogs. There can be a possibility of dogs quarreling with each other over territory or toys. Pushing and shoving can cause serious injuries.
Some dogs love spending time in their pools, making it difficult for you to get them out. In the cold weather, this might make them sick. Thus, you should always check for symptoms like shivering and lethargy, immediately dry them up and take them out of the water.
On the contrary, during hot climatic conditions, some of the sensitive breeds might get sunburns. This can be a really painful condition for the dog. So, make sure that whenever you get your dog into the pool, slather on some dog-friendly sunscreen.
To learn more about pool safety for dogs read this article.
Choose Dog Pool Now
Tags: pet supply, toothpaste safe for dogs, can cats eat pepperoni, cloth dog diapers, best wet food for senior cats, cute cat beds, customized dog tags, cool puppy collars, harness for cats, quiet dog nail grinder