Best Dog Doors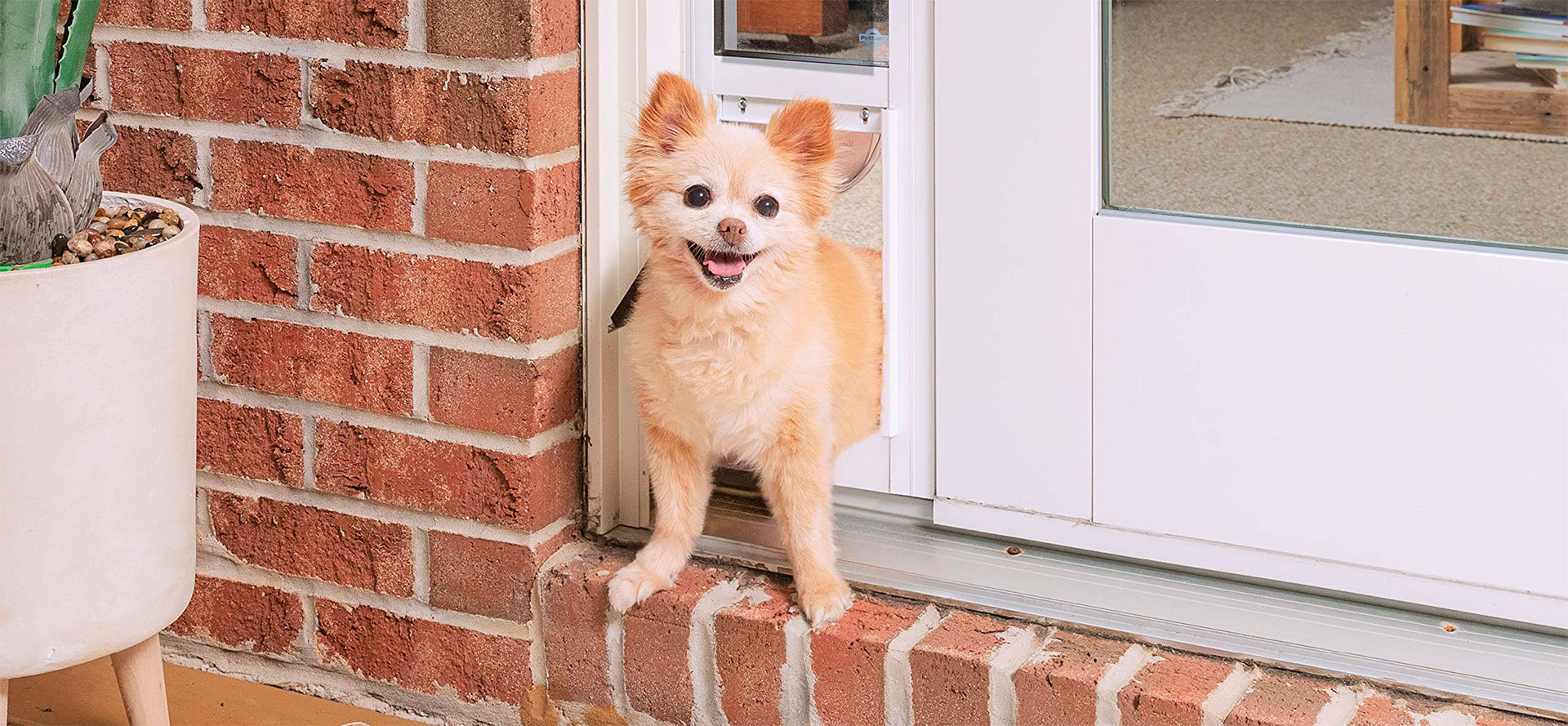 Handling the responsibilities of a new puppy is no less than handling the responsibilities of a baby and every pet parent can vouch for this fact whole-heartedly. While the arrival of your new puppy will make your days extra happy and your night extra peaceful, it also means that you will have to alter your routine, habits, desires, and even your living space as per the needs of your new friend. Unlike cats, dogs need constant attention and care, even when they have nothing to do except for playing around. And as excited as new puppies are, there is a huge chance that you will spend half of your day snatching things away from their mouth, stopping them from eating dirt, dust, and other trash as well as opening and closing doors for them.
This is why dog doors are an essential thing to have in your home in order to make not only your own but also your dog's life easier. Not only will your puppy be able to move around the house freely, but also make them feel less confined and hence less prone to whining and crying. Dogs need their space and no amount of space can be enough for them. Hence, moving around is something they can never let go of. Dog door will also come in handy in keeping the pooping and peeing mess out of the house by allowing the puppy to run out when nature calls.
Now that you have established the need and importance of dog doors in your life and home, you must understand that there are several different styles and types of doors that you can have in your home and each one of them comes with its unique perks too. There is a specific door made for your little puppy which will offer the maximum amount of mobility and comfort without being too much of a nuisance in terms of maintenance or upkeep for you. Let us discuss some of these main types of dog doors available in the market. While you are at it, check out the list of our favorite dog doors to find the best door for your puppy.
Dog Doors for Walls
As evident by the name, wall doors are simple doors, preferably tunnel doors, which are fitted into the exterior or interior walls of the house as per the requirements of the user. A hole is cut into the wall according to the size of the door and then the installation is processed. A wall is a perfect way to ideally transport your dog from one room to the other without having to walk with them or lead them through several doors.
Dog doors for walls are best suited for all kinds of dog breed including small, medium, large, and extra-large breed dogs. Wall doors are generally preferred for a large dog like a German Shepherd which cannot pass through small-sized doors that are installed in the doors of the house. Most wall doors come with fully-equipped mounting kits, frames, and tunnels which depends on the style that you choose. The size of these wall doors can be customized as per the size of the dog. Consider the age, size, and potential growth of the puppy when choosing a wall door for dogs as it is quite difficult to change them later on.
As far as designs are considered, wall doors come in options like insulated, double flaps, and more. The double flap ones and insulated ones are perfect for colder regions. The double doors ensure that the entrance to the house is securely covered so that the inner heat does not escape. Not only will it be more comfortable for the dog but it will also save the cost of electricity.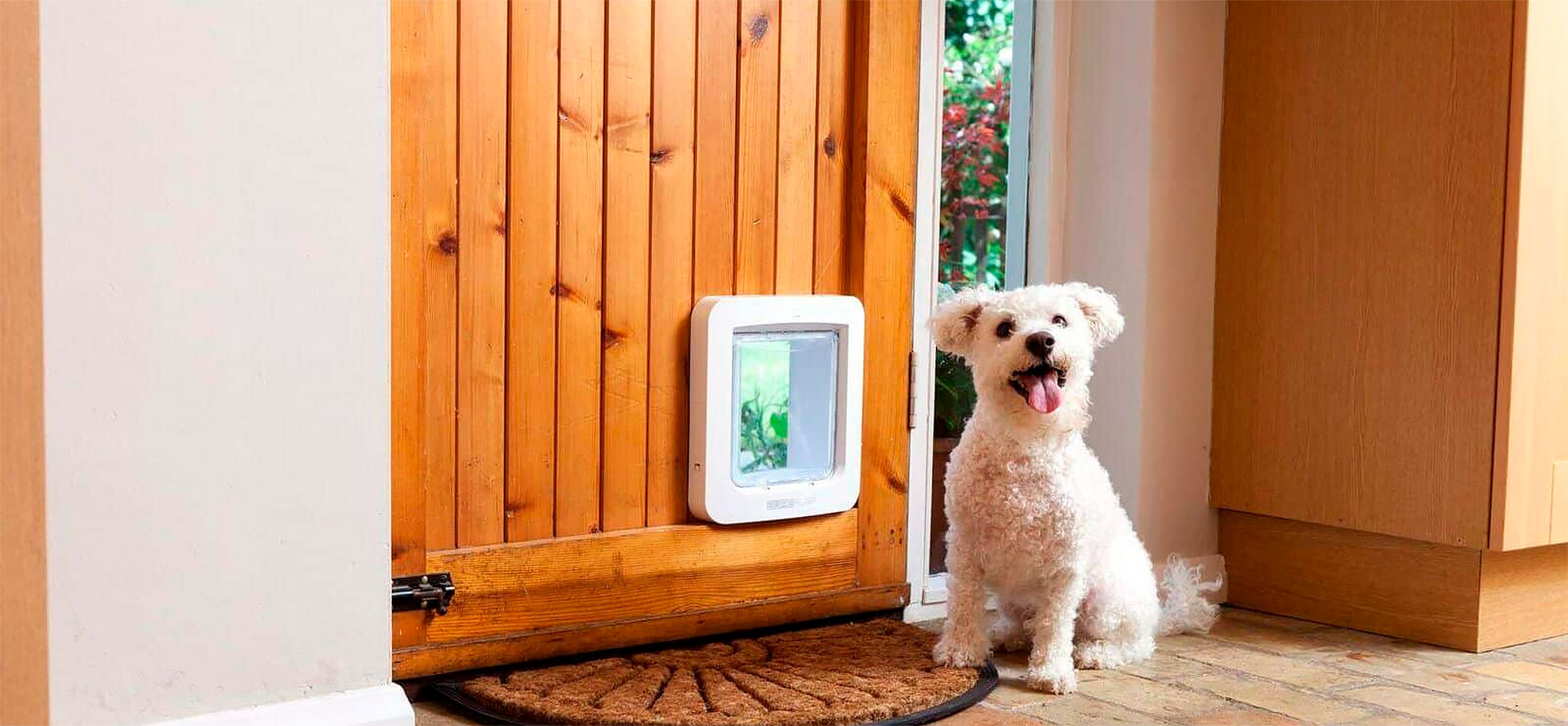 Wall doors for the cat also come with a double flap option which means better temperature control for your home and reduced electricity bills. The double flap options are also a good choice you want to invest in something extra secure and safer for your cat as there are many cat doors for walls that come with a tunnel system that makes it safer for your pet to go through the door. You can check out our top recommendations to find a suitable cat door that finely fits the walls of your home. Although always make sure that these wall doors are installed by a professional since it requires expert handiwork to penetrate walls which may have plumbing or wiring.
Electronic
Saving your dog all the trouble to manually raise the flap of the gate to enter and helping in keeping the strays out without any manual labor from the end of the owners, electronic doors do a solid in terms of security, technology, leisure, safety, and convenience. Available in many different styles and types. Electronic dog doors are ideally suited for small or medium-sized dogs like Akita, poodles, and Golden Retriever. Electronic dog doors are classified on the basis of the kind of keys that are used to open them. the categories include magnetic key doors, microchip compatible doors, and ultrasonic key dog doors. The microchip dog door requires your dog to have a microchip inserted in it which signals the door to open while the other two works with special collars.
Magnetic Dog Doors
Magnetic doors for dogs are combined with the collar of your dogs and make the operation completely hands-free for you. Magnetic dog doors get their key installed in the magnetic collar of the dog. As soon as the dog approaches the dog, magnetic signals let it open automatically without any manual assistance from you or any efforts from the dog are required. The magnetic field used by these doors in order to open or close has one small disadvantage. Since there is no way to put on an individual identity that is unique to your dog, a magnetic id door will open for every pet who is wearing a magnetic collar. This put a tab on the security and privacy of the door. Although, it will not let the strays in and it is highly unlikely that someone's else pet will walk into your house. Considering that, magnetic dog doors can be a pretty good option for small breed dogs or young puppies.
Automatic
Any dog door that does not require special assistance from the owners and the dogs to open or close are known as automatic doors. The top examples of automatic dog doors are electronic doors and magnetic doors. Taking the invention of electronic and magnetic dog doors one step further, the automatic dog doors also come in a style that can be operated using an application on your phone. The automatic doors also come with a timer function which means that they can be programmed for auto shut or auto-open option for your puppy to keep it from going out at the night. Quite sturdy and safe in construction and flaunting advanced technology, automatic doors are the perfect choice for medium or small-sized dogs. You can also go through our picks for automatic dog doors to find a suitable one for your puppy.
Removable or Sliding Dog Door
Available as full-length panels, removable dog doors can be easily separated from their initial space without leaving any permanent changes unlike other dog doors like a wall or door mount ones. Removable doors come with their panel which means that you do not have to cut out space in your door to fit them in. Removeable dog doors are ideally fitted with sliding doors as they can easily make space for an additional panel dedicated to the dogs. These dog doors are perfect if you move frequently or plan to move soon as well. They are also a good choice if you plan to remove the door later and hence do want any permanent changes to be made in the house.
Secure
Most electronic, magnetic, and automatic doors fall in the category of secure doors for the dog. These doors come with a security system that allows entry to only a few specific dogs and at that too on specific times. Secure dog doors are essential for places where safety is of high priority. Secure dog doors are perfect to let the dog come and go as they please without having to work for it. Along with dog doors like magnetic chip doors and automatic doors, heavy-duty steel doors, and dog doors with security passcodes and locks, bolts, and hinges. You can take some inspiration from our top picks as well.
Exterior Dog Door
These dog doors are meant to be installed in either the outer walls or main doors of the house. The exterior doors for dogs are made to be extra sturdy and secure since they are supposed to be extra safe for security reasons. Steel and other metals, toughened heavy-duty plastic, or a mixture of these materials are the top choices for exterior doors meant for dogs. The security element of the doors is also supported by new and advanced technical features such as security passcodes, application-controlled locks, timer-controlled auto locks, special id-controlled dogs. The exterior dog doors are made to trap the inner heat of the house inside as it can be a huge problem for it to escape every time the dog decides to make a run for the fence. Keeping the house, safe, and warm, exterior dog doors all about top-notch security in every term possible.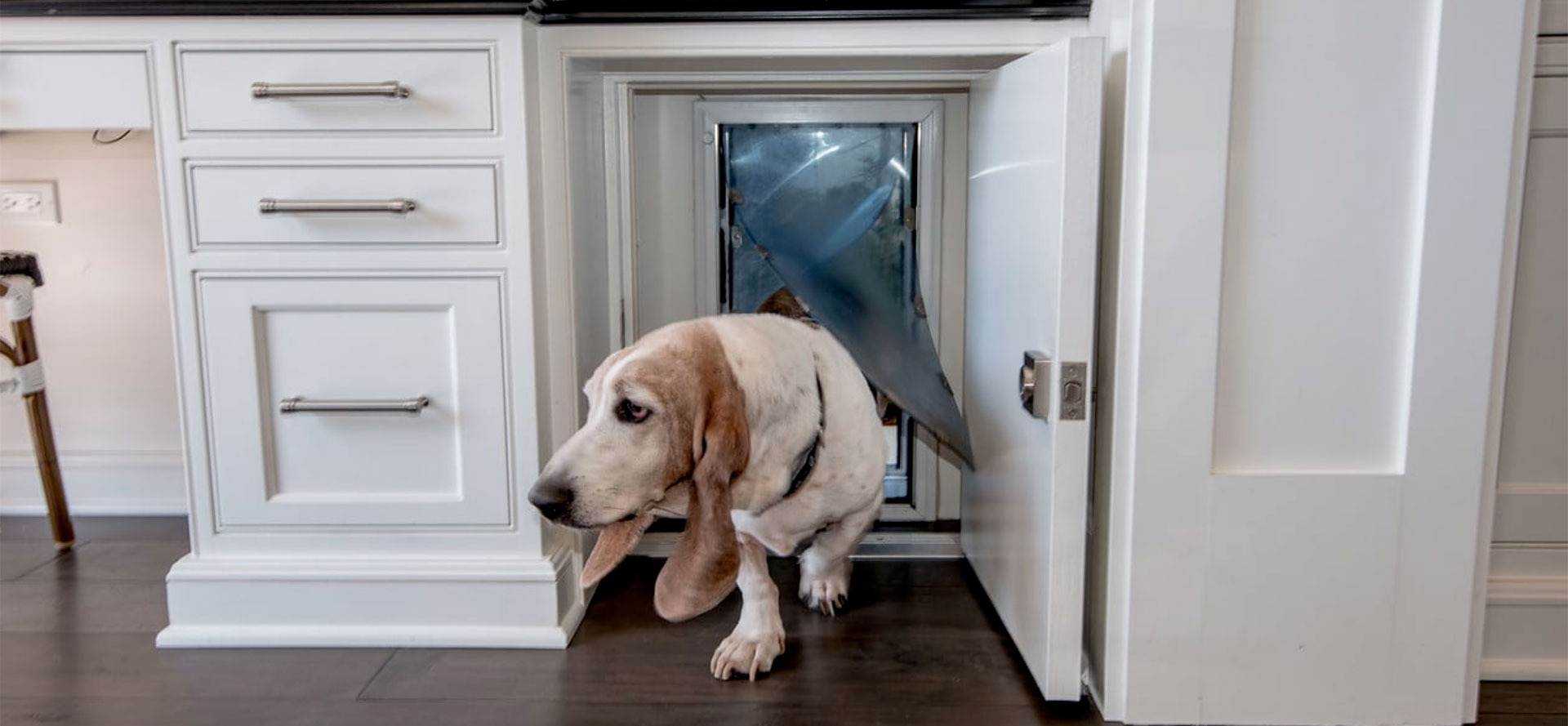 For Small Dog
Made for breeds like Shih Tzu, Beagle, Australian Terrier, and Bolognese, small dog doors can be doubled as cat doors along with being dog doors. Small dog doors are found in several styles including flexible flap and rigid flap. Small dog doors are primarily installed indoors or in windows as they are manufactured in the form of single flap doors. The flap of these doors is made with lighter flaps so that it is easy for the dog to get in and out by pushing the flap without much effort. The small dog doors are available in several designs, styles, operating styles, and endowed with several security systems. You can easily find electronic dog doors, automatic doors, removable, magnetic, and doors controlled by microchips for small dogs.
Medium Dog Door
Medium-sized dog doors are meant for dog breeds like Labradors, English bulldogs, and such. These doors can be installed in-wall and doors but the size limitation does not allow them to be installed in the windows. Available in both single flap and tunnel styles, depending on the place of installation, medium-sized dog doors can be useful for both full-grown, medium-sized dog breeds and growing large breed dogs. The most popular material for medium-sized dog doors includes plastic, aluminum, steel, fiber, and acrylic. Most variants use a combination of these materials in one.
Special for Large Dog
Glass, plastic, aluminum, and other metals are the primary material choices for a large doors. Large dog doors are primarily installed in walls, both interior, and exterior ones. Another variant includes dog doors that can be installed in sliding French doors such as removable panel dog doors. From rigid flaps to flexible ones, there are all kinds of large breeds dogs that you can find with at least one of them completely in line with your requirements. Secure large breed dog doors include automatic doors, microchip-managed doors, electronic doors, and magnetic doors.
Glass Dog Doors
Glass dog doors made with glass are ideally meant for small or medium-sized dogs. Glass doors are made with toughened glass which means that safety will be of utmost priory even if you have a glass dog door installed on your main door or the window. Glass doors generally have plastic panels and are extremely easy to clean as well.
For Screen Door
Screen doors are quite fragile and hence dog doors installed in these screen dog doors are made with heavy-duty but flexible flaps and single-frame panels. Some variants also include hard flap screen doors and can be installed by self without any professional help. Although all protective measures should be taken to the screen door itself is not damaged in the installation process. The size of the screen door dog doors can be determined as per the size of your dog.
French Doors with Dog Door
These dog doors are installed on one side of either of the two French-style doors. From the general single flap dog doors meant for medium or small-sized dog doors to full-sized removable doors, several dog doors can be installed in French doors. French doors with dog doors can have panels on either side of the doors or they can be installed in the doors themselves by cutting a hole. An advantage of French door dog doors is that they can be customized as per the opening space available in the door.
Tags: pet supply, no mess cat litter boxes, interactive kitten toys, quiet cat water fountain, automatic cat litter boxes reviews, dog house, dog halloween costume, dog toenail clippers, invisible fencing for dog, mint dog toothpaste