Last updated
Elevated Dog Bowls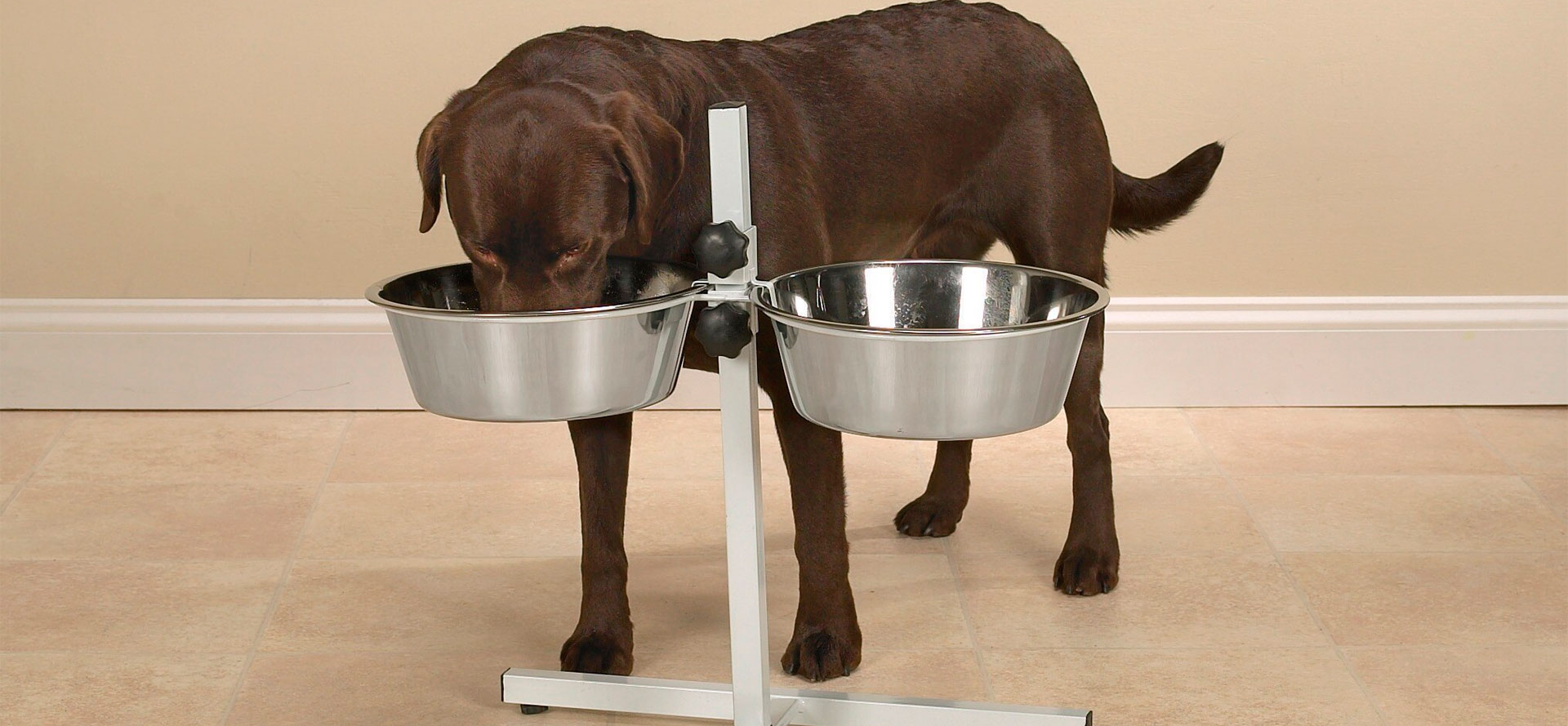 Dogs are man's best canine companions at all times. Just like humans, you need to handle them with care. Among the major things that your canine friend needs are elevated dog bowls. Unlike the bowls that you place on the floor, the raised dog bowls will make mealtime easy and comfortable for both you and the dog, more so if the dog has orthopedic or arthritic problems. They also improve your dog's posture and put less stress on the neck and back of the dog. Additionally, the huge dog breeds have reduced chances of megaesophagus or bloat with these bowls since they help the dog swallow more easily without haste
It is important to choose the best size of the bowl, which depends on the amount of food your dog takes. The height of the dog bowl stands also depends on the size of your dog. Getting a well-decorated dog food bowl stand makes the feeding area look great and clean with less mess and home decors, more so if you are a pet enthusiast.
What is an Elevated Dog Bowl?
It is also referred to as raised dog food bowl. Simply put, it is a food bowl or dish that is not positioned on the floor. The food bowls are placed on the bowl stand. They come in a variety of shapes, designs, and sizes. With many styles in the market, you are sure to find one that will match your style and preference.
Different Types
Different dog bowl types depend on your style and preference. Those types include:
Adjustable Raised Dog Bowls: It is difficult for your pet dog to destroy or damage the bowl stand. As a result, there is an adjustable dog stand that you can easily adjust as your dog increases in height. These types of bowl stand ensure that if your pet is a pup, it can feed in a comfortable position. As it grows, you can adjust the stand to the required height as per the height of your dog.
Detachable Elevated Dog Bowls:

You can separate this type of raised dog feeder. The bowls are not permanently attached to the stand. It means that in case the pup is messy, you can remove the bowls and clean them separately in the dishwasher if they are dishwasher safe, and on the other hand, you can clean the stand on its own. The stands can be made of different materials, including wood or stainless steel. The bowls also can be made of stainless steel, ceramic, or even plastic.

Single and Double Elevated Dog Feeders: Various stands are made with either single, double, or even more bowls. For a single bowl stand, it only enables you to position one bowl. The pup can take its meal on only one bowl stand and maybe a different bowl stand for water. The double bowl stand is made for you to place the dog's food and water in separate bowls but on one stand. Other types have over two bowls on the same stand. These types of stands will help your dog if it is a messy dog.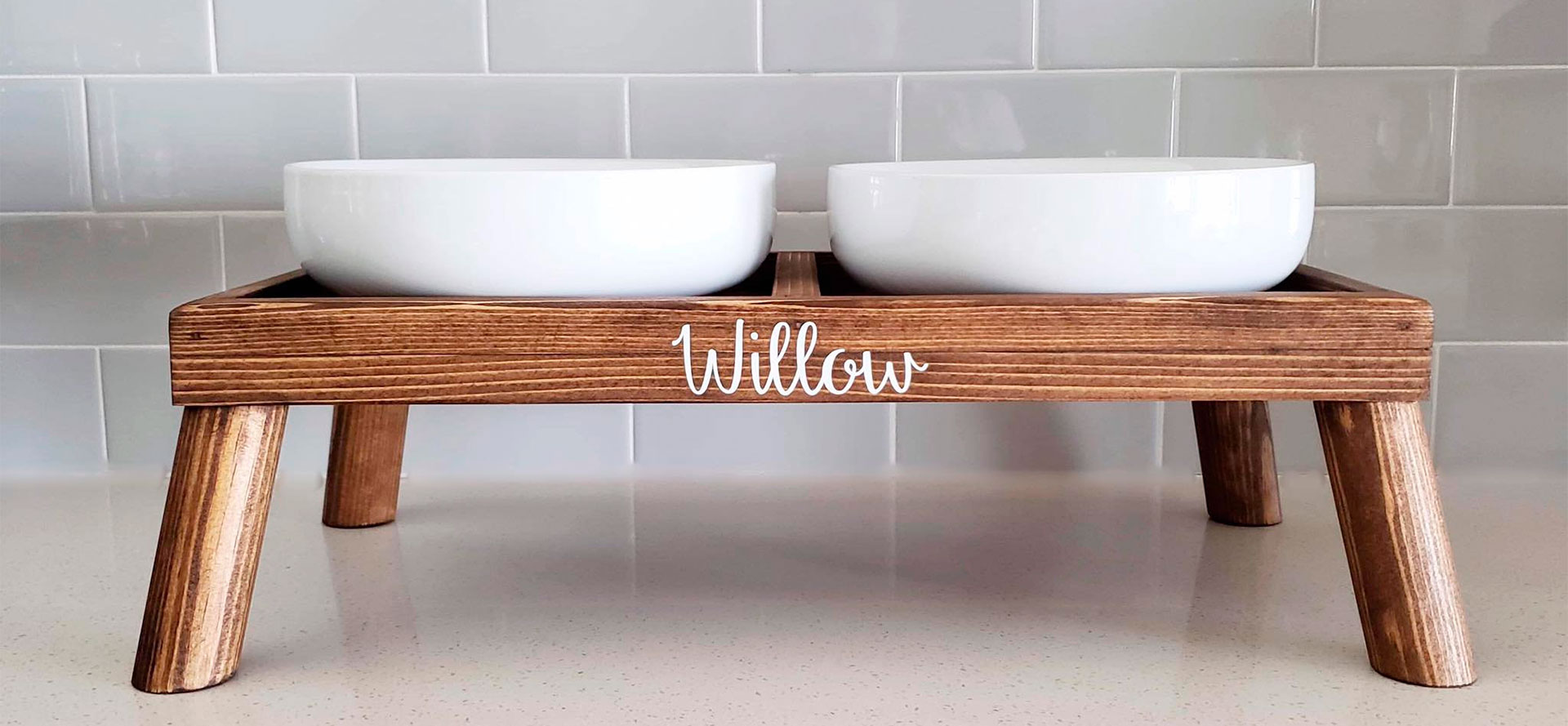 How to Choose Elevated Dog Bowls
It is always ideal to choose the best-elevated dog bowls for your dog to have an easy time during mealtime. This is how you can choose the best-raised dog bowls.
Dog's Size
For you to choose the best-elevated dog bowls, you need to understand your dog's breed. If the pup is one of the huge breeds, it is ideal if you choose a bowl stand with a bigger height than the medium-sized stands. You can also choose an adjustable stand that can easily fold into a smaller size for easy storage. On the other hand, if your dog has a small height, you will need to choose a lower stand height so that the dog does not strain to reach the food.
Material of the Stands and Bowls
Since some pups like chewing around, the manufacturers have come up with different unchewable dog bowls and stands. The best thing is that the elevated dog bowls are made with different materials. When choosing, you need to get the material that the dog cannot chew and also the one that cannot store bacteria after the dog has scratched. Since the stands are made sturdy for maximum stability, it would be great to choose the one that cannot move when the dog is feeding. An antiskid stand will always ensure that the dog will not spill the food; hence easy for you to clean after the dog has finished feeding.
Dog Feeder with Storage
With a dog feeder that has storage, it is easier to keep the dog food safe and dry at all times. It is also good if you have limited space for storing dog food. Most of the raised dog food bowls with a storage cabinet cover that lifts so that you can securely store the food inside the dog feeding bowl stand. This type is the best choice if you don't want to mess your living area by carrying the dog food from the storage area to the feeding station and back.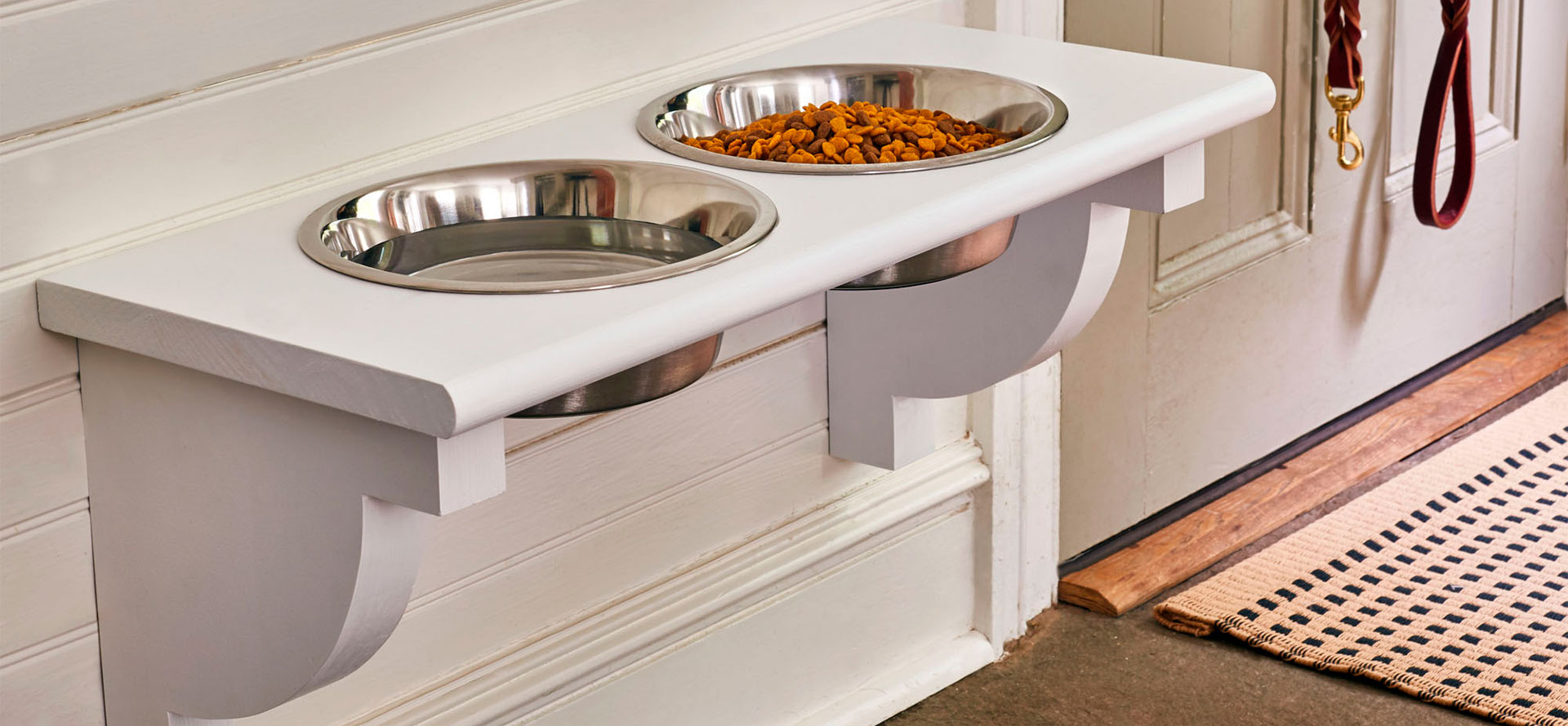 What to Consider When Buying an Elevated Dog Bowl
Where to Place the Dog Bowl Stand:

This is a factor that you should consider when buying an elevated dog bowl. If your dog is older or has other body problems and your floor is tiled and slippery, you must consider placing the stand on a mat. On the other hand, if you are a pet enthusiast and planning to place the dog feeding station in your living room, you will need to consider buying decorative and stylish dog bowls and stands. This will complement your home décor and make your room look nice and attractive.

Ease to Clean:

This important factor will enable you to settle with a raised dog feeding bowl that will not be time-consuming when cleaning. The best dog bowls that are easy to clean are the ones that can be disassembled and are dishwasher safe. By this, you can remove the bowls and wash them separately from the stand. This means that once the dog has finished eating, you can easily disassemble the parts of the stand and the bowls and put them in the dishwasher for cleaning or clean them with your hands.

Space:

Considering that you need to buy an elevated dog bowl for your dog, it is ideal to know the space you have in your home. If you have a larger space, you can consider buying a stand that has more than two bowl spaces or a stand with a wide structure. On the other hand, if your space is limited, it is ideal to go for a stand with one or two bowls. It will enable the dog to feed comfortably even in a limited space. Your space is an important factor that you should put into consideration.
Conclusion
Elevated dog bowls are a beneficial pick, more so if your dog has problems on its back or neck. Since they come in different sizes and even adjustable, the size of your dog should not hinder you from getting a raised dog feeding bowl for your canine companion. Bloating or Gastric Dilation Volvulus is a dangerous and even deadly condition caused by excess gas because of eating faster. The elevated dog bowl plays a bigger role in ensuring that your dog swallows at a slower pace without gulping a lot of air when it is eating.
On your side, you will have a simple time cleaning the bowls since the dog does not make a lot of mess around the feeding area. The bowls are plastic, ceramic, or even stainless steel which is very easy to clean. They are a great pick for your dog's feeding since they are made of sturdy materials antiskid. Consider getting one for your pup.
Tags: pet supply, fleece dog sweaters, medicated cat shampoo, training collar for dogs, floating shelves for cats, cat behavior biting, best nail grinder for dogs, professional dog fence, best outdoor dog kennel, cat sleeping in litter box