Last updated
Best Cat Backpack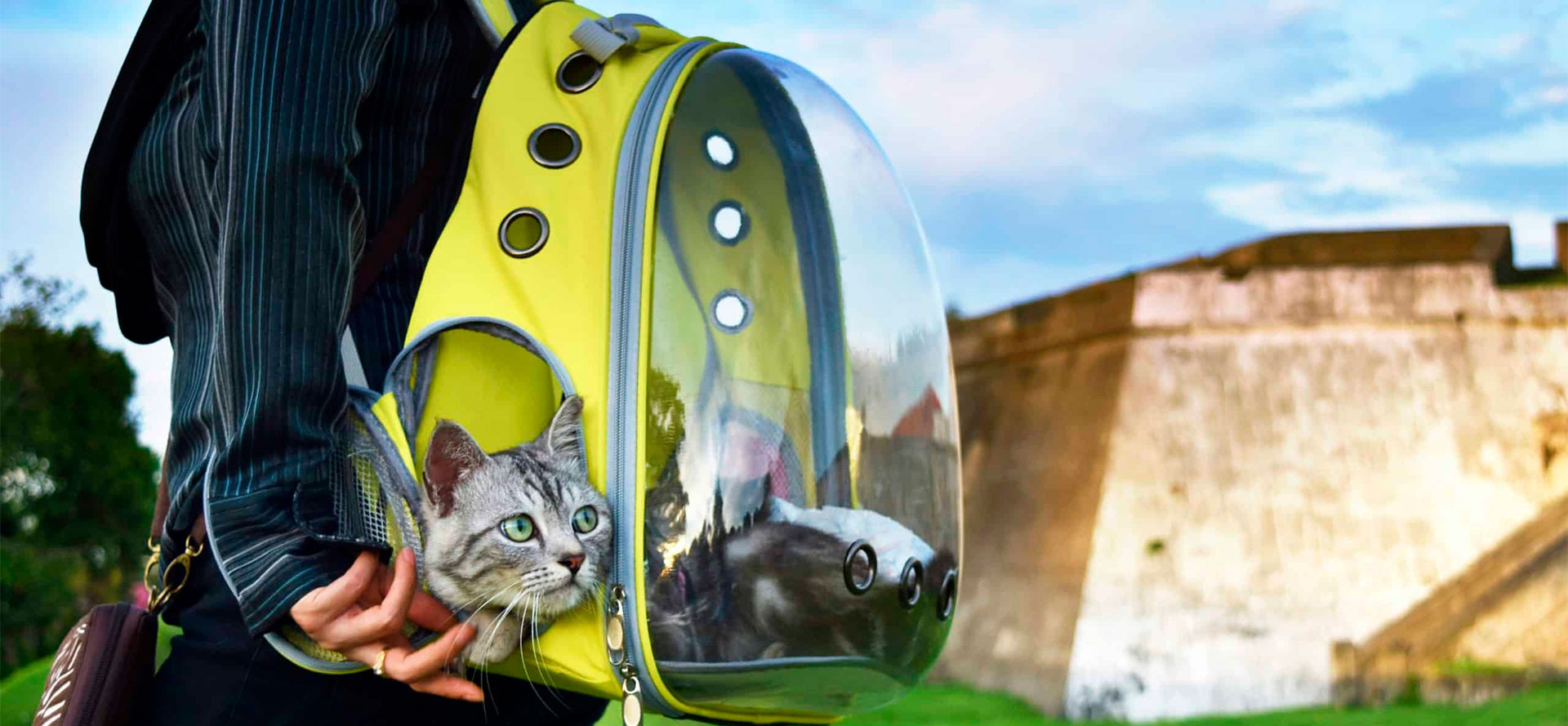 Do you own a cat and spend a lot of your time outdoors? If you're devoted to your kitty, then you might wish to take your cat out with you everywhere you go. While cats are quite independent creatures, they can also suffer from separation anxiety if left alone regularly. Cats are great animals and should not be neglected for too long. They deserve all the love they can get and be introduced to friends and family. But sometimes, it's hard to take them out by simply walking them on a leash or carrying them in your arms; it can get just too tiring. One way to let your cat see the world is by placing them in a cat carrier backpack.
This way, they can safely be transported anywhere with you, and as a result, you get less tired in the process. The benefits of cat carrier backpacks are endless; most importantly, they allow you to roam around and go on adventures, leaving your hands-free. They are also a great place to allow your cat to feel safe and up away from any threats that come into them when on the ground. To know more about the best cat carrier backpacks, check out our table of top picks here.
What is a cat carrier backpack?
A cat carrier backpack is a bag you put on your back that fits your little pet inside. Most cat carrier backpacks are made out of leather or a sturdy material to hold your cat in the bag safely. At the front of the bag is a transparent flap that allows your cat to see outside when you're carrying it. The transparent flap will have breathing holes to allow your cat to breathe comfortably and feel safe inside the backpack. Sometimes the transparent flap will be either made out of plastic or mesh material to allow them to breathe. Alongside this, these cat carrier backpacks have a zip where the transparent flap folds down to allow your cat to easily fit inside and also to escape.
Different types
There are many different cat carrier backpacks to let your cat travel and be more comfortable on the go. To help you choose, here are some of the most common ones:
Bubble window cat carrier backpack:

If your cat has an extra bit of padding, then you might wish to get a bubble window cat carrier backpack. These backpacks have a bubble shape window at the top, allowing your cat to have enough room to view outside but not too much to get overwhelmed when you're moving. Similarly, it stops other people from looking inside and causing too much-unwanted attention drawn to your cat. Most of these backpacks tend to be airline-approved and can hold cats up to 18lbs in weight. They can also be made out of an eco-friendly fabric or durable leather. Bubble window cat carriers have three zips which allow it easier to fit your cat in even if they're stubborn or hesitant to do so.

Expandable cat carrier backpack:

Sometimes when traveling, cats can get squished, and it can be uncomfortable to stay in one place. If you're traveling for a long period, you may wish to invest in an expandable cat carrier backpack. These cat carrier backpacks allow your cat to stretch their legs when you're on the go. This is done by having an extendable mesh back with lots of holes to allow for breathing room for your cat. It also allows your cat to look around, which helps their exploratory nature when on the go.

Space cat carrier backpack:

These cat carrier backpacks are unique as it allows your cat to see entirely out of your bag when moving. The downside is that these bags don't allow you to store anything in them, just your cat. Typically, these backpacks are made out of leather material with mesh holes in the sides to allow your cat to breathe. The place where you put your cat has a plastic bubble from top to bottom that resembles a space-style helmet. These types of backpacks are ideal if you like to hike, bike, or see sights.

Foldable window cat carrier backpack:

Most cat carrier backpacks have lots of vents to allow your cat to breathe and feel comfortable. But there are some which have more windows that are optimized for hikes and walks. These backpacks are more suited to medium to large-sized cats and allow your cat to breathe easily when walking. These tend to come in many colors and have a lot of back support to make it a comfortable experience for you when walking.

LED and fan cat carrier backpack: If you're looking for something a little bit more customized, then this might be the cat backpack for you. This cat carrier is great if you're traveling at night with your cat. It contains an LED light on the inside that you can turn on overtime to see your cat and do so gradually, so it does not cause a shock to your cat. Moreover, this type of backpack can come with an inbuilt fan, allowing for better air circulation in hot climates. If you choose this backpack, you will need to carry a power bank so its features can be charged on the go.
How to choose a cat carrier backpack?
If you're looking to buy a cat carrier backpack, you should choose the following before purchasing:
Size
Size is one of the first and most important factors when choosing a cat carrier backpack. To give you an idea, you should choose one that is 1.5 times bigger than your cat. This will allow for ample room for your cat to stretch and also not slide from each side when moving. If you're buying a kitten, you should choose a backpack that will be appropriate for it when it grows into an adult. If your kitten slips when on the ego, you will want to put a towel in the lining at the bottom to stop it from moving. Likewise, if you plan on traveling a long distance, make sure the cat carrier is big enough to hold water and food bowls.
Durability
The material of a cat carrier backpack is an essential factor to look at. If your cat is quite heavy and you want to carry them across a long distance, you may wish to get a leather backpack. Similarly, if your cat gets travel sick easily, you may not wish to get a soft fabric one as it could be hard to wash and keep clean.
What to consider when buying a backpack?
When buying a cat carrier backpack, you will want to consider the following:
Ventilation:

Think about the purpose of you needing a cat carrier backpack. If you live in a hot country or going on a strenuous activity like hiking or cycling, you might want a backpack with a lot more holes to help your cat breathe easily.

Doors:

You will want to think about whether you want a single or double door for your cat carrier. It all depends on how stubborn your cat is and how easy it is to place them in a cat carrier. If you have a double door, it might be easier to place your cat in if they're stubborn.
Conclusion
Cat carrier backpacks are great bags to own to allow your cat to come with you when traveling, hiking, cycling, or anywhere else. They're safe and let your cat a place to hide when they don't feel secure. There are many different designs out there to suit your cat. To make sure you know which design suits you best, always read the reviews before buying.
Tags: pet foods supplies, is pepperoni good for cats, orthopedic dog bed large, cat behavior, what are the best cat treats, large cat litter mat, dog crate, stimulating dog toys, large tactical dog collar, wireless fence for dogs