Last updated
Cat Brush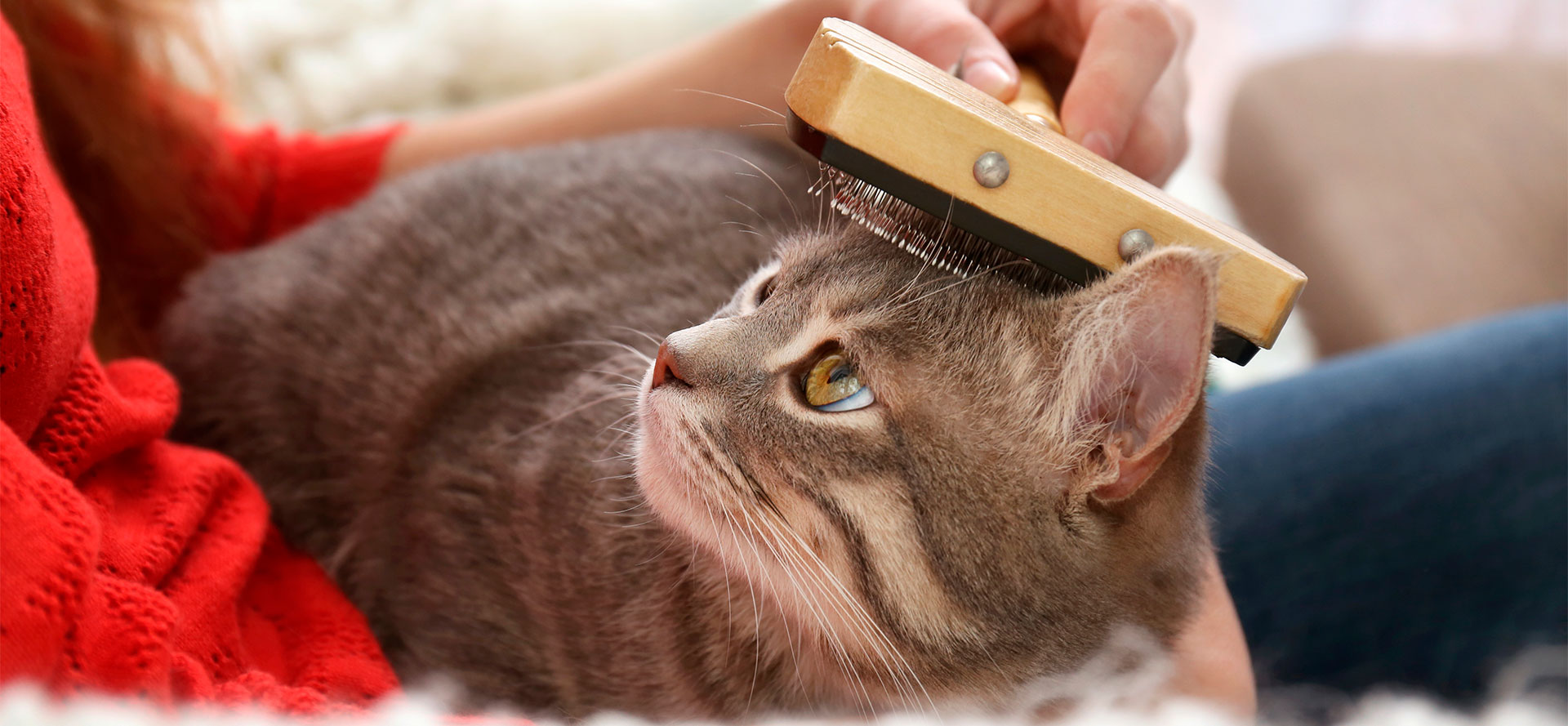 Many people fail to realize the fact that one of the most important aspects of cat ownership is grooming. First-time cat owners or those who have not always been "cat people" may never have heard of the fact that a cat needs to be brushed, but it's something that every cat needs. Even some "hairless" cat breeds can have small patches of hair that need to be brushed to keep them from becoming small mats. Professional cat groomers are not always as easy to find as professional dog groomers, so you may be pretty much on your own when it comes to grooming your cat.
10 Best Cat Brushes in 2023
Products
Information
Price

Instructions:

Brush in the direction of hair growth, taking care to use gentle strokes. Work on small areas, parting the hair in sections. When pad becomes full, remove hair by pressing button on back of pad. Hair will be pushed off the pins.

Check Price

Dimensions:

9.75 X 5 X 2.75 Inches

Instructions:

Brush cat in direction of hair growth with short strokes to remove dead hair and prevents mats.

Check Price

Key Benefit:

Safely and effectively removes loose hair and dander to keep your pet's coat looking and feeling great.

Check Price

Dimensions:

10 X 5.8 X 3 Inches

Material:

Stainless Steel

Check Price

Material:

Plastic, Rubber

Key Benefit:

Double-sided design for double the grooming power in one multi-use brush.

Check Price

Breed Size:

Extra Small & Toy Breeds, Small Breeds, Medium Breeds, Large Breeds, Giant Breeds, All Breeds

Check Price

Key Benefit:

Bristles remove tangles and mats, creating a beautiful, shiny coat.

Check Price

Material:

Plastic, Rubber

Key Benefit:

Gentle, plastic pins help remove tangles, dirt and loose hair while fluffing your pet's coat.

Check Price

Key Benefit:

Designed to help remove knots, debris and loose hair

Check Price

Key Benefit:

Stainless steel pins gently remove loose hair to reduce shedding and untangle mats.

Check Price
View all Cat Brushes
Why is Brushing My Cat So Important?
The idea that cats are "self-cleaning" is common knowledge, so why do they need grooming from a human? It's not healthy for cats to do all their grooming themselves, and brushing is an important part of caring for them. Brushing your cat can prevent them from shedding all around the house and suffering from constant hairballs. Long-haired cats can also get tangled and matted when not brushed every day or two, which can become uncomfortable and unhealthy for the hair and skin over time. To prevent these issues for yourself and your cat, you can pick a highly rated cat brush from our list of the top ten options on the market.
What Exactly is a Cat Brush?
Cat brushes are fairly similar to those used for dogs and other animals, but they are different from standard hairbrushes for humans. They are precise, carefully designed grooming tools that are meant to take care of different grooming issues you may encounter with your cat. Brushes for cats are also designed in a way that makes them easy to use as a human cat owner. The handles are flexible or angled in the most practical way for the type of grooming they are intended for, and they are as comfortable as possible to hold. They are generally made from metal, rubber or plastic, although handles are not often metal and some brushes have natural bristles.
A cat brush is an item that every cat owner should have in their collection of pet care supplies. Many cats, especially those who enjoy pets and other physical affection from humans, like to be brushed. Regardless of your cat's feelings about the activity, brushing them keeps them healthy and will make you instantly aware of any concerning changes in their body. These two things will make a big difference in your cat's longevity and quality of life in the long run.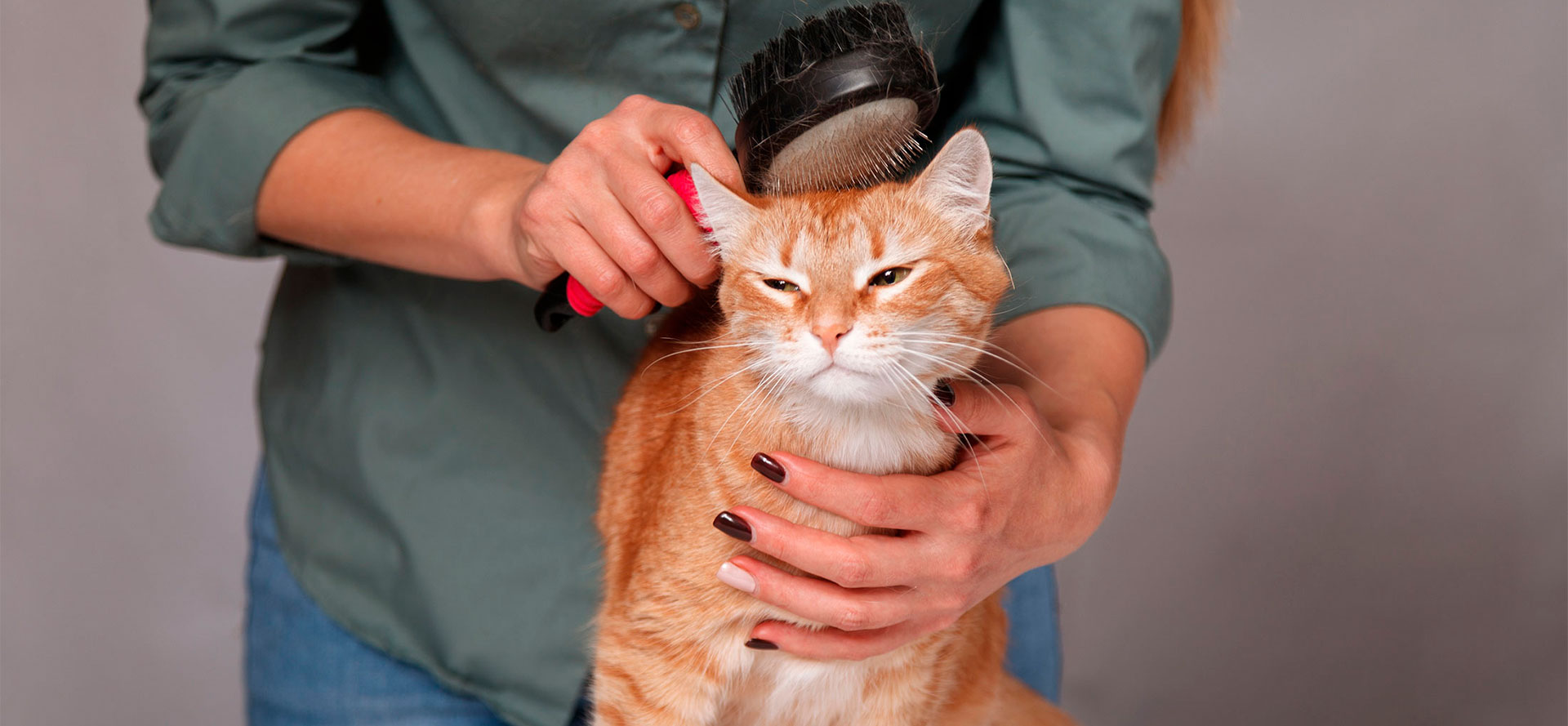 Different Types
Many different types of cat brushes are available for different purposes. Unless you do have or know a professional cat groomer, expert advice can be hard to find in person. Use our guide and your research to learn about the different types of brushes for cats.
Slicker brush -

Slicker brushes are an all-purpose type of brush for cats, and they are safe to use on all types of cat hair. They are composed of a flat, usually plastic section that is filled with wire bristles. The metal can damage your cat's skin, so be careful not to apply too much pressure when using this brush.

Moulting comb -

Moulting combs have teeth of two different lengths to detangle and remove dead hair from both coat layers simultaneously. They are intended for long-haired breeds, although they could be used on any type of cat.

Bristle brush -

Bristle brushes, which are usually made with natural bristles, are a good all-purpose option for short-haired breeds. They remove loose hair and smooth the coat for an overall cleaner appearance.

Rubber brush -

Rubber brushes can also be good for all-purpose use, but they look and feel very different from metal ones. If your cat is afraid of the brush or seems upset with how brushing feels, this could be an alternative that would make them more comfortable.

Pin brush -

Pin brushes probably look most similar to human hairbrushes, but they feel very different. They have long metal pins that reach through medium to thick coats of cat hair, making them useful for removing tangles on a daily.
How to Choose
You will likely choose a cat brush depending on your personal preferences, your cat's preferences, and your grooming needs. Depending on the coat of your cat, you may need more than one type of brush to groom them completely and comfortably.
Shorter-haired breeds may need more general-purpose smoothing brushes like bristle brushes or pin brushes, while longer-haired breeds may need moulting combs or slicker brushes, or even a combination of both, to remove tangles and prevent them from getting matted. Outdoor cats may have different needs from indoor cats, as they have more opportunities to get fleas, plants, and other things stuck in their hair. This means that the lifestyle of your cat, as well as the type of hair they have, can affect your decision when choosing a cat brush. If you are a new cat owner and feel totally lost, you can always make an effort to find a professional cat groomer. It's not exactly conventional to have your cat professionally groomed on a regular basis, but a groomer can give you a good idea of what your cat should look like when groomed properly, and they may be able to advise you on choosing brushes.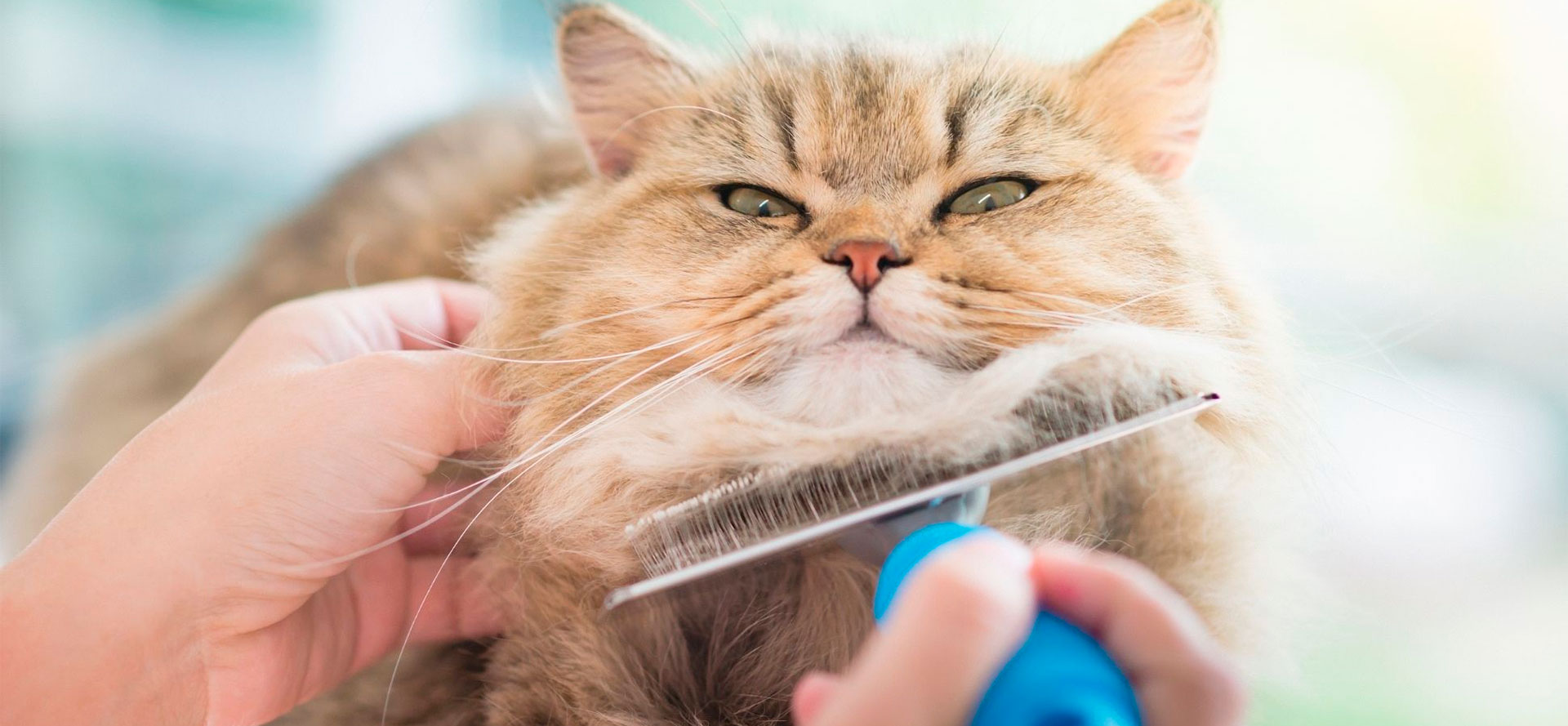 More choices available
Things to Consider When Buying a Cat Brush
There are a handful of factors that you should consider carefully when buying a brush for your cat. Giving the decision a lot of thought and considering it a long-term investment will help you to arrive at the best product for your pet.
Type of coat -

As mentioned earlier, the length of your cat's coat, as well as the number of layers, will affect what type of brush they need. The brush you buy should be able to reach every layer of their hair and treat each appropriately.

Type of cat -

Indoor cats and outdoor cats have different lifestyles and different grooming needs. Indoor cats aren't at a high risk for contracting fleas or getting plant matter stuck in their hair, but they will shed around the house much more than an outdoor cat. Outdoor cats are more likely to get dirty, but some of their hair may be shed while they are out of the house.

Brush quality -

There are lots of cheap, poorly-made brushes on the market, especially in online stores, and these are not good for your cat or for you. Their bristles and teeth may break off in your cat's hair, and you'll end up wasting money on them over the course of your cat's life. Consider your cat brushes an investment and find high-quality options, like those on our top ten list.

Material -

Cat brushes are normally made from plastic or metal, with some natural bristle and rubber or silicone options also available. Make sure you buy a material that you don't mind using and that your cat finds comfortable.
Conclusion
Cat brushing is an often-overlooked part of caring for a pet cat, but it is crucial to the cat's overall health, quality of life and comfort, and relationship with you. If you both can find brushing to be an enjoyable experience, it can become a nice part of your daily routine together. Be sure to buy a brush that is appropriate for your cat's hair and that will be easy for you to use.
Choose Cat Brush now
Tags: pet care supplies, cool cat costume, fleece dog coats, best dog grooming clippers, cat cage with litter box, facts about cats behavior, best dog beds, whistle for dogs, what size collar for puppy, cats train schedule