Last updated
Personalized Dog Collars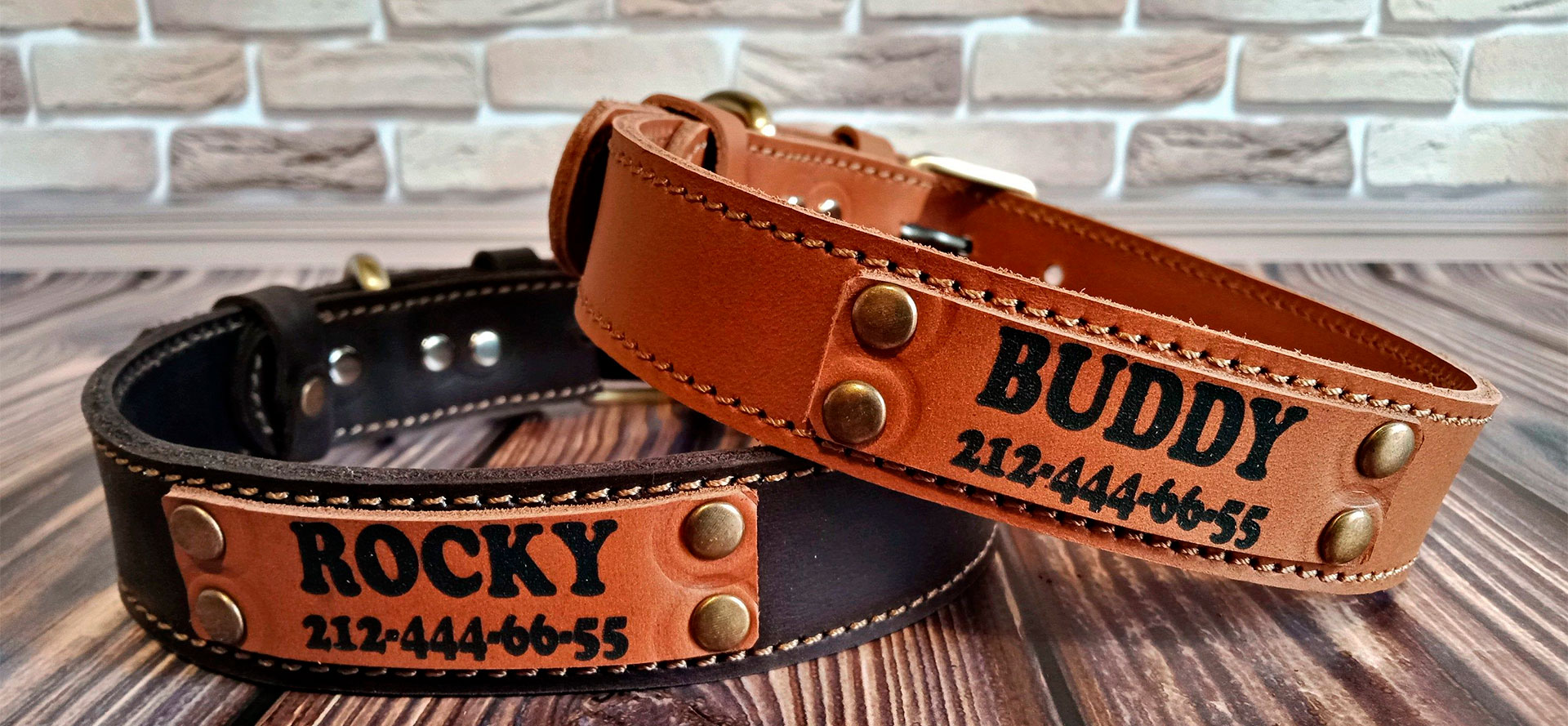 One of the most significant things you can do for your puppy is purchasing an excellent collar for it. Best personalized dog collars are stylish and fabulous to show identification information about your dog. The finest custom collars should have enough sections to fit all the information you need. Besides, it should be easy to read at a glance. Further, the collars should be made from long-lasting material such as leather or nylon, which comfortably fits around the neck of your doggy.
10 Best Personalized Dog Collars in 2023
Products
Information
Price

Neck Size:

14 to 20 inches

Check Price

Neck Size:

11 to 16.5 inches

Features:

Personalized, Reflective

Check Price

Breed Size:

Extra Small & Toy Breeds

Neck Size:

8 to 12 inches

Check Price

Neck Size:

8 to 12 inches

Check Price

Breed Size:

Medium Breeds, Large Breeds

Check Price

Material:

Nylon, Stainless Steel

Check Price

Breed Size:

Medium Breeds, Large Breeds

Features:

Personalized, Reflective, Waterproof

Check Price

Dimensions:

26 x 1 x 1 inches

Check Price

Breed Size:

Medium Breeds

Material:

Nylon, Stainless Steel

Check Price

Check Price
View all Personalized Dog Collars
A personalized dog collar permits you to add contact information right on the collar. When you order one, you can add a phone number and a name to the collar. Therefore, if your dog gets lost, one can quickly identify the info on the collar and inform you about it. Some personalized collars even allow you to add charms or symbols for further personalization.
Choosing a dog collar can be puzzling because there are thousands of choices in the market. However, you don't need to worry because in this article, you'll find everything you need to know about the best-personalized dog collars.
Let's go!
Main Types of Personalized Dog Collars
Most personalized dog collars come in bright colors and can be a lot of fun. Besides, they are available in more conventional leather designs. Here is some information about some of the most common types to help you select the best personalized embroidered collar for your doggie.
Martingale personalized collar: The collar was developed for dogs with narrow heads, such as Greyhounds and other sighthounds. It assists in the prevention of nervous or frightened dogs escaping. A strip of material with rings on each end is connected to a smaller loop to make the collar. When the dog wants to back out without choking, the rope sticks to the smaller circle, and the collar tightens. Martingale custom puppy collars are sometimes used instead of choke collars.
Headcollar:

The head collar is designed to fit around your dog's head just behind the ears. Also, it has another band that is designed to provide around his muzzle. This is a good style for big, powerful dogs that like to pull. Since the head collar is worn around the dog's muzzle, it must be fitted appropriately. It is not intended to be used to jerk or drag your dog aggressively. Instead, it can be used as a method to guide your dog in the direction you want gently.

Flat collar:

This is the most common collar style. It has a ring to connect a leash and a quick-release snap closure. Collars are available in several types and colors.

Tick or Flea collar:

These collars are often worn over traditional collars. They're infused with chemicals that hold fleas and ticks away from your dog. The secret to success with these is to keep track of how long the collar lasts and replace it as required.

Plastic Breakaway Buckle:

Plastic breakaway bucker is a perfect personalized dog collar for your puppy friends. In case of any pressure on the collar, the buckle will pop open to guarantee your animal remains harmless. Still, it is a great option for your dog to wear around the house. You can also use it on your goat since it's multipurpose. However, it is not advisable to use them on walks since they can break apart. This type of custom dog collar comes with a welded D rings for tagging and a slide for adjustment.

Elizabethan collar:

This embroidered dog collar is used to deter your dog from licking or scratching himself after a wound or a treatment at the veterinarian. When wearing the leash, the dog should be able to eat and drink, but they should not access the part of their body that is healing.

GPS collar:

GPS custom puppy collar is fitted with global positioning satellite technology to assist in your dog's recovery if they become separated from you.

Vibrating collar:

To get your dog's attention, this collar uses a vibrating sensation. This is beneficial for deaf dogs who are unable to hear your speech.

Metal Buckle Personalized Dog Collar:

This is one of the fanciest of all embroidered collars. It comes with a welded D ring and a slide for chain regulation purposes. The collars are heavy and you need to take into account your dog's size before getting one.

Full Slip Personalized Dog Collar:

This type of custom puppy collar tightens when your pooch pulls without limit. They are made with this kind of tension to prevent pulling breaking incase the dog pulls hard. Besides, this collar embroidered dog collar comes with two welded D rings, a slide for regulation purposes and nameplate.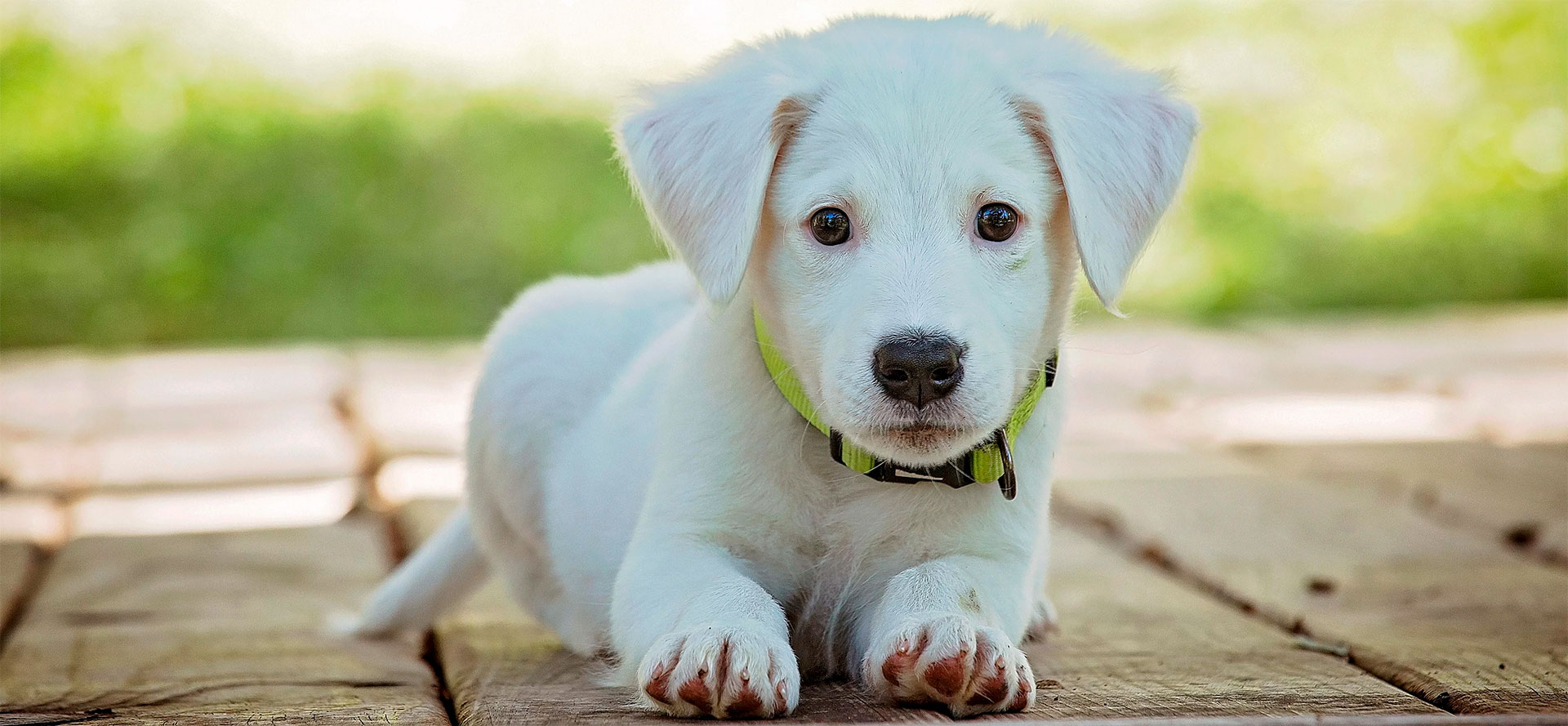 Materials
To meet different customers' needs, embroidered dog collars are made of other materials. Regardless of any material, the puppy collars are substantially durable. Here are some personalized dog collars analyzed to best illustrate different materials.
Synthetic Soft Grip Personalized Dog Collar
Do you like a neat leather personalized dog collar but assert that your dog should put on a free collar? This type of custom dog collar is for you. They a0re made of super long-lasting soft-grip artificial latex netting plus stain-less steel gear. The soft grip is lenient to touch yet very tough material. These personalized dog collars are odor and waterproof, besides being super strict. Therefore, if your dog loves rolling in stinky and wet areas always in the neighborhood, you won't have to worry about these puppy collars. Synthetic Soft Grip Engraved Dog Collars come in a different color: blue, brown, red, yellow, blaze orange, black and green.
Moreover, each embroidered puppy collars comes is made in a stainless steel tag platter inscribed according to your liking. You need to choose your desired font and have a maximum of twenty letters in every line. It has up to five lines.
More choices available
Double Braid Personalized Puppy and Dog Collar
Double Braid Collar is only type of personalized puppy collars due to its nature. They lack size dumps, which makes it possible for you to push the clasp spike via the plaited material. It is substantially soft, durable, and adjustable, making it an amazing fitting for your dog. They come in orange, blue, camo tweed, red, and black colors. This dog collar type with a name offers up to five embroidered texts with a maximum of twenty characters per line. You can have it in a range of fonts ranging from Verdana to Arial to Bradley to Lucida.
Personalized Hemp Dog Collar
Get a Personalized Hemp Dog Collar to give your pooch and the environment some affection. Because of its gentle, comfortable feel, natural cleanliness, and strength, this material is a fashionable, eco-friendly fiber that is suitable for the pet.
These new, eco-friendly collars are made with 55 percent natural plus bearable industrialized hemp and 45 per cent cotton. This material is the world's longest fiber justifying its great durability. Hemp is naturally antibacterial and antimicrobial, rendering it resistant to mold and mildew. Besides, the cloth won't hang on to stinky odors, meaning your dog can run around freely. They come in different colors ranging from red to green to blue and black. They have two personalization lines on their buckle.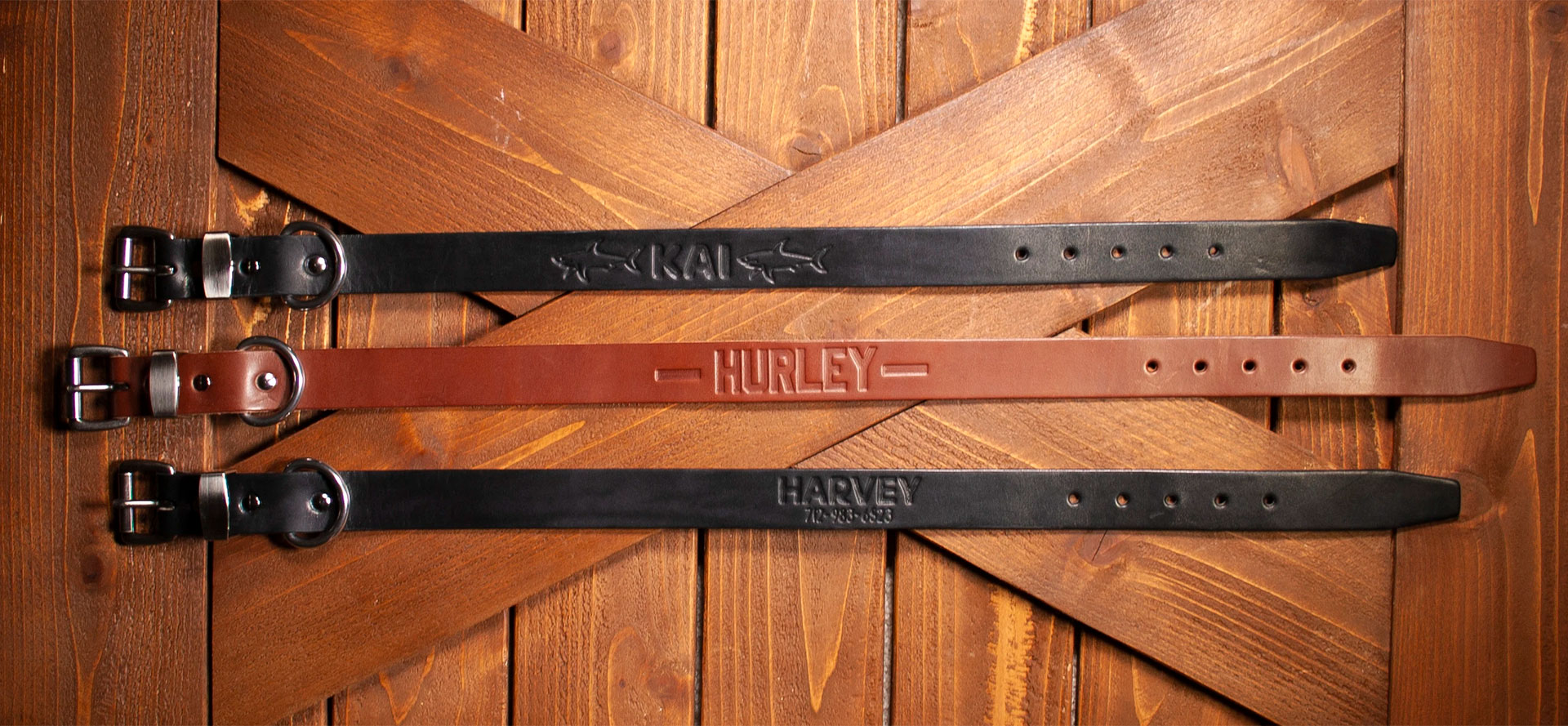 Guidelines for Selecting Personalized Dog Collar
Choose the appropriate collar size for your dog as they come in different sizes that are large, medium, small, and Xsmall. The flat collar should be snug around your dog's neck but not so snug that it chokes him. When the dog is wearing the custom collar with nameplate, a good rule of thumb is to fit two fingers underneath it. Specific forms of collars should be avoided. Some vendors sell aversion collars, which cause physical distress or pain to your dog to teach it what to do. The following are some examples of aversion collars:
Pinch collars are made of fang-shaped metal ties that dig into the skin of your dog.
Metal-link choke chains are used to restrain your dog.
Shock collars send your dog an electric shock by passing an electrical current through metal contact points on the collar.
While these types of collars can stop inappropriate behavior temporarily, they do not teach your dog what you want them to do. Aversion collars, on the other hand, trigger fear, anxiety, and even violence. If in doubt, stop using dog equipment that could hurt your dogs. You'd be best off devoting time to their instruction and assisting them in learning proper conduct. Humane collars that do not harm your pet are often preferable. Positive reinforcement and patient training will assist any dog in achieving good behavior.
Choose Personalized Dog Collar now
Tags: pet care supplies reviews, toys for dogs, best dog coats, dog diapers for incontinence, dog collars, durable dog beds, elizabethan collar for dogs, kitten nail caps, safe dog shampoo, elevated ceramic dog bowls