Last updated
Interactive Dog Toys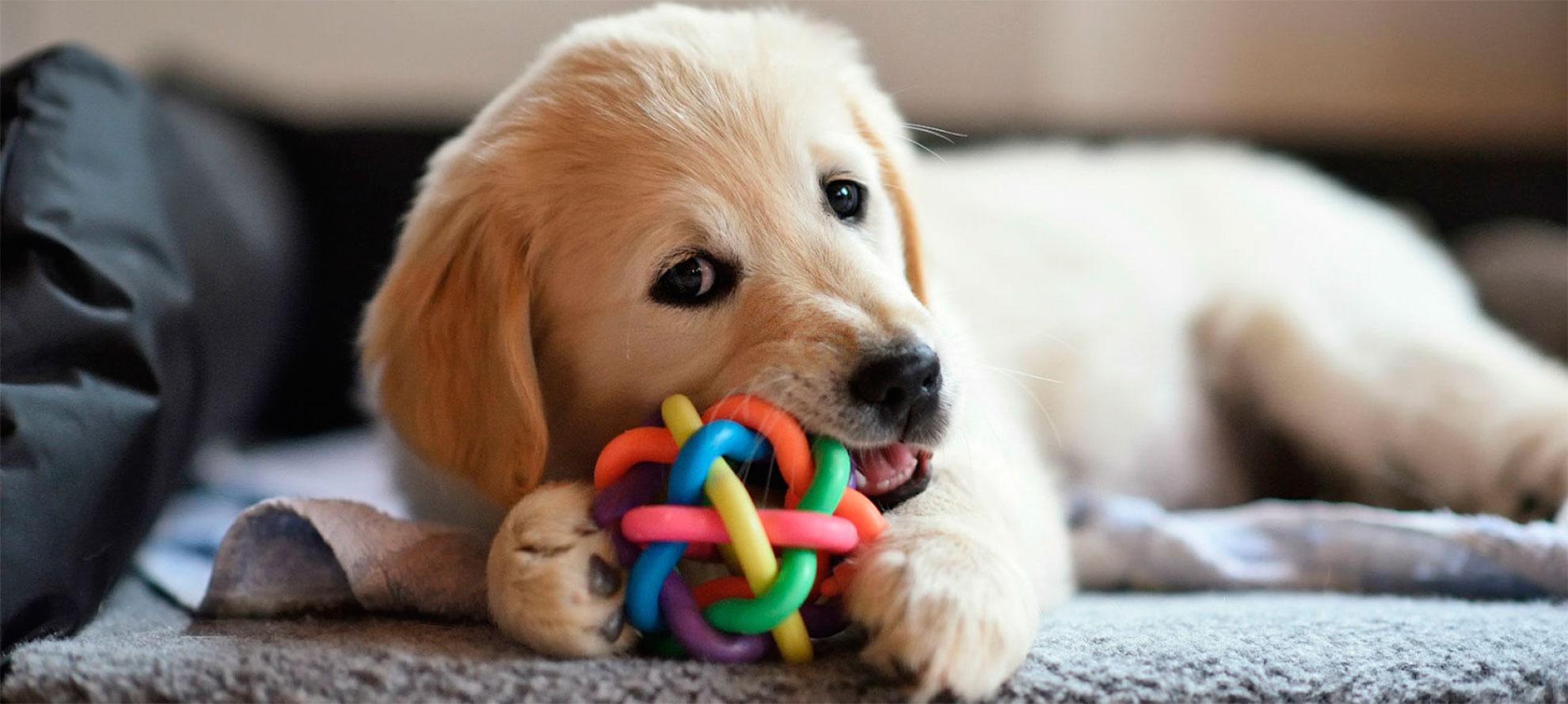 Dogs have been men's best friends since time immemorial. Humans' long association with dogs have been found in many archaeological sites. Probably, this is the reason why we are so fond of this loyal animal. Whenever our furry friend is around, we feel extremely happy. Dogs love to play and they seek our attention whenever they see their human friends. Sadly, this modern life has left many of us with little time to enjoy and play with our friends. Many a time they are left alone without any activity all day long. But what if they could play and remain mentally active while you are out for your work. Fortunately, many incredible interactive dog toys surely won't let them bore and remain idle for the whole day. Canine experts say that these interactive toys are beneficial for dog's mental and physical health.
10 Best Interactive Dog Toys in 2023
Products
Information
Price

Dimensions:

3.5 x 5.25 x 13.34 inches

Breed size:

Medium breeds

Toy feature:

Tough chewer, Exercise

Check Price

Dimensions:

1.75 x 1.75 x 3 inches

Check Price

Dimensions:

4.5 x 4.5 x 3.5 inches

Toy feature:

Tough chewer, Teething, Dental, Water toy, Bouncy, Exercise

Check Price

Dimensions:

8.5 x 9.5 x 8.5 inches

Breed size:

Medium breeds, Large breeds

Check Price

Dimensions:

12.75 x 1.75 x 8.75 inches

Check Price

Dimensions:

6 x 6 x 4 inches

Breed size:

Small breeds, Medium breeds, Large breeds, All breeds

Check Price

Dimensions:

4.75 x 5.25 x 1.25 inches

Check Price

Dimensions:

10.83 x 9.25 x 1.81 inches

Breed size:

Small breeds, Medium breeds, Large breeds

Material:

Polypropylene, Thermoplastic rubber

Check Price

Dimensions:

88.5 x 1.5 x 3 inches

Toy feature:

Squeaky, Outdoor, Training, Exercise

Check Price

Dimensions:

9 x 9 x 2 inches

Breed size:

Medium breeds

Check Price
View all Interactive Dog Toys
What are Interactive Dog Toys?
By definition, interactive dog toys are playthings that keep the dog stimulated while they interact with these toys. They come in many forms. Puzzle toys that use treats as a primary motivation for dogs to play. Then there are sound-making toys. They mimic various animal sounds and their behavior as well as move. As humans solve the cubic puzzles or play chess to stimulate their brains, these interactive toys have been designed to provide the same stimulating effect on dogs.
There are a variety of interactive toys on the market. From interactive puzzles to the tricky ball, these toys are designed to provide our dogs with mental exercise. We know choosing an interactive toy for your pug can be overwhelming.
To make it easier, we have created a list of some of the best Interactive Dog Toys.
Ball Launcher
If your dog loves playing fetch, the automatic throwers can be a perfect choice for your dog. It is designed to make the game of fetch even better. Your dog just has to learn how to bring the ball back and place it inside the toy. Once the ball is dropped inside the launcher, it will automatically throw the ball, and the game goes on. Some of the ball launchers come with the flexibility to customize as per your needs: you can choose the distance (6-30 feet); time duration of the play and stop-time; audible tones to alert your dog, and many other features.
Dog Puzzles
Puzzle games are an excellent way to exercise a dog's brain and let them learn some cognitive skills while playing. Puzzle toys are available in different shapes and sizes with the option to choose the materials from plastic or wood. In the empty pockets of these toys, place some delicious treats. Once dogs solve the puzzle, they will be rewarded with the hidden treats you have placed earlier. This durable and interactive toy is a good toy to determine whether your dog is interested in a puzzle or not, and their intelligence level.
Chew Toys
Some dog breeds like Golden Retrievers just love to chew anything they can get their teeth on. And for them, chewing toys are probably the best option. There are different types of chew toys available in the market. From hard rubber chew to chew challenge toys. For instance, hard rubber toys are usually hollow at both ends. You can fill some kibble inside the toy or put a small amount of peanut butter or cream cheese through these hollow points. A perfect way to make the effort worth doing for your dog. On the other hand, chew challenge toys make it more challenging for the dog to consume.
Treat-Dispensing
It may probably the best way to exercise your pug's mind and keep him occupied. Treat dispensing toys are just insensible for owners having active dogs. Dogs simply love them as they find hidden treats while playing with the toy. And dog owners prefer this toy as it keeps the dog busy and entertained. Many veterinarians recommend this toy to provide mental stimulation and training of dogs. Some of the treat-dispensing toys act as puzzles with difficulty levels. The more levels the dog completes, the harder the treats become to get by. Select this toy according to the dog's mental capabilities. There are plenty of options, from simple Buster Cube toy to Flip Board toys. The latter is recommended for smarter dogs.
Plush Dog Toys
Available in different animal shapes and textures, Plush toys create unique play experiences for dogs. Playing with stuffed animals is one of the favorite pass-time of dogs. Thanks to technology, these plush toys have become more interactive. Some of the plush toys are loaded with features like movements on sound; varying squeaks, grunts and crinkle sounds, and many other features that will surely inspire your dog to play all day long. These battery-operated toys are one of the ways to keep the dog occupied and entertained.
More choices available
Talking Toy for Dog
What can be more interactive than Talking dog toys? These toys mimic the baby talk and other realistic animal noises that keep the dog guessing and making them think more! You can also record your message which can be repeatedly played with some settings. Talking toys are surely a fun treat for dogs. Let the dogs chase and play with sounds while you enjoy these hilarious acts. There are many good quality talking dog toys available on Amazon.
High-Tech
If you are looking for a stylish gadget that lets you keep an eye on your dog while you are at work, smart dog toy-devices are the perfect solution for that. It comes with sound activation, video recording, treat-dispensing, and many other features. For example, wifi-enabled etCube Play features a wide-angle camera, a microphone for two-way communication, and low-intensity laser pointer. Along with these features, many advanced devices are pre-loaded with interactive games to keep the dogs engaged. The best part is that you can talk to your beloved dogs while away from home. High-tech dog toys are an absolute must for dog-lovers.
Ball Dog Toys
Aren't you tired of throwing the same old tennis ball? There are a lot of better ball options for your dogs to keep them busy in catching these balls. From small to large, scented to speaking balls, floating to solid balls – there are plenty of options to choose from. For example, Idept Dog Toy Ball comes with hollow portions that you can fill with kibble or any other treat. This way you can create a rewarding puzzle for your dog and keep them involved in the game for a longer period.
Smart Dog Feeder and Toy
It isn't necessarily a toy but serves the purpose.
What if your pups have to think hard before they could get their treats? Here comes the smart dog feeder. A smart feeder comes with compartments that you can fill with any dog food. A dog has to think creatively only then he would be able to open the compartments. Most animals would like to work for their meals rather than simply having their meal from a bowl. This is what the smart feeder does. It lets your pet animals work for their food.
Smart Water Fountain
It's time to go stylish and playful. The old boring water balls need an upgrade. Why not replace it with a smart water fountain. This playful water fountain holds plenty of water and dispenses in a variety of flow modes, the pets would surely love to play and consume the water. It could be customized also to create a varying degree of flow, pause, and flow. Making your pets to guess when the water flow will come next.
Choose Interactive Dog Toy now
FAQ
What are the best interactive dog toys?
The best interactive dog toys are those that assist in boredom and harmful behaviors. The former functions like a treat slot machine and stimulates the pet to play. The last trains both the cognitive and physique capabilities of your pet.
How do interactive dog treat toys stimulate dogs?
Interactive dog treat toys stimulate dogs by rewarding the dogs hence maintaining their interest in playing. The dog earns treats as it plays. Put the preferred treats for your dog in the ball and give it out to the pet.
How to use interactive dog toy?
Let your dog solve a problem to win treats. Start with easy ones and gradually upgrade to hard levels. Select the appropriate toy's size for your dog and create the right interactive games for him.
Tags: pet grooming supplies, high pitch dog whistle, dog diapers review, designer dog leash, high quality puppy food, can cats eat beans, cat ears hot, best orthopedic dog bed for large breeds, how to stop aggressive behavior in dogs, best dog nail grinder