Best Dog Fences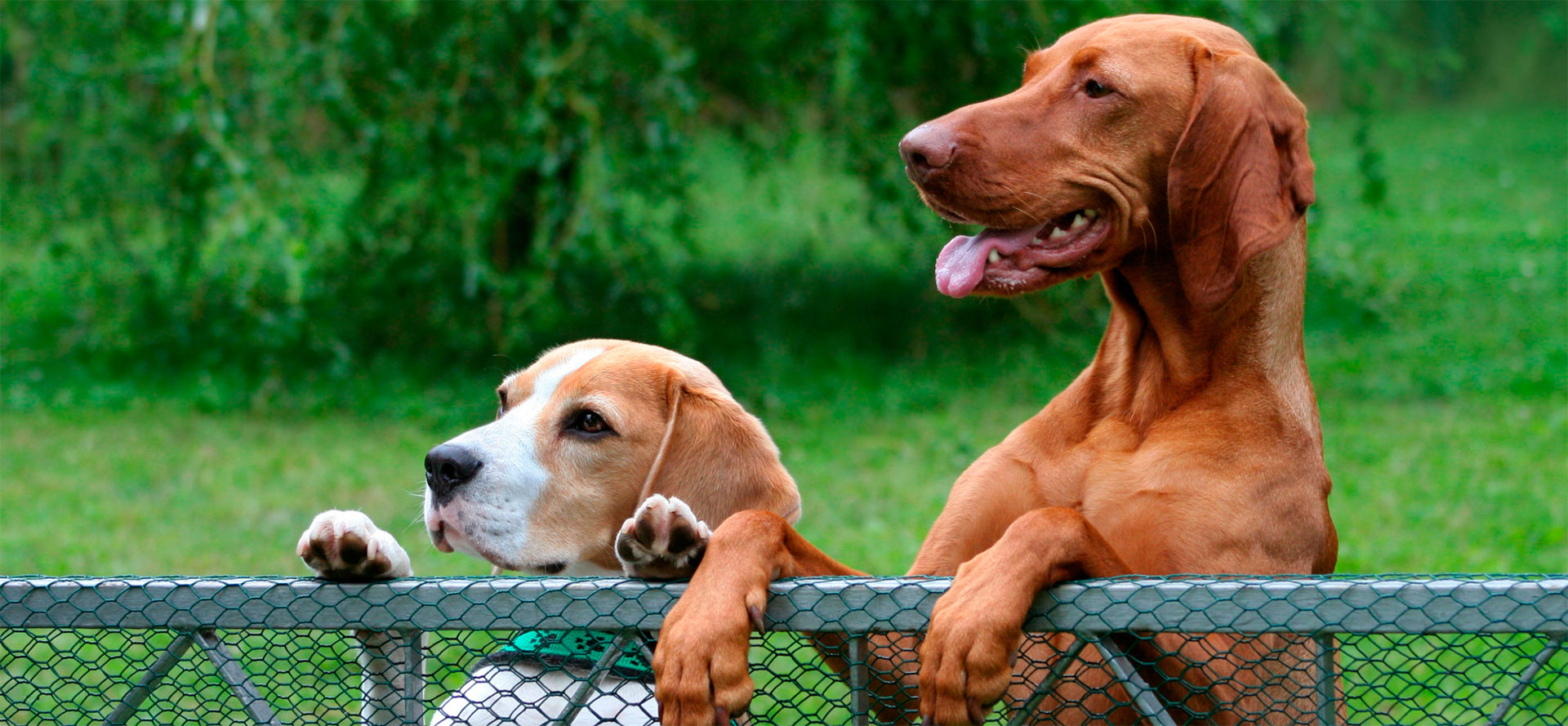 Dogs need a lot of space regardless of their size. They love to run around, jump on things, playing catch, and anything else that includes moving around and not staying still. Not only that your dog will love the extra space that it gets, but it is also extremely important for its health to move around and exercise. This is why having a backyard or a garden is found to be one of the many pre-requisites for having dogs. Although, letting your dog run wild in a large open space does not mean that you can let them off anywhere and expect them to be safe. Dogs could get lost, run away chasing a butterfly or a bird, or run into traffic – in short, a lot of tragic things could happen.
This is why fences are extremely important when you are planning to have a pet dog in your home soon. They allow your puppy to run and get enough exercise and playtime while keeping them safely confined in a space that is not dangerous to be in. You can let your bouncy baby loose without having to worry about their whereabouts all the time. Fences offer a huge helping hand in keeping the pets safe without having to confine them in dog houses, crates, or kennels all the time. The curiosity of dogs can be life-threatening to them and putting a stop to it can lead to improper growth. So, proper safety measures are required at all times to keep them both safe and happy.
Types
Dog Fences come in several designs, types, sizes, and styles. Just like dog houses, fences can also be pretty and aesthetic instead of being just plain and basic. There are several options that you can choose from depending on your requirement. Fences need to be compatible with the size and strength of your dog. You need to make sure that your dogs do not dig up the ground and make the fence lose. So, it is important that you get a fence that is completely compatible with your dogs as well as your home. We have a few top picks for fences which you can check out to get some ideas. Let us find the different kinds of fences that you can choose from.
Temporary Dog Fence
A non-permanent set up is erected for a short amount of time, generally for training purposes, and can be removed at any point of time desired. Temporary fences are ideally used when moving to a new house where fencing is still not finalized, protecting a stray dog for a while, or keeping your dogs separated for a short while. Needless to say, dogs respect the boundaries, and hence it is highly unlikely that they would jump over or knock the fence. Temporary fences can be built in the form of a garage fence or garage net, retractable driveway guard, deck enclosures, or playpens. Most temporary fences are not meant to create a very sturdy escape-proofing for the dogs but they can be a good way to establish boundaries for a small period.
Some temporary fences can be installed by self while others require professional help such as deck enclosures. Some options are portable as well for example, portable playpens. Temporary fences work better for small or medium-sized dogs which are less prone to jump over or knock them down. This means that temporary dog fences may not be very effective in the case of full-grown dogs from large dog breeds like German Shephard. However, garage nets can prove effective for all dog breeds. You can try some of our recommendations to choose the best temporary dog fence for your dog.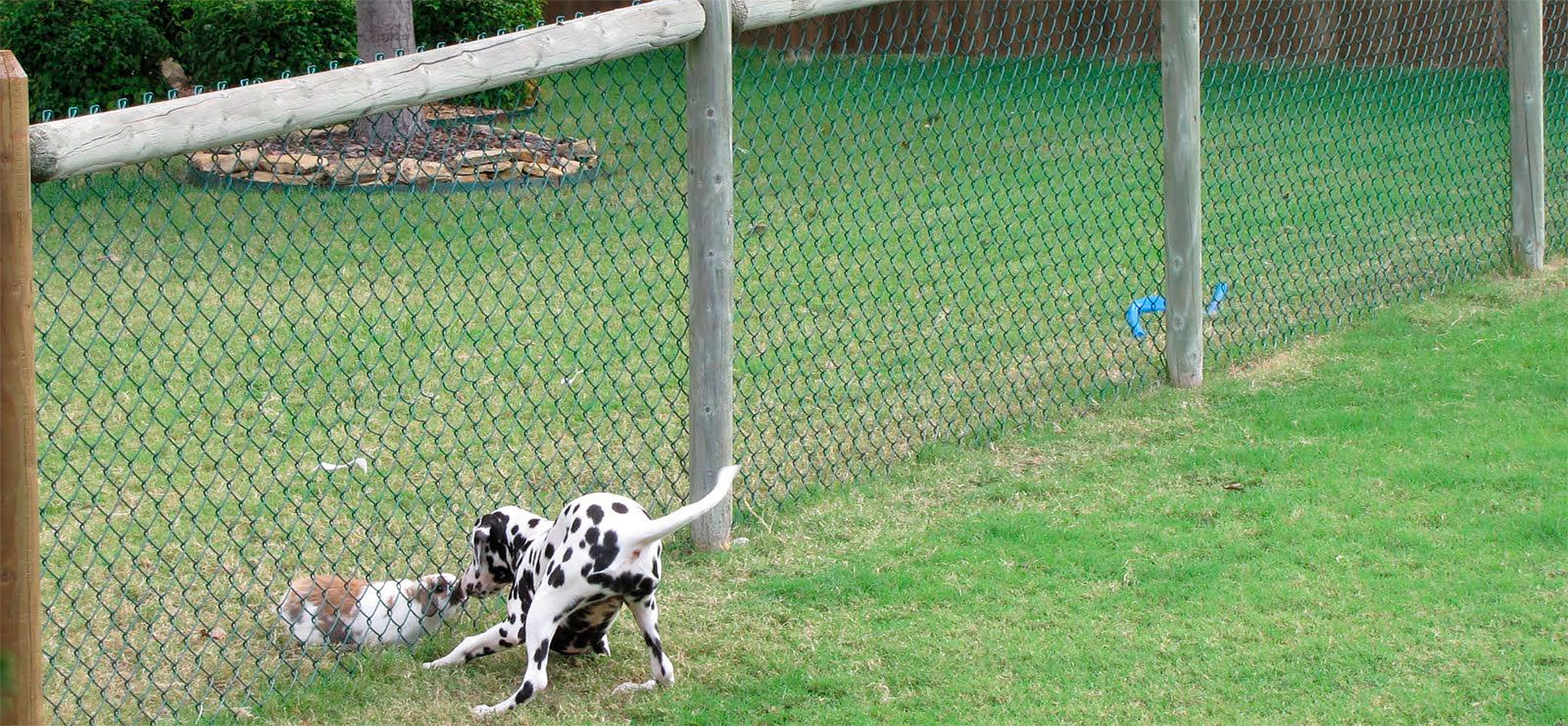 Retractable
As evident by the name, these dog fences can be put on and held back or retracted as and when pleased without having to remove them completely. Unlike temporary fences, retractable ones do not come off completely but rather can be shifted to one side when not in use or when required. Retractable fences are ideally suitable for preventing your dog from entering certain areas or stay within one. Unlike temporary fences, retractable ones are quite sturdy, often made with steel, aluminum, plastic, toughened glass, or acrylic. The plastic, glass, and acrylic variants are available in screen style fences which can be folded to the side or rolled in back to the stand.
The steel retractable fences are made in a bar or wiring style that can be shrunk to one side when required. The retractable fences are perfect for those pet parents to use who do not wish to confine their dog but still require a boundary of sorts at times to contain them in a certain space. Take some inspiration from these recommendations from us to find out the best retractable fences for your dog.
Dog Fence Windows
Fences can be a bit confusing and irritating for the dog because of their curious and naturally hyperactive nature. This is where the fence windows come in. Allowing your dog to peep outside of the fence, they help in calming them down and keeping them inside the fence with zero attempts to knock it down or leave somehow. Dog fence windows are ideally suited for dogs that are extra excited and would not take any kind of confinement well enough. Windows help them just sit and observe the ongoing activities of the outside world without being subjected to danger.
Dog fence windows come in several shapes and styles, including covered hemisphere style glass or plastic window, simple hole style circle windows. Popular material used for the hemisphere or the half bubble window includes plastic, acrylic, and glass. They can be easily washed using a water hose and soap, at times. The durability of these windows is decided by their frames for the main part along with the fixtures used in the installation. The glass, fabric, or acrylic used for the windows is pretty sturdy itself so you will rarely have to worry about it. The fence windows differ according to the size as well which is measured in diameters. Ensure that the window that you buy is big and deep enough for your dog.
Removable
These fences are very easy to assemble and port whenever required which makes them an ideal equipment for dog parents who are constantly on the move. Removable fences are also popularly known as portable fences and all for good reasons too. They are perfect to be used for outdoor activities like camping, traveling, and potty training. Removable fences are also perfect for people who do not want to put on a permanent fence, would like to protect the pets from outsiders and guests, have a certain amount of time in their mind when they would like to keep the pet confined in the space to train them or if their pet does not like to stay in crates. Removable fences are very durable, affordable, and flexible which makes them a good investment for the dog. Removable fences made with materials like wood, steel, and other material can be used for larger dogs or the ones who are prone to bite and chew everything they come in contact with.
Chain Link Fences
A fairly durable choice and a great way to prevent any and every dog from crossing over, chain link fences are highly customizable and can be altered in height as much and however, the owners decide. These fences are made with metal and hence offer solid confinement for the dogs. Very durable in the face of abrasion and climatic factors as well, these fences are great to be used as outdoor fences. However, it is not possible to change the aesthetics of these fences a whole lot to match the appearance of the house. You can check out our picks of the top chain link fences that can be a good fit for your dog.
Balcony
Balconies are generally made using steel or wooden bars which means that there is going to be a certain amount of scape among the bars of the railing. Balcony fences ideally cover this space and save the pet parents the trouble and worry of their dog being fallen off the balcony. Glass, plastic, and acrylic sheets are the most common style of balcony fences preferred by pet parents. Dog proofing a balcony is almost like baby-proofing space since curiosity can create quite an alarming situation at times for pets. Another popular material for balcony fences is metal, constructed in a criss-cross style design, leaving no space for your dog to pass through.
Metal Dog Fence
Metal fences are by far the most secure, durable, and outdoorsy kind of fences to be used for dog fences. Metal fences for dogs are used for potty and other training purposes. The more aesthetic variants also find use as indoor fences or enclosures. Thick metal bars, chain links, and thin criss-cross designs are three of the most common design used when it comes to metal fences. The metal fences are also known as solid barrier fences and can be seen as one of the top permanent confinement options. Metal fences are available in both permanent and temporary fencing options, so depending on the requirement that you have.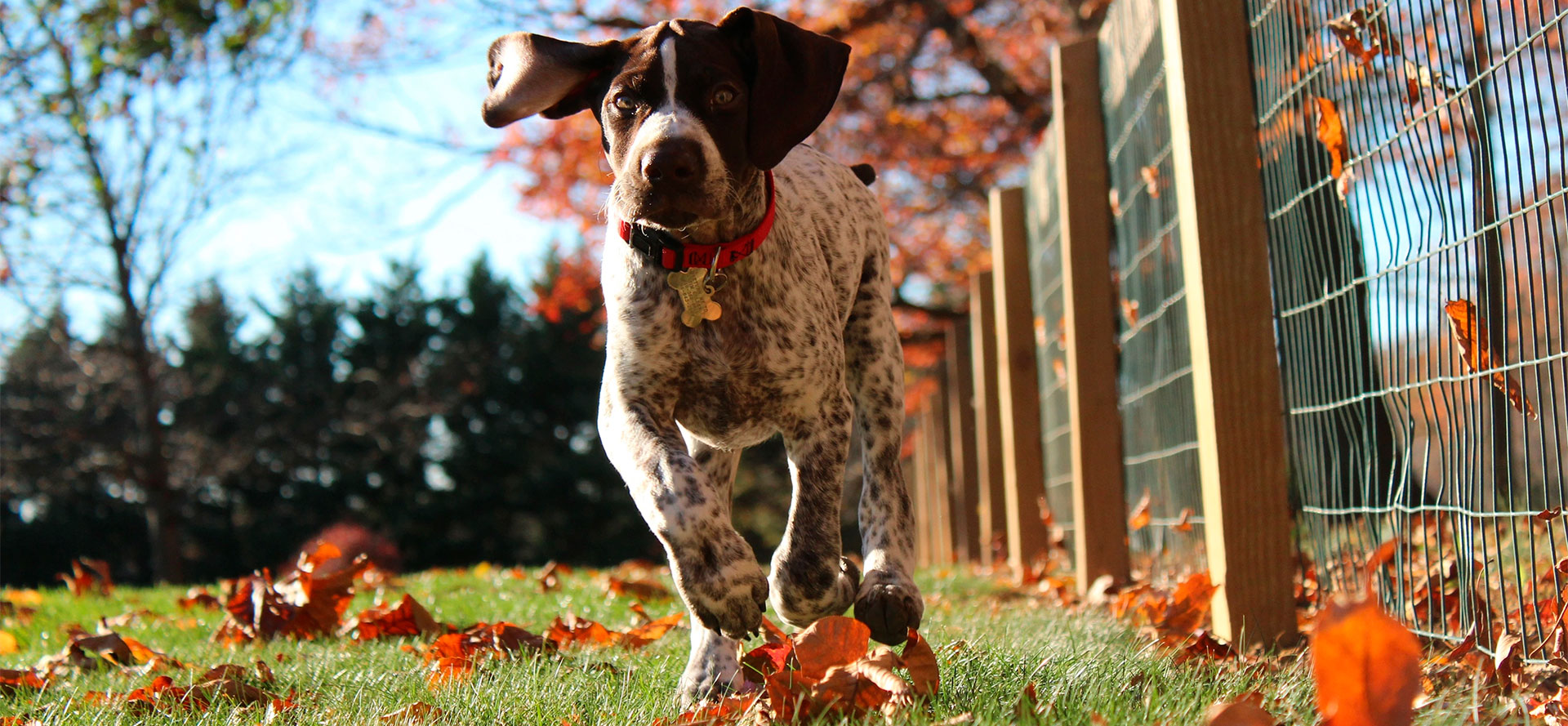 Plastic
The primary styles of plastic fences include the scree-style fence which is available as removable, portable, retractable as well as permanent fences for the dog. The newer variants of plastic fences include designs that are similar to the classic wooden fence design and hence are a popular affordable option for outside fences along with being a useful variant for indoor fencing as well. Plastic fences, if made using thin screens are ideally used for small to medium-sized dogs, choosing the appropriate height according to the dog. The heavier and more sturdy options can be used for bigger dogs as well though. Plastic fences are a good option to go for if finding a sturdy yet aesthetically pleasing fence is on the list of your requirements. Plastic fences can be colored or decorated as pleased which makes them a good addition to the decor theme of your home.
Indoor Dog Fence
Ideally designed to potty train dogs, teach them to stay within a confined space or to keep them separate of they tend to get frisky upon arrival of outsiders in the house, the indoor fences are more about creating a division or enclosure rather than about creating a boxed space for the dog-like many outside fences. The most popular indoor fences are retractable screen style fences as they can be moved and packed aside when required and put on again. Indoor retractable fences offer great space-saving options and look quite good as well. Another good option for indoor fences is grills, thin bars, or criss-cross style metal fences. They can be used to create a separate space in one corner of the house incredibly easily and can be folded and packed when not in use.
Outdoor
Outdoor dog fences are made to be extra sturdy in the terms of construction as well as installation. The ideal material used for outdoor dog fences is wood, metal, and plastic, at times. Outdoor fences are made to be extra durable to survive all the weather conditions including high heat, cold, storms, and rain along with factors like bumping in or tacking or digging around by the dogs. Outdoor dog fences are also known as solid barrier fences as they are supposed to create a barrier that is solid enough to withstand everything that is thrown at it, especially the quirks of the dog. These fences are not portable like other variants made from plastic or acrylic and take the skills of a professional to get installed. Popular outdoor fencing options include the classic wooden fences that are found in backyards, metal barrier fences which include chain links, bars and wiring, sturdy plastic screen fences, and electric fences.
Tags: pet grooming supplies, strollers for dogs, double dog food container, funniest cat costumes, freeze dried dog food reviews, indoor cat door, halloween costumes for dogs, wet cat food, lightweight dog ramp, long hair dog clippers