Last updated
Dog Boots
Have you ever wondered why you might need shoes? If you have, then you've probably thought it's for comfort, style, and support. The same applies to dogs! Just like us humans, dogs should have dog boots. Many veterinarians recommend boots for dogs to help protect their feet. It's believed that they can help with extra cushioning, support and reduce the risk of injury. If they don't have dog booties, their paws could become cut; they could wear out, lose their grip, and become painful. Therefore, if you have a highly active dog, who likes to hike, run, swim, and play outdoors, boots are a highly sensible option to protect their feet, give them stability, and are a great investment.
Moreover, boots help protect your dog's feet from harsh weather, especially extreme cold environments or high temperatures. That's not to mention any harmful bacteria or fungus which could easily become attached and get into your dog's paws or any dangerous animals that might sting like spiders or flying ants. Plus, alongside dogs' diverse coats, shoes can be a quirky accessory that enhances their image and style. It's a great way to show your dog off in the street. To help you know more about the best dog boots, check out our table of top picks.
10 Best Dog Boots in 2023
Products
Information
Price

Material:

Neoprene, Rubber

Check Price

Breed size:

Medium breeds

Check Price

Breed size:

Medium breeds

Check Price

Check Price

Check Price

Breed Size:

Medium Breeds

Check Price

Weather Protection:

Rain, Snow

Check Price

Check Price

Check Price

Dimensions:

6.25 x 4 x 1.75 inches

Lifestage:

Puppy, Adult, Senior

Check Price
View all Dog Boots
What are Dog Boots?
Dog boots are also known as dog booties. They're similar to human shoes, except they're meant for dogs. Dog booties are made out of various materials such as plastic, rubber, fabric, and more to protect dogs' feet. Dog boots serve the purpose of stopping their leathery paws from getting penetrated or worn down when outdoors. The outer layer of dog boots can be fat and absorb many shocks, preventing damage from happening and providing additional support to pets. Similarly, dog shoes can help protect their feet from mud, snow, ice, feces, bacteria, poison, heat, cold, and much more.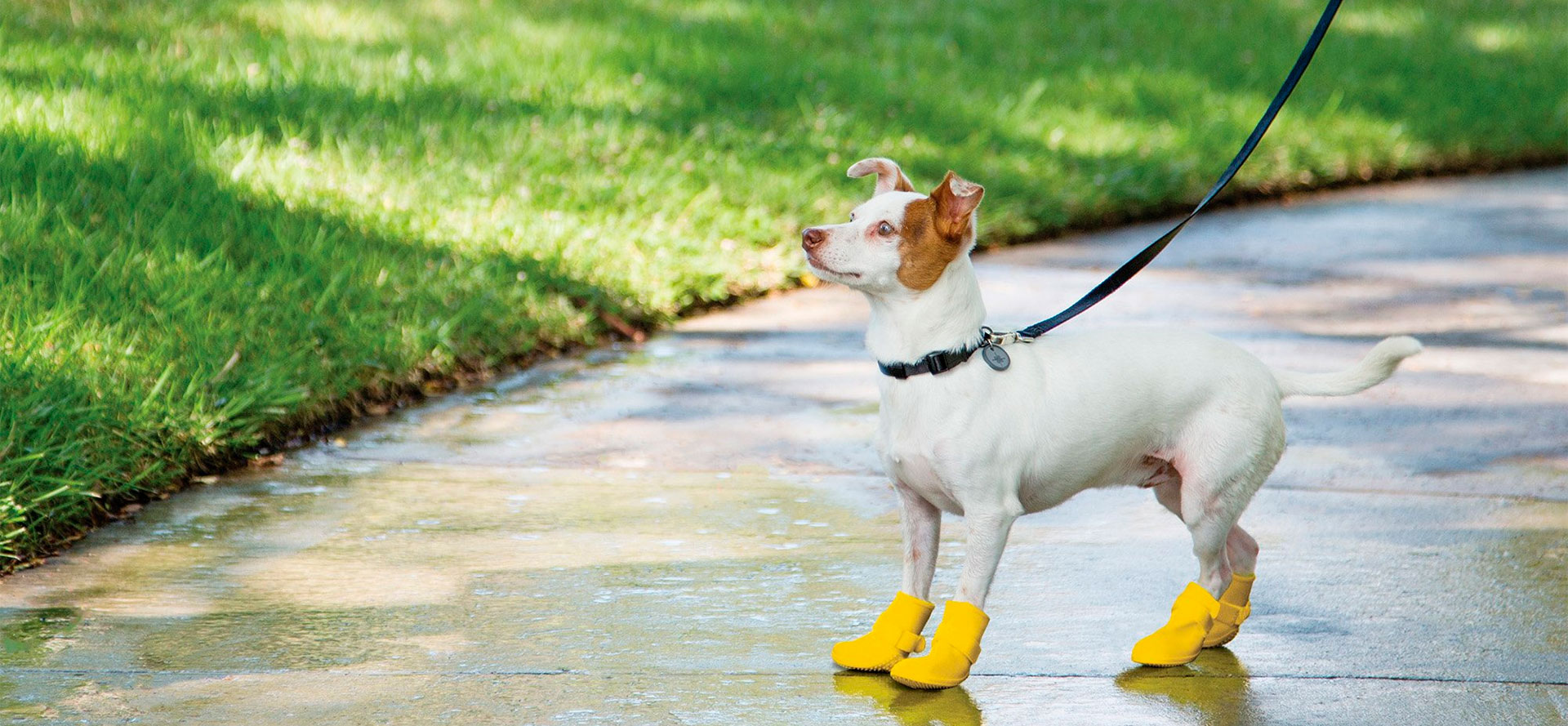 Dog Boots Types
Dog boots are not a one size fits all type of accessory; dogs may need boots for different purposes. To give you an idea, here are some of the different types available on the market:
LED dog boots:

These dog boots are great to have if you like to take your dog out at night. The sole of these boots contains LED lights that flash with every step, which will help you see where your dog is when walking. Similarly, it will help your dog be cautious of where they are stepping in case they come into contact with any hazards or danger in their path. Some of these boots also contain reflective materials which help any passersby or vehicles see your dog at night.

Winter dog boots:

Have you ever put on thicker winter socks in the cold weather to provide you with more insulation? Well, the same goes for dogs with their winter booties. These dog boots tend to be harder to put on as they're thicker to provide warmth. Winter boots often can have leather soles and often have a thick fleece lining inside.

Waterproof dog boots:

If you like to take your dog on many adventures, then waterproof dog boots may be helpful. These often are made out of rubber and are made out of more resistant materials which stop water from going inside. These are good dog booties to own to stop water from getting inside an infected paw. Waterproof dog booties tend to be a lot smaller and lightweight than the other ones, as they're designed to slip onto your dog's paws easily.

Grip dog boots:

If you're looking to go on a big adventure with your dog in front of lots of rocks and unsteady terrain, you will want dog boots that have lots of grips. The grip dog booties often contain additional grip at the bottom so they can manage rocky surfaces easily. Similarly, these boots usually have a strap that secures the boots on their feet.

Fashionable dog boots:

These dog boots often come in a variety of different shapes and sizes. You can get dog booties that are made by designers and big brands you find online. Plus, you can get dog boots that go over their knee too!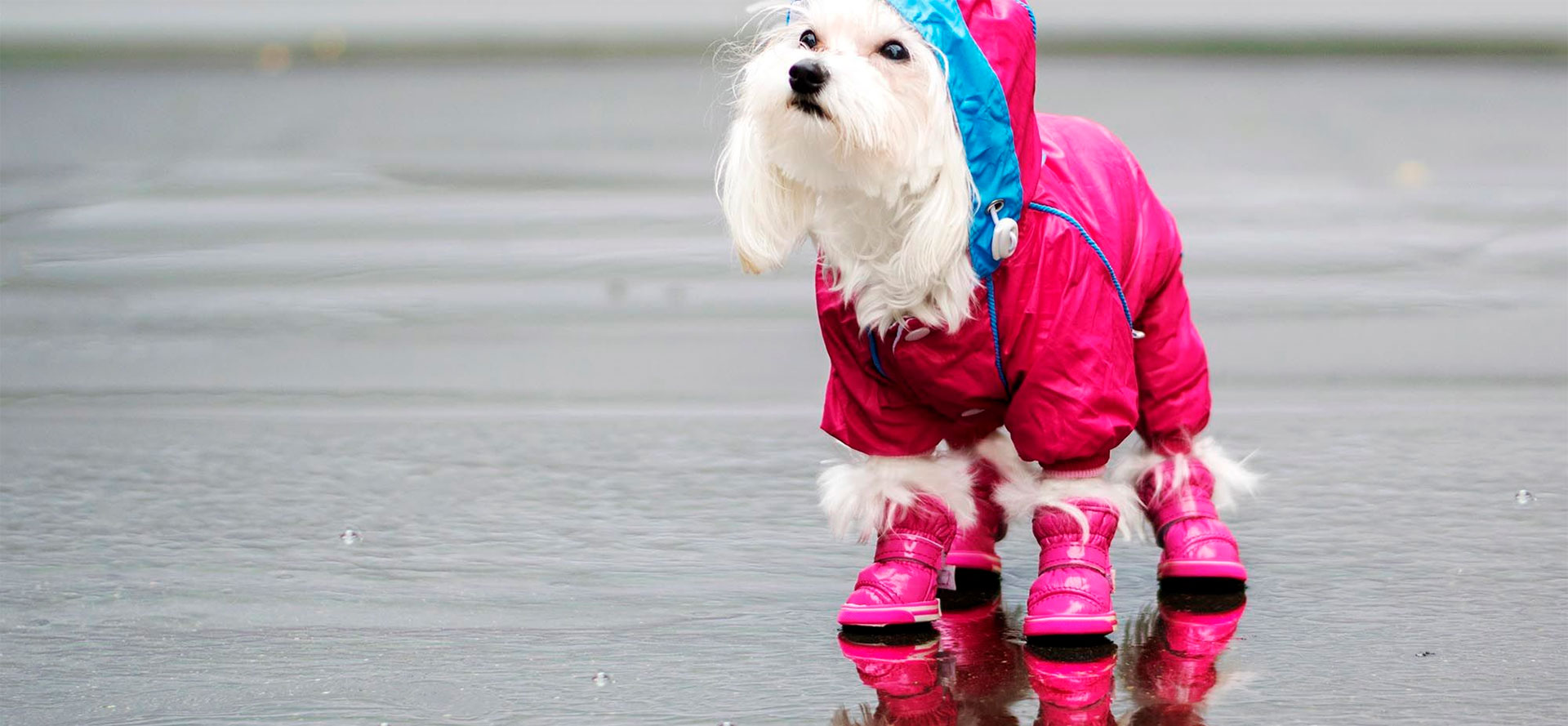 How to Choose Boots for Your Dog?
When choosing shoes for dogs, you have to be considerate and spend time reviewing the following before purchasing:
Size
Before you buy your dog booties, you should know their paw size. The best way to do this is by knowing the width of their paw. You can do this by putting their paw on a piece of paper and then marking the left and right sides. Once you've done this, measure the distance between the two. This will give you an idea of what size to look for when shopping. You might also want to measure their foot so you can do the same from their heal and tip of their toenail. That way, you have two different sizes to help you with your search.
Flexible sole
Dogs don't like to wear boots. It feels unnatural on them, and rightly so. Ideally, you will want to get flexible dog boots, and allows them to have ample movement when walking. The best flexible soles are often made out of rubber and are durable also. Ideally, the sole should have some texture on it or be rugged; this will prevent their feet from slipping on surfaces.
Space
Even though measuring the size is essential, you have to make sure your dog's feet have ample room in the boot. This means that your dog must be able to wiggle its toes and have space between them and the end of the boot. However, at the same time, they should provide your dog with enough support. Having the right fit is essential for your dog, so always check and read the manufacturer's instructions also.
More choices available
What to Consider When Buying Dog Boots?
The need for dog boots can vary based on the reason each dog needs them. A few things to consider when buying these for your dog are:
The reason:

Many different types of dog boots exist for various purposes. It would help if you thought about why your dog needs them. For example, is it for insulation, style, or tricky terrain? Whatever it is, make sure you know and then buy dog boots designed for that purpose.

Material:

Once you know why your dog needs boots, you will want to pick the most appropriate material. Some dog boots have a fleece lining for insulation, others are all-rounders which help provide support for your dog, and some are made from rubber to stop water from entering.

Support:

You will want your dog booties to stay on your dog, but not every dog bootie is comfortable for them. Some have velcro straps that allow them to stay on their feet, and others are designed to slip on easily with straps. To know which is better, it's best to try them on your dog first.
Conclusion
Doggie boots are a great clothing item for them to wear, providing them with more to offer than just style. Dog boots can protect dogs' paws from harsh temperatures, bacteria, fungi and stop their paws from getting injured. Similarly, they can provide them with ample support and stop their ankle from snapping on rocky surfaces. Moreover, if your dog is messy, it's another way to save dirt from entering your home and keep your place clean. Overall, dog boots are an excellent investment for any dog owner, and if you plan on buying them, you should allow your dog to wear them, but not all the time as they can feel unnatural on the surface of their feet.
Choose Dog Boots now
Tags: pet supplies, heavy duty dog pen, small dog pajamas, are nectarines safe for dogs, invisible dog fence, dog collar with name embroidered, is pepperoni bad for cats, best cat brush for short hair, why cats might eat flies, best dog strollers